Canada invites 4,500 Express entry candidates, promises to accept more immigrants
This round of draw is the third instance where Canada issued 4,500 invitations at a time, the largest number of invitations issued in a single draw.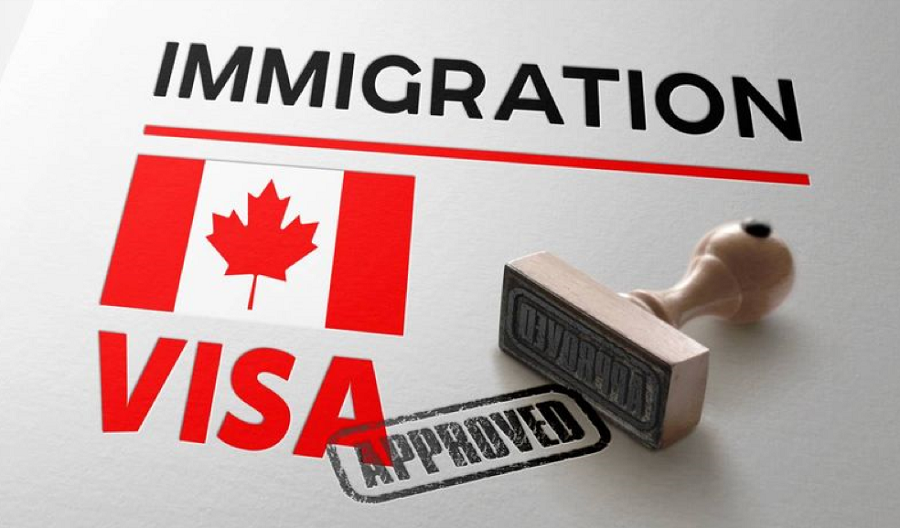 The Canadian Government in its latest draw held in November has invited 4,500 fresh express entry candidates to apply for permanent residency. This was contained in the Canadian immigration newsletter recently released.
This round of draw is the third instance where Canada issued 4,500 invitations at a time, the largest number of invitations issued in a single draw.
The minimum Comprehensive Ranking System (CSR) score for this draw was 478, seven points higher than 471 points, recorded in the last draw held in October.
READ: Application for Canadian Permanent Residency hits 63,400
READ: #EndSARS: NSE lost N113 billion Market Capitalization on Wednesday, October 21
According to the report, the highest-scoring candidates received an Invitation to Apply (ITA) for Canadian permanent residence in the Express Entry invitation round. In this round, Canada invited the top 4,500 candidates to apply for permanent residence.
In case of a tie between candidates, IRCC applied the tie-breaking rule. So, for this draw, candidates who had a CRS score of 478 or more, needed to have submitted their Express Entry profile before October 26, 2020 at 22:44:19 UTC in order to receive an invitation.
READ: Canada invites 41,800 Permanent Residency Candidates in 6 months
Meanwhile, the new draw brings the total number of ITAs issued in 2020 to 87,350. This year is shaping up to be a new record-breaking year for Express Entry, as the number of ITAs issued to date is the highest it has ever been.
How it works
Express Entry is the application system that manages the pool of candidates for Canada's three main economic immigration classes — the Federal Skilled Worker Program (FSWP), the Federal Skilled Trades Class (FSTC), and the Canadian Experience Class (CEC).
READ: Nigeria recoups N594.09 billion from whistleblowing policy
A set number of the highest-ranked candidates are invited to apply for Canadian permanent residence through regular draws (usually bi-weekly) from the pool. These invitation rounds typically involve candidates from all three Express Entry-managed categories.
Candidates are ranked based on a score awarded under the CRS, which considers factors such as age, education, skilled work experience, and proficiency in English or French.
READ: 13.9 million Nigerian youth are unemployed – NBS
What you need to know
In a recent report, Immigration, Refugees, and Citizenship Canada (IRCC) announced that French-speaking candidates now get additional points for their language skills, up from an initial 15 points while bilingual candidates will now get 50 points compared to an initial 30 points.
These regular draws and invitations show the Commitment of the Canadian Government to receive more immigrants as Canada announced in October its multi-year immigration levels plan. In the report, Canada promised to welcome over 400,000 permanent residents every year until 2023.
It also stated that more than 100,000 of these new immigrants will come in through Express Entry-managed programs in the Federal High Skilled category.
Canada recorded a slower unemployment rate in October from 9% recorded in September to 8.9% as fresh 84,000 jobs were added in the month. This is a great improvement as the country looks to recover from the COVID-19 induced restrictions that took away over 3 million jobs earlier in the year.
Trump administration acknowledges likely election loss, agrees to transition with Biden
Trump administration seems to have officially commenced the transition to Biden after weeks of delay and law suits.
The Donald Trump administration seems to have acknowledged the loss of the presidential election as the General Services Administration (GSA), after weeks of non-cooperation has informed President-elect, Joe Biden that the administration is ready to begin the formal transition process.
According to a report from CNN, this was disclosed in a letter from the Administrator of DSA, Emily Murphy on Monday afternoon, November 23, 2020.
READ: Donald Trump bans American investments in companies linked to Chinese military
The letter is the first major step taken by the Trump administration to acknowledge its defeat in the presidential election after over 2 weeks that Joe Biden was declared the winner.
Monday's letter is coming hours after Michigan formally certified the election results and some Republican senators had called for the transition process to start. This is also as more lawsuits from Trump's legal team were dismissed, and Georgia election earlier certified on Friday and Pennsylvania set to be certified as well.
READ: U.S. budget suffers a deficit of $3.1 trillion in 2020, as pandemic slams the economy
While making the decision to cooperate with the President-elect, Murphy said she had not been pressured by the White House to delay the formal transition and did not make a decision out of fear or favoritism.
She said, "Please know that I came to my decision independently, based on the law and available facts. I was never directly or indirectly pressured by any Executive Branch official, including those who work at the White House or GSA, with regard to the substance or timing of my decision. To be clear, I did not receive any direction to delay my determination."
READ: Why Gold prices are skyrocketing after a Joe Biden win
The letter signifies Murphy's formal acknowledgment of Joe Biden's victory, a normally perfunctory process known as ascertainment. This action will allow the transition process, which has been delayed for some weeks, to officially commence, ensuring that current administration agency officials cooperate with the incoming Biden team, and providing millions in government funding for the transition.
For some weeks after his announcement as the winner of the presidential election, the Biden team who have been denied access to government information and agencies by the Trump administration, had worked informally to kick start the transition process with some actions which include setting up a coronavirus task force, consulting with public health officials outside the government, meeting with top corporate leaders, amongst others.
READ: US Election: China congratulates Joe Biden
The delay in ascertainment meant that Biden's team was denied access to government data and could not make contact with federal agencies, nor spend $6.3 million in government funding now available for the transition. A Biden official said the most urgent need was for the transition to be given access to Covid-19 data and the vaccine distribution plans.
The Biden team is expected to have access to additional office space inside the agencies and the ability to use federal resources for background checks on Biden's White House staff appointments and Cabinet appointments.
Moments after the letter was sent, Donald Trump tweeted thanking Murphy for her work and affirming the decision to start the transition.
READ: How the United States plans to control the African Development Bank
His tweet reads, "I want to thank Emily Murphy at GSA for her steadfast dedication and loyalty to our Country. She has been harassed, threatened, and abused — and I do not want to see this happen to her, her family, or employees of GSA. Our case STRONGLY continues, we will keep up the good fight, and I believe we will prevail!" Trump tweeted. "Nevertheless, in the best interest of our Country, I am recommending that Emily and her team do what needs to be done with regard to initial protocols, and have told my team to do the same."
This letter from GSA now means that the Biden team will now have access to government agency staff with regular briefings in addition to details of administrative issues that need to be addressed immediately.
The President-elect and his vice will also be receiving classified intelligence briefings as white house officials will start to cooperate.
It can be recalled that Murphy, who was appointed by Donald Trump, had refused to go ahead with the ascertainment process, despite Biden's clear victory. She has faced intense scrutiny and political pressure from Democrats and, in recent days, Republicans calling for the start of a smooth transition.
Trump International Hotel sale stalled
The planned sale of the Trump International Hotel has been put on hold indefinitely.
The spirited efforts made by the Trump Organization to dispose of its Trump International Hotel in Washington DC was truncated, as the sale has been put on hold indefinitely.
This is even as the organization had already engaged Mr. Jones Lang LaSalle to look for buyers.
READ: Game Changing in Nigeria's Lodging Industry – Hotel Chain
According to CNBC News, the asking price for the property is about $500m but none of the bids was close, with several bids less than $250m.
In consideration of the subsisting lease terms, industry executives and advisors are of the opinion that any realistic bid to purchase the hotel would have to be around $150 million to $175 million which is even less than the Trump Org.'s $200 million investment.
READ: Hotels in Nigeria are on the verge of collapse
This scenario leaves the organization with the inevitable option of selling at a loss and as well default on the loans from Deutsche Bank loan and turn over the keys, or try to keep the property and return to profitability, at the end of the day.
What they are saying
According to Brian Friedman, CEO of Friedman Capital, who owns chains of hotels and properties in the DC area and as well bided for the property, "At this point, they could either just turn over the keys, or keep it and make it part of whatever media company the President decides to create. I just don't think they're going to get the price they expected."
READ: Reps to support total reforms in aviation industry through legislation – Speaker
According to industry executives, "Faced with a $100 million loan from Deutsche Bank on the property and continued losses, the Trump Organization may end up either having to subsidize the business for years to come, or default on the loan and hand back the property."
READ: Donald Trump bans American investments in companies linked to Chinese military
In response to the insinuations by the industry executives, the Spokesman for the organization said, "There are absolutely no plans to default on the loan, nor have we ever missed a payment. As for the stalled sales effort, we have had offers north of $350M, which would have been the most expensive price ever paid for a hotel in Washington D.C. and we have rejected those offers in full. Trump International Hotel, Washington D.C. is one of the finest hotels in the country as rated by Conde Nast and so many others."
According to President Trump, he admitted to have overpaid for the property and said, "I mean, we are paying too much for the Old post office. But we will make that so amazing that at some point in the future it'll be very nice."
READ: Unmarked hotels and short-stay apartments report high occupancy rates during COVID-19
What you should know
The Trump International Hotel is the flagship company of Donald Trump's diversified business empire and was officially opened for business in October, 2016.
In 2019, the hotel achieved a total sum of $40.5m in revenue.
The Trump Organization is expected to pay $3 million annually over 60 years lease period and the sum of $200m was invested to renovate the property, out of which $100m was a loan from Deutsche Bank.
Importantly, potential buyers/bidders are averse and finding it difficult to agreeing to keeping the Trump name on the hotel which is one of the conditions of the offer.
Trump retracts earlier election loss statement, says he didn't concede defeat
The US President showed no sign of conceding to the Democratic candidate where he claimed not to have lost the election.
The United States President, Donald Trump, appears to have recanted his earlier statement through a tweet post where he somewhat acknowledged that the Democratic candidate, Joe Biden, won the presidential election, but said it was rigged.
While disclosing in his new tweet post that Joe Biden only won in the eyes of fake news media, Donald Trump said that he was not going to concede and called the election rigged.
In the earlier tweet post which was flagged by Twitter for making false claims, Trump said, ''He won because the election was rigged, no vote watchers or observers allowed, vote tabulated by a radical left privately owned company, Dominion, with a bad reputation and bum equipment that couldn't even qualify for Texas (which I won by a lot), the fake and silent media, and more.''
However, in a later tweet post, the US President showed no sign of conceding to the Democratic candidate where he claimed not to have lost the election and once again made some unsubstantiated claims of voter fraud and rigging.
In the tweet post which was also flagged by Twitter, Donald Trump said, ''He only won in the eyes of the Fake News Media. I concede nothing. We have a long way to go. This was a rigged election.''
He only won in the eyes of the FAKE NEWS MEDIA. I concede NOTHING! We have a long way to go. This was a RIGGED ELECTION!

— Donald J. Trump (@realDonaldTrump) November 15, 2020
The US President has refused to concede defeat of the November 3 election to the Democratic candidate despite the clear projections of the results of the media which gave victory to Joe Biden.
Donald Trump had instituted several lawsuits in about 5 key states like Pennsylvania, Georgia, Michigan, Wisconsin and Arizona, with an uphill task to upturn the results which give Joe Biden a clear lead.
He has earlier suggested that the former Mayor of New York, Rudy Giuliani, is going to lead the legal effort of his campaign organization, together with other team members, to defend their rights to free and fair elections.