Google fired up, post strong advertising growth
Google fired up on all cylinders as high as 9% in after-hours trading as it smashed many stock analysts' predictions.
Google parent company Alphabet was fired up on all cylinders. It gained as much as  9% in after-hours trading, after it smashed many stock analysts' predictions for both revenue and earnings in its Q3 results, showing strong growth in ad revenue amid the ravaging COVID-19 virus attacks.
READ: Google to pay online publishers for high quality contents
READ: Oracle wins bid to acquire TikTok's US operations after Microsoft offer was rejected
What you should know
Highlights of Q3 results
Earnings per share: $16.40 vs $11.29 expected.
Revenue: $46.17 billion vs $42.90 billion expected.
Google Cloud: $3.44 billion vs. $3.32 billion expected.
YouTube ads: $5.04 billion vs. $4.39 billion expected.
Traffic acquisition costs (TAC): $8.17 billion vs. $7.66 billion expected.
READ: Biggest IPO: World's biggest Fintech plans to raise $34 billion 
At the time of drafting this report, the world's tech powerhouse, Google had a valuation of over a trillion-dollar and was trading at $1,567.24 with its Price/Earning Ratio standing at 32.91.
However, Google's parent company disclosed its revenue from "Other Bets," which includes its subsidiaries outside of Google like the self-driving car company Waymo and Life Sciences business – Verily, brought in $178 million compared to $155 million a year ago.
Meanwhile, Other Bets showed an operating loss of $1.10 billion, up from $941 million a year ago.
READ: Nike stocks post gains, women's apparel division grow by 200%
What they are saying
The top brass of Google including its CEO, Sundar Pichai, and Wall street's Ruth Porat, CFO of Google, gave valuable insights on why the most popular search engine company performed extremely well.
"We had a strong quarter, consistent with the broader online environment," said Sundar Pichai, Chief Executive Officer of Alphabet and Google.
"It's also a testament to the deep investments we've made in AI and other technologies, to deliver services that people turn to for help, in moments big and small.
READ: BTC bounty: 69,000 Bitcoins worth $700 million waiting for you
Ruth Porat, Chief Financial Officer of Alphabet and Google, said,
"Total revenues of $46.2 billion in the third quarter reflect broad-based growth led by an increase in advertiser spend in Search and YouTube, as well as continued strength in Google Cloud and Play.
"We remain focused on making the right investments to support long-term sustainable value."
READ: Presco Plc projects N24.53 billion turnover in Q4 2020
Nigerian stocks close November with biggest monthly gains in two years
The Nigerian stock market closed the month of October with aplomb posting the biggest monthly gains in almost two years.
The Nigerian stock market closed the month of October with aplomb posting the biggest monthly gains in almost two years. The Nigerian All Share Index ended the point with 35,034 points closing with a month to date gains of 14.72%.
Stocks are up 30.48% year to date and on track to reverse the losses of the last two years. Stocks are still off the 2017 high of 38, 243 points suggesting that there could be more room for growth.
READ: U.S biggest listed companies post best monthly gains since January 1987
Major Driver for Stocks
The stock market has attracted significant demand from institutional and retail investors seeking higher returns on their investments. With interest rates on alternative investments such as fixed income, hundreds of billions of local investor cash flowed into the stock market sending the bulls raging.
The central bank's policy on lowering interest rates has been positive for the stock market as investors scrambling for yield turn to the stock market. The Covid-19 lockdown sent stocks crashing earlier in the year falling by 18.75% in March alone as investors dumped stocks in droves.
This sent dividend yield into double digits only making it a matter of time before investors.
Nigerian stocks have also benefited from the positive sentiments surrounding the rise in oil prices even and the slew of announcements of a vaccine being found for Covid-19.
READ: 34.5% decline in aviation jet fuel daily sufficiency, a worry for airline companies
Top stocks
During the month, Livestock Feeds gained the highest with a 132% returns month to date followed by International Breweries with an 84% pop. Airtel Africa joined the top 10 gainers list during the month with a 55% gain as investors rewarded the telco for its impressive results.
On a year to date basis, Sunu Assurance topped the gainers' chart with a 400% gain followed by BUA cement with 204%. Livestock Feeds, Airtel, and United Capital makes up the rest of the top 5 stocks this year gaining 160%, 97%, and 88% respectively.
United Capital and BUA Cement are included in Nairametrics Stock Select Portfolio.
READ: Tesla's market value bigger than any African country
Can this be sustained?
Investors remain wary of the stock market with the experiences of the last two years still fresh in memories. However, there are factors that could tip the market towards a bearish run.
Interest rates – When the CBN chooses to raise interest rates on treasury bills or OMO bills just know it is time to exit. I need not explain this further.
Zombie Stocks gaining – These are stocks with little to zero fundamentals gaining by double digits. We saw some of these last week and it was quite disturbing. But as an SSN subscriber, we will never recommend a Zombie stock so you cannot be caught napping.
READ: Bank stocks remain a buy amid uncertainty prevailing Nigeria's economy
Political Instability – Nigerian Stocks withstood the EndSars protest after a few days of panicking selling. However, with tensions still in the air, any more political skirmishes could depress the market severely.  Nigerian politicians have so far demonstrated an impressive array of skills in managing internal crisis so I am betting that they can manage this. However, with the economy in dire straits, this remains a huge concern for me.
Bombing – I shuddered during the week when I heard there were meetings going on in the Niger Delta to discuss states in the North who were mining and selling Gold. The last thing we need now is another bombing from Niger Delta Militants. If that happens then expect a massive sell off.
READ: Tesla up 500% in 2020, near $500 billion market value
Oil Prices – Nigerians stocks remain perfectly correlated to oil prices. It is a rule that has remained for decades and still matters. Whilst we have seen oil prices dipped below $40 in recent weeks, it has found ways to creep above it. The recent wave of covid-19 cases globally remains a concern but this is largely mitigated by the discovery of a possible Covid-19 vaccine.
Foreign Investors – During the week, the operators of the MSCI Index for frontier markets decided to take no action on Nigeria. This means despite all the challenges we have with forex; they still see the Nigerian stock market as a destination for foreign portfolio investments. I do not expect foreign investors to continue to invest in Nigeria due to challenges with capital control, but our market is still attractive. In fact, I hear stocks like Nestle, Nigeria Breweries, International Breweries are attracting significant foreign portfolio investments.
READ: Nigerian retail industry can't grow without proper franchise system – CIG boss
Where does this lead to?
We are now on the cusps of a new market order. If interest rates remain this low, we will continue to see a stock market that will be robust and resilient. Our bold theory is that we might never see another major stock market crash if we sustain this bullish ride for another full quarter.
Explore Data on the Nairametrics Research Website
Investors will demand more accountability from the management of companies while regulators will enforce transparency.
Companies will publish interim and annual reports regularly and will reinforce their investor relations business.
This will trigger confidence in the stock market allowing for sustained investing. At some point soon, we will see the return of mega IPOs, Public Offers, and right issues.
Retail investors will flock into the market, but they will be better informed about what to buy and what not to buy.
This might all sound overly optimistic but let us remember the US stock market has been on a bullish ride since 2008.
READ: Nigerian pension funds increase exposure to foreign money market funds
Indeed, the global equities market will remain sustained on the positive side if governments in the west continue with their quantitative easing programs that pump in cheap money into the economy.
U.S biggest listed companies post best monthly gains since January 1987
The Dow jumped 11.8% in November, posting its best one-month gain since January 1987. The S&P 500 and Nasdaq Composite surged by 10.8% and 11.8%, respectively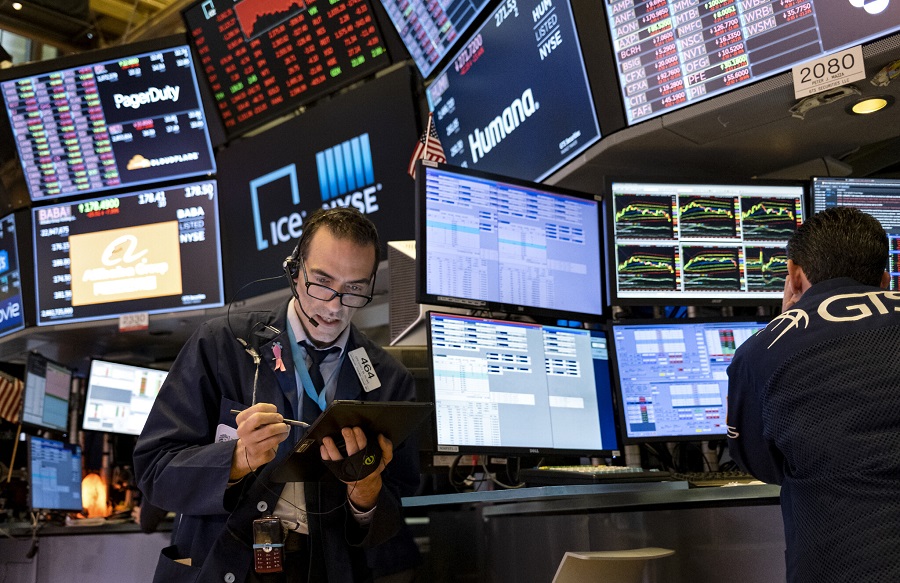 U.S biggest listed companies were all fired up in the month of November, as they posted incredible gains, amid three promising Covid-19 vaccines presently in play.
This triggered investors buying pressure in the world's largest and most liquid equity market.
The Dow jumped 11.8% in November, posting its best one-month gain since January 1987.
The S&P 500 and Nasdaq Composite surged by 10.8% and 11.8% respectively, for their strongest monthly advances since April.
What this means
November gains are coming amid a slew of positive COVID-19 vaccine news, which lifted the broader market sentiments up and sparked a surge of blue-chip brands that include Apple, Amazon, Coca-Cola, Salesforce, Intel, IBM, Google, Chevron, IBM, JP Morgan Chase, Goldman Sachs, Amgen, Boeing, Visa, Walmart, and Walt Disney.
The iShares Russell 1000 Value ETF (IWD) rallied 13.4% for the month and outpaced its growth counterpart, the iShares Russell 1000 Growth ETF (IWF), by 3 more percentage points.
What they are saying
Stephen Innes, Chief Global Market Strategist at Axi, in a note to Nairametrics, advised stock traders to be wary of recent data showing a plunge seen in Dallas Fed November Manufacturing activity data, following the Chicago PMI miss earlier on Monday.
"The Dallas Fed miss was consistent through most of the sub-indices, with new orders falling to 7.2 from 19.9, though the number of employees increased to 11.7 from 8.7. Prices paid rose to 35.0 from 29.4, while prices received fell to 4.7 from 6.8, indicating potential margin pressure.
"However, even worse for these firms are the year-on-year comparisons, it seems. It is usually in these last couple of months where many retailers make their annual profit.
"The weakness of data outside of Asia highlights lockdowns (forced or self-imposed) have begun to affect. Simultaneously, early reports suggest Black Friday may have been underwhelming — even taking into account online activity, one of the new 'norms' of 2020."
What you should know
The Dow Jones or Dow Jones Industrial Average (DJIA) is a popularly known stock market index that measures the stock performance of the 30 biggest companies listed on stock exchanges in the United States.
What to expect
In the coming days, global investors are anticipating an even stronger 2021 profit outlook possibly coupled with a quick inoculation-driven economic recovery at least for the mid-term.
Airtel, Mobil, FCMB lead Nigerian Stocks Up W/W, investors gain N390 billion
The All-Share Index and Market Capitalization appreciated by 2.19% to close the week at 34,885.51 and N18.228 trillion respectively.
Nigerian Stocks ended the week bullish cumulatively. The All-Share Index and Market Capitalization appreciated by 2.19% to close the week at 34,885.51 and N18.228 trillion respectively.
Investors gained N390.26 billion. A total turnover of 1.816 billion shares worth N25.791 billion in 31,665 deals was traded this week by investors on the floor of the Exchange, in contrast to a total of 11.400 billion shares valued at N35.892 billion that exchanged hands last week in 39,265 deals.
READ: Nigerian Tier-2 banks fired up, investors profit up N1 trillion W/W
The Financial Services Industry (measured by volume) led the activity chart with 1.274 billion shares valued at N14.710 billion, traded in 18,392 deals; thus, contributing 70.15% and 57.04% to the total equity turnover volume and value respectively.
The Conglomerates Industry followed with 217.170 million shares worth N231.809 million in 1,226 deals. The third place was the Consumer Goods Industry, with a turnover of 113.760 million shares worth N2.598 billion in 4,568 deals.
Trading in the top three equities namely Zenith Bank Plc, Transnational Corporation of Nigeria Plc, and Access Bank Plc (measured by volume) accounted for 649.529 million shares worth N8.104 billion in 6,395 deals, contributing 35.76% and 31.42% to the total equity turnover volume and value respectively.
Twenty-seven (27) equities appreciated at price during the week, higher than twenty-one (21) equities in the previous week. Forty-three (43) equities depreciated in price, lower than fifty-five (55) equities in the previous week. Ninety-one (91) equities remained unchanged, higher than eighty-five (85) recorded in the previous week.
READ: GTBank obtains approval-in-principle from CBN to operate as financial holding company
Top 10 gainers W/W
UPDC REAL ESTATE INVESTMENT TRUST up 32.53% to close at N5.50
NEIMETH INTERNATIONAL PHARMACEUTICALS PLC up 12.03% to close at N2.70
NCR (NIGERIA) PLC. up 10.00% to close at N1.98
11 PLC (MOBIL) up 9.89% to close at N208.80
UNIVERSITY PRESS PLC. up 9.52% to close at N1.38
UNITED CAPITAL PLC up 8.16% to close at N4.77
CORONATION INSURANCE PLC up 7.32% to close at N0.44
FCMB GROUP PLC. up 7.26% to close at N3.25
AIRTEL AFRICA PLC up 7.00% to close at N535.00
AXAMANSARD INSURANCE PLC up 6.36% to close at N2.34
Top 10 losers W/W
JAPAUL OIL & MARITIME SERVICES PLC down 11.11% to close at N0.24
HONEYWELL FLOUR MILL PLC down 10.83% to close at N1.07
CUSTODIAN INVESTMENT PLC down 10.00% to close at N5.85
CHAMPION BREW. PLC. down 9.43% to close at N0.96
TRANS-NATIONWIDE EXPRESS PLC. down 9.38% to close at N0.87
LINKAGE ASSURANCE PLC down 9.09% to close at N0.50
WEMA BANK PLC. down 9.09% to close at N0.70
PORTLAND PAINTS & PRODUCTS NIGERIA PLC down 8.42% to close at N2.61
ARDOVA PLC down 8.33% to close at N13.75
NASCON ALLIED INDUSTRIES PLC down 8.05% to close at N16.00
READ: MTN Nigeria, Dangote Cement stocks fired up, investors gain whopping N708 billion
Outlook
Nigerian Stocks unsurprisingly recorded impressive gains W/W, as investors increased their buying pressure, especially buying from dips across the market spectrum.
Nigerian's crude, selling at $48/barrel, boosted the Nigerian central bank dollar cash inflow. Also, the Apex Bank last concluded MPC meeting left all key indicators unchanged, kept Nigerian Bank stocks investors relieved, amid the bias that Nigerian banks would have enough headway in mitigating the prevailing economic uncertainties currently in play.
READ: Access Bank, First Bank up, investors gain N747 billion W/W
Stock experts anticipate the present bullish run currently playing at Africa's best-performing equity market will remain in the coming week, albeit alongside profit-taking.
However, Nairametrics, envisage cautious buying, taking into consideration the low presence of the Foreign portfolio investors amid low investments seen lately in the Nigerian Stock Exchange amid stringent capital controls set in place by Nigeria's Apex bank could limit the Stocks bull upside in the long term.
Explore Data on the Nairametrics Research Website