U.S Stocks post gains, led by Apple, Oracle
The tech-heavy Nasdaq ended its two-day losing streak, as deal activity lifted sentiment on the sector.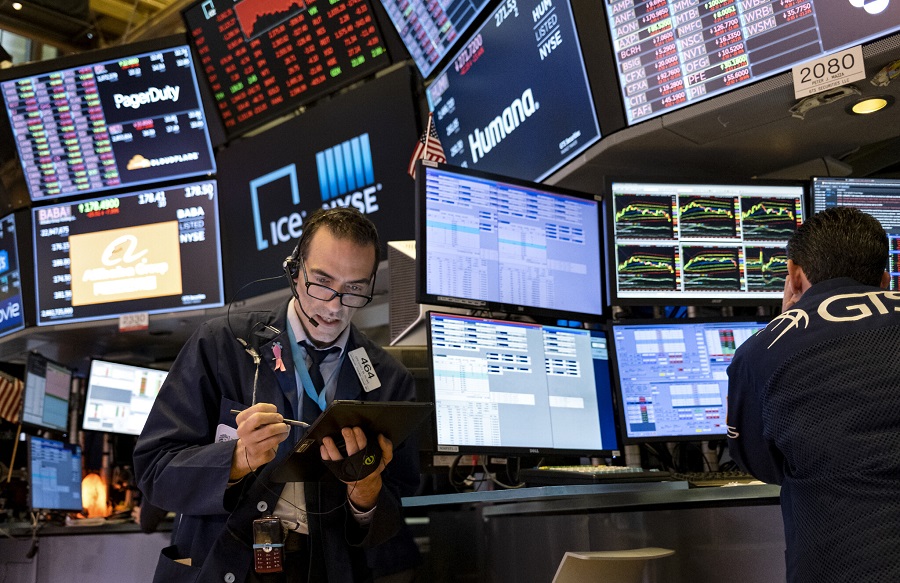 U.S Stocks rallied higher at the most recent trading session, led by big tech brands (Apple & Oracle), as positive macros on the COVID-19 vaccine prompted long bets on U.S stocks.
Oracle Corporation stock price gained 4.32%, as the tech firm appeared to be the chosen partner for TikTok business in the U.S. ByteDance. The owners of TikTok, had earlier disclosed that it preferred to partner, rather than sell, TikTok's U.S. business, rejecting an offer for outright sale from Microsoft.
READ: Zoom reports a surge in profit of 3,300%
Microsoft's stock price ended slightly higher at 0.68%. Apple Inc was up by more 3%, while the stock price of Facebook; Alphabet, owners of Google; and Amazon.com ended the trading session bearish.
The Dow Jones Industrial Average gained 1.18%, and the S&P 500 was up by 1.27%, while the Nasdaq Composite (comprising of tech heavy-weights) gained 1.87%.
READ: Nigerian billionaires lose billions amid COVID-19 pandemic
The tech-heavy Nasdaq ended its two-day losing streak, as deal activity lifted sentiment on the sector.
Stephen Innes, Chief Global Market Strategist at AxiCorp, in a note to Nairametrics, spoke on the fundamentals that keeps stock traders hopeful.
"Even though the Feds are unlikely to go full tilt, there is sufficient policy juice in the tank, not to mention what's in reserve to keep the market humming along quite well,"
READ: Apple becomes world's largest public listed company, valued at $1.82 trillion
"Despite the sharp sell-off last week, investors remain optimistic about the US equity market's path in the coming months,"
"Economic data points to a continued recovery, while further reopening and vaccine progress will likely set the wheels in motion for another move higher in stocks."
Investors should expect markets to remain volatile in the short-term, but the recent setback is hardly a cause for panic, especially since some of the tech giants have recently reached dizzying heights.
Nigerian Stocks immune to high sell-offs recorded in Global Stock Market
UACN led 9 Gainers as against 16 Losers topped by CHAMPION at the end of today's session.
Nigerian stock started the first trading day of the week on a surprisingly bullish note amid record sell-offs in the global market. The All Share Index gained 0.01% to close at 25,574.35 points as against the +0.16% gain recorded on Friday.
Its Year-to-Date (YTD) returns currently stands at -4.72%. Nigerian Stock Exchange market capitalization presently stands at N13.365 trillion.
Nigerian bourse trading turnover printed higher as volume climbed up by 1.36% as against the 16.31% plunge recorded on Friday. FBNH, CHAMS, and UBA were the most active to boost market turnover.
Market breadth closed negative as UACN led 9 Gainers as against 16 Losers topped by CHAMPION at the end of today's session – an unimproved performance when compared with the previous outlook.
Top gainers
UACN up 5.79% to close at N6.4
INTBREW up 3.03% to close at N3.4
PRESCO up 1.84% to close at N49.9
GUARANTY up 0.20% to close at N25.4
MTNN up 0.08% to close at N120.1
Top losers
CHAMPION down 10.00% to close at N0.81
REDSTAREX down 9.20% to close at N2.96
JBERGER down 3.23% to close at N15
ACCESS down 0.78% to close at N6.4
FLOURMILL down 0.76% to close at N19.65
Outlook
Nigerian bourse ended in a near stalemate amid selling pressures recorded in Brent crude futures at U.S trading session. Nigerian bourse, with the help of NSE30 stocks like MTN, GTBank also brought immunity against significant sell-offs recorded on the global stocks market on Monday.
At the time this report was drafted, the Dow Jones Industrial Average (DJI) was down 588.64 points, or 2.13%, at 27,068.78. The S&P 500 (SPX) was down 59.80 points, or 1.80%, at 3,259.67, and the Nasdaq Composite (IXIC) was down 142.45 points, or 1.32%, at 10,650.83
The CBOE Market Volatility Index (VIX), a measure of investor anxiety, shot up to its highest level in nearly two weeks.
Nairametrics envisages cautious buying as market indicators point to higher uncertainty in the coming days coupled with rising cases of COVID-19 infections at Nigeria's most important international markets.
S&P 500 futures suffer longest run of losses since February
Futures contracts on the S&P 500 Index plunged by 1.4% at the time this report.
U.S. Stock futures started the trading week on a bearish footing, signaling losses at the opening U.S trading session on Monday. U.S stocks were hit by growing concern about new restrictions triggered by rising COVID-19 cases.
What we know; Futures contracts on the S&P 500 Index plunged by 1.51% at the time this report was drafted, pointing to a fourth straight daily decline, the longest stretch of losses for the gauge since the end of February.
Contracts on the Dow Jones Industrial Average and Nasdaq 100 fell 1.85% and 1.5%, respectively.
Quick fact; American Stock futures are simply standardized contracts that global traders use in purchasing or selling the U.S stock in a future date. This means that the U.S stock futures give an insight into what global investors see before the market opens, or after it close
Stephen Innes, Chief Global Market Strategist at AxiCorp, in a note to Nairametrics spoke on the prevailing fundamentals, giving stock bears an edge. Stock futures opened uncertain as investors remain confused about which way to move this morning as lockdown fears take charge with the UK government sounding alarm bells as the Covid-19 curve moves in the wrong direction.
After the initial economic bounce from full-blown lockdowns, both the UK and Europe's economic trajectory could be entering a gloomy second phase characterized by ongoing social distancing, elevated unemployment, and increasing damage to the supply side.
(READ MORE: Nigerian Stocks on a 3-day losing streak, triggered by Dangote Sugar, Ecobank)
He also spoke on the parabolic nature of the world's largest equity market, as the U.S election sets in, by saying;
"However, they remain weighed down by a drip-feed of negativity around Covid-19 resurgence, US fiscal impasse and as the market starts to factor in US election risk in earnest. Retail and hedge funds bought the initial Nasdaq dip after the September 2 carnage. But since then, there has been a noticeable shift in trading behavior where bounces are quickly faded."
Political tensions also making global investors shaky as Democrats and Republicans prepare to fight over who will be the next Supreme Court justice.
How Apple lost over $500 billion in 12 trading days
Apple has lost about 22.6% from its intraday record high of $137.98 recorded on September 2.
In Issac Newton's words, "what goes up usually comes down". In Apple's case, it took about 12 trading sessions for the world's most valuable listed company by market value (Apple Inc) to lose more than $500 billion in market capitalization, showing a whooping decline of more than 20%.
The tech juggernaut has plunged about 22.6% from its intraday record high of $137.98 recorded on September 2 losing about $532 billion in market value.
Why it's happening; Apple's fast and whooping fall followed its massive run-up in August ahead of its 4-for-1 stock split, while record losses also came as Apple's recent product event disappointed many investors and its fans globally.
Toni Sacconaghi, senior research analyst at Bernstein in a note to CNBC, called the event "relatively underwhelming."
"We believe it could be difficult to move users from competitive music, video, or gaming services, where they are often entrenched," Sacconaghi said in a note. "We continue to believe that Apple should look to more creatively bundle its hardware + services into integrated subscription bundles."
Sequel to Apple's recent fall, Nairametrics about a month ago broke the news showing how the tech juggernaut crossed the $2 trillion mark in market valuation – the first company in the world to achieve this feat.
Apple was also the first company to cross the $1 trillion market capitalization mark.
Apple became the first company to cross $2 trillion after riding on a wave of positive market sentiments that has trailed the United States since the Trump Administration pumped in trillions in stimulus in response to the Covid-19 pandemic that shut down the economy of the richest country in the world.
That said, the fall of Apple's share price in recent days came amid a significant sell-off in the tech sector as stock traders shifted out of the market-leading high-flyers. The tech-heavy Nasdaq Composite had dropped into correction territory, down more than 10% from its record high.