Nigerian billionaires lose billions amid COVID-19 pandemic
Nigerian billionaires recorded more losses than gains amid COVID-19 due to the volatility of the stock market occasioned by the killer disease.
The year 2020 began with lots of predictions and promises, but the volatility in the stock market (which was occasioned by the Coronavirus pandemic) was not top on the list.
On February 27, Nigeria recorded the index case of the Coronavirus pandemic, an Italian who visited the country for business reasons. A month later, the federal government was preparing to announce a lockdown of the economy as part of measures to curb the seemingly unpredictable increase in the spread of the Coronavirus.
The lockdown which commenced 2 days after the announcement brought a lot of uncertainty into the financial markets, and this definitely comes with huge consequences for individual and corporate investors.
For many investors around the world, the first four months of the year was a bad one. There were fluctuations and sudden declines in stock prices. And for top Nigerian billionaires, it was definitely more of the losses than the gains. This article examines how they performed in the last two months, from February 29 after the index case was Q1 2020.
---
Alhaji Aliko Dangote 
Being the richest man in Nigeria is no mean feat, yet Dangote has been able to maintain this title for years without breaking a sweat. However, the Coronavirus pandemic has taken a bite out of the billionaire's billions.
By the end of February 2020, Dangote's 14,500,315,501 direct shares in Dangote Cement Plc worth N2,465,053,635,170 at the share price of N170 per unit, while the 27,642,637 shares which he controls through Dangote Industries Limited were worth N4,699,248,290 at the same share price.
By implication, the total worth of his shareholding in Dangote Cement Plc as at February 29, 2020, was N 2,469,752,883,460‬—over N2.4 trillion.
(READ MORE: 10 fantastic things Aliko Dangote has done in the last 10 years)
The value slid downwards hitting N129.70 at the end of March, before rising slightly to N130 at April 30.
At this time, Dangote's indirect shares were worth N3,593,542,810 while his direct shares were worth N1,885,041,015,130 summing up to N1,888,634,557,940 (over N1.8 trillion).
By comparing N 2,469,752,883,460‬, the value as at February 29, with N1,888,634,557,940 as at April 30, we can see that the billionaire's assets in Dangote Cement Plc crashed by N 581,118,325,520 (N581 billion).
By any standards, this was no small loss.
Stock prices at Dangote sugar also suffered a similar fate. Starting at N14.00 per unit on January 1, the stock experienced fluctuations before closing the quarter at N10.00 per unit. Dangote's 8,775,541,295 direct and indirect shares were valued to be worth N122,857,578,130.00 (N122.85 billion) at a share price of N14.00 on January 1.
Twelve weeks later, with the stock price down to N10.00 per unit, the worth of the same shares had dropped to N87,755,412,950.00 (N87.75 billion), a heartbreaking loss of N35,102,165,180.00 (N35.1 billion).
READ ALSO: Remdesivir has received FDA's emergency approval to treat COVID-19, according to Trump
Stock prices at Dangote sugar, however, took a different trend for this period, starting at N12.1 on February 29 and appreciating almost 3% to 12.45 at the end of April.  
The billionaire directly owns 653,095,014 shares and indirectly owns 8,122,446,281 shares through the Dangote Industries Limited.   Dangote's 8.77 billion shares were valued to be worth N106,184,049,669.5 (N106.84 billion) at a share price of N12.1 on February 29. 
Twelve weeks later, with the stock price up to N12.45 per unit, the worth of the same shares had increased to N109,255,489,122.75.  This gain of about N3 billion was recorded during the pandemic period, and on surface value, it can be attributed to the food products which the company produces. People eat even during a crisis. 
Adding up the figures with that of Dangote cement, one can see that the little gain of N3 billion cannot be compared to the loss of N581 billion, as the mogul still lost over half a trillion. 
We have not made any calculations for NASCON, as there is no way to confirm the stocks Aliko Dangote has with the company since he is not listed on the board.
However, NASCON shares closed at N13 on February 29, and slid down to N10.05 on April 30, dropping by 23%.
---
Tony Elumelu  
Entrepreneur billionaire and Chairman of United Bank for Africa Plc, Tony Elumelu also had some losses during the two months in review.
TOE, as he is called, directly owns a total of 190,100,234 units of shares in the bank, and 2,114,110,884 units of indirect shareholding in the company. This brings his total shareholding to 2,304,211,118 units of shares. By the close of trading on February 29, UBA's shares were worth N6.7, meaning Elumelu's total stocks in the bank was worth N15,438,214,490.6 (N15.43 billion).
There was not much movement in the share values for UBA plc as it started N6.7 on February 29 and ended April at N6.05. This means that by April 30, Elumelu shares (multiplied by the share price of N6.05 per unit) were worth N13,940,477,263.9 (N13.94 billion), showing a loss of N1,497,737,226.7 (N1.49 billion). This loss was a 9.7% depreciation of his share value, but N1.49 billion was no small loss for TOE.
READ MORE: Asteroids hit hard on Nigerian top stocks, investors lose N161billion
---
Jim Ovia
The founder of Zenith Bank, Jim Ovia is one of Nigeria's top billionaires. He directly owns 3,546,199,395 units and indirectly owns 1,513,137,010 units of shares. With over 5 billion units of direct and indirect shareholding in the bank, he is the biggest shareholder. Zenith Bank's shares closed at N18.5 on February 29, danced a little way up and a little way down, before sliding continuously to close at N14.3 as at April 30.
As at February ending, Ovia's total 5,059,336,405 units of shares were worth N93.59 billion (N93,597,723,492 at the share price of N18.5 per unit. By April 30, following the crash in prices, the worth of the same shares had dropped to N72,348,510,591.5 (N72.35 billion). Subtracting the latter value from the first, one can see that the worth of Jim Ovia's stocks dropped by a whopping N21.2 billion (N21,249,212,901).
Among all the billionaires, Jim Ovia suffered the greatest percentage loss in the worth of his assets, 22.7%.
A heart-rending drop for him!
[READ FURTHER: Meet Elochukwu Umeh, founder of Africa's digital powerhouse)
---
Herbert Wigwe  
Access Bank's Group CEO, Herbert Wigwe had a total shareholding of 1,441,522,910 units as at December 2019, before selling off a total of 55,611,001 indirect shares in four transactions, all in January 2020.
The depletion of his indirect holding through Trust and Capital Limited left him with 1,385,902,910 total shares made up of 1,184,680,195.5 units indirect holding and 201 million (201,231,713) direct shares. ‬
Share prices of Access bank closed at N8,2 on February 29 and dropped to N6.6 on April 30. His 1.39 billion shares were worth N 11,364,477,653.80 on February 29, and crashed by 19% to become N 9,147,018,599.40 on April 30.
Wigwe is N2.22 billion poorer because of the COVID-19 induced stock crisis.
---
Alhaji Abdulsamad Rabiu
According to the Cement Company of Northern Nigeria Plc (CCNN) 2018 financials, Abdulsamad Rabiu had 12,752,801,231 units of shares. However, CCNN has since then been merged with the Obu Cement to give birth to BUA Cement. Since the merger, the new entity BUA cement has not released any financial statement so there was no way to confirm what Rabiu's stakes are in the company presently.
However, BUA cement had its stock close at N37.15 at the end of February 29, 2020. This value dropped by 12.25% over the weeks to hit N32.6 by 30 April.
By implication, whatever the number of shares the billionaire had with the company, the value has dropped by over 12% in the COVID-19 dominated weeks.
Note that the stocks started the year at N18.10, meaning that the billionaire has lost even much more than we have captured.
READ MORE: Reasons Nigerian Breweries was moved to medium price segment
---
Austin Avuru 
Having dispensed of a few shares in 2019, co-founder of Seplat Austin Avuru ended the year with 58,970,463 indirect shares in the oil and gas company.
Avuru's shares, when multiplied by the share price of N605 gives a naira value of N 35,677,130,115 as of February 29.
Taking it two months forward, a stock price of N494.4 as at April 30 shows that the value had depleted to N29,154,996,907.20
Avuru lost about N6.5 billion (N 6,522,133,207.80) to the stock price decline.
[READ ALSO: Top 10 CEOs and how they spent 10 days in lockdown)
---
Mike Adenuga
Mike Adenuga is the Chairman of Conoil Nigeria Plc, and directly owns 516,298,603 units of shares. He also has 103,259,720 units of indirect shares through Conpetro Limited, making for about 74.4% of Conoil's issued share capital.
Conoil's stock prices started at N18 per unit and only dropped a little to close at N17.4 on April 30.
Multiplying Adenuga's 103,259,720 indirect shares by the stock price of N18 gives us a naira value of N1.86 billion (N 1,858,674,960) as at February ending, but the slight decline in stock value reduced the worth of these shares to N1.79 billion (N1,796,719,128).
Adenuga lost N61.9 million (N61,955,832) in his indirect shares to the COVID-19 crisis.
The 516,298,603 direct shares fell from N9.29 billion (N9,293,374,854) to N8.9 billion (N8,983,595,692.2) by end of April—a difference of N309 million.
From these figures, we can see that Adenuga's had a loss of N371 million (N371,734,993) within the period under review.
---
Table of losses
| | |
| --- | --- |
| Billionaire | Losses (N'billions) |
| Aliko Dangote |                    581.0 |
| Tony Elumelu |                        1.5 |
| Jim Ovia |                      21.2 |
| Herbert Wigwe |                        2.2 |
| Austin Avuru |                        6.5 |
| Mike Adenuga |                        0.3 |
---
Understanding the trend
A lot of factors affect the stability or otherwise of a company's stock price and one of them is the volume of shares being traded.
A Council member, Nigerian Stock Exchange, Adebayo Ajayi, explained that the more shares owned by an individual investor, the fewer number of shares being traded and the more stable the price can be.
Investors often rush to sell when they sense uncertainty in the market. This results in a larger volume of shares being traded and directly impacts share values.
According to Ajayi, the stocks in Dangote group of companies, for instance, float more as the billionaire has gradually let in more investors over the years.
Note: The stock figures used in the analysis above was sourced from the Nigerian Stock Exchange (NSE) website, using the most recent figures from the companies' financials.
Bill Gates holds far more cash than Nigeria's foreign reserve
The 65-year-old billionaire holds $55.7 billion in the bank while data points that Nigeria's foreign reserve holds $36.5 billion.
Founder of the world's most valuable software company, Bill Gates, currently has more cash in the bank than Africa's biggest economy, Nigeria.
Data retrieved from Bloomberg showed that the 65-year-old billionaire holds $55.7 billion in the bank, while data retrieved from Nigeria's apex bank points that the leading sub-Sahara economy holds $36.5 billion.
READ: Software bug brings down Microsoft Teams, Azure
Bill Gates co-founded Microsoft, the world's biggest software maker, and owns about 1% of the Redmond, Washington-based company.
The majority of the philanthropist's revenue is derived from Cascade Investment, a holding company that was created with gains from Microsoft stock sales and dividends.
READ: Huawei to rival Android with new operating system amidst US ban
What you should know
Based on an analysis of Bloomberg data, Bill Gates has earned more than $50 billion in stock and dividends, including a $3.3 billion payout from Microsoft in 2004, which he donated to his philanthropic foundation.
He is currently the biggest shareholder of Canada's biggest railroad operator, the Canadian National Railway.
Bill Gates made his wealth when he simplified the computer operating system by creating Microsoft Windows, the leading operating system in personal computers globally today.
For many years, Gates had been the world's richest man. He now has a fortune of $134 billion with a 2021 gain of about $2.1 billion.
Bill Gates's current wealth valuation can presently buy 72.3 million troy ounces or 2.39 billion barrels of crude oil.
READ: Oracle wins bid to acquire TikTok's US operations after Microsoft offer was rejected
READ: Huawei staff members to get $286 million cash reward, here's why 
Bottomline
For Bill Gates, although the metrics above reveal he holds a significant amount of his wealth in cash, it's important to note he has exposure in real estate, stocks, and collectibles, thus helping his wealth to grow.
But beyond that, many market experts opine that the rationale behind keeping so many funds in banks amid rising inflation is to fund his philanthropic missions as he donates much of his wealth to causes that help better the world.
READ: Google set to extend footprints with acquisition of smartwatch company, Fitbit  
Dangote, Rabiu, Adenuga make top 10 on Forbes' Africa billionaires list
Nigerian billionaire entrepreneurs; Aliko Dangote, Mike Adenuga and Abdul Samad Rabiu appear in the top spots of Forbes' Africa billionaires list.
Nigerians and South Africans dominate the top 10 spot on Forbes' Africa billionaires list, which is an annual ranking of the richest Africans compiled and published by American business magazine, Forbes.
The 10 richest people in Africa according to Forbes have made their wealth sources including investments in diamonds, telecom, cement, sugar, media and mining amongst others. In total, they have a combined net of $59.8 billion.
The top 10 list doesn't include a woman and is dominated by four South Africans and three Nigerians, with notable names like Aliko Dangote, Nicky Oppenheimer, Johann Rupert, Mike Adenuga, Abdul Samad Rabiu amongst the rest.
READ: Airbnb co-founder, Brian Chesky gains over $7 billion in just a few days
10. Koos Bekker
Net Worth: $2.8billion
Age: 68
Location: South Africa
Origin of wealth: Media and Investments
Company: Naspers
READ: World richest man, Jeff Bezos holds 5% of his wealth in cash
According to Forbes, Koos Bekker is revered for transforming South African newspaper publisher, Naspers into an eCommerce investor and cable TV powerhouse. In 2019, Naspers put some assets into two publicly-traded companies, MultiChoice Group and Prosus which contain the Tencent stake.
9. Patrice Motsepe
Net Worth: $3billion
Age: 58
Location: South Africa
Origin of wealth: Mining
Company: African Rainbow Materials
READ: Facebook founder, Mark Zuckerberg, worth $104 billion keeps $2.3 billion in cash
Patrice Motsepe, the founder and chairman of African Rainbow Minerals, became a billionaire in 2008 – the first black African on the Forbes list. In 2016, he launched a new private equity firm, African Rainbow Capital, focused on investing in Africa.
8. Naguib Sawiris
Net Worth: $3.2billion
Age: 66
Location: Egypt
Origin of wealth: Telecom
Company: Orascom Telecom Holding
Naguib Sawiris is a scion of Egypt's wealthiest family. His brother Nassef is also a billionaire. He built a fortune in telecom, selling Orascom Telecom in 2011 to Russian telecom firm, VimpelCom (now Veon) in a multibillion-dollar transaction.
READ: Many millionaires plan to buy Crypto before 2022
7. Isaad Rebrab
Net Worth: $3.2billion
Age: 76
Location: Algeria
Origin of wealth: Food
Company: Cevital Industrial Group
Issad Rebrab is the founder and CEO of Cevital, Algeria's biggest privately-held company. Cevital owns one of the largest sugar refineries in the world, with the capacity to produce 2 million tons a year. Cevital owns European companies, including French home appliances maker Groupe Brandt, an Italian steel mill and a German water purification company.
READ: Netflix gains 17% after beating investors expectation
6. Abdul Samad Rabiu
Net Worth: $5.5billion
Age: 60
Location: Nigeria
Origin of wealth: Cement, Sugar
Company: BUA Group
Abdulsamad Rabiu is the founder of BUA Group, a Nigerian conglomerate active in cement production, sugar refining and real estate. In early January 2020, Rabiu merged his privately-owned Obu Cement company with listed firm Cement Co. of Northern Nigeria, which he controlled. The combined firm, called BUA Cement Plc, trades on the Nigerian stock exchange; Rabiu owns 98.5% of it. Rabiu, the son of a businessman, inherited land from his father. He set up his own business in 1988 importing iron, steel and chemicals.
5. Mike Adenuga
Net worth: $6.3billion
Age: 67
Location: Nigeria
Origin of wealth: Telecom, Oil
Company: Globacom
Mike Adenuga, Nigeria's second richest man, built his fortune in telecom and oil production. His mobile phone network, Globacom, is the third-largest operator in Nigeria, with 55 million subscribers. His oil exploration outfit, Conoil, operates 6 oil blocks in the Niger-Delta.
4. Johann Rupert
Net Worth: $7.2billion
Age: 70
Location: South Africa
Origin of wealth: Luxury goods
Company: Compagnie Financiere Richemont
Johann Rupert is chairman of Swiss luxury goods firm, Compagnie Financiere Richemont. The company is best known for the brands Cartier and Montblanc. It was formed in 1998 through a spinoff of assets owned by Rembrandt Group Limited (now Remgro Limited), which his father formed in the 1940s. He owns a 7% stake in diversified investment firm Remgro, which he chairs, as well as 25% of Reinet, an investment holding co. based in Luxembourg.
3. Nicky Oppenheimer
Net Worth: $8billion
Age: 75
Location: South Africa
Origin of wealth: Diamonds
Company: De Beers Group
Nicky Oppenheimer, the heir to his family's fortune, sold his 40% stake in diamond firm, DeBeers to mining group, Anglo American for $5.1 billion in cash in 2012. He is the third generation of his family to run DeBeers, and took the company private in 2001. For 85 years until 2012, the Oppenheimer family occupied a controlling spot in the world's diamond trade.
2. Nassef Sawiris
Net Worth: $8.5billion
Age: 60
Location: Egypt
Origin of wealth: Constructions, Investments
Company: Orascom Construction
Nassef Sawiris is an investor and a scion of Egypt's wealthiest family. His most valuable asset is a nearly 6% stake in sportswear maker Adidas. In December 2020, he acquired a 5% stake in New York-listed firm Madison Square Garden Sports, owner of the NBA Knicks and the NHL Rangers teams. He runs OCI, one of the world's largest nitrogen fertilizer producers, with plants in Texas and Iowa; it trades on the Euronext Amsterdam exchange.
1. Aliko Dangote
Net Worth: $12.1billion
Age: 63
Location: Nigeria
Origin of wealth: Cement, Sugar
Company: Dangote Group
Aliko Dangote, Africa's richest person, founded and chairs Dangote Cement, the continent's largest cement producer. He owns 85% of publicly-traded Dangote Cement through a holding company. Dangote Cement produces 45.6 million metric tons annually and has operations in 10 countries across Africa. Dangote also owns stakes in publicly-traded salt and sugar manufacturing companies. Dangote Refinery has been under construction since 2016 and is expected to be one of the world's largest oil refineries once complete.
Top 5 billionaires lost $8 billion in a day
The top 5 billionaires, as a group did not do well at the last trading session of the week amid an era showing the U.S dollar rebounded.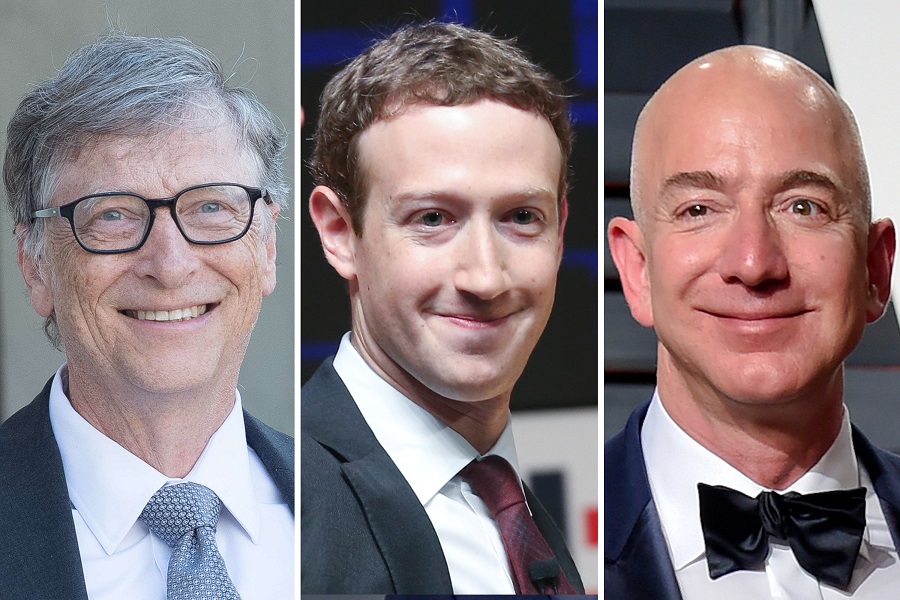 The top 5 billionaires on planet earth had an unimpressive showing at the most recent trading session.
The top 5 billionaires most recent daily loss stood at $7.754 billion
Elon Musk
The world's richest person printed the highest wealth loss for the day as Elon's wealth dropped by $4.28 billion. His wealth is now estimated to be worth $197 billion.
Tesla suffered significant losses at Friday's trading session, on recent reports revealing its Model 3 is now only the fourth-best selling pure electric vehicle (EV) in Europe.
READ: Elon Musk's wealth jumps in 2021, more than top 5 billionaires combined
Investors got alarmed that Tesla got outpaced by Renault and Volkswagen in an important car market like Europe.
Elon Musk, who a few weeks ago, surpassed Jeff Bezos to become the world's richest person, is now the first person in modern history to ever surpass a wealth valuation of over $200 billion.
However, for the long term, Stock experts anticipate that a Democratic-controlled U.S Senate is bullish for Tesla, on the bias that there would be more pro-renewable investments, at least for the next few years.
Jeff Bezos
Jeff Bezos, the current CEO, and founder of Amazon is presently valued at about $182 billion, printing a wealth drop of $1.26 billion for the day.
Investors went short on the trillion-dollar valued company at its most recent trading session, taking into consideration that the tech company had become too powerful, particularly when Amazon dropped Parler, a social network that gained President Trump's die-hard supporters after Twitter suspended his account.
READ: 5 habits of Nigeria's business billionaires you should emulate
Bill Gates
In the third position is another popular tech genius, Bill Gates, the founder of the most valuable software company, Microsoft.
For many years, Gates had been the world's richest man. He now has a wealth fortune of $132 billion, as recent data revealed it dropped by $814 million for the day.
READ: World richest man, Jeff Bezos holds 5% of his wealth in cash
Bernard Arnault
Europe's top entrepreneur and French celebrated fashion icon, Bernard Arnault, is fourth on the list with a fortune now estimated to be around $109 billion, with its most recent drop by $3.55 billion.
He is the only billionaire on the top 5 that isn't from the tech ecosystem.
Most of his wealth comes from his controlling stake of LVMH, controlled through his holding known as Christian Dior.
READ: Billionaires worth over $100 billion made $270 billion in 2020
Mark Zuckerberg
Facebook's founder, Mark Zuckerberg is fifth on the list, with a fortune estimated to now be valued at $95 billion, on the account, he was the only billionaire in the top 5 list that had a wealth gain for the day.
His most recent wealth daily gain stood at $2.15 billion amid an era of reports revealing global investors are weighing significantly on Facebook amid antitrust and privacy concerns.
READ: Facebook founder, Mark Zuckerberg, worth $104 billion keeps $2.3 billion in cash
Bottom line
The top 5 billionaires, as a group, infamously did not do well at the last trading session of the week amid an era showing the U.S dollar rebounded strongly.
Growing concerns that the leading global technology brands have grown too powerful has led some investors to trim their bullish bets cumulatively on the top 5 billionaires' businesses.