10 fantastic things Aliko Dangote has done in the last 10 years
This article x-rays 10 fantastic things Nigerian billionaire, Alhaji Aliko Dangote has done in the last ten years, as he celebrates his 63rd birthday.
The name Aliko Dangote needs no introduction across the length and breadth of Nigeria. While some believe it is a household name, others believe the bearer has a stake across all the sectors of the economy.
That Aliko Dangote has been able to hold on to the position of the richest man in Africa for 10 years is a pointer to the fact that he has achieved several enviable feats.
How is it that one man has been able to hold the position consistently for the last 10 years?
Not a few people have the above questions in their minds, and indeed it is one that is worth asking. Alhaji Aliko Dangote has managed to pull this feat by the sheer effort of personal, business decisions and actions he has taken over the years.
[READ MORE: Top 10 CEOs and how they spent 10 days in lockdown)
So, what exactly are those things he has done over the last decade? We certainly cannot consider all, but let us start by x-raying 10 fantastic things this billionaire has done in the last ten years, as he celebrates his 63rd birthday.
10
In 2011, Dangote invested a massive $400 million in the construction of a cement plant, and also invested R779 million to increase the Dangote Industries Limited stakes in Sephaku Cement (Pty) Limited, based in South Africa, from 19.76% to 64%.
His investment into the South Africa-based cement company was described as the largest foreign direct investment (FDI) ever by an African company in South Africa at the time.
If the Dangote Industries was not already present in 14 African countries at the time, one would have thought the man was in a heated race for the gold.
Keep in mind that the Dangote Group had already been listed among the top 40 African Challengers by the Boston Consulting Group (BCG), a United States-based rating agency; the agency had already seen the potential in the Dangote Group to rival Fortune 500 Companies.
Now isn't this fantastic?
9
Back home in Nigeria in 2012, Dangote Cement moved to erect the biggest cement plant in Africa in Southwest Nigeria.
The most amazing thing is the fact that this rich billionaire spent $1 billion on what the Guardian referred to as "a century-old wasteland of limestone and red dirt in south-west Nigeria".
Some must have turned their noses up at this move, possibly thinking of him as one of those "money miss road", but 9 years after, the Dangote Cement plant, Ibese in Ogun state accounts for over 6 million metric tonnes of cement, which translates to more money for the billionaire over the years.
With this in place and the creating of new lines at Dangote Cement Plant, Obajana, he ended the era of cement import and launched Nigeria into cement export.
He was already richest black man in the world at the time and ranked 76 in the world by Forbes magazine.
[READ ALSO: Adenuga has redeemed N1billion pledge to the CACOVID fund- Otedola)
8
Dangote moved to assert his place in sugar production when in February 2013, the Dangote Sugar Refinery announced plans to acquire 95% equity stake in Savannah Sugar Company limited, SSC.
The deal was executed through a Share Sale and Purchase Agreement, SSPA, and Dangote Industries Limited (DIL) acquired 95% of the issued share capital of Savanna Sugar, amounting to 2.14 billion ordinary shares of N1.00 each.
This was about the same time the Nigerian government designed the backward integration goal, the National Sugar Master Plan to attract over $1 billion annually in local and foreign direct investments and create jobs.
Also, recall that April 2013 was the first time the mogul announced his intention to build a private refinery in Nigeria, to reduce Nigeria's dependence on importation of petroleum products.
Such big dreams!!!
7
Aliko Dangote in 2015 signed a mammoth deal with Chinese state-owned engineering company, SINOMA, to build factories for Dangote Cement Plc.
The deal was worth $4.3 billion (£2.8 billion), and seven plants to be built across the continent and one in Nepal. It was not just another avenue to spend money, as the billionaire had done the calculation and expected the new plants to increase the company's production capacity by as much as 25 million metric tonnes.
Great plans for his home country, no doubt!
6
As a result of the sizeable investments made over the years, Dangote Cement ended 2014 with new lines in Nigeria, factories becoming operational in Senegal and South Africa, and other plants in Cameroon and Zambia. This increased production capacity from just under 21 million tonnes in January to more than 34 million tonnes at the end of the year.
This was an unprecedented rate of expansion and the company went ahead to open new factories in Ethiopia and Tanzania in the following year.
5
The Dangote Foundation remains one of the most heart-touching innovations of Aliko Dangote. It is the largest foundation in Africa and has an annual endowment of $1.25 billion. The foundation is described as "locally focused, but globally-minded" and has contributed millions to improve nutrition, health, education and economic empowerment in Nigeria.
The foundation is a lead contributor to the 'Saving One Million Lives' every year in Nigeria and was at the forefront of efforts to contain the spread of Ebola in Nigeria and other parts of Africa. The foundation was the biggest private contributor to the African Union Ebola Trust Fund with a donation of $3 million.
The foundation also partnered Bill and Melinda Gates Foundation to eradicate polio in Nigeria by strenghtening primary health care and making provisions for routine immunization across Northern Nigeria. The initial project commenced in Kano and Bauchi states. In January 2016, Sokoto, Yobe, Kaduna and Borno States were added to the partnership, with over $10 Million spent.
The Aliko Dangote Foundation Micro-grant programme is a N10 Billion programme designed to provide a N10,000 one-off grant to at least 1,000 vulnerable women, and in some cases, youths, in each of the 774 LGAs across Nigeria. it is national programme launched in Kano in 2011 and is being systemically rolled out across the country. The programme is being implemented in partnership with states government to complement their respective poverty alleviation drive across the country.
So far, the sum of N3.345 Billion has been disbursed to women across Kano, Jigawa, Kogi, Adamawa, Borno, Yobe, Lagos, Niger and Nasarawa States.
Also, in continuation of its efforts to rehabilitate and resettle the Internally Displaced People in the Northeast, Nigeria, the Aliko Dangote Foundation commissioned 200 Housing Units of the Dangote Village Housing Estate for the Internally Displaced Persons in Maiduguri, Borno State, with Award Letters issued to the chosen beneficiaries – mostly widows with dependents.
In support of this laudable action by the Foundation, the State Government made provision for each family to be given economic empowerment tools to sustain their livelihood adding a fully functional school and a clinic to cater for the residents of the estate.
The impact of this foundation over the years can hardly be wrapped into a few paragraphs, but it has been a major contributor to alleviating poverty, just as the philanthropist billionaire intended.
4
The year 2018 was a significant one for the Dangote Group. Aliko Dangote did the ground-breaking ceremony for the construction of a rice processing plant in Jigawa – the culmination of a series of events that started a couple of years earlier.
He had signed a $1 billion agreement with the Federal Government for the integrated rice production in Kebbi, Sokoto, Zamfara, Kano, Niger and Jigawa.
The multi-billion processing mill had the capacity, upon completion, to process 16 tonnes of paddy rice per hour, totalling to about 14-billion-naira worth of rice per year.
It was a much-celebrated event for the year, as the rice mill was expected to improve the lives of the residents since the raw products would be bought from local farmers in Jigawa. The end aim is to make Nigeria self-sufficient in rice production.
We can expect more from this billionaire in this regard, as he has announced in recent times, his intention to do more in agriculture.
3
Dangote Cement Nigeria increased the group's revenue in 2018 by over 10%, simply by creating favourable fuel mix at the cement plants at Obajana and Ibese. With these unprecedented innovations, the group cut out reliance on imported coal for both plans and started using coals from mines operated by the Dangote Industries Limited.
The impact of this was seen largely on foreign currency demands, thus pushing the company's revenues. Subsequently, all eight kilns in Obajana and Ibese have been running on coal, gas or LPFO or a mixture of the three. I'm sure you didn't know that.
And lets no forget that stunt he pulled when he bought back Dangote flour mills, the loss-making business he sold for $200 million to Tiger Brands, only to resell it to Olams years later for $362 million
2
2019 was the year of consolidating on the refinery plans which had long commenced. The peak of it all was the arrival of the specially configured facility which Dangote had since requested to be made.
The facility, which was built by Sinopec, China's leading energy and chemical company, has been described as the largest in the world and has since been installed at the Dangote refinery.
The Atmospheric tower is expected to separate crude oil into its components (or distillation cuts, distillation fractions) for further processing by other processing units when the refinery starts full operations later this year.
According to the mogul, the refinery will within 18 months of operation, be able to meet Nigeria's demand for petroleum products, and soon after become the largest exporter of petroleum products in Africa.
Experts support this prediction, adding that Nigeria could become Africa's biggest producer and exporter of refined petroleum and gas products, including plastics, fertilizer, jet fuel, diesel and gasoline. This is expected to lift the economy of the entire continent.
Amazing, right?
[READ FURTHER: Dangote, Otedola, Elumelu, Ovia, others donate N19.48 billion to COVID-19 relief fund)
1
Very fresh on our minds is the donation of N2 billion naira and other materials to the Private Sector Coalition against COVID-19, just some weeks ago. It signified the tycoon's willingness to partner with the Central Bank of Nigeria, and private sector participants, to alleviate some of the hardships which the pandemic is sure to inflict on Nigeria.
Just weeks before this, he had donated N100 million worth of materials after the Abule-ado explosion to help in rebuilding the destroyed buildings.
You may feel like we have said much here, but we have not even made mention of the infrastructural facilities he built across tertiary institutions in the country – the construction of a N1.2 Billion Dangote Business School, Bayero University Kano, or the construction of hostels or provisions of power supply at Ahmadu Bello University, Zaria, Kaduna state and Kano University of Science and Technology, Wudil, Kano State.
So much has not been said.
The year is still very young with only 101 days gone, there's still a lot more fantastic things that could happen this year. Keep in mind that the billionaire also has plans to buy Arsenal FC, and take the Nigerian flag all over the world.
Elon Musk surpasses Bill Gates' wealth, now worth $128 billion
Elon Musk has just hit a new apex by surpassing Bill Gates to become the world's second-richest person.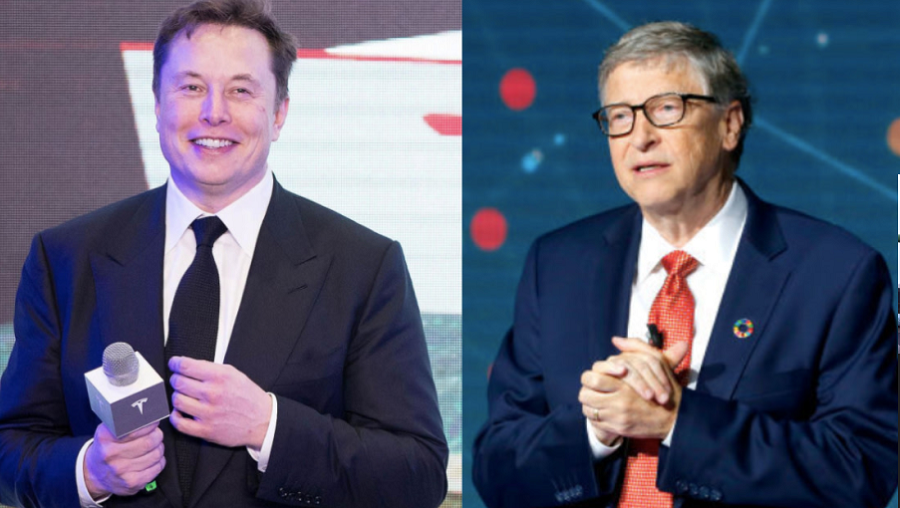 The founder of the most sought automaker company Elon Musk has just hit a new apex by surpassing Microsoft, founder, Bill Gates to become the world's second-richest person.
Data retrieved from the Bloomberg billionaire index shows the 49-year-old whiz entrepreneur net worth is now pegged at $128 billion, driven by yet another surge in Tesla's share price.
Musk has gained $100.3 billion to his net worth just in 2020, the most by anyone in the Bloomberg Billionaires Index – a ranking of the world's 500 richest people.
What you must know: Musk is the CEO of Tesla, a maker of electric vehicles. The California-based company sells electric vehicles. He's also CEO of Space Exploration Technologies, a rocket manufacturer tapped by NASA to resupply the space station
His wealth gain is largely attributed to Tesla, the electric car automaker, which has gained 500% in 2020 and has become by far the world's most valuable automaker in the world, despite it producing far less than Volkswagen, Toyota, or General Motors.
About a fifth of the car company's shares is owned by its Chief Executive, Elon Musk, and other insiders.
Recall Nairametrics, some months ago highlighted major reasons why Nairametrics believed the stock was a strong buy and could surpass the present most valuable listed technology company.
Tesla was founded in 2003 by a group of engineers who wanted to prove that people didn't need to compromise to drive electric – that electric vehicles can be better, quicker, and more fun to drive than gasoline cars.
Today, Tesla builds not only all-electric vehicles but also infinitely scalable clean energy generation and storage products. Tesla believes the faster the world stops relying on fossil fuels and moves towards a zero-emission future, the better.
Tesla remains the only major carmaker to have a huge physical presence in the world's second-largest economy. With the electric-car maker's launch of a new factory in China in 2019 and, the beginning of its Model Y models earlier this year, investors may want to continue holding.
Billionaires that can triple the value of Bitcoin
Michael Saylor has disclosed billionaires who could turn the price of Bitcoin up, at least three folds.
The Founder and Chief Executive officer of the popularly traded business intelligence firm, Michael Saylor, recently disclosed billionaires, who could turn the price of Bitcoin up at least three folds. His bias was based on the aurora these billionaires bring notably in the global financial world.
In his most recent Youtube interview, he started his narrative by explaining deeply the effect such billionaires would have on the flagship crypto market,
READ: Germany's biggest bank says more people now prefer Bitcoin over gold
"It's important that 100 million people embrace Bitcoin but there are 10 people that can triple the price of Bitcoin. This is not like Facebook, nobody ever brought a billion friends to Facebook. This is like when a person with $10 billion decides that they want to adopt this network and they put $2 or $3 billion on the network, that's going to be more monetary energy that flowed into the network than the first 10 million people put into the network. It's ten million to one gain."
He went on by revealing the names of such billionaires, amid their stronghold seen on global finance.
READ: Most profitable asset in a decade, Bitcoin up over 26,600,000%
"Here's the other thing. When a person with $10 billion puts $10 billion on the network, they've got a friend with $10 billion. Warren Buffett (Berkshire Hathaway CEO) plays bridge with Bill Gates (Microsoft founder) and then they talk with Mark Zuckerberg (Facebook CEO and founder).
"So when this hits that social network, it's like a billion to two billion to four billion to eight billion and those four decisions, those four blocks have more impact on the network than the first 10 million blocks."
READ: Crypto; Tron's founder offers $1 million bounty in finding BTC Twitter hackers
What you should know
Sequel to these macro, Nairametrics some days ago revealed key insights coming from DeVere Group discovering that 73% of poll participants (millionaires) are now already invested or are preparing to invest in digital assets, such as Ethereum, Bitcoin, and XRP, before the end of 2022, showing a significant amount of interest by the world's top earners.
READ: Apple market capitalization nears $2 trillion, as Apple's CEO becomes a billionaire
The findings come as the price of Bitcoin rallied close to $18,000, almost close to the $19,763 all-time record reached in December 2017.
Most of the high net worth individuals polled by the financial firm got triggered into planning to buy cryptos by the latest institutional buying.
Those classified as millionaires in the study include 'High Net Worth' having more than £1m (or equivalent) in investable assets.
Many millionaires plan to buy Crypto before 2022
DeVere Group, a financial consulting firm discovered that 73% of poll participants are now already invested or are preparing to invest in digital assets.
As Bitcoin hits the flagship crypto trade slightly below $18,000, a significant number of millionaires have disclosed they will invest in cryptos before the end of 2022.
DeVere Group, one of the world's most notable independent financial advisory firms, discovered that 73% of poll participants are now already invested or are preparing to invest in digital assets, such as Ethereum, Bitcoin, and XRP, before the end of 2022.
READ: Dangote Group's $2 billion fertilizer plant to start operations in December 2020
The findings come as the price of Bitcoin rallied close to $18,000, almost close to the $19,763 all-time record reached in December 2017.
The methodology for such research used include, interviewing over 700 of its clients who are presently based in Asia, Africa, the Middle East, United States, United Kingdom, East Asia, Latin America, Australasia.
Those classified as millionaires in the study include 'High net worth' having more than £1m (or equivalent) in investable assets.
READ: Afreximbank posts $217m net income in 9M 2020
What this means
DeVere Group CEO and founder, Nigel Green, explained why the world's millionaires are attracted to financial assets as cryptos.
READ: Jeff Bezos becomes first person to cross $200 billion net worth, as Zuckerberg crosses $100 billion
"As the survey shows, this impressive performance is drawing the attention of wealthy investors who increasingly understand that digital currencies are the future of money and they don't want to be left in the past," he said.
Most of the high net worth individuals polled by the financial firm got triggered into planning to buy cryptos by the latest institutional buying.
READ: Bitcoin on high demand, hits 2-year high, trading $17,000
"No doubt that many of these HNWs, who were polled, have seen that a major driver of the price surge is the growing interest being expressed by institutional investors, who are capitalizing on the high returns that the digital asset class is currently offering," Green added.
Explore Data on the Nairametrics Research Website