Global stocks close mixed on growing geopolitical concerns
Global Stocks ended the week mixed on the present prevailing macros.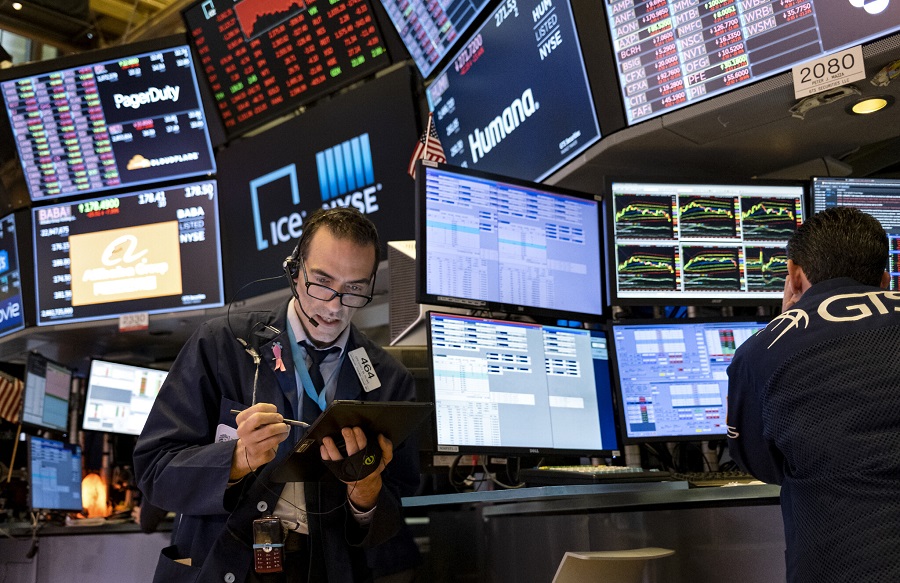 Global stocks ended the week mixed, on the present prevailing macros. The MSCI's benchmark for global equity markets rose by 0.43% to 585.73 after earlier setting a new intraday high, while stocks on Wall Street also rallied, with technology leading the way and the Dow closed to an all-time high.
At the world's largest equity market, the Dow Jones Industrial Average rose 0.54%, the S&P 500 gained 0.45% and the tech-laden Nasdaq Composite added 0.49%.
In Europe's trading session, stocks drifted lower as investors dumped this year's outperformers, including healthcare stocks and technology, and increased buying pressures on banking stocks after the Fed unveiled its new policy framework.
READ: Gold prices drop below $1,900 after U.S dollar strengthens
The broad pan-regional FTSEurofirst 300 index dropped by 0.50% to close at 1,429.82.
Milan Cutkovic, Market Analyst at AxiCorp in a note to Nairametrics, gave valuable insights on the prevailing macros affecting the European financial markets. He said:
"European equities are under pressure with the German index down almost 1 percent on the day.
"Few market participants believe that we will see another full lockdown in Europe.
"Nevertheless, the rising number of coronavirus cases are a reason for concern, and investors on this side of the Atlantic do not seem to share the optimism felt on Wall Street.
READ: Two Bitcoin whales transfer 4,503 BTC, as Bitcoin stays above $11,400
"The rising Euro could prove to be another headache in the near-term. The outlook for the currency has turned positive, and a breakout above $1.20 appears to be imminent."
In Japan, the benchmark Nikkei 225 share index closed down by 1.4% while the yen, seen as a safe-haven currency to buy in times of uncertainty, strengthened 1.03% versus the greenback at 105.46 per dollar.
READ: 5 things you can do to attract equity funding for your business
There have been speculations on Japanese prime minister's health this week, but the resignation of Japan's longest-serving premier shocked global investors, given that he has spearheaded efforts to revive economic growth by clamping down on deflation.
Tesla up 500% in 2020, near $500 billion market value
The tech powerhouse is now less than $6 billion short of approaching the $500 billion market value.
Tesla, the electric car automaker, has gained 500% in 2020 and has become by far the world's most valuable automaker in the world, despite it producing far less than Volkswagen, Toyota, or General Motors.
The tech powerhouse is now less than $6 billion short of approaching the $500 billion market value, and extending its surge since reports struck Wall Street on Tesla making its S&P 500 debut on December 21, forcing index funds to buy billions of dollars of its share.
Unsurprisingly, it became global investors' choice amid its recent price action rising by 6% – showing a gain of over 6%. Tesla Inc. extended its rally at the most recent trading session ahead of its December debut in the S&P 500 (SPX), as it is now worth a market value of $494 billion.
Its market capitalization is higher than the Gross Domestic Product (GDP) of any African country, Nigeria – $448.1billion, South Africa – $351.4billion, Egypt – $303.2billion, Algeria – $169.98billion, Morocco – $118.7billion, Ethiopia – $96.12billion, Kenya – $95.5 billion, Angola – $94.6 billion, Ghana – $66.9 billion, Tanzania – $63.2 billion.
What you should know
Now worth $494 billion, Tesla will increase the concentration of heavyweight companies within the S&P 500. It will be the 7th most valuable company within the index, just behind Berkshire Hathaway and ahead of Visa Inc., according to Refinitiv data.
About a fifth of the car company's shares is owned by its Chief Executive, Elon Musk and other insiders.
The S&P 500 is weighted by the number of companies' stocks available on the stock market.
The car company's influence within the benchmark will be slightly reduced, putting it in 8 positions, just behind Johnson & Johnson, with an equivalent of about 1% of the S&P 500 index.
Nigerian stocks end near stalemate, despite gains from Nestle, Airtel, Dangote
A total volume of 568million units of shares, valued at N7.32billion exchanged hands in 8,928 deals.
Nigerian bourse ended Monday's trading session near a stalemate, as the All Share Index dropped slightly by 0.04% to close at 34,121.78 points. Thus, the YTD performance currently stands at 27.56%.
A total volume of 568million units of shares, valued at N7.32billion exchanged hands in 8,928 deals. ZENITHBANK was the most traded shares by volume and valued at 79.7million units and N1.91billion.
Market sentiment was negative, as market breadth came in at 9.2x  with 46 decliners and 5 advancers.
The sectorial performance was bearish as Banking, Consumer Goods, Insurance, Oil & Gas were down by 4.72%, 2.07%, 2.07%, and 1.62% respectively, while the Industrial index closed as the lone gainer, up by +2.72%.
Sector performance
NSE Banking Index: Down by -4.72%, on sell-offs in WEMABANK (-9.09%), ACCESS (-8.14%), UBA (-6.10%), and ZENITHBANK (-5.66%).
NSE Consumer Goods Index: Fell by -2.07%, due to sustained losses in GUINNESS (-9.55%), PZ (-9.43%), and FLOURMILL (-8.43%).
NSE Insurance Index: Dipped by -2.07%, on price decline in CUSTODIAN (-10.00%), CHIPLC (-9.38%), and LINKASSURE (-9.09%).
NSE Oil & Gas Index: Dipped by -1.62%, as ARDOVA (-10.00%) and OANDO (-9.97%) declined in price.
NSE Industrial Index: Up by +2.72% due to the price appreciation in BUACEMENT (+4.77%) and DANGCEM (+3.42%)
Top gainers
AIRTELAFRI up 5.00% to close at N500
BUACEMENT up 4.77% to close at N53.45
DANGCEM up 3.42% to close at N193.2
NESTLE up 1.82% to close at N1400
NEM up 0.78% to close at N2.6
Top Losers
ARDOVA down 10.00% to close at N13.5
WAPCO down 10.00% to close at N22.05
GUINNESS down 9.55% to close at N18
FLOURMILL down 8.47% to close at N25.4
STANBIC down 8.02% to close at N39.55
Outlook
Nigerian Stocks began the first trading session on a slightly bearish note, amid soaring oil prices prevailing at the U.S trading session. At the time of writing this report, Brent crude was trading above $45/barrel.
That said, significant gains seen from NSE30 Stocks that include Nestle, Airtel, Dangote, BUACement couldn't stop Nigerian stocks from closing slightly red, as sell-offs intensified among top brewery stocks and medium capitalized stocks.
Nairametrics envisage cautious buying, on the sentiments that recent price action shows further market correction in the near term, however, stock traders anticipate the bullish run is still in play for the long term.
Bank stocks remain a buy amid uncertainty prevailing Nigeria's economy
The All-Share Index and Market Capitalization depreciated by 2.57% to close the week at 34,136.82 and N17.838 trillion respectively.
Nigerian Stocks ended the previous week cumulatively on a bearish note.
What we know: The All-Share Index and Market Capitalization depreciated by 2.57% to close the week at 34,136.82 and N17.838 trillion respectively.
In the previous week, Nigerian Stocks had its bullish run halted arbitrarily on the bias that stock traders and investors intensified their profit, taking into account the significant amount of weak earnings recorded by Nigerian Banks.
It was unsurprising to see four Nigerian banks in the top 10 losers chart for the week, as investors fretted on such performance on the basis that Nigeria's banking industry remains the most vibrant after Agriculture, Energy in Africa's largest economy.
That said, In the coming week stock traders are expected to be very cautious amid recent macros showing Africa's largest economy has dipped into a recession in Q3 as oil production dropped to a four-year low.
Abdul-Rasheed Oshoma Momoh, Head of Capital Market in TRW Stockbrokers Ltd, in a phone chat interview with Nairametrics, said Nigerian markets are presently playing out like a ping pong ball the momentum has slowed down for now.
More of consolidation now as investors buy into good stocks that have a light at the end of the tunnel. (Zenith Bank, UBA, GTBank, First Bank, Access Bank) taking into consideration he doesn't see any new highs now till 2021.
Bottom- line: Profit taking is expected to remain at least in the near term, taking into consideration Nigeria is officially in a recession, meaning a lot needs to be done to get Africa's biggest economy on its foot, as such development could trigger more profit-taking in spite of the positive trend playing relatively at Africa's best-performing equity market.