Data war: MTN takes over, gains 1.7 million subscribers, as Glo outshines Airtel in June
MTN gained 1.74 million data subscribers in June against the 882,458 it recorded in May 2020.
Although competition in the Nigerian telecommunication space has always been stiff, latest data seen by Nairametrics indicated that the competition is getting stiffer.
Telecommunications operators, especially in the data section, are giving each other a hot chase. Gone are the days when the biggest telecommunication firm automatically retains the top position. Recently, companies that were once described as fringe players are catching up really fast in terms of attracting new subscribers every month.
For instance, in May 2020, Glo took other operators by surprise, dwarfing them to lead the chart as the telco with the highest number of subscribers in a month when it gained 8.302 million data subscribers. The indigenous telco grew from 28.934 million in December 2019 to 37.236 million by the end of May 2020, while MTN gained 4.75 million data subscribers. Airtel, which used to be the second-highest in subscriber growth after MTN, recorded 2.795 million. Unfortunately, 9mobile lost 812,827 subscribers within the same period.
READ MORE: Airtel loses over 100,000 subscribers in one month, as Glo chases MTN's market share
MTN regains top position
According to data released by the Nigerian Communication Commission for the period ending June 2020, Nigeria's largest mobile telecommunication company, MTN, gained 1.74 million data subscribers against the 882,458 it recorded in May 2020.
Also, at the end of June 2020, the total number of data subscribers on MTN data network rose to 60.60 million from the 58.86 million it recorded in May. This means the telco added 1.74 million data subscribers.
READ MORE: Non-Performing loans hit 4-year low as Banks recover N496 billion
Glo attracted more subscribers, outshining Airtel (subscribers base) for the first time in years
Despite a challenging year for Globacom in terms of its data subscriber base, the telco took industry watchers by surprise, as its subscriber base chased, met and overtook Airtel's In June 2020.
For the first time in years, the once second largest telco (subscribers base) lost its position to the indigenous company as the latter increased its base from 34.24 million in May to 37.97 by the end of June 2020. The Indian-owned telco only managed to increase its base from 37.32 million to 37.57 million within the same period.
On the other hand, 9mobile ended the month without attracting any data subscriber. According to the NCC data, 9mobile continues its steady decline, as a total of 16,000 subscribers dumped the network for others when it fell from 7.26 million subscribers to 7.10 million within the same period.
 [READ MORE: MTN wins data war, as 1.88 million subscribers dump Glo, 9mobile)
In terms of market share, Glo is now trailing behind MTN, as the latter expanded its overall market share in June.
At the end of June 2020, MTN's total data market share rose further to 60.60 million subscribers. On the other hand, Glo had 37.97 million, followed by Airtel's 37.57 million and 9mobile's 7.10 million.
Internet remains slow in Nigeria despite the advent of 4G network
The advent of 4G/LTE in the global telecom industry was accompanied by the expectation of fast internet speed. The 4G is the fourth generation of wireless mobile telecommunications technology, succeeding 3G. Potential and current applications include amended mobile web access, IP telephony, gaming services, high-definition mobile TV, video conferencing, and 3D television.
READ MORE: Exxon Mobil, Chevron record their worst losses in history
While GSM companies continue to jostle for market share, it has often come at the expense of poor service and lack of accountability. Quite frankly, as an average internet user in Nigeria, one is usually left at the mercy of poor mobile internet services which frustrate one to seek limited alternatives.
Nigeria's internet download speed remains among the slowest in the world, and while the telcos continue to rake in heavy gains from data sales, consumers continue to groan for lack of fast and affordable internet services.
Coinbase debuts on Nasdaq at around $100 billion valuation
Coinbase resumed trading on the Nasdaq Composite Index today under the ticker "COIN".
Coinbase, a Cryptocurrency exchange made its highly anticipated debut on Nasdaq on Wednesday, April 14, 2021, becoming the first company devoted entirely to cryptocurrency to enter the US stock exchange.
The IPO of Coinbase Global today was a big turning point for the cryptocurrency business. It had a rousing debut on Wall Street with the digital currency exchange's stock growing as high as $429, giving it a market cap of $100 billion for a brief period of time.
According to analysts, retail trading accounts for 90% of Coinbase's income, with the majority of trading taking place in the United States and focusing mainly on the two main cryptos: Bitcoin and ETHUSD. Dubbed the most talked-about IPO on Wall Street, Coinbase resumed trading on the Nasdaq Composite Index today under the ticker "COIN."
What this means
Given Coinbase's reception, Crypto optimists insist Bitcoin will not go anywhere in the near future, but will instead become more mainstream. They see the Bitcoin craze as the "start of a new era" in the digital currency world, rather than a passing phase.
Due to Bitcoin's young and unpredictable existence, investors and public corporations are also wary of investing in it. However, as long as the currency's popularity is sustained, the bubble hypothesis can be debunked as control and acceptance of the currency spreads further down the line, according to analysts.
It is important to note that Coinbase has a strong correlation with Bitcoin and as it benefits from its bullish run, it can also be hit by a downturn in the market.
What you should know
Coinbase has become popular amongst cryptocurrency optimists since being founded in 2012, for providing an easier way to exchange shares of digital currencies.
Coinbase announced last week that its first-quarter sales jumped 847% to $1.8 billion and that it currently has 56 million confirmed customers.
Coinbase is now one of the largest publicly traded firms in the United States, with a market cap of more than $100 billion.
Only 83 companies in the S&P 500 index have a market value greater than $100 billion.
The combined market value of Nasdaq Inc., which operates the Nasdaq Stock Market, and Intercontinental Exchange, which owns the New York Stock Exchange, is greater than Coinbase's.
JAMB bans use of email by candidates for UTME, DE registration
JAMB has announced that candidates for the UTME and Direct Entry will no longer be required to provide their email addresses at the point of registration.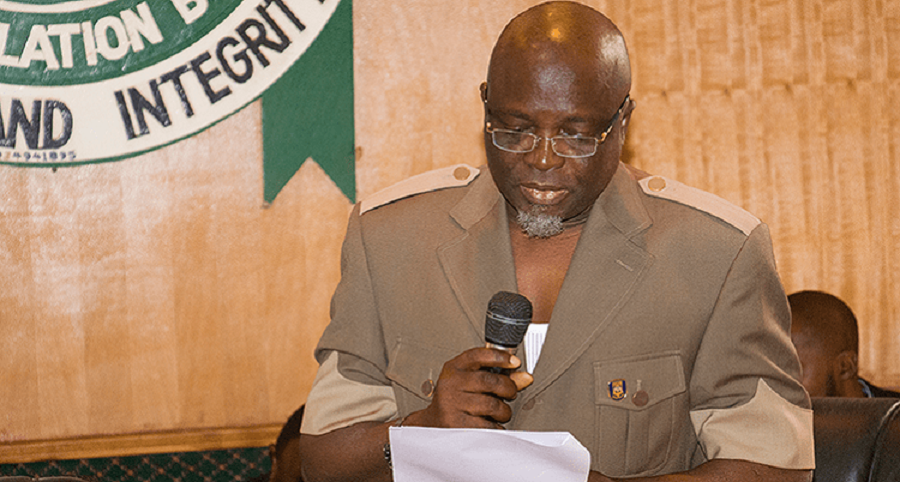 The Joint Admission and Matriculation Board (JAMB) has announced that candidates for the Unified Tertiary Matriculation Examination (UTME) and Direct Entry will no longer be required to provide their email addresses at the point of registration.
The new adjustment is to protect candidates from various forms of manipulation and distortion of their personal details by some fraudulent cyber café operators.
The Registrar of JAMB, Prof. Is-haq Oloyede, who made the disclosure while addressing newsmen at the board's headquarters on Wednesday in Bwari, Abuja, said the change, would take effect from Thursday, April 15, 2021.
What the JAMB Registrar is saying
Oloyede said, "They gain access to profiles of these candidates under the pretense of creating an email address for them. Then they change and block the candidates from receiving messages from the board. They also extort them after they change their passwords.
In view of this, the board has come up with adjustments to our operations. The first decision is that beginning from Thursday, April 15, candidates would no longer be required to provide any email address during registration from this year onwards.
It is by going to these cyber cafes to open emails that these candidates are open to abuse and stealing of their personal data,'' he said.
He said that the board now had a mobile app that would allow candidates to deal directly with the board with their smartphones or via SMS to '55019' code option.
The code option, he explained, would allow candidates to check admission status as well as all other verifications via SMS.
He said, "Printing of examination slips, results notification or raising tickets can be done anywhere by using candidates' registration number only. However, at the close of registration every year, we would need the email addresses of the candidates so we can have access to as many of them as possible.
At the conclusion of registration, candidates are expected to send their email addresses through the mobile app or text message to the 55019 code twice, for validation. This is to update their profile with JAMB as the email will no longer be used as access to their profile, but rather as a communication tool with candidates.''
While advising candidates to guard their phones with utmost care as it was the weapon for all transactions, Oloyede said that henceforth, all JAMB owned Computer-Based Tests (CBT) centres across the country, would only allow candidates with ATM cards into its centres.
He said that in order to cut down on the activities of fraudsters who hijack candidates to extort money from them, the centres would no longer allow candidates go outside the centres to pay for their e-pins and other cash transactions.
The JAMB Registrar said, "Only candidates with ATM cards will be allowed into all JAMB owned CBT centres, it can be that of their parents as long as they have the pin for the transaction.
"Those without ATM cards can go to other privately owned CBT centres where they can pay cash to register but we will not take cash or transact outside our centres.''
What you should know
Meanwhile, in a related development, JAMB had said that the board lost over N10 million in 2020 to activities of fraudsters who penetrated their payment portal for ad-hoc staff.
The JAMB Registrar said that the money, which was meant to pay JAMB ad-hoc staff from the 2020 Unified Tertiary Matriculation Examination (UTME), was hijacked by the suspected fraudsters.
JAMB had a few days ago confirmed the commencement of registration for the 2021 UTME/DE examinations after the initial hiccup.
It stated that applicants must provide NIN at the point of registration with the registration by Direct Entry candidates to run concurrently with that of UTME candidates.
Nairametrics | Company Earnings
Access our Live Feed portal for the latest company earnings as they drop.