Otunba Subomi Balogun, the octogenarian banking legend
Singlehandedly starting a bank is one credit that Balogun has earned among bank founders.
Almost two decades after retiring from active banking, 86-year old Subomi Balogun is still wielding much influence in Nigeria's banking sector. Some even argue that he has as much influence after his retirement, as he did while he was still Chairman and CEO of the first wholly-owned Nigerian Merchant bank – FCMB.
In 2004, when the Central Bank of Nigeria declared a new minimum share capital of N25 billion, Balogun came out of retirement to lead the campaign. With his influence and drive, the company's issued shares were oversubscribed, even as FCMB ended up acquiring six other banks that were unable to meet the requirements.
READ MORE: How the United States plans to control the African Development Bank
Who is Olasubomi Balogun?
Olasubomi Olaotan Olaonipekun Balogun was born on 9 March 1934 in Ijebu-Ode in present-day Ogun State. He is a direct descendant of the Awujale (king of Ijebuland). He spent his early years there before moving to Lagos state for his education and eventually became quite comfortable with being called Subomi.
He had his secondary education at Igbobi College, Yaba, Lagos, then wrote and passed the Cambridge School Certificate in Grade One in 1952, and later the General Certificate Examination (GCE) Advanced Level.
Afterwards, Subomi taught in a secondary school for a while before heading to the London School of Economics (LSE) in 1956 to read Law. After graduating in June 1959, he was called to the English Bar in December 1959.
He was later sponsored by the Western Regional Government to receive special training in Legal Drafting in Whitehall and the City of London, with a particular specialisation in financial legislation, instruments, and agreements.
READ: 50,000 farmers to benefit from AFEX Commodities funding initiative
Upon completion, he served as a Crown Counsel in both the Ministry of Justice of the then Western Nigeria and then, as Assistant Parliamentary Counsel in the Federal Ministry of Justice in Lagos.
From principal counsel to investment banker
Subomi served for 9 years (between 1966 and 1975) as Principal Counsel and Company Secretary to the Nigerian Industrial Development Bank (NIDB). That was partly how he developed an interest in banking. Subsequently, he received training at the International Bank for Reconstruction and Development (IBRD), also known as the World Bank, and its private sector affiliate, the International Finance Corporation (IFC), both in Washington DC. He went further to learn from leading stockbrokers, investment banks, and merchant banks in London and New York.
By 1973, Subomi Balogun was already showing a great level of expertise, even as he became the Director in charge of the operations of Icon Securities Limited, a wholly-owned subsidiary of NIDB. He was later part of the team that converted Icon Securities into a merchant bank.
He later headed Icon Stockbrokers Limited, a foremost stockbroking firm that he was instrumental in establishing. He was subsequently seconded to Icon Limited (Merchant Bankers), as an Executive Director and was there till 1977 when he left to set up his company.
He recalled that his eventual departure was born out of pain over being cheated. He had put forward the idea of a merchant bank after his return from a course in the US, and despite being the most qualified to head the new institution as Chief Executive, he was passed over.
READ MORE: Infrastructural financing in Nigeria: Why bonds are better than loans
"When it came to selecting the Chief Executive, I was told that in spite of all entreaties, that I could not be the Chief Executive because I happened to have a basic training in law. I was 42 and they brought a young man with little or no experience, from America, at 32, to take my place," he recounted.
He recalled that when he prayed about it at home. But then an awakening came when his son asked why he was praying to head another person's bank rather than pray to own a bank. This question from a 9-year old became an inspiration for the 43-year old to launch out on his own, even without a partner.
Establishing the first Nigerian Merchant bank
In December 1977, Subomi Balogun set up City Securities Limited, the first institution in Nigeria to ever combine an issuing house and stockbroking business under one name. This was only a first step to establishing the merchant bank which he wanted. From there, he set up the first wholly Nigerian owned merchant bank – First City Merchant Bank Limited.
Starting the bank was no smooth ride, as he had to deal with a lot of opposition before he got his license. Due to his vibrancy and deep involvement in the political space, some feared that he was going to use the bank to support a political group.
"People thought it was impossible. Someone said I would either end up as a multi-billionaire or go to jail," he said later.
READ ALSO: DEAL: Dalphon Holdings acquires stake in Leventis Foods
He also recalled that it took the intervention of Dr Alex Ekwueme, who had just been elected as Vice President under the second republic. "But for him, FCMB would have remained a dream," Balogun said. Within a week, he received a call from Chief Yomi Akintola, the Finance Minister, that his license had been granted.
Singlehandedly starting a bank is no mean feat, and it is one credit that Balogun has earned among bank founders. He led the bank for the first two decades, doubling as Chairman and Chief Executive, and successfully pushed the bank beyond the local to the international scene. The bank's paid-up share capital grew from N2 million at inception in 1979 to N1.5 billion, while total shareholders fund rose to N2.65 billion as at December 2002.
In 2001, the name of the bank was changed from First City Merchant Bank to First City Monument Bank, after it became a universal bank.
Three years later, on 15 July 2004, FCMB changed its status from a private limited liability company to a public limited liability company and was listed on the Nigerian Stock Exchange (NSE) on 21 December, 2004.
READ ALSO: AfDB second term presidency for Adesina will deepen Brazilian ties with Africa – IBRAF President
Man of many pursuits
Balogun is a philanthropist and carries out much of his activities through the Otunba Tunwase Foundation. He has built healthcare institutions particularly targeted at children, including the Ijebu-Ode General Hospital, a newly-built and fully-equipped air-conditioned 40-bed Children's Centre which he donated in 1989. It was named after his mother – Iye Subomi's Child Care Centre.
On his 60th birthday, he started building the Otunba Tunwase National Paediatric Centre (OTNPC) as a gift to Nigeria. The OTNPC is a referral institution taking care of child healthcare and welfare, and also providing an avenue for specialised studies and academic researches into all manners of children diseases and ailments.
He has received the American Biographical Institute Inc's Distinguished Leadership Award for outstanding contributions to the development of Investment Banking, and the University of Ibadan's Degree of Doctor of Laws (Honoris Causa) in recognition of his outstanding achievements both in the field of Law and his contributions to the socio-economic development of Nigeria.
He is a fellow of the Chartered Institute of Bankers of Nigeria (CIBN) and a council member of a number of multi-national Chambers of Commerce.
He holds several traditional titles among the Ijebu people and has received many awards and commendations.
Gunning for a century
Celebrating his 86th birthday in March 2020, Balogun revealed in an interview that he exercised and swam regularly even in his eighties.
"A friend of mine once visited and asked why I still use a staircase when there is an elevator. I said I still want to be walking like a sprinter. By the time I am 90, I would be praying to be 100 and I would still want to be articulate and maintain my cerebral gifts," he stated.
Exchange rate gains big at NAFEX as forex turnover pops 916%
Forex turnover at the Investor and Exporters  window recorded a massive increase on Thursday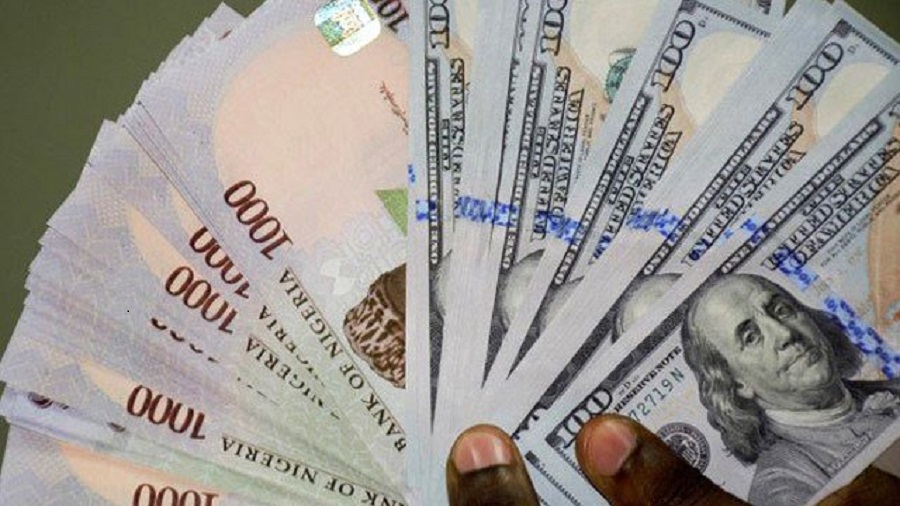 Nigeria's exchange rate at the NAFEX window appreciated significantly to N385.50 during intraday trading on Thursday, August 6, 2020. In another development, the exchange rate at the parallel market remained unchanged on Thursday as it closed at N474/$1 after exchanging as high as N486/$1.
Market Watch
Parallel Market: At the black market where forex is traded unofficially, the Naira remained unchanged against the dollar for a second consecutive day to close at N474/$1 on Thursday, according to information from Abokifx, a prominent FX tracking website. This was the same rate that it exchanged on Wednesday, August 5. However, in sharp contrast, Nairametrics forex tracker obtained a price as high as N486/$1 from some traders suggesting market volatility still persist.
READ MORE: Manufacturing sector in Nigeria and the reality of a "new normal"
NAFEX: The Naira depreciated against the dollar at the Investors and Exporters (I&E) window on Thursday, closing at N385.50/$1.
This represents an impressive N3.75 gain when compared to the N389.25 rate close that was reported on the last trading day, Wednesday, August 5.
The opening indicative rate was N386.88 to a dollar on Thursday. This represents a 91 kobo gain when compared to the N387.79 to a dollar that was recorded on Wednesday.
The Naira fell to as high as N393.05 during intraday trading before strengthening to the closed rate of N389. It also sold for as low as N383.75/$1 during intraday trading.
Forex is sold at several prices and at different times during the day.
READ ALSO: How the Coronavirus has impacted Forex trading
Forex Turnover: Meanwhile, forex turnover at the Investor and Exporters (I&E) window recorded a massive increase on Thursday, August 6, 2020, as it rose by 916.77% day on day.
According to the data tracked by Nairametrics from FMDQ, forex turnover increased from $10.49 million on Wednesday, August 5, 2020, to $106.66 million on Thursday, August 6, 2020.
The forex turnover for the day is the highest daily volume recorded in about 3 weeks. The dollar supply which had remained weak improved significantly during the day's trading.
The average forex sale for last week was a low volume of about $32 million which is a slight improvement on the $27 million that was recorded the previous week. FX turnover which topped the $100 million mark after weeks of very low volume, still falls short of the over $200 million turnover that was recorded in January.
Total forex trading at the NAFEX window in the month of July was $937 million compared to $875 million in June.
The exchange rate disparity between the official NAFEX rate and the black-market rate widened further on Thursday staying as wide as N88.5. Nigeria maintains multiple exchange rates comprising the CBN official rate, the BDC rates, SMIS, and the NAFEX (I&E window).
Exchange rate unification remains on the cards and yet to be implemented weeks after the central bank governor confirmed it will be executed.
READ ALSO: MTN Nigeria, IHS ditch CBN rate for NAFEX in revised tower agreement
COVID-19 Pressures
Nigeria's airspace remains closed to commercial international flight operations and won't be open till October 2020. Foreign travel has often been a source of demand for the greenback.
The recent demand for dollars at the parallel market is thought to be fueled by speculators.
The parallel market also caters to forex trades through wire transfers especially for buyers who cannot fulfil their dollar demands at the I&E window or the SMIS window.
The exchange rate for wired transfer is often at a premium to the black market rate.
Forex Challenges: Last few weeks have been most challenging for the foreign exchange market as it witnessed very low liquidity. The downward slide against the greenback and some other major currencies continued this week due to tightened liquidity in the system.
According to a report from FSDH research, forex inflows into the I&E window had dropped significantly in the second quarter of 2020 on the back of lower foreign portfolio inflows.
Although there was a slight improvement in the month of July, the turnover of $937 million is a far cry from the $3.19 billion, $5.02 billion and $3.7 billion turnover that was recorded in the months of January, February and March respectively before the lockdown which was triggered by the coronavirus pandemic.
The low oil prices have constrained the CBN's capacity to intervene further in the foreign exchange market as dollar inflow still remains very low.
The exchange rate has faced significant pressure in both the NAFEX window and the black market. The pressure stemmed from declining external reserves and falling oil price
Nigeria's top 10 agricultural exports hit N289.3 billion, as Sesamum seeds, Cocoa top list
Here is the breakdown of Nigeria's top agricultural exports and top destination countries.
Nigeria's top 10 agricultural export is estimated to have earned the country about N289.3 billion in one year (April 2019 – March 2020). This is according to data collected from various foreign trade reports, as compiled by the National Bureau of Statistics (NBS).
A cursory look at the data showed that Sesamum seeds and Cocoa remain Nigeria's biggest agricultural exports, with the two products jointly accounting for over 60% of the entire agricultural exports in the country.
READ MORE: UPDATED: Nigeria's foreign trade drops to N8.3 trillion, down by 18% in Q1 2020
Number Breakdown: Top ten Agricultural Exports in Nigeria
By operational definition, the NBS defined agricultural products as goods that come from the planting of crops and/or raring of animals. Here is the breakdown of Nigeria's top agricultural exports and top destination countries.
Sesamum seeds: Sesamum seeds, the tiny, oil-rich seeds, have been Nigeria's agricultural export biggest earner for some years. During the period under review, Nigeria made the sum of N112.8 billion from the export of the products and this accounted for 38.9% of the top 10 agricultural products. Top destinations for the product include Japan, China, Turkey, India, and Vietnam.
Cocoa Beans: Cocoa (Fermented, superior quality raw cocoa) exports is Nigeria's second largest agricultural export. During the period under review, cocoa export was estimated to be N109.6 billion, accounting for 37.8% of the top agricultural exports. The top destinations for the product are Germany, Netherlands, Spain. Indonesia, Belgium, Malaysia, and Estonia.
Cashew nuts (In shell and shelled): Cashew nuts are Nigeria's 3rd biggest agricultural export product. In one year (March 2019 – March 2020), Nigeria generated a total sum of N38.2 billion from cashew nuts export. The top destinations are Vietnam, India, USA, Russia and the Netherlands.
Frozen shrimps and prawns: Ranking 4th on the list, Frozen shrimps and prawns accounted for 3.4% of the biggest export in Nigeria, estimated to be N9.85 billion in the last one year. According to the breakdown, Netherlands, Belgium, France, Vietnam, and the USA are top destinations for the export of the products.
Natural cocoa butter: Natural cocoa butter ranks as Nigeria's 5th biggest agricultural export product within the period. Nigeria generated the sum of N7.69 billion as revenue proceed from the export of cocoa butter. Germany and Estonia are top destinations for the product
Sesame oil and its fractions: Sesame oil, an edible vegetable oil derived from sesame seeds, ranks 6th on the list with an estimated export value of N3.1 billion
Other agricultural products on the top 10 list include Cotton, Agro-food items, Other cut flowers & flower buds of kind suitable ornamental purposes and Ginger. During the period, a total sum of N2.53 billion was generated from Cotton export, Agro-food items (N1.97 billion), Cut flowers and flower buds (1.96 billion) and Ginger (N1.43 billion).
READ ALSO: Nigeria's oil crisis compounded as India's fuel demand crashes by 60% 
Upshots: Nigeria's Agric. export may experience the biggest contraction in 2020
As at the end of Q1 2020, Nigeria's total foreign trade was estimated at N8.3 trillion, an 18% decline when compared to N10.12 trillion recorded in Q4 2019. The decline in foreign trade showed the earliest sign of the impact of COVID-19 pandemic that led to disruption in cross border trade.
READ ALSO: Nigeria's trade balance hits recession low, records N579 billion deficit in Q4 2019
Despite the gradual easing of lockdown in major economies, restrictions imposed on cross border movements still subsist and this may demand for the goods and commodity prices in the short to medium term.
On the flip side, Nigeria's cocoa-industry association recently cut its output estimate for the 2020 main crop by 18%, citing the spread of the fungal black pod disease caused by heavy rains in the country's main growing areas.
COVID-19 Update in Nigeria
On the 6th of August 2020, 354 new confirmed cases and 3 deaths were recorded in Nigeria.
The spread of novel Corona Virus Disease (COVID-19) in Nigeria continues to record significant increase as the latest statistics provided by the Nigeria Centre for Disease Control reveal Nigeria now has 45,244 confirmed cases.
On the 6th of August 2020, 354 new confirmed cases and 3 deaths were recorded in Nigeria, having carried out a total daily test of 2,673 samples across the country.
To date, 45,244 cases have been confirmed, 32,430 cases have been discharged and 930 deaths have been recorded in 36 states and the Federal Capital Territory. A total of 306,894 tests have been carried out as of August 6th, 2020 compared to 304,221 tests a day earlier.
COVID-19 Case Updates- 6th August 2020,
Total Number of Cases – 45,244
Total Number Discharged – 32,430
Total Deaths – 930
Total Tests Carried out – 306,894
According to the NCDC, the 354 new cases are reported from 17 states- FCT (78), Lagos (76), Kaduna (23), Ebonyi (19), Oyo (18), Nasarawa (17), Rivers (17), Delta (16), Kwara (15), Akwa Ibom (13), Edo (12), Ogun (12), Plateau (11), Kano (9), Bauchi (6), Borno (6), Ekiti (6).
Meanwhile, the latest numbers bring Lagos state total confirmed cases to 15,627, followed by Abuja (4,241), Oyo (2,825), Edo (2,340), Rivers (1,911), Kano (1,608), Delta (1,557), Kaduna (1,530), Ogun (1,428), Plateau (1,294), Ondo (1,243), Enugu (880), Ebonyi (838), Kwara (815), Katsina (746), Borno (634), Abia (625), Gombe (620), Osun (586), and Bauchi (574).
Imo State has recorded 472 cases, Nasarawa (360), Benue (356), Bayelsa (342),  Jigawa (322), Akwa Ibom (234), Niger (226), Adamawa (176), Ekiti (159), Sokoto (154), Anambra (142),  Kebbi (90), Zamfara (77), Taraba (72), Cross River (68), Yobe (67), while Kogi state has recorded 5 cases only.
READ ALSO: COVID-19: Western diplomats warn of disease explosion, poor handling by government
Lock Down and Curfew
In a move to combat the spread of the pandemic disease, President Muhammadu Buhari directed the cessation of all movements in Lagos and the FCT for an initial period of 14 days, which took effect from 11 pm on Monday, 30th March 2020.
The movement restriction, which was extended by another two-weeks period, has been partially put on hold with some businesses commencing operations from May 4. On April 27th, 2020, Nigeria's President, Muhammadu Buhari declared an overnight curfew from 8 pm to 6 am across the country, as part of new measures to contain the spread of the COVID-19. This comes along with the phased and gradual easing of lockdown measures in FCT, Lagos, and Ogun States, which took effect from Saturday, 2nd May 2020, at 9 am.
On Monday, 29th June 2020 the federal government extended the second phase of the eased lockdown by 4 weeks and approved interstate movement outside curfew hours with effect from July 1, 2020. Also, on Monday 27th July 2020, the federal government extended the second phase of eased lockdown by an additional one week.
READ ALSO: Bill Gates says Trump's WHO funding suspension is dangerous
| Date | Confirmed case | New cases | Total deaths | New deaths | Total recovery | Active cases | Critical cases |
| --- | --- | --- | --- | --- | --- | --- | --- |
| August 6, 2020 | 45244 | 354 | 930 | 3 | 32430 | 11884 | 7 |
| August 5, 2020 | 44890 | 457 | 927 | 17 | 32165 | 11798 | 7 |
| August 4, 2020 | 44433 | 304 | 910 | 14 | 31851 | 11672 | 7 |
| August 3, 2020 | 44129 | 288 | 896 | 8 | 20663 | 22570 | 7 |
| August 2, 2020 | 43841 | 304 | 888 | 5 | 20308 | 22645 | 7 |
| August 1, 2020 | 43537 | 386 | 883 | 4 | 20287 | 22567 | 7 |
| July 31, 2020 | 43151 | 462 | 879 | 1 | 19565 | 22707 | 7 |
| July 30, 2020 | 42689 | 481 | 878 | 5 | 19270 | 22541 | 7 |
| July 29, 2020 | 42208 | 404 | 873 | 5 | 19004 | 22331 | 7 |
| July 28, 2020 | 41804 | 624 | 868 | 8 | 18764 | 22172 | 7 |
| July 27, 2020 | 41180 | 648 | 860 | 2 | 18203 | 22117 | 7 |
| July 26, 2020 | 40532 | 555 | 858 | 2 | 17374 | 22300 | 7 |
| July 25, 2020 | 39977 | 438 | 856 | 11 | 16948 | 22173 | 7 |
| July 24, 2020 | 39539 | 591 | 845 | 12 | 16559 | 22135 | 7 |
| July 23, 2020 | 38948 | 604 | 833 | 20 | 16061 | 22054 | 7 |
| July 22, 2020 | 38344 | 543 | 813 | 8 | 15815 | 21716 | 7 |
| July 21, 2020 | 37801 | 576 | 805 | 4 | 15677 | 21319 | 7 |
| July 20, 2020 | 37225 | 562 | 801 | 12 | 15333 | 21091 | 7 |
| July 19, 2020 | 36663 | 556 | 789 | 11 | 15105 | 20769 | 7 |
| July 18, 2020 | 36107 | 653 | 778 | 6 | 14938 | 20391 | 7 |
| July 17, 2020 | 35454 | 600 | 772 | 3 | 14633 | 20049 | 7 |
| July 16, 2020 | 34854 | 595 | 769 | 9 | 14292 | 19793 | 7 |
| July 15, 2020 | 34259 | 643 | 760 | 6 | 13999 | 19500 | 7 |
| July 14, 2020 | 33616 | 463 | 754 | 10 | 13792 | 19070 | 7 |
| July 13, 2020 | 33153 | 595 | 744 | 4 | 13671 | 18738 | 7 |
| July 12, 2020 | 32558 | 571 | 740 | 16 | 13447 | 18371 | 7 |
| July 11, 2020 | 31987 | 664 | 724 | 15 | 13103 | 18160 | 7 |
| July 10, 2020 | 31323 | 575 | 709 | 20 | 12795 | 17819 | 7 |
| July 9, 2020 | 30748 | 499 | 689 | 5 | 12546 | 17513 | 7 |
| July 8, 2020 | 30249 | 460 | 684 | 15 | 12373 | 17192 | 7 |
| July 7, 2020 | 29789 | 503 | 669 | 15 | 12108 | 17012 | 7 |
| July 6, 2020 | 29286 | 575 | 654 | 9 | 11828 | 16804 | 7 |
| July 5, 2020 | 28711 | 544 | 645 | 11 | 11665 | 16401 | 7 |
| July 4, 2020 | 28167 | 603 | 634 | 6 | 11462 | 16071 | 7 |
| July 3, 2020 | 27564 | 454 | 628 | 12 | 11069 | 15867 | 7 |
| July 2, 2020 | 27110 | 626 | 616 | 13 | 10801 | 15693 | 7 |
| July 1, 2020 | 26484 | 790 | 603 | 13 | 10152 | 15729 | 7 |
| June 30, 2020 | 25694 | 561 | 590 | 17 | 9746 | 15358 | 7 |
| June 29, 2020 | 25133 | 566 | 573 | 8 | 9402 | 15158 | 7 |
| June 28, 2020 | 24867 | 490 | 565 | 7 | 9007 | 14995 | 7 |
| June 27, 2020 | 24077 | 779 | 558 | 4 | 8625 | 14894 | 7 |
| June 26, 2020 | 23298 | 684 | 554 | 5 | 8253 | 14491 | 7 |
| June 25, 2020 | 22614 | 594 | 549 | 7 | 7822 | 14243 | 7 |
| June 24, 2020 | 22020 | 649 | 542 | 9 | 7613 | 13865 | 7 |
| June 23, 2020 | 21371 | 452 | 533 | 8 | 7338 | 13500 | 7 |
| June 22, 2020 | 20919 | 675 | 525 | 7 | 7109 | 13285 | 7 |
| June 21, 2020 | 20242 | 436 | 518 | 12 | 6879 | 12847 | 7 |
| June 20, 2020 | 19808 | 661 | 506 | 19 | 6718 | 12584 | 7 |
| June 19, 2020 | 19147 | 667 | 487 | 12 | 6581 | 12079 | 7 |
| June 18, 2020 | 18480 | 745 | 475 | 6 | 6307 | 11698 | 7 |
| June 17, 2020 | 17735 | 587 | 469 | 14 | 5967 | 11299 | 7 |
| June 16, 2020 | 17148 | 490 | 455 | 31 | 5623 | 11070 | 7 |
| June 15, 2020 | 16658 | 573 | 424 | 4 | 5349 | 10885 | 7 |
| June 14, 2020 | 16085 | 403 | 420 | 13 | 5220 | 10445 | 7 |
| June 13, 2020 | 15682 | 501 | 407 | 8 | 5101 | 10174 | 7 |
| June 12, 2020 | 15181 | 627 | 399 | 12 | 4891 | 9891 | 7 |
| June 11, 2020 | 14554 | 681 | 387 | 5 | 4494 | 9673 | 7 |
| June 10, 2020 | 13873 | 409 | 382 | 17 | 4351 | 9140 | 7 |
| June 9, 2020 | 13464 | 663 | 365 | 4 | 4206 | 8893 | 7 |
| June 8, 2020 | 12801 | 315 | 361 | 7 | 4040 | 8400 | 7 |
| June 7, 2020 | 12486 | 260 | 354 | 12 | 3959 | 8173 | 7 |
| June 6, 2020 | 12233 | 389 | 342 | 9 | 3826 | 8065 | 7 |
| June 5, 2020 | 11844 | 328 | 333 | 10 | 3696 | 7815 | 7 |
| June 4, 2020 | 11516 | 350 | 323 | 8 | 3535 | 7646 | 7 |
| June 3, 2020 | 11166 | 348 | 315 | 1 | 3329 | 7522 | 7 |
| June 2, 2020 | 10819 | 241 | 314 | 15 | 3239 | 7266 | 7 |
| June 1, 2020 | 10578 | 416 | 299 | 12 | 3122 | 7157 | 9 |
| May 31, 2020 | 10162 | 307 | 287 | 14 | 3007 | 6868 | 7 |
| May 30, 2020 | 9855 | 553 | 273 | 12 | 2856 | 6726 | 7 |
| May 29, 2020 | 9302 | 387 | 261 | 2 | 2697 | 6344 | 7 |
| May 28, 2020 | 8915 | 182 | 259 | 5 | 2592 | 6064 | 7 |
| May 27, 2020 | 8733 | 389 | 254 | 5 | 2501 | 5978 | 7 |
| May 26, 2020 | 8344 | 276 | 249 | 16 | 2385 | 5710 | 7 |
| May 25, 2020 | 8068 | 229 | 233 | 7 | 2311 | 5524 | 7 |
| May 24, 2020 | 7839 | 313 | 226 | 5 | 2263 | 5360 | 7 |
| May 23, 2020 | 7526 | 265 | 221 | 0 | 2174 | 5131 | 7 |
| May 22, 2020 | 7261 | 245 | 221 | 10 | 2007 | 5033 | 7 |
| May 21, 2020 | 7016 | 339 | 211 | 11 | 1907 | 4898 | 7 |
| May 20, 2020 | 6677 | 284 | 200 | 8 | 1840 | 4637 | 7 |
| May 19, 2020 | 6401 | 226 | 192 | 1 | 1734 | 4475 | 7 |
| May 18, 2020 | 6175 | 216 | 191 | 9 | 1644 | 4340 | 7 |
| May 17, 2020 | 5959 | 388 | 182 | 6 | 1594 | 4183 | 7 |
| May 16, 2020 | 5621 | 176 | 176 | 5 | 1472 | 3973 | 7 |
| May 15, 2020 | 5445 | 288 | 171 | 3 | 1320 | 3954 | 4 |
| May 14, 2020 | 5162 | 193 | 168 | 3 | 1180 | 3815 | 4 |
| May 13, 2020 | 4971 | 184 | 164 | 6 | 1070 | 3737 | 4 |
| May 12, 2020 | 4787 | 146 | 158 | 6 | 959 | 3670 | 4 |
| May 11, 2020 | 4641 | 242 | 152 | 10 | 902 | 3589 | 4 |
| May 10, 2020 | 4399 | 248 | 142 | 17 | 778 | 3479 | 4 |
| May 9, 2020 | 4151 | 239 | 127 | 11 | 745 | 3278 | 4 |
| May 8, 2020 | 3912 | 386 | 118 | 10 | 679 | 3115 | 4 |
| May 7, 2020 | 3526 | 381 | 108 | 4 | 601 | 2818 | 4 |
| May 6, 2020 | 3145 | 195 | 104 | 5 | 534 | 2507 | 1 |
| May 5, 2020 | 2950 | 148 | 99 | 5 | 481 | 2370 | 4 |
| May 4, 2020 | 2802 | 245 | 94 | 6 | 417 | 2291 | 2 |
| May 3, 2020 | 2558 | 170 | 88 | 2 | 400 | 2070 | 2 |
| May 2, 2020 | 2388 | 220 | 86 | 17 | 351 | 1952 | 2 |
| May 1, 2020 | 2170 | 238 | 69 | 10 | 351 | 1751 | 2 |
| April 30, 2020 | 1932 | 204 | 59 | 7 | 317 | 1556 | 2 |
| April 29, 2020 | 1728 | 196 | 52 | 7 | 307 | 1369 | 2 |
| April 28, 2020 | 1532 | 195 | 45 | 4 | 255 | 1232 | 2 |
| April 27, 2020 | 1337 | 64 | 41 | 0 | 255 | 994 | 2 |
| April 26, 2020 | 1273 | 91 | 41 | 5 | 239 | 994 | 2 |
| April 25, 2020 | 1182 | 87 | 36 | 3 | 222 | 925 | 2 |
| April 24, 2020 | 1095 | 114 | 33 | 1 | 208 | 855 | 2 |
| April 23, 2020 | 981 | 108 | 32 | 3 | 197 | 753 | 2 |
| April 22, 2020 | 873 | 91 | 29 | 3 | 197 | 648 | 2 |
| April 21, 2020 | 782 | 117 | 26 | 3 | 197 | 560 | 2 |
| April 20, 2020 | 665 | 38 | 23 | 1 | 188 | 466 | 2 |
| April 19, 2020 | 627 | 86 | 22 | 2 | 170 | 436 | 2 |
| April 18, 2020 | 541 | 48 | 20 | 2 | 166 | 356 | 2 |
| April 17, 2020 | 493 | 51 | 18 | 4 | 159 | 317 | 2 |
| April 16, 2020 | 442 | 35 | 13 | 1 | 152 | 277 | 2 |
| April 15, 2020 | 407 | 34 | 12 | 1 | 128 | 267 | 2 |
| April 14, 2020 | 373 | 30 | 11 | 1 | 99 | 263 | 2 |
| April 13, 2020 | 343 | 20 | 10 | 0 | 91 | 242 | 2 |
| April 12, 2020 | 323 | 5 | 10 | 0 | 85 | 228 | 2 |
| April 11, 2020 | 318 | 13 | 10 | 3 | 70 | 238 | 2 |
| April 10, 2020 | 305 | 17 | 7 | 0 | 58 | 240 | 2 |
| April 9, 2020 | 288 | 14 | 7 | 1 | 51 | 230 | 2 |
| April 8, 2020 | 274 | 22 | 6 | 0 | 44 | 226 | 2 |
| April 7, 2020 | 254 | 16 | 6 | 1 | 44 | 204 | 2 |
| April 6, 2020 | 238 | 6 | 5 | 0 | 35 | 198 | 2 |
| April 5, 2020 | 232 | 18 | 5 | 1 | 33 | 194 | 2 |
| April 4, 2020 | 214 | 5 | 4 | 0 | 25 | 185 | 0 |
| April 3, 2020 | 209 | 25 | 4 | 2 | 25 | 180 | 0 |
| April 2, 2020 | 184 | 10 | 2 | 0 | 20 | 162 | 0 |
| April 1, 2020 | 174 | 35 | 2 | 0 | 9 | 163 | 0 |
| March 31, 2020 | 139 | 8 | 2 | 0 | 9 | 128 | 0 |
| March 30, 2020 | 131 | 20 | 2 | 1 | 8 | 121 | 0 |
| March 29, 2020 | 111 | 22 | 1 | 0 | 3 | 107 | 0 |
| March 28, 2020 | 89 | 19 | 1 | 0 | 3 | 85 | 0 |
| March 27, 2020 | 70 | 5 | 1 | 0 | 3 | 66 | 0 |
| March 26, 2020 | 65 | 14 | 1 | 0 | 2 | 62 | 0 |
| March 25, 2020 | 51 | 7 | 1 | 0 | 2 | 48 | 0 |
| March 24, 2020 | 44 | 4 | 1 | 0 | 2 | 41 | 0 |
| March 23, 2020 | 40 | 10 | 1 | 1 | 2 | 37 | 0 |
| March 22, 2020 | 30 | 8 | 0 | 0 | 2 | 28 | 0 |
| March 21, 2020 | 22 | 10 | 0 | 0 | 1 | 21 | 0 |
| March 20, 2020 | 12 | 4 | 0 | 0 | 1 | 11 | 0 |
| March 19, 2020 | 8 | 0 | 0 | 0 | 1 | 7 | 0 |
| March 18, 2020 | 8 | 5 | 0 | 0 | 1 | 7 | 0 |
| March 17, 2020 | 3 | 1 | 0 | 0 | 0 | 3 | 0 |
| March 16, 2020 | 2 | 0 | 0 | 0 | 0 | 2 | 0 |
| March 15, 2020 | 2 | 0 | 0 | 0 | 0 | 2 | 0 |
| March 14, 2020 | 2 | 0 | 0 | 0 | 0 | 2 | 0 |
| March 13, 2020 | 2 | 0 | 0 | 0 | 0 | 2 | 0 |
| March 12, 2020 | 2 | 0 | 0 | 0 | 0 | 2 | 0 |
| March 11, 2020 | 2 | 0 | 0 | 0 | 0 | 2 | 0 |
| March 10, 2020 | 2 | 0 | 0 | 0 | 0 | 2 | 0 |
| March 9, 2020 | 2 | 1 | 0 | 0 | 0 | 2 | 0 |
| March 8, 2020 | 1 | 0 | 0 | 0 | 0 | 1 | 0 |
| March 7, 2020 | 1 | 0 | 0 | 0 | 0 | 1 | 0 |
| March 6, 2020 | 1 | 0 | 0 | 0 | 0 | 1 | 0 |
| March 5, 2020 | 1 | 0 | 0 | 0 | 0 | 1 | 0 |
| March 4, 2020 | 1 | 0 | 0 | 0 | 0 | 1 | 0 |
| March 3, 2020 | 1 | 0 | 0 | 0 | 0 | 1 | 0 |
| March 2, 2020 | 1 | 0 | 0 | 0 | 0 | 1 | 0 |
| March 1, 2020 | 1 | 0 | 0 | 0 | 0 | 1 | 0 |
| February 29, 2020 | 1 | 0 | 0 | 0 | 0 | 1 | 0 |
| February 28, 2020 | 1 | 1 | 0 | 0 | 0 | 1 | 0 |