Gold settles at $1,985, records best monthly gain since 2016
Gold price has gained about 30% so far in 2020.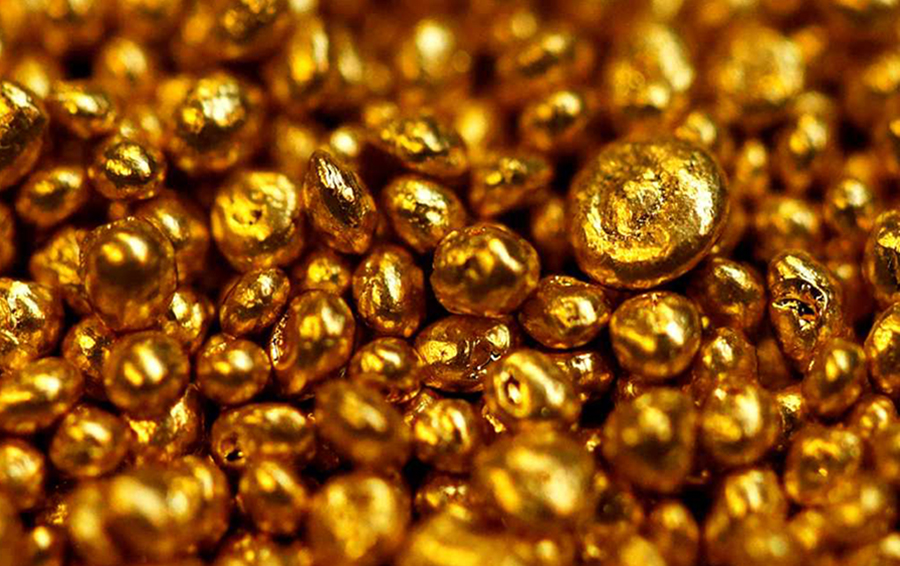 Gold futures recorded its best monthly (for July) gain in more than four years, settling +1% at $1,985.90/oz. after earlier breaking above $2,000 for the first in gold's trading history.
July's 10.3% gain showed the precious metal best monthly rise since February 2016.
Why is gold price rising; Gold price has gained about 30% so far in 2020, triggered by low-interest rates in many emerged markets that include Europe, Japan, and America. The widespread stimulus from global central banks has also helped in boosting the price of the safe-haven asset considered a bulwark against inflation and currency debasement.
READ MORE: U.S dollar sheds some gains, stimulus measures weaken the greenback
Stephen Innes, Chief Global Market Strategist at AxiCorp in a note to Nairametrics explained the macros gold traders will have on their minds, especially in the coming week. He said;
"After a hectic week on the gold desk, traders are left taking inventory of a crazy week on the gold counter.
"I think gold investors are fully loaded and not reacting to any correlations (for example, the weaker dollar higher gold), which suggests to me that investors are marking time while institutional traders are going over the data logs to game plan for next week."
READ: Whales move 100,000,000 USDT in less than 24 hours
He however exposed fundamentals favoring gold's price on its present support level. He continued by saying;
"The gold market's holy trinity is still in play, which is the Fed policy geared towards depressing real 10-year yields, the US dollar status a reserve currency in question, while the Covid-19 headline reel continues to spin."
Lagos Commodities Exchange to start gold trading
The move is in support of the Federal Government's effort to reduce dependence on oil, diversify the economy and boost the country's foreign exchange earnings.
The Lagos Commodities and Futures Exchange has concluded plans to commence trading of gold with the admission of Dukia Gold's diversified financial instruments, backed by gold as the underlying asset.
The move is in support of the Federal Government's effort to reduce dependence on oil, diversify the economy and boost the country's foreign exchange earnings.
Dukia Gold said the financial instruments, which would be in form of exchange-traded notes, commercial papers and other gold-backed securities would enable the company to deepen the commodities market in Nigeria, increase capacity, generate foreign exchange for the government to diversify external reserves and create jobs across the metal production value chain.
While making the disclosure, during a Pre-Listing media interactive session in Lagos on Thursday, the Chairman of Dukia Gold, Mr Tunde Fagbemi, applauded the Ministry of Mines and Steel Development and the Security and Exchange Commission (SEC) for supporting trading of gold in Nigeria.
What the Chairman of Dukia Gold is saying
He said, "We are proud to be the first gold company whose products would be listed on the Lagos Futures and Commodities Exchange. The listing shall enable us to facilitate our infrastructure development, expand capacity and create fungible products.
This has the potential to shore up Nigeria's foreign reserve and create an alternative window for the preservation of pension funds. Gold-backed security is a hedge against inflation and convenient preservation of capital."
Fagbemi pointed out that the company has refinery services to smelt metals with the capacity to meet local and international demand.
Going further, he said, "As a global player, we comply with the practices and procedures of London Bullion Market Association and many other international bodies. Our refinery will also have multiplier effects on the development of rural areas anywhere it is located.''
Context of Gold Mining in Nigeria
It can be recalled that the Federal Government, in June 2020, commissioned the operations of Dukia Gold and Precious Metals Project (DGPMP). The project is expected to enable Nigeria to mine its gold reserves properly, trade responsibly and refine locally.
The Vice President, Prof. Yemi Osinbajo, while performing the virtual commissioning of the project, said Nigeria has potential reserves of 200 million ounces of gold reserves.
Osinbajo said that he believed that the Dukia gold project would encourage the emergence of smaller-scale mining companies which, for the first time, would have a transparent and welcoming market for their mined gold and precious metals.
Oil prices surge over China's growing appetite for energy
British based contract ticked up by 0.3% to trade at $63.59 a barrel while the WTI futures edged near $60 a barrel.
Oil prices rallied high at the second trading session of the week as data from the world's second-largest oil consumer's (China) import growth picked up coupled with rising tensions in the Middle East after rebels from Yemen disclosed that they fired missiles on Saudi's energy infrastructure.
At the time of writing this report, the British based contract ticked up by 0.3% to trade at $63.59 a barrel while the West Texas Intermediate futures edged near $60 a barrel.
READ: Oil prices soar above $70 a barrel over terrorist attacks on Saudi's oil station
The world's second-largest economy recorded impressive gains for last month in yet another boost to China's economic recovery as global demand gained momentum. Crude oil imports into China surged by 21% in March from a low base of comparison a year earlier.
Stephen Innes, Chief Global Market Strategist at Axi in a note to Nairametrics spoke on the parabolic of the energy market, as oil traders seem to be uninspired on the resurging COVID-19 virus;
"The oil market's magnetic attraction to the $63 level should tell us much about the near-term outlook amid conflicting signal of new Covid waves coming to shore ahead of what should be a summer gasoline buying bonanza.
READ: Did OPEC+ April fool the oil market?
But overall, this is an oil market that feels completely uninspired outside of a few micro lurches here and there.
Still, positive comments on the US economy from Fed Chairman Powell help to reassure the outlook for oil demand, balancing concerns about the continued spread of Covid-19 in some regions."
What to expect
Recent price actions suggest oil traders might hold the $60 a barrel baseline in the near term even if U.S Treasury yields surge while struggling to resolve with what form and fashion the next leg of the reflation trade will take.
Nairametrics | Company Earnings
Access our Live Feed portal for the latest company earnings as they drop.