Malabu Scandal: Netherland, Switzerland to send $200 million to Nigeria
Italian prosecutors claim that nearly $1.1 billion was stolen by Nigerian politicians.
Nigeria's Minister of Justice, Justice Abubakar Malami, says that the Dutch and Swiss governments are expected to send the sum of $200 million from the OPL 245 Malabu Oil deal to Nigeria.
The Minister announced this in Abuja during an interactive session on capacity with members of the Judiciary in Abuja on Tuesday.
The Minister said the recovered loot was paid into federal government treasuries for the development of critical infrastructure in the nation like the second Niger Bridge and the Lagos Ibadan Expressway. He also added that the whistleblower programme has recovered over N685 million in the past year while forfeited vessels and trucks recovered N500 million for the government within the same period.
READ MORE: Magu probe: New facts suggest case is about re-looting of previously stolen funds
The backstory: Multinational oil companies, Eni and Shell, paid $1.3 billion in 2011 to acquire OPL 245 offshore field. The payment was to a company called Malabu, which was owned by Nigeria's former Oil Minister Dan Etete. However, Italian prosecutors claim that most of the payments were kickbacks to Nigerian government officials.
Italian prosecutors also claim that nearly $1.1 billion was stolen by Nigerian politicians and middlemen with Dan Etete keeping half. Italian courts said the oil companies paid the money knowing most of it would go as kickbacks.
READ ALSO: Unclaimed dividend stands at N158.44 billion, over N100 billion from unclaimed shares
Prosecutors have, therefore, called for an 8-year prison sentence for former Eni CEO, Paolo Scaroni. Both companies have been fined $1.04 million and prosecutors seek the confiscation of $1.092 billion from the defendants of the case.
A summer of higher food prices, limited room for monetary policy
Nigeria is facing a more fundamental supply shock, which alongside the rising transport costs is likely to drive higher food prices.
Headline Inflation has assumed a new pattern over the last three months, primarily driven by pressures in the food basket, reflecting a shock to crop cultivation from covid-19 restrictions and border closures. In addition, more recent developments in currency markets, where the Naira has weakened, as well as the increases in petrol prices following the removal of blanket subsidies have underpinned inflationary expectations. Looking ahead, sizable increases in electricity tariffs which came into effect in September as well as continuing fuel price pressures could see inflation head towards 14% levels in Q4 2020. Given the supply-side driven nature of the inflationary bout as well as the recent pivot to unorthodox monetary policies (which include liquidity tightening measures via CRR debits) it is likely that the CBN will ignore these numbers and persist with its current stance.
Nigeria's inflation surged in August with the CPI rising 13.22% y/y (July: 12.8% y/y), the highest level since April 2018, largely driven by pressures in the food basket, where prices climbed 16% y/y (July: 15.48% y/y) while the core index (which includes energy prices) expanded by decelerated to 10.5% (July: 10.1% y/y). On a monthly basis, the inflation climbed by 1.34% over August (July: 1.25%) — the highest monthly number since June 2017.
Pressures in Food, Utilities and Transport are driving the rising inflation numbers: Disaggregating the inflation numbers, three segments stand out (Food, utilities aka Housing, Water, Electricity and Gas and Other Fuels, HWEGF and transportation) as central to the pick-up in inflation as they accounted for ~80% of the variation in the monthly CPI print. Food was central and I shall set out my thoughts on the drivers later in this report, but on the latter two, pressures are linked to pick-up in fuel prices following the removal of subsidies in March which has seen fuel prices rise by 15% over the last two months.
Figure 1: Component analysis of monthly inflation
Source: NBS, Authors Calculation
A combination of weaker farming activity, Naira weakness and covid-19 lockdowns are behind the uptrend in food inflation: Looking at food inflation, the big pressures came from the farm produce component which accounts for over 90% of food inflation. August usually marks the start of the main crop harvest season in Nigeria which peaks in September-October and as such in normal years, monthly inflation peaks in July and decelerates thereafter. However, in 2020, monthly farm produce and food inflation readings over the last three months are at levels not seen since 2017 which would suggest factors hurting the supply side. Indeed, most grain and tuber crop prices are moving towards five-year trend levels.
Figure 2: Component Analysis of Monthly Food Inflation
Source: NBS, Authors Calculation
In 2017, my thesis then was that a sharp Naira depreciation drove heightened exports of Nigerian farm produce into the wider sub-region forcing an upward adjustment in domestic prices. In 2020, in addition to the sharp shift in the FX rate as well, the sense from reading on-ground sources like FEWSNET is that Covid-19 movement restrictions hurt the flow of labourers from neighbouring countries during planting season. Accordingly, field surveys are indicating that the area under cultivation for most grain and tuber crops is lower than levels in prior years which is pointing towards a subpar crop harvest for 2020. As such, Nigeria is facing a more fundamental supply shock, which alongside the rising transport costs is likely to drive higher food prices.
The price pressures are likely to be steep in urban centres as is evident in the spreads between rural and urban inflation which have widened since the border closures. Thus, in a departure from prior years, when regional supplies from neighbouring countries moved through the border to temper these pressures, existing blockades imply that limited relief is forthcoming. Solving the price runaway for food items clearly involves a combination of allowing targeted food imports or at least re-opening the borders to allow regional food trade flows to resume. However, Nigeria's economic managers appear to be on the other side of this fence.
Figure 3: Rural and Urban Inflation
Source: NBS, Authors Calculation
But money supply growth has been restrained by CRR debits in the banking sector: The textbook monetary policy response to accelerating inflation is to raise interest rates to induce a shift away from consumption towards savings in a bid to force inflation to within a target level. This would pre-suppose inflation was driven by an expansion in money supply often through credit growth. A look at developments on this front would rule this out.
As at the end of July 2020, annualized growth in monetary aggregates was mixed with strong growth in M1 (+33%) and M2 (+27%) relative to M3 (+10%)[1]. The muted growth in M3 relative to the narrower measurers of M1 and M2 reflect declines in OMO bills (- 72%) after the CBN elected to proscribe non-bank domestic investors from its sterilization securities sales. This resulted in a drop in OMO bills from NGN8trillion at its peak in November 2019 to NGN3.5trillion in July 2020. As these monies flowed unhindered into the banking system, they spurred an expansion in Demand Deposits (+42% and Quasi-Money (+24%). Although these should ordinarily stoke concerns, a look at the monetary base (M0)[2] throws up evidence of how the CBN has still managed to sterilize liquidity: via the cash reserve requirements. Specifically, bank reserves have expanded at an annualized pace of 132% to NGN11trillion at the end of July or by some NGN4.8trillion – which is more than double than the quantum of growth in Naira terms in M3 (NGN2trillion). Effectively, as many have argued, the entire move to outlaw access for non-bank (and tacitly banks) was essentially targeted at zero cost liquidity sterilization. Thus while there has been growth in money supply from maturing OMO bills, the concurrent expansion in monetary base via CRR debits has effectively drained the financial system of excess liquidity.
From a more structural perspective, money supply growth is often driven by two sub-parts: net domestic assets (NDA) and net foreign assets (NFA). The CBN's use of CRR debits has ensured that NDA growth over the first seven months of 2020 has been subdued (+1.3% annualized) relative to a faster expansion in net foreign assets (+54%) following the surge in FX borrowings with the IMF loan. In simple terms, the liquidity deluge from OMO bill maturities have been managed away.
Figure 4: Growth in Money Supply
Source: CBN
So what gives?
In the near term, my suspicions are that the CBN is set to follow the global trend of ignoring the inflation numbers, which suits its 'home-grown' philosophy, that has underpinned a spate of interventions across a host of sectors. These interventions has resulted in the CBN directing credit towards certain sectors (manufacturing, renewable energy, gas-to-power, housing, agriculture etc) at single-digit interest rates in a bid to stimulate activity. In combination with the Loan-Deposit Ratio (LDR) policy as well as the arbitrary nature of the CRR debits, which are well above the 27.5% target number, the CBN has been able to force banks to boost loan volumes as a coping mechanism in the face of collapse in net interest margins from lower rates on government securities. Though sceptics remain over the efficacy of supply-side policies on stimulating production among other unorthodox policies such as offering better rates for offshore investors relative to onshore investors, the CBN's recent policy of lowering minimum savings rate has provided a strong signal of its direction: there will be no reward for risk-free anymore. Will this work or not? We will have to wait to find out. But interest rates are likely to remain lower for sometime.
And 3 more things…
Changing the definition of core inflation: Presently, Nigeria defines core inflation as headline inflation less farm produce which reflected historic stability in fuel prices due to the existence of subsidized regime. With the removal of subsidies and 30-day averaging period, fuel prices now move from month-to-month implying higher volatility. Now is the time to change the definition of core inflation to exclude farm produce and fuel in line with the theoretical meaning. Looking back, the spread between headline and the true core definition which the NBS publishes suggests maybe we should not have tightened policy as aggressive as we did in 2016-17 by focusing communication on the true core number. Economic policies should focus on more lasting structural drivers than transient one-off shocks like fuel & electricity price hikes which tend to have disinflationary base effects afterwards.
Adopting a more meaningful inflation target: In Nigeria, that target level for inflation is defined as 6-9% for the headline number. Given the weight of food inflation (55%) in the CPI numbers as well as elements without recourse to monetary policy (like fuel and electricity prices), some (including myself) have argued that the 6-9% target for headline is meaningless. In countries which pursue inflation targeting, the target is more refined with preference for demand-side inflation metrics like core inflation, wage inflation or personal consumption expenditures. Nigeria needs to adopt something similar.
Explicitly incorporating FX into Nigeria's monetary policy reaction function: In theory, the core mandate of central banks is price stability, but this does not preclude the pursuit of other objectives. In the US, the Fed has a dual mandate that explicitly includes unemployment. I believe a proper explicit mandate for the CBN is one that requires that it optimize a reaction function of price stability and an export competitive exchange rate. The price stability mandate should entail lowering some measure(s) of inflation (preferably 'core' demand side measures) towards a target band defined as conducive for consumption and welfare in Nigeria over a medium-term period set as 2-3 years. This allows to evaluate the efficacy of monetary policy and provides a good feedback loop. On the other factor, given the importance to policymakers we need to include that the CBN target a competitive exchange rate. The idea in mind is a variant of what obtains in Singapore, wherein the nominal exchange rate must coincide with a REER level that ensures that Nigeria's non-oil manufacturing exports are competitive. This way, we resolve this obsession for nominal exchange rate stability. Balancing both items and ensuring better communication are the ultimate goals for monetary policy.
Figure 5: Trends in headline and core inflation
Source: NBS, Authors calculation
Naira remains stable across forex markets as external reserve continues to rise
The Naira remained stable against the dollar at the Investors and Exporters (I&E) window on Friday, closing at N394.67/$1.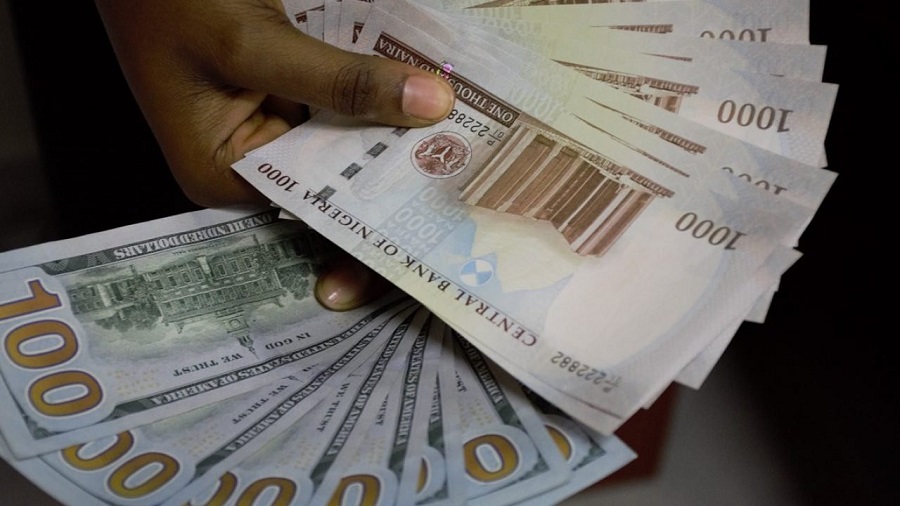 On January 15, 2021, the exchange rate between the naira and the dollar remained stable to close at N394.67/$1 at the NAFEX (I&E Window) where forex is traded officially.
This is exactly the same rate that was recorded the previous trading day, 14 January 2021.
Also, the exchange rate at the black market where forex traded unofficially maintained stability at N475/$1. The exchange rate at the parallel market closed at N475/$1 on the previous trading day of January 14, 2021.
This is as Nigeria's external reserve continues to experience a steady rise.
The exchange rate disparity between the parallel market and the official market is about N80.33, representing a 16.9% devaluation differential.
NAFEX
The Naira remained stable against the dollar at the Investors and Exporters (I&E) window on Friday, closing at N394.67/$1, the same rate that it closed on the previous trading day.
The opening indicative rate was N393.12 to a dollar on Friday, representing a 44 kobo drop when compared to the N392.68 that was recorded on Thursday, January 14, 2021.
The N414.76 to a dollar was the highest rate during intra-day trading before it closed at N394.67 to a dollar. It also sold for as low as N389/$1 during intra-day trading.
Forex turnover at the Investor and Exporters (I&E) window declined by 81.3% on Friday, January 15, 2021.
According to the data tracked by Nairametrics from FMDQ, forex turnover dropped from $215.63 million on Thursday, January 14, 2021, to $40.31 million on Friday, January 15, 2021.
The average daily forex sale for last week was about $169.93 million, which represents a huge increase from the $34.5 million that was recorded the previous week.
The exchange rate is still being affected by low oil prices, dollar scarcity, a backlog of forex demand and a shaky economy that has been hit by the coronavirus pandemic.
Oil price steady rise
Brent crude oil price is currently at $54.88 per barrel on Monday, as it moves towards the $60 mark, a strong sign that global demand could sustain price increases in 2021.
Nigeria's crude oil price benchmark for 2020 was $40 while it projected an oil production output of 1.8 million barrels per day.
Nigeria has a production capacity of 2.5 million barrels per day but is subject to OPEC's crude oil production cuts, which are expected to help sustain higher oil prices.
The higher oil prices and steady production output have positively impacted Nigeria's external reserves, rising sharply to $36.304 million according to central bank data dated January 14, 2020.
This is the highest level since July 2020 and a sign that higher oil prices and steady output levels may be contributing significantly to Nigeria's foreign exchange position.
Nigeria rising external reserves
The external reserve is about 5% off the $38.2 billion held as at this time last year.
Nigeria needs the external reserves to hit $40 billion if it is to adequately meet some of the pent up demand that has piled up since 2020 when oil prices crashed and the pandemic caused major economic lockdowns.
Nigeria is also close to obtaining a World Bank $1.5 billion facility which will boost external reserves when it is disbursed.
Nairametrics understands that the central bank might be required to devalue further and relax some of its capital controls if it is to receive the funds from the world bank.
COVID-19 Update in Nigeria
On the 17th of January 2021, 1,444 new confirmed cases and 15 deaths were recorded in Nigeria
The spread of novel Corona Virus Disease (COVID-19) in Nigeria continues to record significant increases as the latest statistics provided by the Nigeria Centre for Disease Control reveal Nigeria now has 110,387 confirmed cases.
On the 17th of January 2021, 1,444 new confirmed cases and 15 deaths were recorded in Nigeria.
To date, 110,387 cases have been confirmed, 89,317 cases have been discharged and 1,435 deaths have been recorded in 36 states and the Federal Capital Territory. A total of 1.15 million tests have been carried out as of January 17th, 2021 compared to 1.13 million tests a day earlier.
COVID-19 Case Updates- 17th January 2021,
Total Number of Cases – 110,387
Total Number Discharged – 89,317
Total Deaths – 1,435
Total Tests Carried out – 1,154,138
According to the NCDC, the 1,444 new cases were reported from 21 states- Lagos (901), Plateau (136), Kaduna (57), FCT (54), Ebonyi (53), Akwa Ibom (52), Nasarawa (32), Osun (29), Ogun (28), Imo (16), Oyo (16), Edo (15), Kano (14), Rivers (10), Ekiti (7), Borno (6), Abia (5), Benue (4), Yobe (4), Kebbi (3), Anambra (2).
Meanwhile, the latest numbers bring Lagos state total confirmed cases to 40,624, followed by Abuja (14,598), Plateau (6,753), Kaduna (6,178),  Oyo (4,695), Rivers (4,392), Edo (3,261), Ogun (2,859), Kano (2,591), Delta (2,102), Ondo (2,070), Katsina (1,723), Enugu (1,583), Kwara (1,566), Gombe (1,489), Nasarawa (1,301), Ebonyi (1,259), Osun (1,215),  Abia (1,134), and Bauchi (1,107).
Borno State has recorded 865 cases, Imo (857), Sokoto (677), Akwa Ibom (667), Benue (657), Bayelsa (608), Niger (547), Adamawa (540), Anambra (515), Ekiti (473), Jigawa (425), Taraba (258), Kebbi (251), Yobe (211), Cross River (169),  Zamfara (162), while Kogi state has recorded 5 cases only.
READ ALSO: COVID-19: Western diplomats warn of disease explosion, poor handling by government
Lock Down and Curfew
In a move to combat the spread of the pandemic disease, President Muhammadu Buhari directed the cessation of all movements in Lagos and the FCT for an initial period of 14 days, which took effect from 11 pm on Monday, 30th March 2020.
The movement restriction, which was extended by another two weeks period, has been partially put on hold with some businesses commencing operations from May 4. On April 27th, 2020, Nigeria's President, Muhammadu Buhari declared an overnight curfew from 8 pm to 6 am across the country, as part of new measures to contain the spread of the COVID-19. This comes along with the phased and gradual easing of lockdown measures in FCT, Lagos, and Ogun States, which took effect from Saturday, 2nd May 2020, at 9 am.
On Monday, 29th June 2020 the federal government extended the second phase of the eased lockdown by 4 weeks and approved interstate movement outside curfew hours with effect from July 1, 2020. Also, on Monday 27th July 2020, the federal government extended the second phase of eased lockdown by an additional one week.
On Thursday, 6th August 2020 the federal government through the secretary to the Government of the Federation (SGF) and Chairman of the Presidential Task Force (PTF) on COVID-19 announced the extension of the second phase of eased lockdown by another four (4) weeks.
Governor Babajide Sanwo-Olu of Lagos State announced the closed down of the Eti-Osa Isolation Centre, with effect from Friday, 31st July 2020. He also mentioned that the Agidingbi Isolation Centre would also be closed and the patients relocated to a large capacity centre.
Due to the increased number of covid-19 cases in Nigeria, the Nigerian government ordered the reopening of Isolation and treatment centres in the country on Thursday, 10th December 2020.
READ ALSO: Bill Gates says Trump's WHO funding suspension is dangerous