Magu probe: New facts suggest case is about re-looting of previously stolen funds
The report exposed acts of corruption and money laundering against some EFCC officials, including Magu.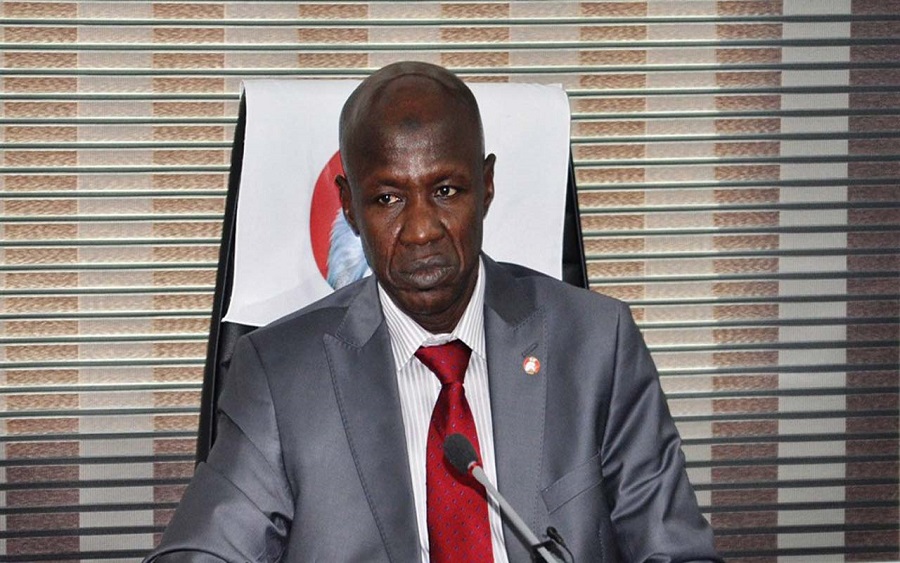 There appear to be more troubles for the suspended acting Chairman of the Economic and Financial Crimes Commission (EFCC), Ibrahim Magu, as some new cases bordering on alleged re-looting of recovered funds and bribery may be lined up against him.
Some new facts also emerged on how accumulated interest rates on the recovered N550 billion by the EFCC in the period under review were allegedly re-looted. The suspended EFCC boss is expected to disclose the whereabouts of the missing interest funds running into millions of naira.
READ MORE: Safest, regulated Cryptocurrency, Arcoin backed by U.S. Treasury securities
The final report of the Presidential Committee on Audit of Recovered Assets (PCARA) that covered the period of May 29, 2015, to November 22, 2018, had also confirmed the concerns of the public about the contradiction in the recovered funds by Magu. These contradictions include;
"For Foreign currency recoveries, EFCC reported a total naira equivalent of N46,038,882,509.87, while the naira equivalent of the foreign currency lodgments was N37,533,764,195.66, representing a shortfall of N8,505,118,314.21.''
"These inconsistencies cast serious doubt on the accuracy of figures submitted by the EFCC. It is the committee's view that the EFCC cannot be said to have fully accounted for cash recoveries made by it.''
"While EFCC reported total Naira recoveries of N504,154,184,744.04, the actual bank lodgments were N543,511,792,863.47. These discrepancies mean that EFCC's actual lodgment exceeded its reported recoveries by N39,357,608,119.43.''
READ ALSO: Gold down over increased investor confidence in economic recovery
It should be noted that the about N39 billion discrepancy excludes the missing accrued interest.
With all these, the report suggests that there is an apparent case of manipulation of data in a very brazen and unprofessional manner and has greatly eroded public confidence in the anti-corruption efforts.
The PCARA revealed how the investigative reports on EFCC's activities by the Nigeria Financial Intelligence Unit (NFIU) exposed acts of corruption and money laundering against some EFCC officials, including Magu.
The NFIU report shows that the Acting Chairman has been using different sources to siphon money from the EFCC, and in some cases collecting bribes from suspects.
According to News Agency of Nigeria, the report has shown that a particular Bureau de Change, owned by Ahmed Ibrahim Shanono linked to the Acting Chairman based in Kaduna has more than 158 accounts and has been receiving huge sums of money.
The PCARA report also claimed that Magu was linked to a N28m payment to Falana who is alleged to be his close associate and ally.
READ ALSO: Air Peace's Onyema saga: EFCC seizes passport, as Northern Youths plan rally at US embassy
Background
According to reports from the News Agency of Nigeria (NAN), the former EFCC boss is being interrogated by the Rtd, Justice Ayo Salami led Presidential Probe Panel over allegations bordering on mismanagement and lack of transparency in managing recovered assets by EFCC.
A final report of the Presidential Investigation Committee on the Federal Government Recovered Assets and Finances by EFCC from May 2015 to May 2020 had seriously indicted and implicated Magu on various allegations levelled against him.
The terms of reference for the investigative committee were
''Investigate, verify and review the recommendations of the Presidential Committee on Audit of Recovered Assets as it relates to the EFCC, with a view to ascertaining the complicity or otherwise of the Ag. Chairman, Ibrahim Magu, in the mismanagement of the assets recovered by the Commission.''
''Identify Avenues through which the recovered assets are dissipated and seized, recovered, forfeited (Interim and Final) assets are valued, managed, disposed and/or mismanaged with a view to ascertaining compliance or otherwise with extant laws, regulations, processes and procedures.''
''Review the existing procedures on the Management of the seized, recovered and Forfeited assets (interim and final) and proffer Standard Operational Procedures for the management of seized, recovered and forfeited assets.''
''Determine whether assets recovered during his tenure, whether locally in Nigeria or abroad, are being kept safely in a manner as to preserve their original value and determine: –
Whether all the assets could be properly accounted for by the Ag. Chairman.
To confirm if any of the assets have been diverted to the benefit of the Ag. Chairman, his family, relation, friends or favoured staff.
To recover any such diverted assets and return back to the EFCC or appropriate government agency.
READ MORE: Nigeria's external reserves up by 7% in 21 days, currency speculators to lose over N10 billion 
The committee was also to probe and report on corruption and money laundering allegations based on petitions and intelligence reports, involving Magu and Bureau De Change operators as well as some of his associates.
It was to audit the Assets and Finances of the EFCC as a legal entity from 2015-2020, with a view to establishing compliance or otherwise with procurement procedures of the EFCC in line with the provisions of the Procurement Act.
We look forward to a Biden presidency with great hope and optimism – Buhari
President Buhari has expressed optimism in Nigeria's relations with a Joe Biden administration.
President Muhammadu Buhari announced that Nigeria looks forward to the Presidency of Joe Biden with great hope and optimism for the strengthening of existing cordial relationships.
This was disclosed by an aide to the President, Garba Shehu after Joe Biden was inaugurated as the 46th president of the United States on Wednesday.
" President Muhammadu Buhari warmly welcomes the inauguration of Vice President Joe Biden and Kamala Harris as President and Vice President of the United States of America on Wednesday, expressing hope that their presidency will mark a strong point of cooperation and support for Nigeria as well as the African continent," Shehu said.
President Buhari congratulated the United States on a successful transition, citing it as an important historical inflection point for democracy as a system of government and for the global community as a whole.
Buhari added that Nigeria looks forward to working with Biden in areas of terrorism, poverty, climate change, and others.
"We look forward to the Biden presidency with great hope and optimism for the strengthening of existing cordial relationships, working together to tackle global terrorism, climate change, poverty and improvement of economic ties and expansion of trade," he said.
What you should know 
After the election results were released in November 2018, Buhari said Biden's election is a reminder that democracy is the best form of government.
"In a democracy, the most powerful group are not the politicians, but voters who can decide the fate of the politicians at the polling booth. The main fascination of democracy is the freedom of choice and the supremacy of the will of the people," Buhari said.
Nairametrics reported yesterday that Joe Biden had been sworn in as the 46th President of the United States.
Dapo-Thomas Opeoluwa, a Global Markets analyst and an Energy trader said Nigeria's Oil, would be dependent on the future outlook of the oil market and Biden's policies, as it would be interesting to see if Biden would allow OPEC to seize market share from American oil.
Productivity-enhancing reforms are required for quick economic recovery – World Bank
Productivity-enhancing structural reforms key to quick economic recovery.
The World Bank has revealed that a slow recovery of the global economy is not an inevitability and can be avoided through productivity-enhancing structural reforms.
This is contained in the Bank's flagship report – Global Economic Prospects.
The Bank believes structural reforms are capable of offsetting the pandemic's scarring effects and lay the foundations for higher long-run growth. It agrees that the global economy appears to be emerging from one of its deepest recessions and beginning a subdued recovery, beyond the short term economic outlook, following the devastating health and economic crisis caused by COVID-19.
According to the report, policymakers face formidable challenges — in public health, debt management, budget policies, central banking, and structural reforms, as they try to ensure that this still-fragile global recovery gains traction and sets a foundation for robust growth and development.
Highlights
Growth in Nigeria is expected to resume at 1.1% in 2021 – markedly weaker than previous projections – and edge up to 1.8% in 2022, as the economy faces severe challenges.
Investment is projected to shrink again this year in more than a quarter of economies – primarily in Sub-Saharan Africa (SSA), where investment gaps were already large prior to the pandemic.
Growth in Sub-Saharan Africa is expected to rebound only moderately to 2.7% in 2021 – 0.4% point weaker than previously projected, before firming to 3.3% in 2022.
Relative to advanced economies, disruptions to schooling have, on average, been more prolonged in emerging market and developing economies (EMDEs), including in low-income countries.
What the World Bank is saying
"In the longer run, a concerted push toward productivity-enhancing structural reforms will be required to offset the pandemic's scarring effects.
"The intended productivity-enhancing structural reforms encompass promoting education, effective public investment, sectoral reallocation, and improved governance. Investment in green infrastructure projects can provide further support to sustainable long-run growth while also contributing to climate change mitigation."
Are we ready to adjust structurally?
The World Bank has identified key areas that could trigger quick economic recovery. A close look at events in the country appears to suggest that we may be far from ready in terms of adjusting structurally.
A cursory look at the structural adjustment areas suggested by the Bank indicates that in Nigeria, for example, and maybe elsewhere, the single most important factor is improved governance.
All other factors appear to be contingent on this, as the Bank admits that improved governance and reduced corruption can lay the foundations for higher long-run growth. Policymakers and politicians in the country are therefore advised to pay close attention to activities geared towards reduced corruption and improved governance.
Another key area is public investment. Even though most public enterprises and related establishments are usually plagued with corporate governance problems, there are several ways by which the problems could be curtailed.
The issue of education, especially tertiary education, has been problematic with governments failing to meet the demands of university unions, resulting in strikes, almost on a yearly basis. It is hoped that a lasting solution to this springs forth soon.
Nigerian government spends equivalent of 83% of revenue to service debt in 2020
The Federal Government of Nigeria achieved a debt service to revenue ratio of 83% in 2020.
The Federal Government of Nigeria achieved a debt service to revenue ratio of 83% in 2020. This is according to the information contained in the budget implementation report of the government for the year ended December 2020.
According to the data seen by Nairametrics, total revenue earned in 2020 was N3.93 trillion representing a 27% drop from the target revenues of N5.365 trillion. However, debt service for the year was a sum of N3.26 trillion or 82.9% of revenue.
READ: FG posts 27% revenue shortfall in 2020 as budget deficit hit N6.1 trillion
Nigeria's debt service cost of N3.26 trillion has now dwarfed the N1.7 trillion spent on capital expenditure of N1.7 trillion incurred in 2020. This is also the highest debt service paid by the Federal Government since we started tracking this data in 2009.
The total public debt (External and Domestic) balance carried by Nigeria as of September 2020 stood at N32.22 trillion ($84.57 billion). Included in the total debt is a domestic debt of about N15.8 trillion.
READ: Nigeria's high recurrent costs, low revenue and escalating debt numbers
READ: Customs revenue rises by N200 billion to hit N1.5 trillion in 2020
What this means: Nigeria's debt to GDP ratio is estimated at about 22%, one of the lowest in the world and much below what is obtainable in most emerging markets.
However, the challenge has always been the debt service to revenue ratio, a metric that reveals whether the government is generating enough revenues to pay down its debts as they mature.
Since the first recession experienced in 2016, Nigeria has struggled with a higher debt service to revenue ratio as revenues slid in direct correlation with the fall in oil prices.
Nigeria's government spent about N2.45 trillion in debt service in 2019 out of total revenue of N4.1 trillion or 59.6% debt service to revenue ratio.
At 83%, 2020 ranks as the highest debt service to revenue ratio we have incurred. Before now it was 2017 with 61.6%.
READ: PayVIS: New Lagos State platform to use traffic cameras to fine traffic offenders
Breakdown of what debts were serviced
The following amount was spent on debt service during the year
To service domestic debt, the government spent N1.755 trillion in 2020 as against a budget of N1.87 trillion.
For foreign debts, a sum of N553 billion was spent against a target budget of N805.47 billion. The drop here is likely a result of lower interest rates on foreign borrowing as well as very limited borrowing from the foreign debt market during the year.
The government only contributed N4.58 billion into its sinking fund instead of the budgeted N272.9 billion.
The sinking fund is required to set aside funds that will be used to pay down on other loans such as bonds when they mature in the future.
Finally, a sum of N912.57 trillion was spent on servicing CBN's loans, granted via its Ways and Means provisions.
Nairametrics reported last week that a total sum of N2.8 trillion was extended by the CBN to the FG as Ways and Means.
READ: World Bank hopes to cut down debts of poor countries rather than delay payments
What happens next: In 2021, the government projects a debt service of N3.1 trillion against revenue of N6.6 trillion or debt service to revenue ratio of 46.9%.
The government plans to spend N4.3 trillion on capital expenditure during the year.