Magu probe: New facts suggest case is about re-looting of previously stolen funds
The report exposed acts of corruption and money laundering against some EFCC officials, including Magu.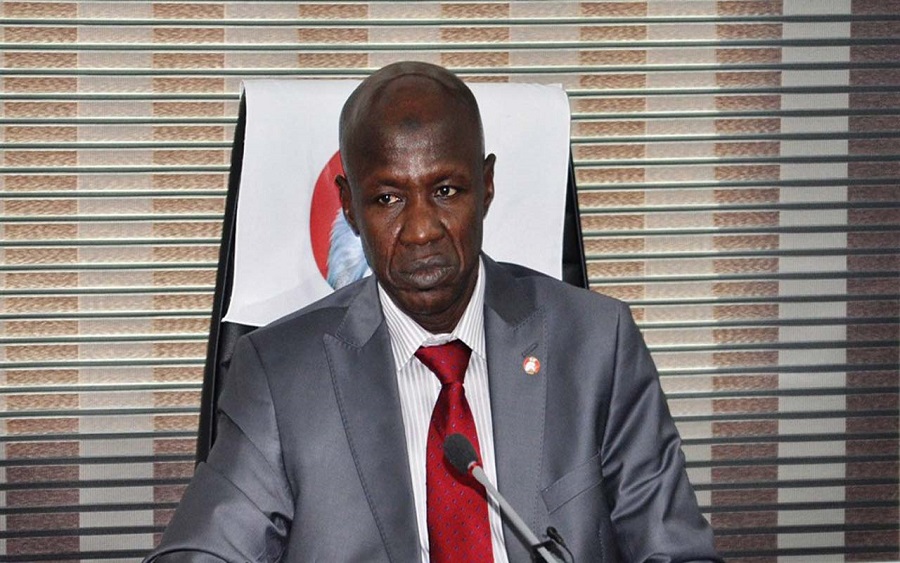 There appear to be more troubles for the suspended acting Chairman of the Economic and Financial Crimes Commission (EFCC), Ibrahim Magu, as some new cases bordering on alleged re-looting of recovered funds and bribery may be lined up against him.
Some new facts also emerged on how accumulated interest rates on the recovered N550 billion by the EFCC in the period under review were allegedly re-looted. The suspended EFCC boss is expected to disclose the whereabouts of the missing interest funds running into millions of naira.
READ MORE: Safest, regulated Cryptocurrency, Arcoin backed by U.S. Treasury securities
The final report of the Presidential Committee on Audit of Recovered Assets (PCARA) that covered the period of May 29, 2015, to November 22, 2018, had also confirmed the concerns of the public about the contradiction in the recovered funds by Magu. These contradictions include;
"For Foreign currency recoveries, EFCC reported a total naira equivalent of N46,038,882,509.87, while the naira equivalent of the foreign currency lodgments was N37,533,764,195.66, representing a shortfall of N8,505,118,314.21.''
"These inconsistencies cast serious doubt on the accuracy of figures submitted by the EFCC. It is the committee's view that the EFCC cannot be said to have fully accounted for cash recoveries made by it.''
"While EFCC reported total Naira recoveries of N504,154,184,744.04, the actual bank lodgments were N543,511,792,863.47. These discrepancies mean that EFCC's actual lodgment exceeded its reported recoveries by N39,357,608,119.43.''
READ ALSO: Gold down over increased investor confidence in economic recovery
It should be noted that the about N39 billion discrepancy excludes the missing accrued interest.
With all these, the report suggests that there is an apparent case of manipulation of data in a very brazen and unprofessional manner and has greatly eroded public confidence in the anti-corruption efforts.
The PCARA revealed how the investigative reports on EFCC's activities by the Nigeria Financial Intelligence Unit (NFIU) exposed acts of corruption and money laundering against some EFCC officials, including Magu.
The NFIU report shows that the Acting Chairman has been using different sources to siphon money from the EFCC, and in some cases collecting bribes from suspects.
According to News Agency of Nigeria, the report has shown that a particular Bureau de Change, owned by Ahmed Ibrahim Shanono linked to the Acting Chairman based in Kaduna has more than 158 accounts and has been receiving huge sums of money.
The PCARA report also claimed that Magu was linked to a N28m payment to Falana who is alleged to be his close associate and ally.
READ ALSO: Air Peace's Onyema saga: EFCC seizes passport, as Northern Youths plan rally at US embassy
Background
According to reports from the News Agency of Nigeria (NAN), the former EFCC boss is being interrogated by the Rtd, Justice Ayo Salami led Presidential Probe Panel over allegations bordering on mismanagement and lack of transparency in managing recovered assets by EFCC.
A final report of the Presidential Investigation Committee on the Federal Government Recovered Assets and Finances by EFCC from May 2015 to May 2020 had seriously indicted and implicated Magu on various allegations levelled against him.
The terms of reference for the investigative committee were
''Investigate, verify and review the recommendations of the Presidential Committee on Audit of Recovered Assets as it relates to the EFCC, with a view to ascertaining the complicity or otherwise of the Ag. Chairman, Ibrahim Magu, in the mismanagement of the assets recovered by the Commission.''
''Identify Avenues through which the recovered assets are dissipated and seized, recovered, forfeited (Interim and Final) assets are valued, managed, disposed and/or mismanaged with a view to ascertaining compliance or otherwise with extant laws, regulations, processes and procedures.''
''Review the existing procedures on the Management of the seized, recovered and Forfeited assets (interim and final) and proffer Standard Operational Procedures for the management of seized, recovered and forfeited assets.''
''Determine whether assets recovered during his tenure, whether locally in Nigeria or abroad, are being kept safely in a manner as to preserve their original value and determine: –
Whether all the assets could be properly accounted for by the Ag. Chairman.
To confirm if any of the assets have been diverted to the benefit of the Ag. Chairman, his family, relation, friends or favoured staff.
To recover any such diverted assets and return back to the EFCC or appropriate government agency.
READ MORE: Nigeria's external reserves up by 7% in 21 days, currency speculators to lose over N10 billion 
The committee was also to probe and report on corruption and money laundering allegations based on petitions and intelligence reports, involving Magu and Bureau De Change operators as well as some of his associates.
It was to audit the Assets and Finances of the EFCC as a legal entity from 2015-2020, with a view to establishing compliance or otherwise with procurement procedures of the EFCC in line with the provisions of the Procurement Act.
Insecurity: FG to implement town hall meetings to reach a national consensus
The meetings are set to address the twin issues of insecurity and its concomitant effect on national unity and cohesion.
The Federal Government announced the launch of town hall meetings to address the twin issues of insecurity and its concomitant effect on national unity and cohesion.
This was disclosed by the Minister of Information, Lai Mohammed, at the Town Hall Meeting in Kaduna on Thursday, themed "Setting Benchmarks for Enhanced Security and National Unity in Nigeria."
What the Minister is saying
"The correct starting point towards addressing these myriads of problems is the building of an "elite consensus" on the security, unity, indissolubility, and peaceful existence of Nigeria.
"Such elite consensus had worked in the past. Can we make it work now and proffer solutions in order to stave off the threats to our unity as a nation?" he said.
The Minister disclosed that the meetings are necessary to bring all critical stakeholders together to deliberate on the issues and possibly reach a consensus on the way forward.
"We expect this Town Hall meeting to develop concrete, implementable resolutions because a lot of talks and postulations had taken place with little or no requisite outcome."
In case you missed it 
Former Vice President, Atiku Abubakar warned that the rising insecurity in Nigeria is a result of rising youth unemployment. He urged Nigeria to tackle out-of-school children cases, pay a monthly stipend to poorer families, incorporate youths who are above school age into massive public works programmes and others.
Senator Ali Ndume insisted that the Federal Government needs to increase its total military spending to be able to tackle the rising insecurity in Nigeria which has seen a number of school students in 2021 kidnapped by bandits.
IMF lifts 2021 global GDP growth to 6%
The group also warned that economic recoveries are diverging dangerously across and within countries.
The International Monetary Fund has lifted its global growth outlook to 6% in 2021 (0.5% point upgrade) and 4.4% in 2022 (0.2 percentage point upgrade), after an estimated historic contraction of -3.3% in 2020 due to the effects of the COVID-19 pandemic. This disclosure was made on the organisation's website on Tuesday.
The group also warned that economic recoveries are diverging dangerously across and within countries, as economies with slower vaccine rollout, more limited policy support, and more reliance on tourism do less well.
READ: Corruption erodes the constituency for aid programmes and humanitarian relief – IMF
What the IMF is saying
"The upgrades in global growth for 2021 and 2022 are mainly due to upgrades for advanced economies, particularly to a sizeable upgrade for the United States (1.3 percentage points) that is expected to grow at 6.4 percent this year.
This makes the United States the only large economy projected to surpass the level of GDP it was forecast to have in 2022 in the absence of this pandemic.
China is projected to grow this year at 8.4 percent. While China's economy had already returned to pre-pandemic GDP in 2020, many other countries are not expected to do so until 2023."
READ: Nigeria needs structural and monetary policy reforms to unlock potential – IMF
On divergent recoveries 
The IMF stated that divergent recovery paths are likely to create wider gaps in living standards across countries compared to pre-pandemic expectations.
"The average annual loss in per capita GDP over 2020–24, relative to pre-pandemic forecasts, is projected to be 5.7 percent in low-income countries and 4.7 percent in emerging markets, while in advanced economies the losses are expected to be smaller at 2.3 percent," they said.
"Faster progress with vaccinations can uplift the forecast, while a more prolonged pandemic with virus variants that evade vaccines can lead to a sharp downgrade. Multispeed recoveries could pose financial risks if interest rates in the United States rise further in unexpected ways."
For Africa, IMF forecasts economic growth of 3.4% in 2021 and 4% by 2022, Nigeria is expected to grow by 2.5% in 2021 and 2.3% by 2022, while South Africa is projected to hit growths of 3.1% and 2.0% for the respective years in focus.
READ: The 4th industrial revolution and the birth of a new international monetary system
In case you missed it 
The International Monetary Fund (IMF)  identified some factors that hamper the economic recovery of low-income countries from the devastating impact of the coronavirus pandemic, factors including access to vaccines, limited policy space to respond to the crisis, the lack of means for extra spending, pre-existing vulnerabilities such as high levels of public debt in many low-income countries and sometimes weak, negative, total factor productivity performance in some low-income countries. These factors continue to act as a drag on growth.
Nairametrics | Company Earnings
Access our Live Feed portal for the latest company earnings as they drop.