Magu probe: New facts suggest case is about re-looting of previously stolen funds
The report exposed acts of corruption and money laundering against some EFCC officials, including Magu.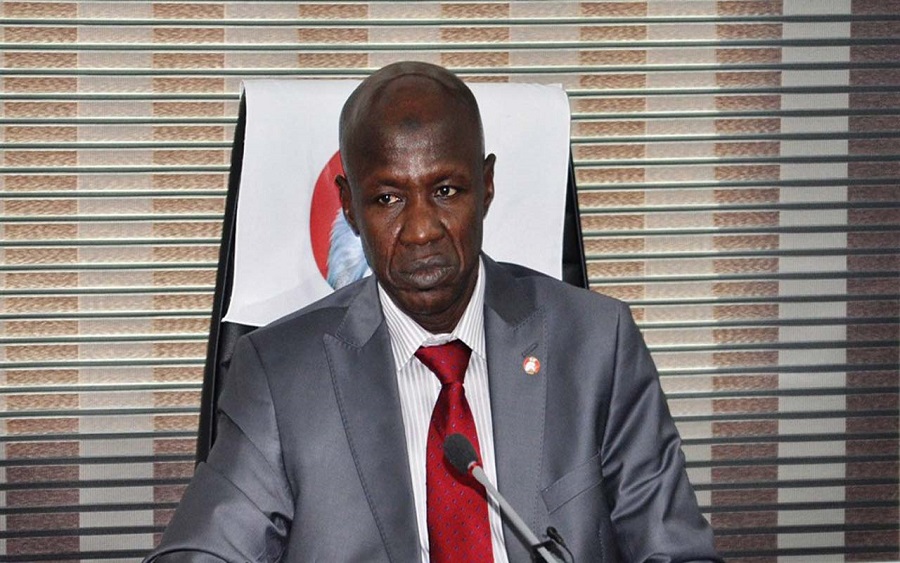 There appear to be more troubles for the suspended acting Chairman of the Economic and Financial Crimes Commission (EFCC), Ibrahim Magu, as some new cases bordering on alleged re-looting of recovered funds and bribery may be lined up against him.
Some new facts also emerged on how accumulated interest rates on the recovered N550 billion by the EFCC in the period under review were allegedly re-looted. The suspended EFCC boss is expected to disclose the whereabouts of the missing interest funds running into millions of naira.
READ MORE: Safest, regulated Cryptocurrency, Arcoin backed by U.S. Treasury securities
The final report of the Presidential Committee on Audit of Recovered Assets (PCARA) that covered the period of May 29, 2015, to November 22, 2018, had also confirmed the concerns of the public about the contradiction in the recovered funds by Magu. These contradictions include;
"For Foreign currency recoveries, EFCC reported a total naira equivalent of N46,038,882,509.87, while the naira equivalent of the foreign currency lodgments was N37,533,764,195.66, representing a shortfall of N8,505,118,314.21.''
"These inconsistencies cast serious doubt on the accuracy of figures submitted by the EFCC. It is the committee's view that the EFCC cannot be said to have fully accounted for cash recoveries made by it.''
"While EFCC reported total Naira recoveries of N504,154,184,744.04, the actual bank lodgments were N543,511,792,863.47. These discrepancies mean that EFCC's actual lodgment exceeded its reported recoveries by N39,357,608,119.43.''
READ ALSO: Gold down over increased investor confidence in economic recovery
It should be noted that the about N39 billion discrepancy excludes the missing accrued interest.
With all these, the report suggests that there is an apparent case of manipulation of data in a very brazen and unprofessional manner and has greatly eroded public confidence in the anti-corruption efforts.
The PCARA revealed how the investigative reports on EFCC's activities by the Nigeria Financial Intelligence Unit (NFIU) exposed acts of corruption and money laundering against some EFCC officials, including Magu.
The NFIU report shows that the Acting Chairman has been using different sources to siphon money from the EFCC, and in some cases collecting bribes from suspects.
According to News Agency of Nigeria, the report has shown that a particular Bureau de Change, owned by Ahmed Ibrahim Shanono linked to the Acting Chairman based in Kaduna has more than 158 accounts and has been receiving huge sums of money.
The PCARA report also claimed that Magu was linked to a N28m payment to Falana who is alleged to be his close associate and ally.
READ ALSO: Air Peace's Onyema saga: EFCC seizes passport, as Northern Youths plan rally at US embassy
Background
According to reports from the News Agency of Nigeria (NAN), the former EFCC boss is being interrogated by the Rtd, Justice Ayo Salami led Presidential Probe Panel over allegations bordering on mismanagement and lack of transparency in managing recovered assets by EFCC.
A final report of the Presidential Investigation Committee on the Federal Government Recovered Assets and Finances by EFCC from May 2015 to May 2020 had seriously indicted and implicated Magu on various allegations levelled against him.
The terms of reference for the investigative committee were
''Investigate, verify and review the recommendations of the Presidential Committee on Audit of Recovered Assets as it relates to the EFCC, with a view to ascertaining the complicity or otherwise of the Ag. Chairman, Ibrahim Magu, in the mismanagement of the assets recovered by the Commission.''
''Identify Avenues through which the recovered assets are dissipated and seized, recovered, forfeited (Interim and Final) assets are valued, managed, disposed and/or mismanaged with a view to ascertaining compliance or otherwise with extant laws, regulations, processes and procedures.''
''Review the existing procedures on the Management of the seized, recovered and Forfeited assets (interim and final) and proffer Standard Operational Procedures for the management of seized, recovered and forfeited assets.''
''Determine whether assets recovered during his tenure, whether locally in Nigeria or abroad, are being kept safely in a manner as to preserve their original value and determine: –
Whether all the assets could be properly accounted for by the Ag. Chairman.
To confirm if any of the assets have been diverted to the benefit of the Ag. Chairman, his family, relation, friends or favoured staff.
To recover any such diverted assets and return back to the EFCC or appropriate government agency.
READ MORE: Nigeria's external reserves up by 7% in 21 days, currency speculators to lose over N10 billion 
The committee was also to probe and report on corruption and money laundering allegations based on petitions and intelligence reports, involving Magu and Bureau De Change operators as well as some of his associates.
It was to audit the Assets and Finances of the EFCC as a legal entity from 2015-2020, with a view to establishing compliance or otherwise with procurement procedures of the EFCC in line with the provisions of the Procurement Act.
FRC to implement new IFRS 17
The FRC is set to implement International Financial Reporting Standard 17 (IFRS) on or before January 2023.
The Financial Reporting Council of Nigeria is expected to implement International Financial Reporting
Standard 17 (IFRS) on or before January 2023. This follows the amendment of the standard on June 25, 2020.
This was disclosed by the Head, Directorate of Accounting Standards Public Sector, FRC, Dr. Iheanyi Anyahara, during a Stakeholders interactive forum with FRC and International Accounting Standards Board (IASB) webinar recently.
Nigeria adopted the IFRS as part of measures to improve transparency, reporting practices and full disclosures.
Having adopted the IFRS by the Council, Anyahara explained that all amendments to existing standards alongside the new standards issued by the International Accounting Standards Board (IASB) must be implemented by all reporting entities in Nigeria.
According to him, the Council is aware that implementing IFRS 17 commands a radical departure from current accounting standards and produces complex operational challenges.
He said, "That is why we are organizing this programme and many more in collaboration with IASB to guide the users of the standards both in application and implementation.
"The Council will be organizing more events in financial reporting, auditing and corporate governance in order to sensitize the general public and lessen the knowledge gap in IFRS standards in Nigeria in collaboration with relevant agencies and organisations."
Back story:
Last July, Nairametrics reported when FRC released guidelines for reporting in compliance with the Nigerian Code of Corporate Governance. (NCCG 2018).
In a statement posted on its website, the Council explained that it had been engaging with all regulators of sectors for the purpose of developing sectoral guidelines of corporate governance on specific requirements relevant to each sector, which are not covered under NCCG 2018.
China's economy bounces back from COVID-19 slump, with a growth of 4.9% in Q3 2020
The Chinese economy has seen a growth of 4.9% between July and September, rising from the slump of the COVID-19 pandemic.
The Chinese economy has continued to show stronger recovery from the COVID-19 pandemic, as its economy saw growth of 4.9% between July and September – Q3 2020, compared to the same quarter last year. However, the figure is lower than the 5.2% projected by most international economists.
China is now leading the charge for a global recovery based on its latest Gross Domestic Product (GDP) data. The near 5% growth is a far cry from the slump the Chinese economy suffered at the start of 2020 when the pandemic first emerged.
READ: COVID-19: How CBN policies helped prevent the collapse of the Nigerian economy – Oscar Onyema
READ: TiKTok to take legal actions against President Trump's ban
China's trade figures for September also pointed to a stronger recovery, with exports growing by 9.9% and imports growing by 13.2% compared to September last year.
It appears to be a broadening recovery with the important services sector rebounding. Domestic tourists and travelers have probably helped the recovery continue by spending their money at home because global restrictions mean they can't yet go abroad. With international travel severely restricted, millions of Chinese have been traveling and spending domestically.
READ: OECD reduces global economic decline to 4.5% from earlier forecast of 6% 
What you should know
While the COVID-19 pandemic has hampered the year's growth targets, China remains in a trade war with the US and it has relatively hurt its economy.
For the first three months of the year, China's economy shrank by 6.8% when it saw nationwide shutdowns of factories and manufacturing plants. It was the first time China's economy contracted since it started recording quarterly figures in 1992.
Over the previous two decades, China had seen an average economic growth rate of about 9%; although, the pace has gradually been slowing.
There were 637m trips in China over the eight-day holiday which generated revenue of 466.6bn RMB ($69.6bn, £53.8bn), according to data from its Ministry of Culture and Tourism.
Duty-free sales in the tropical island province of Hainan more than doubled from last year, soaring by nearly 150% according to the local customs data.
READ: China joins WHO vaccine programme as it fills huge gap left by United States
What they are saying
According to Iris Pang, Chief China Economist for ING in Hong Kong, "I don't think the headline number is bad. Job creation in China is quite stable which creates more consumption."
According to Robin Brant, BBC China correspondent, "China's economy continues to grow at rates unimaginable in other Covid-hit countries. Draconian lockdown measures to control the virus combined with some government stimulus appeared to have worked well. While the growth of 4.9% is slightly below some forecasts, industrial output – a good barometer of state-controlled activity, came in above expectations"
READ: Many Billionaires became richer by 27% during the COVID-19 pandemic – Swiss Bank UBS
READ: Access Bank gets regulatory approval to become a Holding Company
According to Yoshikiyo Shimamine, Chief Economist at the Dai-Ichi Life Research Institute in Tokyo, "China's economy remains on the recovery path, driven by a rebound in exports, but we cannot say it has completely shaken off the drag caused by the coronavirus."
Explore Data on the Nairametrics Research Website
Download the Nairametrics News App
WTO DG: Okonjo-Iweala gets the backing of 79 countries so far
Okonjo-Iweala has disclosed that she has gotten the endorsement of 79 out of the 164 countries that comprise the WTO.
Nigeria's candidate for the vacant World Trade Organization (WTO) Director-General post, Ngozi Okonjo-Iweala, has expressed confidence in her quest to lead the crisis-ridden global trade organization after all of Africa backed her candidacy, vowing she would champion reform.
This disclosure was made by Nigeria's former Finance Minister at a virtual press briefing on Friday, October 17, 2020, after 55-member African Union officially supported her over the sole remaining opponent, Yoo Myung-hee of South Korea.
READ: Okonjo-Iweala shares her vision with WTO members, as she pitches for DG post
Okonjo-Iweala during the virtual press briefing said, "I feel the wind behind my back,"
She said she was thrilled to learn that all African countries are supporting her. According to her, this is in addition to a group of Caribbean and Pacific countries, who had promised to back her, bringing the number of countries officially endorsing her candidacy to 79 out of the 164 countries that comprise the WTO.
READ: Stanbic IBTC Pension Managers reveals breakdown of its massive N2.53 trillion AUM.
She was also optimistic of support from Latin American and felt she has gotten very good traction and good support in Asia so far.
She said the European Union was meanwhile due to announce its preference soon and feels quite confident that across the regions, they will be able to attract support.
READ: WTO Director-General: Okonjo-Iweala, 4 others to know fate next week
The global trade body is set to be led by a woman for the first time whichever of the two candidates is successful in their bid to succeed Roberto Azevedo, who stepped down as WTO director-general in August a year ahead of schedule.
Okonjo-Iweala, 66, who served as Nigeria's first female finance and foreign minister and has a 25-year career behind her as a development economist at the World Bank, said it would be good if WTO could also boast its first African leader.
READ: COVID-19: World Bank warns Nigerians, others in Africa not to relax
She said, "If that person is African and a woman, I think that is great. Because… neither an African nor a woman has led the organization.''
"The WTO at this time with the challenges it confronts needs a very competent Director General who is able to have the political reach and stature to be able to do reforms and deal at very high levels. It is not only having those skills, but having them all meet in one person at this juncture when the WTO needs that."
READ: Update: WTO DG: President Buhari meets Okonjo-Iweala in Aso Rock
The WTO was already grappling with stalled trade talks and struggling to manage tensions including trade disputes between the United States and China, even before the outbreak of coronavirus pandemic.
The global trade body has also faced relentless attacks from the United States, which has crippled the WTO dispute settlement appeal system and threatened to leave the organization altogether.
Okonjo-Iweala said she had broad experience in championing reform and was the right person to help put the WTO back on track.
READ: $70 billion per annum will be needed to tackle pandemic induced poverty – World Bank
She said, "I am a reform candidate and I think the WTO needs the reform credentials and skills now."
It can be recalled that the initial pool of 8 candidates for the WTO's top post, which has been reduced after 2 rounds of elimination processes, had included 3 Africans, and the AU had until now refrained from offering an official endorsement.
The third and final round of consultations seeking to establish consensus around one candidate is due to begin next week and end on October 27, with the announcement due in early November.
Explore Data on the Nairametrics Research Website
Use Advanced Financial Calculators on Nairametrics