Gold price rises further due to influx of new COVID-19 cases
Gold was up in Asia on Tuesday morning, as investors increasingly turned to the safe-haven asset given the continuous increase of the number of COVID-19 cases globally without signs of abating soon. As of July 7, data from Johns Hopkins University revealed that there were over 11.5 million cases globally, with the United States accounting for about 3 million of them.  
Gold futures were up by 0.06% at $1,794.65 by 10:12 PM ET (3:12 AM GMT), moving closer to the 1,800 mark. Stocks, which typically move inversely to gold, were also up on Tuesday.  
In the midst of this, the U.S. reported an Institute of Supply Management (ISM) Non-Manufacturing Purchasing Managers' Index (PMI) of 57.1 for June on Monday. While the figure exceeded analyst forecasts noting that the U.S. services sector is back on a growth trajectory, investors are still cautious about the recovery of the global economy as COVID-19 numbers keep increasing with no cure in sight. 
READ MORE: U.S. dollar share of global currency reserves rose to 61.9% in Q1 2020 – IMF
These events will give gold a boost in the short term. The impact of government stimulus measures globally will also impact the commodity. 
Stephen Innes, Chief Global Market Strategist at AxiCorp in a note to Nairammetrics, explained in detail why Gold is edging up.  
"Gold edges higher as COVID-19 cases increase concerns, offsetting positive data.  While the upside is intact, $1,800/oz is stiff resistance. Gold managed to trade up despite a rise in "risk-on" investor appetite and COVID-19 concerns, which do not appear to be going away, are providing underlying support." 
READ MORE: Gold Breaks $1,800 ceiling, reaches record high since 9/11
Commenting on the impact of the U.S. on the price of the commodity, he added that "U.S. fatalities are now above 130,000; as US cases approach 3 million, about a quarter of the entire known global caseload, it raises the level of political discord in the US. Given that the genesis of the "risk-on" shift was only a China Times article encouraging China retail investors to buy stocks, gold investors quickly looked through the market pump." 
"However, one reason the markets remain positive over the longer-term is that gold is tied to government spending and accommodative monetary policies outside the US," he added. 
Gold prices suffers its worst week plunge since March
Gold prices lost about 4.5% in value this week after hitting a record peak of $2,072.50 on August 7.
Gold price ended the trading session for the week on a bearish note.
This was its worst week since March, as U.S. Treasury yields surge and delay of the stimulus package from U.S congress dented the bullion metal's upside.
Gold futures settled lost 0.85% to trade at $1,953.60.
Gold prices lost about 4.5% in value this week after hitting a record peak of $2,072.50 on August 7.
Higher U.S yields increase the opportunity cost of holding non-yielding assets such as gold, which has gained over 28% so far in 2020.
Stephen Innes, Chief Global Market Strategist at AxiCorp in a note to Nairametrics spoke on the macros affecting the yellow metal's price. He said;
"And fortunately for gold investors, they have friends at the Fed as speakers unanimously reside incredibly cautious about the US economic recovery.
"It has been a tumultuous week for the gold price, which is back to $1950 levels, having clawed back a good chunk of this week's losses. The US dollar remains under pressure as investors are growing more skeptical of Congress's willingness to pass a stimulus package.
Still, it could be a challenge for gold markets to regain last week's fame as more fixed income traders are willing to short bonds now, which complicates the bullish gold view."
Brent Crude price trades at $45 per barrel, as fuel demand picks up
Brent crude held most of it gains from the previous trading session.
Brent Crude oil prices dropped slightly at Asia's trading session.
Brent crude prices held most of it gains from the previous trading session after U.S. government data showed a fall in U.S Crude Stockpiles supporting the view that fuel demand is picking up despite the COVID-19 pandemic.
Brent crude was slightly down by 0.07% to trade at $45.40 a barrel by 04.32 GMT, after a gain of around 2% in the previous session.
READ ALSO: Top banks' stocks plunge, as bears overwhelms Nigerian tier-2 banks' rally
Quick fact: Brent crude is the leading global benchmark for Atlantic basin crude oil. The international benchmark is used to set the price of crude oil of about two-thirds of the world's traded crude oil including Nigeria's crude.
However, Stephen Innes, Chief Global Market Strategist at AxiCorp in a note to Nairametrics, revealed vital macros, that could keep crude oil relatively stable in the coming days. He said;
"But even worries around stalled US fiscal talks are partly offset by the US administration's conciliatory tone on China's compliance with the 'Phase One' trade deal.
"The upcoming six-month assessment seems unlikely to prompt any significant fireworks. Also, investor's optimism remains high on a vaccine cure that is no longer being viewed as a pie in the sky.
"Finally, the US dollar's weakness helps Oil prices in general, but even more so in this environment, as the weaker US dollar reflects a global "risk-on" environment, not a flagging US economy. "
Download the Nairametrics News App
Global COVID-19 cases now exceed 20 million, so in the absence of meaningful progress on a COVID-19 vaccine, traders are still looking over their shoulders to where new lockdowns might be necessary.
Gold prices drop below $1,900 after U.S dollar strengthens
The plunge came as appetite for risk assets recovered thanks to a stronger greenback and real rates.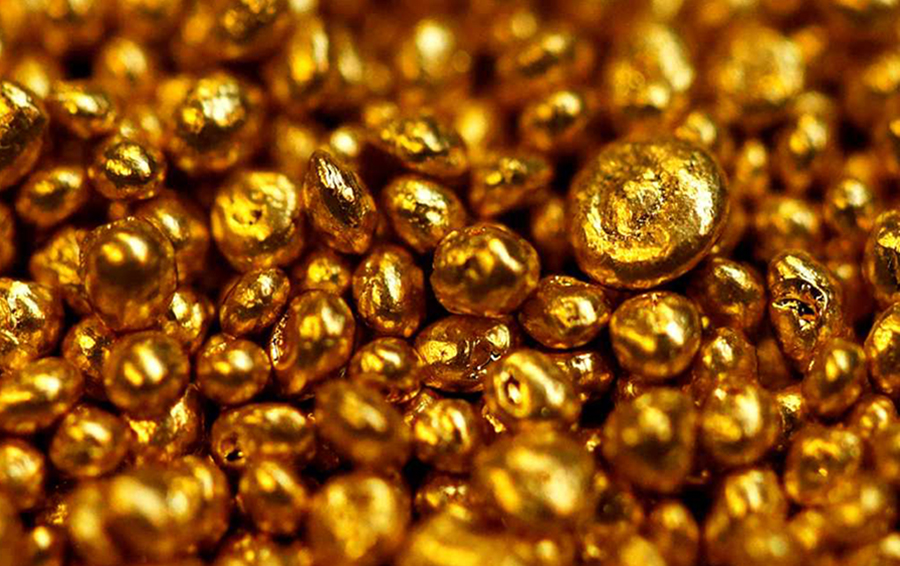 Gold prices dropped sharply on Wednesday at London's trading session. Gold futures were down 2.69% to trade at about $1,893.20 as at the time this report was drafted.
The plunge came as appetite for risk assets recovered, thanks to a stronger greenback and real rates. The U.S dollar is up on Wednesday, continuing to rise from its two-year lows.
The present huge sell-offs recorded in the precious metal market astonished many gold traders after the per-ounce price of the yellow metal plunged below $1,900.
READ MORE: Silver surpasses three-week high, joins Bullish momentum
Here's an Insight: Stephen Innes, Chief Global Market Strategist at AxiCorp, in a note to Nairametrics, explained the macros, giving Gold bears such strength, as the precious metal continues its sudden downward trend. He said;
"The real pain trade gold as swollen positions got hit with the truncheon, and gold plunged the most in seven years as the bottom fell out of the markets with US Treasuries and bunds bear-steepening and real yields higher.
"Gold markets sold off picking speed exponentially as freshly minted gold longs ran for the exit.
"And in typical low liquidity August fashion, market makers were merciless pounding gold to within a hair's breadth of $1900 as the steam roller got heading downhill when the afternoon Shanghai session saw waves of Asia banks selling en masse."
READ ALSO: LINK, most profitable crypto-asset in 6 months, gains 451%
Whether or not gold can regain its previous highs will depend on whether there is more room for downside in real yields or more dovish policies by the US Federal Reserve. Still, the possibility of squeezy price action remains in play after the US Bond market sent out the most explicit warning last week.