Meet Aig-Imoukhuede, the lawyer-turned-banker who turned an unranked bank into a tier-1 bank  
A switch in career path would normally require some sort of retraining, but not for Aig who learned on the job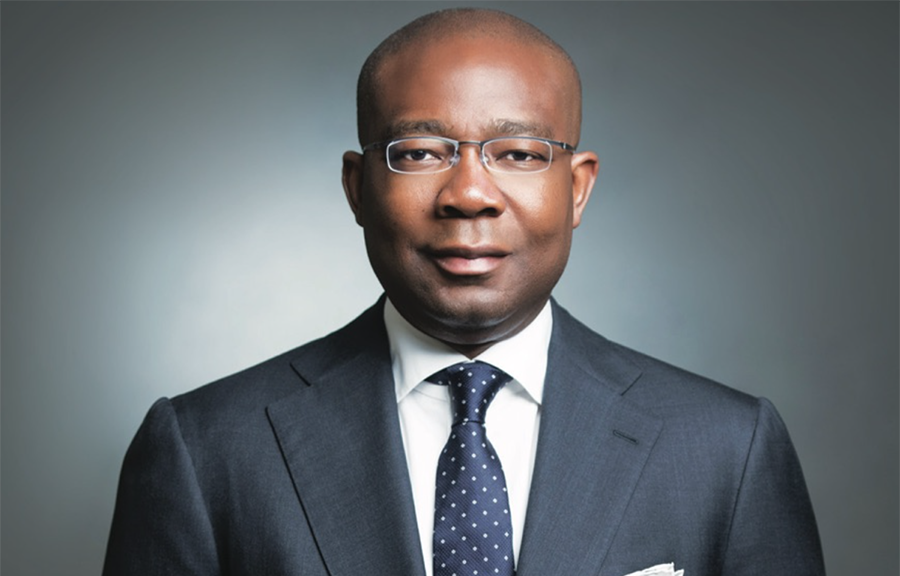 After, thirteen years of operations, Access bank still grappled with capitalization and corporate governance challenges until Aigboje Aig-Imoukhuede stepped in with his team. Almost 2 decades later, the bank's assets have grown unimaginably, and the bank which was once ranked 65 is now ranked among the top 5. Meet the man who led the team that changed the narrative. 
Aigboje Aig-Imoukhuede was born on 24th of September 1966 in Ibadan, present-day Oyo State, though he hails from Sabongida-Ora, present-day Edo State. He had his early education in Kaduna and later in Lagos State, before enrolling for a degree in law at the University of Benin, Edo State, Nigeria.
Early in his life, Aigboje had decided that he was not going to work with the civil service. Both of his parents were civil servants – His mother was the first curator of the National Museum of Nigeria after independence, and his father later became the Minister for Culture. He would recall that this was a period in Nigeria where the best talents went into the civil service to pursue a career.
However, the military's entry into the civil service turned things around as they did not seem interested in investing much there. "For people like me, I saw the impact on great men and women, and the almost decimation of their relevance and importance of their contribution to the governance, and I decided that I was not going to work for the government," Aig-Imoukhuede said.
READ MORE: Oil firms' debt status: How it affects Nigerian banks
Having struck out what was then the most viable option for the best talents, Aigboje had to decide where he wanted to pursue a career. Multinationals were among the best companies in the private sector at the time, and the idea of working at the helm of one of them held appeal for the young Aig, and he later stated that his decision to study law was based on his observation that the foremost multinationals were then headed by lawyers.
"I felt that law was a good way to get into the hallowed boardrooms," he later said.
In 1987, he was called to the Nigerian Bar, and served his compulsory National Youth Service Corps, working as a lawyer with Chase Merchant Bank during his NYSC year. Owing to stories he had previously heard from friends who had experience in the banking sector, he had been encouraged to work with the bank and he soon got involved in core parts of the business of banking. In his words, "Very soon I discovered that I enjoyed making deals more than doing legal work so I made the transition to core banking."
Lawyer-turned-banker
The switch in career paths would normally have needed some sort of retraining but not for Aig. He had to learn on the job, and due to his efficiency in getting things done, he was not the kind of staff the management was willing to allow to go for any prolonged training.
"I was doing things at the age of 22, that most people did when they were 35 to 40 years. My life has been one where people look at my talent and basically, put me at things," he said while speaking at the OXFORD Business Africa forum 2019.
READ MORE: Nigeria confirms no plans for fresh Eurobond issues
Having shown great skills in closing deals, he joined Guaranty Trust Bank as a pioneer staff, driving his career over the next decade to become a top executive there. He, thus, had the best point grooming his skills in what had become one of the best banks in Nigeria.
Despite being an Executive Director with enough challenges on his plate, Aigboje wanted more. He was both restless and dissatisfied, despite having a career most people would break an arm for.
He did not figure out the missing link until he went to the Harvard Business School at the age of 32 years, for an Executive MBA.
At this time, he read the book Buyout, written by Rick Rickertsen a corporate buyout specialist. It was a Eureka moment for Aig, where he realized, "I wanted to become an owner-manager."
There and then, he resolved to buy a bank upon his return to Nigeria.
Founding Access Bank
Buying a bank turned out to be more difficult than was envisaged. Although Aigboje had set his eyes on the top-tier banks, he found that even after pooling resources with his trusted partners, they still could not afford to buy controlling shares.
READ MORE: Bank loans not main funding option for Nigerian MSMEs -PwC
They eventually had to move down the rung, and look for something they could afford.
"We were both worth about two million dollars, and even then, our $2 million plus $8 million worth of leverage got us 52% of the bank," Aig recalled.
Access Bank was incorporated on February 8, 1988, as a privately owned commercial bank and commenced business operations on 11 May, 1989 after obtaining its licence. It later converted to a public limited liability company on 24 March, 1998, and by November of the same year, was listed on the Nigerian Stock Exchange.
READ MORE: Banks push customers towards self service in the "new normal" 
Dealing with several boardroom squabbles in its years of operation, and the challenges of undercapitalization based on the apex bank rules, Access bank was then rated number 65 among Nigerian banks.
"I was betting my financial future and that of my family on this move, but I had a burning desire to transform our bank into a world-class financial services provider. What was more important to me was that this was the beginning of something, but not the end. I was going to buy the bank but I had no plans to tie my life around the bank so I knew we needed a framework for continuity.  I wanted it to continue irrespective of what happened to me" he later said.
Having recapitalised the bank, the team had a 13-point plan to turn around the fortunes of the bank, and have it listed as one of the top 5 banks in the next 5 years. This became the aim of the team led by Aigboje as pioneer MD.
READ MORE: Nigeria's tier-1 banks pay N29.8 billion worth of taxes in Q1 2020
Though they did not meet this target, in 2006 exactly 5 years after recapitalising the bank, Access Bank won the Thisday 'most improved bank' in Nigeria, and was classified by Augusto & Co, a respected rating agency, as a tier 2 bank alongside Diamond Bank, Afribank, Fidelity Bank, Bank PHB and the Nigerian International Bank (Citibank).
The bank also expanded into other African countries including Gambia, Cote D'Ivoire, Democratic Republic of Congo, Rwanda, Zambia and Sierra Leone.
Notwithstanding, the change in ownership and management of the bank was visible in the balance sheet from the first year. In 2002 alone, the bank posted an impressive N1 billion profit before tax, much more than the cumulative profit made by the bank in the previous 12 years.
READ ALSO: Unity Bank: Repositioned to grow profits, lending to the real sector
This also marked the beginning of what would be a six-year record triple-digit growth trend. Similarly, earnings per share had rebounded to 21 kobo from a negative 2 kobo position, leading to a declaration of a 5 kobo dividend to shareholders for the first time in three years.
When the team embarked on its first capital raising exercise in July 2007, it turned out very successful with an oversubscription of over 300%. The public offer comprised an Over-The-Counter GDR placement of US$250 million which was similarly oversubscribed by 700%.
Access Bank today is now the largest bank in Nigeria, and Africa's leading bank by customer base. It has a network of more than 600 branches and service outlets, across three continents, 12 countries and 36 million customers.
Good times!
READ MORE: France's Orange move into Nigeria spells trouble for resident Telcos
Reflecting back, Aig would say that his experience in Chase Merchant Bank prepared him in advance for the task of owning and running a bank.
"One thing you will find about many of the men who have founded great banks in Nigeria is that they have worked for banks that crashed. That way, you learnt what not to do in banking," he said while speaking at the presentation of Jim Ovia's Africa Rise and Shine.
He recalled also how Jim Ovia, founder of Zenith bank, had advised and mentored him when he took the driver's seat at Access bank, and stated that this played a great role in the success of the bank.
Leaving Access bank for higher call
After 12 years at the helm, Aig handed over to co-founder, Herbert Wigwe as MD.
Leaving the bank gave Aig the time to pursue other passions. He founded Coronation Capital Nigeria Limited, an Africans focused private equity fund manager, whose aim is to invest and create value for multiple stakeholders who believe in Africa. He also founded the Africa Initiative for Government (AIG), a non-public institution established as a catalyst for high public sector performance in Africa, and is the chairman.
He has won many awards including the EY entrepreneur of the year.
Apart from his philanthropic ventures, he sits on many boards including Marina Securities Ltd, Global Business Coalition on HIV, and Petralon Energy Ltd.
READ MORE: Nigeria's tier-1 banks earn N18.4 billion from account maintenance charges in Q1 2020
He is an alumnus of Harvard Business School Executive Management Programme and graduated as Class Speaker PMD 75. He has also attended several other business schools and institutes including, the Citicorp Institute of Finance, Euromoney Capital Markets Bootcamp, and IMD Lausanne, Switzerland.
He is a member of the sub-committee of the Banker's Committee on Professional Ethics, Harvard Business School Association of Nigeria, as well as on the boards of FATE Foundation where he assists in inspiring entrepreneurial driven youths to realize their potential. He is also a Fellow of ASPEN Leadership Initiative.
He is a Commander of the Order of the Niger (CON), and has also won the National Productivity Order of Merit Award in 2009.
Download the Nairametrics News App
He is a member of the Presidential Committee on the establishment of the African Investment Bank, a honourary member of the Chartered Institute of Bankers of Nigeria, and a Governing Council member of the Financial Institutions Training Centre.
Aigboje is a pastor of the Promised Land Ministries in Lagos, and is married to Ofovwe Aig-Imoukhuede; they have four children together.
Note: Information was sourced from here, here, and here.
Scaling in Nigeria's fashion industry is tough work – Ugo Monye 
Ugo Monye takes us through his journey to becoming one of the most popular fashion brands in Nigeria.
With the large number of business names being registered with the Corporate Affairs Commission (CAC) on a monthly basis, it is easy to assume that starting and scaling a business in Nigeria is a piece of cake. In reality, however, it is a completely different story.
Even after surviving the first few years, scaling for expansion can be a hard nut to crack, particularly in an industry that is still unstructured.  
Ugochukwu Monye, Founder and Creative Director, Ugo Monye Fashion Company was a guest on the Nairametrics Business Half Hour, and shared some challenges of scaling in Nigeria's fashion industry.  
READ: Konga CEO targets $10 million daily turnover by 2024
He observed that one challenge entrepreneurs have to face in the industry while trying to upscale is the shortage of manpower. 
"No one wants to work for anybody. People don't want to be part of another person's success story, because everyone feels they can as well float whatever it is you are doing. This is part of the reasons the industry lacks structure, and still not fully developed," he noted.  
Even when one employs a staff, they only work a short while before they start contemplating how to leave and replicate your business. In my line of business, the result is many small fashion businesses with few (if any) outstanding brands.  
There is much room for specialization across the value chain, but people cannot specialize, "because of the absence of a structure," Ugo added.    
READ: Embattled MTN pursues out-of-court settlement with CBN
Discovering Ugo 
Monye
Ugo grew up with a mother who owned a fashion business, so he picked interest in fashion early enough.  However, he did not wish to pursue this line, as the realities at the time did not present the fashion industry as a mouth-watering alternative to other well-known professional lines.  
"At that time, there was no glory in being a tailor or a fine artist," he explained.  
His parents wanted him to read Fine and Applied Art in the UK, and hone his skills in Fine Arts, but he refused, opting instead for a course in Business Administration so that he could go into importation business upon graduation. Exposure and knowledge soon showed him that often, a person's passion and calling had to cross paths.  
He started coming up with creative designs and clothing ideas, drawing inspiration from the things around him in the university.  
READ: Buying signal, Bitcoin whales with 1000 BTC or more continue to rise
One holiday, Ugo went home and decided it was time to bring the ideas to reality. He linked up with a couple of tailors that worked with his mother, and using some of the old machines still available in the house, they brought the first Ugo Monye clothing designs to life.  
At that time, the business operated with the name CIUCI (a word which he derived from the initial letters of his five siblings), later changing to Ugo Modern Design, before he decided to just stick with his name, Ugo Monye.  
He continued with his designs through his university days, till the end of his one-year mandatory service – NYSC, after which he got a job with a Strategic Consulting company. It only took a short while before Ugo realized that, as much as he was earning more than some of his peers at the time, there was no sense of fulfillment in what he did. He turned in his resignation and decided to go all-in on fashion designing. He attended a fashion school to hone his skills further.   
READ: How NNPC saved $3 billion from arbitration 
All 
hands on
 deck
The fashion industry is not an easy place to start, and anyone starting out in the space must be ready to play all the required roles. In this industry, Ugo became a designer, tailor, marketer, brand promoter, and every possible role as he strove to get things rolling.  
"It is not just easy to get people to do these things, because the industry has not attained a structural level, where a person will decide right from school, that he wants to work as a designer with this company, as we see in other sectors," 
There is also the tendency for people to feel that they don't have a serious job because they are tailors, and sometimes feel ashamed to identify as one. Things are gradually changing as people are beginning to identify with the industry, and this brings hope for more growth in the sector.  
Monetizing a fashion company takes different forms, designing, clothes making, selling, and even consulting.  
Ugo says that as a brand, the Ugo Monye brand is more about details, "There has to be that touch of finesse in the finishing, and in fact, we pay more attention to the parts of the clothes that people do not see. This is what stands you out from others." 
READ: Ripple unlocks 1,000,000,000 XRP
A d
r
e
am still in the process
Though Ugo Monye has become a brand to be reckoned with among celebrities and notable personalities in the last decade, Ugo says that his dreams for the brand are still yet to be actualised. He sees his brand becoming a force to be reckoned with in the coming years, a brand that every fashion enthusiast would want to be identified with as the industry takes shape.  
"I am not yet wowed by anything I have experienced so far. There are quite a lot of achievements I have made with the brand, but it is still not up to what I dreamed of. There's no short cut to anywhere that is worth going to," Ugo concluded. 
We started PiggyVest to digitize 'wooden box' saving method – Odunayo Eweniyi, Co-Founder
Inspired by the local wooden box piggy bank, the idea for PiggyVest was birthed.
The Financial Service sector has rapidly evolved in the last decade; with several viable startups springing up with innovations, most people never thought was possible. One of the notable startups, currently redefining the FinTech industry is PiggyVest. 
PiggyVest is the first online 'savings and investment' app in West Africa, with one mission to give everyone the power to better manage and grow their own finance.  
For a company started by six young graduates, their success story is truly inspirational 
Today, Nairametrics profiles one of the brains behind this ethical startup company – Odunayo Eweniyi 
READ: Nine finalists to profer tech solutions to COVID-19 challenge 
Early years
Born in Oyo state, the 27-year-old Odunayo spent her early years invested in reading books. She excelled with ease in all subjects at her primary and secondary schools. A feat not surprising, as she is daughter to two professor parents. 
Odunayo recalls that even though she wished to study Medicine and Surgery, she did not consider herself empathetic enough to thrive in the profession. She went on to study Computer Engineering at the prestigious Covenant University, graduating top of her class in 2013. 
READ: New crypto gains 1,633% in four days, catches Ethereum creator's eyes
Finding her 
C
o-
F
ounders
As an undergraduate, Odunayo had already taken an interest in Coding and Artificial Intelligence and expected to take further studies in it. However, this did not happen immediately, as she started with job-hunting after graduation.  
"The first thing that happened to me was that I went for a job interview, and I was asked to quote a salary and I did. When the offer would come back, the salary they offered was 80% lower than what I expected, so I rejected it," she recalled. 
Subsequently, she teamed up with a couple of friends from her university days, and they came up with the idea of PushCV. Recounting the decision to team up with them, Odunayo says,  
READ: Why Africans are fast using Bitcoin for payment transfers
"We all were amazing engineers in school, Somto once built a miniature airplane, so I was pretty confident that a joint venture with them would produce amazing results." 
The other team members were already working on a discount card startup called Parolz, and she joined them to work on this for some months, while simultaneously still jobhunting with Oluwafemi, and Somto was working on something called CV Flash, to help people who couldn't write CVs properly or did so with terrible English. 
Odunayo became a Co-founder at CVFlash, helping to write the CVs for clients. She was also writing for TechCabal,  Zikoko, and later worked as Editor of TechPoint Africa. All of the income from these jobs kept her going, and was also being channeled into getting the startup off the ground.  
READ: CBN starts disbursement of N50 billion Covid-19 intervention fund
Soon enough, PushCV came to the forefront of their interests, when clients started requesting that they help them 'push' their CVs to employers. The friends decided to collapse Parolz, and concentrate their energies on the startup raving with the most attention from users.  
To differentiate PushCV from others, they started pre-screening candidates, so that only the best candidates would be sent to employers. Their activities attracted attention, and by August 2014, they got their first investment from Olumide Soyombo's Leadpath Nigeria – an office space in Yaba, and a cheque for $25,000.  
READ: FG gives reasons for fuel subsidy removal, discloses alternative to kerosene
How Piggybank 
was conceived
By the end of December 2015, the team came across a tweet from a lady, about how she had saved N365,000 by putting N1000 in a wooden piggy bank daily. They decided then, that finding a way to digitize the concept would help salary earners save towards their financial goals.  
They launched Piggybank.ng on the 7th of January 2016, as a 'savings-only' platform, and the fully tested version was ready for public use by April 2016. Gradually, the brand grew by user-recommendations and testimonials. These free adverts were a testament to the team, that they were helping with a real need in our society. 
Three years later, in April 2019, they rebranded to PiggyVest, and started offering direct investment opportunities to users, allowing them to combine 'discipline plus flexibility to grow their savings and investments.' 
Users can now use the Quarterly savings options, save towards financial targets, or lock funds away. They can also take advantage of investment opportunities on the platform. The company currently serves 350,000 users, helping them save and invest "a combine billions of Naira every month, that they would probably be tempted to badly spend." 
Not a roller-coaster experience
About her several experiences as co-founder, Odunayo said;  
"The journey was full of self-doubt, and it took a toll on my self-esteem. The first thing I learnt was that I had to be adaptable, people don't give you money then use your own.  For the first two years of running the company, I had to work a side job, with the entire proceeds invested into running the start-up." 
The team was made up of six-persons at start-up, although only three people are listed as Co-Founders – Odunayo Eweniyi, Joshua Chibueze, and Somto Ifezue. Each person on the team had their specialty and strength, so it was easy to assign responsibilities. There was no accountant in the team, so they managed their finances themselves, noting that there were months, when they could not even pay themselves. 
Further education, honours, and recognitions
Odunayo got certified in Full Stack Web Development (Computer Software Engineering) in 2018, as well as an online certification from the Harvard Business School. Odunayo is also CISCO certified. The Oyo-born tech founder says that she has intentions of furthering her education. According to her LinkedIn profile, she is currently undergoing a Master degree in Finance (banking) at the SOAS University of London  
"I draw inspiration from my family. They believe in me so much, that it is hard for me not to believe in myself." she said in an interview.  
In 2019, Odunayo Eweniyi was named one of Forbes Africa 30 under 30 – Technology, and one of 30 Quartz Africa Innovators. In the same year, she was named SME Entrepreneur of the Year– West Africa, by The Asian Banker's Wealth and Society, and is listed on Forbes Africa list of 20 New Wealth Creators in Africa 2019. 
She sits on boards like the Advisory board of TrainFuture in Switzerland, the Gender Lens Acceleration Best Practices Initiative – a collaborative effort of Village Capital US, and the International Finance Corporation's, Women Entrepreneurs Finance Initiative (IFC-WeFi). 
The path to becoming a Chocolate giant is not 'chocolatey' – Femi Oyedipe, Loshes Chocolate
From trying out different ventures, Femi Oyedipe has found her success in chocolate making.
In Nigeria, starting and running a business – any business, is no walk in the park, as countless entrepreneurs have failed repeatedly. Hence, starting and successfully scaling a business, is a feather only few can lay claim to.
Co-founder and CEO of Loshes Chocolate, Femi Oyedipe, was a guest on the Nairametrics Business Half Hour, where she shared her start-up story and succeeding in a field where she was entirely self-taught.
The graduate of Biochemistry from the premiere University of Ibadan, recalls that her decision to start producing chocolates locally meant that her office became her classroom. Her words described the satisfaction she has derived from this chosen path.
"The fun of trying out new recipes, making mistakes, learning and unlearning till you understand the best recipes is a huge reward," she said.
The decision to start
Entrepreneurship is innate for her, since she always gravitated towards it. However, taking it as a full-time venture definitely seemed less attractive. So, she tried out other options, things she could do alongside a day job. She had a brief stint as a make-up artist, and then another in trading Ankara fabrics, before becoming a cake-maker.
It was while making cakes, Femi picked interest in chocolates. As a caterer, she would use them in some cakes, sometimes breaking or melting ready-made chocolates.
"It did not make sense to me that we still had to import almost all the chocolates on the store shelf, even when we had cocoa locally available," she recalled.
However, she was still hesitant to take the bull by the horn, until 2015.
"I had my eye on a job I was going to start when I came back from the U.S in 2015, and it was supposed to take me on a totally different career path. When it didn't come through, I was upset and disappointed. It was in the midst of this disappointment, that the inspiration to make chocolates came."
It dawned on her that the major ingredient for chocolates – cocoa, was locally available in large quantities, and decided to challenge the norm of importing chocolates for consumption. From her house, in that same year, she started Loshes Chocolate. The single-origin, bean-to-bar chocolate maker in Nigeria.
Early challenges
Capital is key to any start-up venture, and it was no different for Loshes Chocolate. Femi pooled resources with her husband, and started by sourcing cocoa from local farmers, then processing it into chocolate for direct consumption, and for use by caterers and confectioners.
"The drive was ensuring that we retain the natural flavors and health benefits of cocoa, as against the usual mass-produced chocolates which have lots of additives. People are becoming more conscious of eating healthy foods, and we try to meet that need while producing chocolates that are still yummy," she said.
Being domiciled in one of the largest cocoa-producing countries, availability of the major ingredient had taken care of a lot of problems except for electricity – a possible deal-breaker.
"It takes about 36 to 48 hours to grind the cocoa beans into powder, and you can imagine how much power that consumes,"
"We needed some machines to get started and could not lay hands on them at the time, so my husband being an engineer helped to fabricate some of them. We got some parts from local markets in Lagos state, like Orile and put them together to make the machines we needed," she explained.
Femi understood early on that, variety is the spice of life, so She spent time trying out new recipes, with family members and friends also serving as 'guinea pigs' for each new recipe. This served as a great source of feedback.
Later on, they needed to get the specialized machinery, and Femi recalled how fluctuations in Foreign Exchange, and the availability of manpower to maintain and service the machines posed a serious challenge.
Yet, she remains graceful in her advice to would-be entrepreneurs. "Just start where you can. In there, is where the innovation lies, because you do not have access to so much, and the business environment in Nigeria is not easy for SMEs. Instead of turning your back, you stay and become creative,"
Scaling up
With so many milestones attained, the company is not resting on its laurels. Loshes Chocolates still serves the local market at the moment, but there are plans to raise funds, scale-up, and start exporting. Femi is optimistic in the possibilities that abounds for her company, as is evident from her mantra, "All our dreams can come true, if we have the courage to pursue them."