Meet Aig-Imoukhuede, the lawyer-turned-banker who turned an unranked bank into a tier-1 bank  
A switch in career path would normally require some sort of retraining, but not for Aig who learned on the job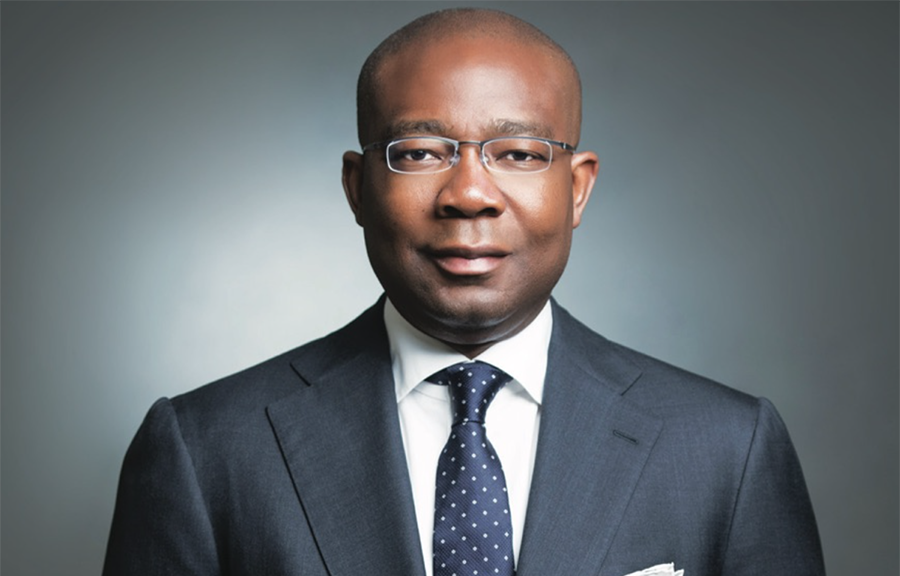 After, thirteen years of operations, Access bank still grappled with capitalization and corporate governance challenges until Aigboje Aig-Imoukhuede stepped in with his team. Almost 2 decades later, the bank's assets have grown unimaginably, and the bank which was once ranked 65 is now ranked among the top 5. Meet the man who led the team that changed the narrative. 
Aigboje Aig-Imoukhuede was born on 24th of September 1966 in Ibadan, present-day Oyo State, though he hails from Sabongida-Ora, present-day Edo State. He had his early education in Kaduna and later in Lagos State, before enrolling for a degree in law at the University of Benin, Edo State, Nigeria.
Early in his life, Aigboje had decided that he was not going to work with the civil service. Both of his parents were civil servants – His mother was the first curator of the National Museum of Nigeria after independence, and his father later became the Minister for Culture. He would recall that this was a period in Nigeria where the best talents went into the civil service to pursue a career.
However, the military's entry into the civil service turned things around as they did not seem interested in investing much there. "For people like me, I saw the impact on great men and women, and the almost decimation of their relevance and importance of their contribution to the governance, and I decided that I was not going to work for the government," Aig-Imoukhuede said.
READ MORE: Oil firms' debt status: How it affects Nigerian banks
Having struck out what was then the most viable option for the best talents, Aigboje had to decide where he wanted to pursue a career. Multinationals were among the best companies in the private sector at the time, and the idea of working at the helm of one of them held appeal for the young Aig, and he later stated that his decision to study law was based on his observation that the foremost multinationals were then headed by lawyers.
"I felt that law was a good way to get into the hallowed boardrooms," he later said.
In 1987, he was called to the Nigerian Bar, and served his compulsory National Youth Service Corps, working as a lawyer with Chase Merchant Bank during his NYSC year. Owing to stories he had previously heard from friends who had experience in the banking sector, he had been encouraged to work with the bank and he soon got involved in core parts of the business of banking. In his words, "Very soon I discovered that I enjoyed making deals more than doing legal work so I made the transition to core banking."
Lawyer-turned-banker
The switch in career paths would normally have needed some sort of retraining but not for Aig. He had to learn on the job, and due to his efficiency in getting things done, he was not the kind of staff the management was willing to allow to go for any prolonged training.
"I was doing things at the age of 22, that most people did when they were 35 to 40 years. My life has been one where people look at my talent and basically, put me at things," he said while speaking at the OXFORD Business Africa forum 2019.
READ MORE: Nigeria confirms no plans for fresh Eurobond issues
Having shown great skills in closing deals, he joined Guaranty Trust Bank as a pioneer staff, driving his career over the next decade to become a top executive there. He, thus, had the best point grooming his skills in what had become one of the best banks in Nigeria.
Despite being an Executive Director with enough challenges on his plate, Aigboje wanted more. He was both restless and dissatisfied, despite having a career most people would break an arm for.
He did not figure out the missing link until he went to the Harvard Business School at the age of 32 years, for an Executive MBA.
At this time, he read the book Buyout, written by Rick Rickertsen a corporate buyout specialist. It was a Eureka moment for Aig, where he realized, "I wanted to become an owner-manager."
There and then, he resolved to buy a bank upon his return to Nigeria.
Founding Access Bank
Buying a bank turned out to be more difficult than was envisaged. Although Aigboje had set his eyes on the top-tier banks, he found that even after pooling resources with his trusted partners, they still could not afford to buy controlling shares.
READ MORE: Bank loans not main funding option for Nigerian MSMEs -PwC
They eventually had to move down the rung, and look for something they could afford.
"We were both worth about two million dollars, and even then, our $2 million plus $8 million worth of leverage got us 52% of the bank," Aig recalled.
Access Bank was incorporated on February 8, 1988, as a privately owned commercial bank and commenced business operations on 11 May, 1989 after obtaining its licence. It later converted to a public limited liability company on 24 March, 1998, and by November of the same year, was listed on the Nigerian Stock Exchange.
READ MORE: Banks push customers towards self service in the "new normal" 
Dealing with several boardroom squabbles in its years of operation, and the challenges of undercapitalization based on the apex bank rules, Access bank was then rated number 65 among Nigerian banks.
"I was betting my financial future and that of my family on this move, but I had a burning desire to transform our bank into a world-class financial services provider. What was more important to me was that this was the beginning of something, but not the end. I was going to buy the bank but I had no plans to tie my life around the bank so I knew we needed a framework for continuity.  I wanted it to continue irrespective of what happened to me" he later said.
Having recapitalised the bank, the team had a 13-point plan to turn around the fortunes of the bank, and have it listed as one of the top 5 banks in the next 5 years. This became the aim of the team led by Aigboje as pioneer MD.
READ MORE: Nigeria's tier-1 banks pay N29.8 billion worth of taxes in Q1 2020
Though they did not meet this target, in 2006 exactly 5 years after recapitalising the bank, Access Bank won the Thisday 'most improved bank' in Nigeria, and was classified by Augusto & Co, a respected rating agency, as a tier 2 bank alongside Diamond Bank, Afribank, Fidelity Bank, Bank PHB and the Nigerian International Bank (Citibank).
The bank also expanded into other African countries including Gambia, Cote D'Ivoire, Democratic Republic of Congo, Rwanda, Zambia and Sierra Leone.
Notwithstanding, the change in ownership and management of the bank was visible in the balance sheet from the first year. In 2002 alone, the bank posted an impressive N1 billion profit before tax, much more than the cumulative profit made by the bank in the previous 12 years.
READ ALSO: Unity Bank: Repositioned to grow profits, lending to the real sector
This also marked the beginning of what would be a six-year record triple-digit growth trend. Similarly, earnings per share had rebounded to 21 kobo from a negative 2 kobo position, leading to a declaration of a 5 kobo dividend to shareholders for the first time in three years.
When the team embarked on its first capital raising exercise in July 2007, it turned out very successful with an oversubscription of over 300%. The public offer comprised an Over-The-Counter GDR placement of US$250 million which was similarly oversubscribed by 700%.
Access Bank today is now the largest bank in Nigeria, and Africa's leading bank by customer base. It has a network of more than 600 branches and service outlets, across three continents, 12 countries and 36 million customers.
Good times!
READ MORE: France's Orange move into Nigeria spells trouble for resident Telcos
Reflecting back, Aig would say that his experience in Chase Merchant Bank prepared him in advance for the task of owning and running a bank.
"One thing you will find about many of the men who have founded great banks in Nigeria is that they have worked for banks that crashed. That way, you learnt what not to do in banking," he said while speaking at the presentation of Jim Ovia's Africa Rise and Shine.
He recalled also how Jim Ovia, founder of Zenith bank, had advised and mentored him when he took the driver's seat at Access bank, and stated that this played a great role in the success of the bank.
Leaving Access bank for higher call
After 12 years at the helm, Aig handed over to co-founder, Herbert Wigwe as MD.
Leaving the bank gave Aig the time to pursue other passions. He founded Coronation Capital Nigeria Limited, an Africans focused private equity fund manager, whose aim is to invest and create value for multiple stakeholders who believe in Africa. He also founded the Africa Initiative for Government (AIG), a non-public institution established as a catalyst for high public sector performance in Africa, and is the chairman.
He has won many awards including the EY entrepreneur of the year.
Apart from his philanthropic ventures, he sits on many boards including Marina Securities Ltd, Global Business Coalition on HIV, and Petralon Energy Ltd.
READ MORE: Nigeria's tier-1 banks earn N18.4 billion from account maintenance charges in Q1 2020
He is an alumnus of Harvard Business School Executive Management Programme and graduated as Class Speaker PMD 75. He has also attended several other business schools and institutes including, the Citicorp Institute of Finance, Euromoney Capital Markets Bootcamp, and IMD Lausanne, Switzerland.
He is a member of the sub-committee of the Banker's Committee on Professional Ethics, Harvard Business School Association of Nigeria, as well as on the boards of FATE Foundation where he assists in inspiring entrepreneurial driven youths to realize their potential. He is also a Fellow of ASPEN Leadership Initiative.
He is a Commander of the Order of the Niger (CON), and has also won the National Productivity Order of Merit Award in 2009.
Download the Nairametrics News App
He is a member of the Presidential Committee on the establishment of the African Investment Bank, a honourary member of the Chartered Institute of Bankers of Nigeria, and a Governing Council member of the Financial Institutions Training Centre.
Aigboje is a pastor of the Promised Land Ministries in Lagos, and is married to Ofovwe Aig-Imoukhuede; they have four children together.
Note: Information was sourced from here, here, and here.
COVID -19 saving Nigerians millions in wedding and burial costs 
As long as the pandemic persists, the 'new normal' is for ceremonies to remain subdued.  
It was a sunny Saturday in May and like it had been for the better part of 8 weeks, the new normal was in force in Nosa's household. The lockdown induced COVID-19 meant that all the hustle and bustle of giving attention to side hustles on weekends had all evaporated. Now he spent more time with his kids watching TV and playing video games. Whilst he has had to endure multiple weekends of lost revenue, staying indoors meant that his personal finance was still intact. But things would change dramatically this weekend.  
Nosa got a call that he had just lost his aged mother to a brief illness. He had been battling with a terminal illness for years, but things seemed to be under control so her death came as a surprise. Even as he grappled with the thought of losing his mother, Nosa knew that he had to start making preparations for the expenses that are bound to come with burials in an African setting.   
Thanks to the pandemic, and rules that came with it, Nosa ended up spending much less than he would have for his mother's burial with most of the funds going towards mortuary expenses, transport and the direct cost of the actual burial itself.   
"This COVID-19 is bad but it has saved me millions of naira that I would have spent in this burial," he remarked.   
"I wanted to give my mom a befitting burial but these are hard times and I may have borrowed money just to fund this. But with COVID-19 and social distancing in place I did not have to do any of this," Nosa informs our reporter.   
Nosa's gains translate to massive losses for a whole chain of service providers in the event management industry. Similar occurrences over the last few months have resulted in the loss of revenue for such businesses.   
Events in Nigeria often cost anywhere between half a million naira to over N100 million depending on the financial muscle of those spending. Burials, weddings, naming ceremonies and birthday parties, make a burgeoning industry that spans several sectors of the economy.   
From mortuaries to casket makers, event planners, event Halls rentals, professional mourners, caterers, confectionaries, party rentals, photographers, video editors, tailors, newspapers , etc, its an entire value chain of businesses that provide one service or the other for this industry.  
Each of these events cost millions of naira to organize hosting as many people as the budget can support. According to a CNN article quoting a report from TNS Global, Nigerians spend as much as $9,460 for a wedding ceremony. The report also indicates the party industry could be worth as high as $17 million based on statistics in 2017.   
The math can be easily deducted. Assuming 50,000 ceremonies every weekend at an average cost of N1 million that is a N50 billion per weekend or N2.7 trillion ($6.75 billion) per annum. GDP data from the National Bureau of Statistics indicates sectors that support the ceremonies market in Nigeria, telecoms, transportation, Arts and Entertainment is worth a combined N18.4 trillion.  
Technology Ceremonies
Chuks, a Partner at a top consulting firm in Nigeria admits were it not for the pandemic his wedding could have cost him about N15 million personally and another N20 million spent by family, friends, colleagues and well-wishers. He is in his forties and his wedding had been much anticipated. He went ahead with his wedding last weekend with less than a dozen people in attendance and over 140 others logging on via Zoom. He claims while he ended up not spending millions on food, drinks, wedding halls and other logistic costs, he still achieved his goal of getting married.   
Necessity they say is the mother of invention and has millions stay locked in their homes, they have resorted to apps such as Zoom, Instagram Live, Microsoft Teams to hold virtual events. These days Zoom themed parties now have their own rules and conventions. Friends from all parts of the world log in with each person taking turns to say nice things about the celebrants. Games are conducted to spice up the event and stories told by the celebrant. Music is also played by the Zoom host with participants dancing and having fun.  
"It is like watching a live movie and also being part of it as the audience and participant" a wedding planner informed Nairametrics. Whilst one cannot underrate the connection physical socializing brings, virtual meetings are gradually becoming a lifestyle and the longer social distancing continues its cultural significance will only continue to increase.   
Aderonke Adebamibola, CEO of  Unik Ushering Agency, an Event management firm, confirmed to Nairametrics that business has really slowed down in the last few months.  "Even though the NCDC has now given rules to guide weddings and other events, the budget now is way less than it used to be due to the cap on numbers of guests" she explained.   
Now, most events are kept within the premises of family residences, depriving hall rentals, the money they could have made from leasing out their halls. Venue decorators also have much less on their hands to do, as they no longer have to decorate big halls.   
According to Adebamibola, every single business in the chain has been affected, from caterers to ushers.   
"Now, we even have to convince them to use one or two ushers for their events because they believe they don't need ushers for 20 or 30 guests. Caterers cannot even cook a half bag of rice now because of the number of guests. This means that they are also paid less for their services, even if they expend the same energy and time" she said.  
The new normal in this industry means that the things that used to be prioritized are no longer priorities. Hand sanitisers, face masks and hand washing equipment are now compulsories in events, while the hand-shaking, and hugs that would have characterized such weddings 
Due to the nature of the industry, a large percentage of the staff are kept on contract basis, so the reduction has not really translated into lay-offs. However, the industry revenue has been badly hit. A contract staff with NPU Events, who preferred anonymity, noted that in the last three months, she has only been called twice for events.  
Since this forms a major part of her income, it has caused a major dip in her resources. COVID-19 has brought unwanted hardship to the Nigerian economy with small businesses and workers in the informal sector suffering the most.  
A recent World Bank report indicates the Nigerian economy might contract by as much as 3% in GDP growth rate this year. This informed government's latest decision to inject about N2.3 trillion into the economy to spur economic growth. The funds will be targeted at small businesses through non-collateralized low-interest loans.  Whilst all these initiatives are geared towards stimulating the economy, the spending power of Nigerians will remain pivotal and as long as the pandemic persists, ceremonies will remain subdued.  
Top 10 travel agencies in Nigeria  
Whatever the case, everyone needs a travel agency or at least knows someone that does.
Have you ever gone through the rigours of applying for a visa in Nigeria, only to get rejected in the end? Or maybe you had to make a trip and spent hours online trying to book reservations in a good hotel, then ended up getting there and discovering that your reservation didn't go through.  
Perhaps, you have been defrauded by poser travel agents, in your quest to travel abroad. Or maybe the reason you have not planned for a much-desired vacation is because you don't have the time to attend to all the details.   
Whatever the case, everyone needs a travel agency or at least knows someone that does. Even when you know how to get these things done, it cannot compare to having a professional touch. Little things like having someone welcome you at the airport, and ensuring you get checked in at your hotel, can really matter. 
And that is why it is necessary to know some reliable travel agencies off the top of your head. In this article, Nairametrics brings you a list of top travel agencies in Nigeria that can take care of your travel needs and attend to all the details.   
Owing to the relationships these agencies have built over the years, they can get you incredibly lower airfares, hotel rates and other expenses, much more than you could get on your own. They also ensure that even if you are arriving in a country you have never been, you don't get stranded.   
Nairametrics does not have affiliations with any of these agencies, but the list was drawn from the hundreds of travel agencies in Nigeria, selecting only the top ones which meet the criteria. All of the agencies listed here are registered with the Nigerian Civil Aviation Authority, the Corporate Affairs Commission, National Association of Nigerian Travel Agencies, and have built some reputation for themselves over the years.   
Each has also cornered a fair size of the Nigerian market share.   
---
Touchdowns Travels Limited
Touchdown Travels Limited is the representative of GlobalStar in Nigeria. Though licensed by IATA since 1993, it only started representing GlobalStar in 2012.   
The agency offers services in flight bookings and reservations, as well as in organising tours and travel itineraries.   
The agency was established by Mr. Dayo Adeola, who is also its CEO/Managing Director. It is also a member of the National Association of Nigeria Travels Agencies (NANTA), and from having just 2 staff, it has grown to accommodate about 50 staff, firmly etching its name among the top agencies in the industry.   
Touchdown is about the top agency in terms of market share and has earned several recognitions from most operating airlines in the country, as well as organisations in the industry.   
Headquartered in Lagos, the agency has travel desks (out-posts) manned by its staff, and situated within some bluechip companies. It also has a branch in Abuja. 
---
Quantum Travels
Quantum Travels also ranks among top travel agencies in the country, and is Nigeria's representative of BCD Travel, the third largest travel management company in the world.   
Its global presence gives the agency the advantage of meeting clients' travel needs across 97 countries.   
It is mostly known for corporate travel management, but its services extend to others such as passport and visa arrangements, flight and hotel reservations, as well as providing rentals for transportation.   
This agency also has a fair size of the Nigerian market share, ranking among the top five highest in terms of monthly ticket bookings.   
---
Wakanow.com limited 
Wakanow was launched as the first online travel agency in 2008. Its founder, Obinna Ekezie, a former professional basketball player, led the company till 2019 when Adebayo Adedeji was appointed CEO.   
With IATA code 59-211806, and NANTA code ZTN/NANTA/LOS/08-821, the company did not waste time in capturing a significant market share, and at some point, was reported to own about 10% of the market share. Currently, it has the third highest flight bookings in the country.   
The agency offers travel consulting, hotel reservations, bespoke travel packages, flight booking, visa assistance, travel financing, etc. The company also offers credit facilities with flexible travel payment plans, where the customer can pay 25% upfront, and structure the rest of the payments.   
The regular discounts and reward packages have also contributed to attracting more customers to the company. Recently, a little reward package was introduced, where customers are rewarded for referring new customers to the company. 
The agency recently introduced a new video selling product, where clients can schedule a visual tour of their potential destination with a Wakanow agent.  
To encourage travels after the pandemic, the company has introduced more deferred payment options called "Travel now, pay later".  
---
FlinchGlow
 Travels
FlinchGlow Travels was founded in 2002 by Mr. Bankole Bernard, the current NANTA president who still runs the agency as CEO.   
As a partner with the Nigerian Tourism Development Corporation (NTDC), FlinchGlow offers some of the best services in the tourism industry, although it also serves clients with personal and business travel needs.   
FlinchGlow also takes pride in its ability to secure good hotel rates at choice destinations, and plan tours for its clients. It ranks among the top five in terms of market share and sells a considerable volume of tickets monthly.   
---
Dees Travels and 
T
ours 
L
imited 
Dees Travels and Tour Limited was founded in 2000 and registered with IATA in the same year. Apart from booking both local and international flights, it handles travel arrangements for individual and group tours, visa procurement, travel insurance, hotel reservations across countries, chauffeur/car hire, and airport protocol services.  
According to data from airline operators, the agency is 5th highest in terms of market share and tickets sold on a monthly base.  
---
Business Travel Management Limited
This agency is a member of the GHI Assets Ltd group, and has several names under it including Emirates holidays, Sky logistics ltd, Rwandair and HRG Nigeria. It was incorporated in 1998 and it was also accredited by IATA. It specializes in comprehensive travel management, logistics for business, corporate service and corporate travel management. 
The agency is IATA certified, and registered with other regulatory agencies. With the names under the group, BTM Limited has claimed its own share of the Nigerian travel market as well. 
---
READ ALSO: Airtel loses over 100,000 subscribers in one month, as Glo chases MTN's market share
Travelstart
Travelstart another leading online travel agency with operations spread across Africa, and headquartered in Cape Town.  
Customers can utilise the online platform to book flights across all African countries and other continents as well, and also get their itinerary all planned for a vacation or business trip. Apart from flight reservations, the agency also handles car rentals and hotel reservations tailored to the traveller's budget.  
Travelstart also handles visa processing and travel insurance. It was founded in Sweden by Stephan Ekbergh, but has since extended operations to Nigeria, South Africa, Namibia, Tanzania, Egypt, Kenya, the UAE, Qatar, Bahrain and even Turkey, where it trades under the brand name Geziko. 
Travelstart has also captured its share of the Nigerian market, leveraging on its international network and brand recognition across the continent.  
---
Rewards Travels and Tours Limited 
Rewards Travels and Tours has over the last two decades earned its space in the industry. Its services include travel consultancy, travel itinerary management, tourism and planning corporate travels.  
It was founded in 1999, and now has a network of branches across major cities in Nigeria, with established partners in the global tourism industry. the agency gives hotel booking services, car hires, cruises and charters across several countries.  
It is IATA accredited, giving clients access to international and local airlines.  
---
READ MORE: Buhari suspends NSITF MD and other top management officials, appoints acting MD  
City Travels and Tours 
City Travels and Tours is one of the travel agencies you want to consider if the purpose of your travel is largely tourism. The company offers tourism services, reservations and bookings, vacations, cruises, consultation, destination and accommodation decisions.  
The agency is registered with IATA, as well as NANTA, and has a commendable network with critical stakeholders in the tourism industry across the continent. City Travels and Tours is often ranked among the top 10 among over 1500 registered travel agencies in the country.  
COVID-19 Update in Nigeria
On the 4th of July 2020, 603 new confirmed cases and 6 deaths were recorded in Nigeria bringing the total confirmed cases recorded in the country to 28,167.
The spread of novel Corona Virus Disease (COVID-19) in Nigeria touched a new milestone as the latest statistics provided by the Nigeria Centre for Disease Control reveal Nigeria now has 28,167 confirmed cases.
On the 4th of July 2020, 603 new confirmed cases and 6 deaths were recorded in Nigeria, having carried out a total daily test of 3,355 samples across the country.
To date, 28,167 cases have been confirmed, 11,462 cases have been discharged and 632 deaths have been recorded in 35 states and the Federal Capital Territory. A total of 148,188 tests have been carried out as of July 4th, 2020 compared to 144,833 tests a day earlier.
COVID-19 Case Updates- 4th July 2020
Total Number of Cases – 28,167
Total Number Discharged – 11,462
Total Deaths – 634
Total Tests Carried out – 148,188
According to the NCDC, the 603 new cases were reported from 19 states- Lagos (135), Edo (87), Abuja (73), Rivers (67), Delta (62), Ogun (47), Kaduna (20), Plateau (19), Osun (17), Ondo (16), Enugu and Oyo (15), Borno (13), Niger (6), Nasarawa (4), Kebbi (3), Kano (2), Sokoto and Abia (1) case each
Meanwhile, the latest numbers bring Lagos state total confirmed cases to 11,045, followed by Abuja (2,153), Oyo (1,466), Edo (1,353), Kano (1,264), Delta (1,227) Rivers (1,181), Ogun (974),  Kaduna (855), Katsina (579), Borno (528), Bauchi (516), Gombe (513), Ebonyi (438), Plateau (421), Ondo (410), Abia (383), Enugu (372), Imo (352), Jigawa (318).
Kwara state has recorded 269 cases, Bayelsa (234), Nasarawa (225), Osun (165), Sokoto (153),  Niger (122), Akwa Ibom (104), Benue (97), Adamawa (89), Kebbi (84), Zamfara (76), Anambra (73), Yobe (61), Ekiti (43), Taraba (19), while Kogi state has recorded 5 cases.
READ ALSO: COVID-19: Western diplomats warn of disease explosion, poor handling by government
Lock Down and Curfew
In a move to combat the spread of the pandemic disease, President Muhammadu Buhari directed the cessation of all movements in Lagos and the FCT for an initial period of 14 days, which took effect from 11 pm on Monday, 30th March 2020.
The movement restriction, which was extended by another two-weeks period, has been partially put on hold with some businesses commencing operations from May 4. On April 27th, 2020, Nigeria's President, Muhammadu Buhari declared an overnight curfew from 8 pm to 6 am across the country, as part of new measures to contain the spread of the COVID-19. This comes along with the phased and gradual easing of lockdown measures in FCT, Lagos, and Ogun States, which took effect from Saturday, 2nd May 2020, at 9 am.
On Monday, 29th June 2020 the federal government extended the second phase of the eased lockdown by 4 weeks and approved interstate movement outside curfew hours with effect from July 1, 2020.
READ ALSO: Bill Gates says Trump's WHO funding suspension is dangerous
| Date | Confirmed case | New cases | Total deaths | New deaths | Total recovery | Active cases | Critical cases |
| --- | --- | --- | --- | --- | --- | --- | --- |
| July 4, 2020 | 28167 | 603 | 634 | 6 | 11462 | 16071 | 7 |
| July 3, 2020 | 27564 | 454 | 628 | 12 | 11069 | 15867 | 7 |
| July 2, 2020 | 27110 | 626 | 616 | 13 | 10801 | 15693 | 7 |
| July 1, 2020 | 26484 | 790 | 603 | 13 | 10152 | 15729 | 7 |
| June 30, 2020 | 25694 | 561 | 590 | 17 | 9746 | 15358 | 7 |
| June 29, 2020 | 25133 | 566 | 573 | 8 | 9402 | 15158 | 7 |
| June 28, 2020 | 24867 | 490 | 565 | 7 | 9007 | 14995 | 7 |
| June 27, 2020 | 24077 | 779 | 558 | 4 | 8625 | 14894 | 7 |
| June 26, 2020 | 23298 | 684 | 554 | 5 | 8253 | 14491 | 7 |
| June 25, 2020 | 22614 | 594 | 549 | 7 | 7822 | 14243 | 7 |
| June 24, 2020 | 22020 | 649 | 542 | 9 | 7613 | 13865 | 7 |
| June 23, 2020 | 21371 | 452 | 533 | 8 | 7338 | 13500 | 7 |
| June 22, 2020 | 20919 | 675 | 525 | 7 | 7109 | 13285 | 7 |
| June 21, 2020 | 20242 | 436 | 518 | 12 | 6879 | 12847 | 7 |
| June 20, 2020 | 19808 | 661 | 506 | 19 | 6718 | 12584 | 7 |
| June 19, 2020 | 19147 | 667 | 487 | 12 | 6581 | 12079 | 7 |
| June 18, 2020 | 18480 | 745 | 475 | 6 | 6307 | 11698 | 7 |
| June 17, 2020 | 17735 | 587 | 469 | 14 | 5967 | 11299 | 7 |
| June 16, 2020 | 17148 | 490 | 455 | 31 | 5623 | 11070 | 7 |
| June 15, 2020 | 16658 | 573 | 424 | 4 | 5349 | 10885 | 7 |
| June 14, 2020 | 16085 | 403 | 420 | 13 | 5220 | 10445 | 7 |
| June 13, 2020 | 15682 | 501 | 407 | 8 | 5101 | 10174 | 7 |
| June 12, 2020 | 15181 | 627 | 399 | 12 | 4891 | 9891 | 7 |
| June 11, 2020 | 14554 | 681 | 387 | 5 | 4494 | 9673 | 7 |
| June 10, 2020 | 13873 | 409 | 382 | 17 | 4351 | 9140 | 7 |
| June 9, 2020 | 13464 | 663 | 365 | 4 | 4206 | 8893 | 7 |
| June 8, 2020 | 12801 | 315 | 361 | 7 | 4040 | 8400 | 7 |
| June 7, 2020 | 12486 | 260 | 354 | 12 | 3959 | 8173 | 7 |
| June 6, 2020 | 12233 | 389 | 342 | 9 | 3826 | 8065 | 7 |
| June 5, 2020 | 11844 | 328 | 333 | 10 | 3696 | 7815 | 7 |
| June 4, 2020 | 11516 | 350 | 323 | 8 | 3535 | 7646 | 7 |
| June 3, 2020 | 11166 | 348 | 315 | 1 | 3329 | 7522 | 7 |
| June 2, 2020 | 10819 | 241 | 314 | 15 | 3239 | 7266 | 7 |
| June 1, 2020 | 10578 | 416 | 299 | 12 | 3122 | 7157 | 9 |
| May 31, 2020 | 10162 | 307 | 287 | 14 | 3007 | 6868 | 7 |
| May 30, 2020 | 9855 | 553 | 273 | 12 | 2856 | 6726 | 7 |
| May 29, 2020 | 9302 | 387 | 261 | 2 | 2697 | 6344 | 7 |
| May 28, 2020 | 8915 | 182 | 259 | 5 | 2592 | 6064 | 7 |
| May 27, 2020 | 8733 | 389 | 254 | 5 | 2501 | 5978 | 7 |
| May 26, 2020 | 8344 | 276 | 249 | 16 | 2385 | 5710 | 7 |
| May 25, 2020 | 8068 | 229 | 233 | 7 | 2311 | 5524 | 7 |
| May 24, 2020 | 7839 | 313 | 226 | 5 | 2263 | 5360 | 7 |
| May 23, 2020 | 7526 | 265 | 221 | 0 | 2174 | 5131 | 7 |
| May 22, 2020 | 7261 | 245 | 221 | 10 | 2007 | 5033 | 7 |
| May 21, 2020 | 7016 | 339 | 211 | 11 | 1907 | 4898 | 7 |
| May 20, 2020 | 6677 | 284 | 200 | 8 | 1840 | 4637 | 7 |
| May 19, 2020 | 6401 | 226 | 192 | 1 | 1734 | 4475 | 7 |
| May 18, 2020 | 6175 | 216 | 191 | 9 | 1644 | 4340 | 7 |
| May 17, 2020 | 5959 | 388 | 182 | 6 | 1594 | 4183 | 7 |
| May 16, 2020 | 5621 | 176 | 176 | 5 | 1472 | 3973 | 7 |
| May 15, 2020 | 5445 | 288 | 171 | 3 | 1320 | 3954 | 4 |
| May 14, 2020 | 5162 | 193 | 168 | 3 | 1180 | 3815 | 4 |
| May 13, 2020 | 4971 | 184 | 164 | 6 | 1070 | 3737 | 4 |
| May 12, 2020 | 4787 | 146 | 158 | 6 | 959 | 3670 | 4 |
| May 11, 2020 | 4641 | 242 | 152 | 10 | 902 | 3589 | 4 |
| May 10, 2020 | 4399 | 248 | 142 | 17 | 778 | 3479 | 4 |
| May 9, 2020 | 4151 | 239 | 127 | 11 | 745 | 3278 | 4 |
| May 8, 2020 | 3912 | 386 | 118 | 10 | 679 | 3115 | 4 |
| May 7, 2020 | 3526 | 381 | 108 | 4 | 601 | 2818 | 4 |
| May 6, 2020 | 3145 | 195 | 104 | 5 | 534 | 2507 | 1 |
| May 5, 2020 | 2950 | 148 | 99 | 5 | 481 | 2370 | 4 |
| May 4, 2020 | 2802 | 245 | 94 | 6 | 417 | 2291 | 2 |
| May 3, 2020 | 2558 | 170 | 88 | 2 | 400 | 2070 | 2 |
| May 2, 2020 | 2388 | 220 | 86 | 17 | 351 | 1952 | 2 |
| May 1, 2020 | 2170 | 238 | 69 | 10 | 351 | 1751 | 2 |
| April 30, 2020 | 1932 | 204 | 59 | 7 | 317 | 1556 | 2 |
| April 29, 2020 | 1728 | 196 | 52 | 7 | 307 | 1369 | 2 |
| April 28, 2020 | 1532 | 195 | 45 | 4 | 255 | 1232 | 2 |
| April 27, 2020 | 1337 | 64 | 41 | 0 | 255 | 994 | 2 |
| April 26, 2020 | 1273 | 91 | 41 | 5 | 239 | 994 | 2 |
| April 25, 2020 | 1182 | 87 | 36 | 3 | 222 | 925 | 2 |
| April 24, 2020 | 1095 | 114 | 33 | 1 | 208 | 855 | 2 |
| April 23, 2020 | 981 | 108 | 32 | 3 | 197 | 753 | 2 |
| April 22, 2020 | 873 | 91 | 29 | 3 | 197 | 648 | 2 |
| April 21, 2020 | 782 | 117 | 26 | 3 | 197 | 560 | 2 |
| April 20, 2020 | 665 | 38 | 23 | 1 | 188 | 466 | 2 |
| April 19, 2020 | 627 | 86 | 22 | 2 | 170 | 436 | 2 |
| April 18, 2020 | 541 | 48 | 20 | 2 | 166 | 356 | 2 |
| April 17, 2020 | 493 | 51 | 18 | 4 | 159 | 317 | 2 |
| April 16, 2020 | 442 | 35 | 13 | 1 | 152 | 277 | 2 |
| April 15, 2020 | 407 | 34 | 12 | 1 | 128 | 267 | 2 |
| April 14, 2020 | 373 | 30 | 11 | 1 | 99 | 263 | 2 |
| April 13, 2020 | 343 | 20 | 10 | 0 | 91 | 242 | 2 |
| April 12, 2020 | 323 | 5 | 10 | 0 | 85 | 228 | 2 |
| April 11, 2020 | 318 | 13 | 10 | 3 | 70 | 238 | 2 |
| April 10, 2020 | 305 | 17 | 7 | 0 | 58 | 240 | 2 |
| April 9, 2020 | 288 | 14 | 7 | 1 | 51 | 230 | 2 |
| April 8, 2020 | 274 | 22 | 6 | 0 | 44 | 226 | 2 |
| April 7, 2020 | 254 | 16 | 6 | 1 | 44 | 204 | 2 |
| April 6, 2020 | 238 | 6 | 5 | 0 | 35 | 198 | 2 |
| April 5, 2020 | 232 | 18 | 5 | 1 | 33 | 194 | 2 |
| April 4, 2020 | 214 | 5 | 4 | 0 | 25 | 185 | 0 |
| April 3, 2020 | 209 | 25 | 4 | 2 | 25 | 180 | 0 |
| April 2, 2020 | 184 | 10 | 2 | 0 | 20 | 162 | 0 |
| April 1, 2020 | 174 | 35 | 2 | 0 | 9 | 163 | 0 |
| March 31, 2020 | 139 | 8 | 2 | 0 | 9 | 128 | 0 |
| March 30, 2020 | 131 | 20 | 2 | 1 | 8 | 121 | 0 |
| March 29, 2020 | 111 | 22 | 1 | 0 | 3 | 107 | 0 |
| March 28, 2020 | 89 | 19 | 1 | 0 | 3 | 85 | 0 |
| March 27, 2020 | 70 | 5 | 1 | 0 | 3 | 66 | 0 |
| March 26, 2020 | 65 | 14 | 1 | 0 | 2 | 62 | 0 |
| March 25, 2020 | 51 | 7 | 1 | 0 | 2 | 48 | 0 |
| March 24, 2020 | 44 | 4 | 1 | 0 | 2 | 41 | 0 |
| March 23, 2020 | 40 | 10 | 1 | 1 | 2 | 37 | 0 |
| March 22, 2020 | 30 | 8 | 0 | 0 | 2 | 28 | 0 |
| March 21, 2020 | 22 | 10 | 0 | 0 | 1 | 21 | 0 |
| March 20, 2020 | 12 | 4 | 0 | 0 | 1 | 11 | 0 |
| March 19, 2020 | 8 | 0 | 0 | 0 | 1 | 7 | 0 |
| March 18, 2020 | 8 | 5 | 0 | 0 | 1 | 7 | 0 |
| March 17, 2020 | 3 | 1 | 0 | 0 | 0 | 3 | 0 |
| March 16, 2020 | 2 | 0 | 0 | 0 | 0 | 2 | 0 |
| March 15, 2020 | 2 | 0 | 0 | 0 | 0 | 2 | 0 |
| March 14, 2020 | 2 | 0 | 0 | 0 | 0 | 2 | 0 |
| March 13, 2020 | 2 | 0 | 0 | 0 | 0 | 2 | 0 |
| March 12, 2020 | 2 | 0 | 0 | 0 | 0 | 2 | 0 |
| March 11, 2020 | 2 | 0 | 0 | 0 | 0 | 2 | 0 |
| March 10, 2020 | 2 | 0 | 0 | 0 | 0 | 2 | 0 |
| March 9, 2020 | 2 | 1 | 0 | 0 | 0 | 2 | 0 |
| March 8, 2020 | 1 | 0 | 0 | 0 | 0 | 1 | 0 |
| March 7, 2020 | 1 | 0 | 0 | 0 | 0 | 1 | 0 |
| March 6, 2020 | 1 | 0 | 0 | 0 | 0 | 1 | 0 |
| March 5, 2020 | 1 | 0 | 0 | 0 | 0 | 1 | 0 |
| March 4, 2020 | 1 | 0 | 0 | 0 | 0 | 1 | 0 |
| March 3, 2020 | 1 | 0 | 0 | 0 | 0 | 1 | 0 |
| March 2, 2020 | 1 | 0 | 0 | 0 | 0 | 1 | 0 |
| March 1, 2020 | 1 | 0 | 0 | 0 | 0 | 1 | 0 |
| February 29, 2020 | 1 | 0 | 0 | 0 | 0 | 1 | 0 |
| February 28, 2020 | 1 | 1 | 0 | 0 | 0 | 1 | 0 |