Rave reviews trail UBA's innovative mobile banking app 
Operating in 20 African countries and globally in the UK, the US and France, UBA has a strong record of supporting its communities.
The glowing reviews and commendations have not stopped coming in since Pan African financial institution, United Bank for Africa (UBA) Plc, recently upgraded its Mobile Banking app. 
Over the past few weeks following the upgrade, social media sites including Twitter, Instagram and even Facebook have been agog with excellent comments about the ambience, functionality and versatility of UBA's revamped mobile app. 
The latest of such glowing reviews came last weekend, from a Former Minister of Aviation, Mr. Osita Chidoka, who on his social media handles, gave kudos to the bank for introducing lots of exciting and interactive features to aid banking, while allowing customers to perform unlimited transactions from the comfort of their mobile phones. 
Chidoka, a former Corps Marshal and Chief Executive Officer of the Federal Road Safety Corps, pointed out that the bank put into play its experience as an institution with several decades of operations as well as modern technology to come up with a revamped app worthy of emulation by other financial institutions some of which he mentioned in his post. 
READ MORE: UBA Delivers Impressive Returns on Investment, as Shareholders Applaud Bank's Support in Fight against COVID-19
In his words; "UBA, surprised me with a massive improvement on their app. I used to consider them the sleeping giant of Nigerian banking. I thought they had great brand equity and name recognition. UBA combined the savvy feel of a new generation bank with the history of a legacy bank. As I opened their mobile app today, I couldn't help but give them a high five. The app is beautiful, user interface is great, navigation is seamless and the need to go to a branch is reduced for small users like us." 
While urging other banks to borrow a leaf from UBA's move, Chidoka continued, "As a customer, I have always challenged the banks on their slow adaptation to change and weak emphasis on improving customer experience. I pray UBA pushes forward in this direction and continues to surpass themselves. Sooner than later disruptive online banks will change the face of banking in Nigeria, hence the need for constant innovation by the industry." 
Some Nigerians like Maduka Vivian, who reacted to his post also praised the app, saying "UBA app is simply the best, you can even generate receipts for transactions done long ago." Another user, Tayo Agbeh, said, "UBA is taking their rightful position in the industry. I'm quite sure the bank will sustain the lead", while Felix Okechi Oguike, who was impressed by the glowing tributes quipped, "I guess I'll try this app; I have heard many testimonies; I need to partake in the flock." 
For another user, Thankgod Nweke, the revamped UBA mobile app would put other banks on their toes. He remarked, "It's rather a challenge for other banks in Nigeria. UBA has shown in recent times that they are big and getting bigger with the whole lot of transformation in that bank. I concur fully to your observation even as I look forward to more height and happiness in the faces of their staff and services." 
Group Head, Digital Banking, UBA, Sampson Aneke, who spoke recently spoke about the new features of the upgraded mobile app, said UBA as a listening institution, aims to provide the best value possible for its customers through a more interactive, user-friendly interface that makes available a myriad of opportunities from the comfort of customers' homes. 
He explained that the new mobile app will now prompt users to use their device enabled biometrics, adding that the menu has been reduced and divided into sub-menus to enable users view Transaction History, Net worth, Trends amongst others at a glance. "With the new interface, the user can now see all the transfer options including the saved beneficiary option at a glance and can even order food for delivery via the app," he said.  Customers who subscribe to the lifestyle offering 
Operating in 20 African countries and globally in the United Kingdom, the United States and France, the United Bank for Africa has a strong record of supporting its communities, through challenging times. 
---
EDITOR'S NOTE: This is a sponsored content.
JustLiquidity; The best place for easy and decentralized Crypto
JustLiquidity aims to be the leading top decentralized exchange on the Binance SmartChain, with revolutionary developments and product's
Introduction of Julwallet feature (NFTs minting and NFTs shop)
NFTs and NFT artists have been trending a lot in the African art space
NFTs or NonFungibleTokens as it stands, are redefining the very outlook of various forms of creative work like art, video, music, characters in a game etc. NFTs by their very definition represents unique data on the digital ledger or blockchain. Unlike Fungible tokens on the blockchain, these tokens are not interchangeable as they represent something unique in themselves.
Justliquidity has introduced a few products to the general public that makes creating, storing, selling and sending NFTs all on the Binance SmartChain as BEP1155 token, the Julwallet is one of its revolutionary products that has all these features in it and more in development currently.
Our Telegram group and Twitter handles are:
CHI Limited celebrates its maiden Hollandia Dairy Day
The Hollandia Dairy Day Conference is a public interest initiative created to highlight the importance of dairy in everyday nutrition and healthy living in Nigeria.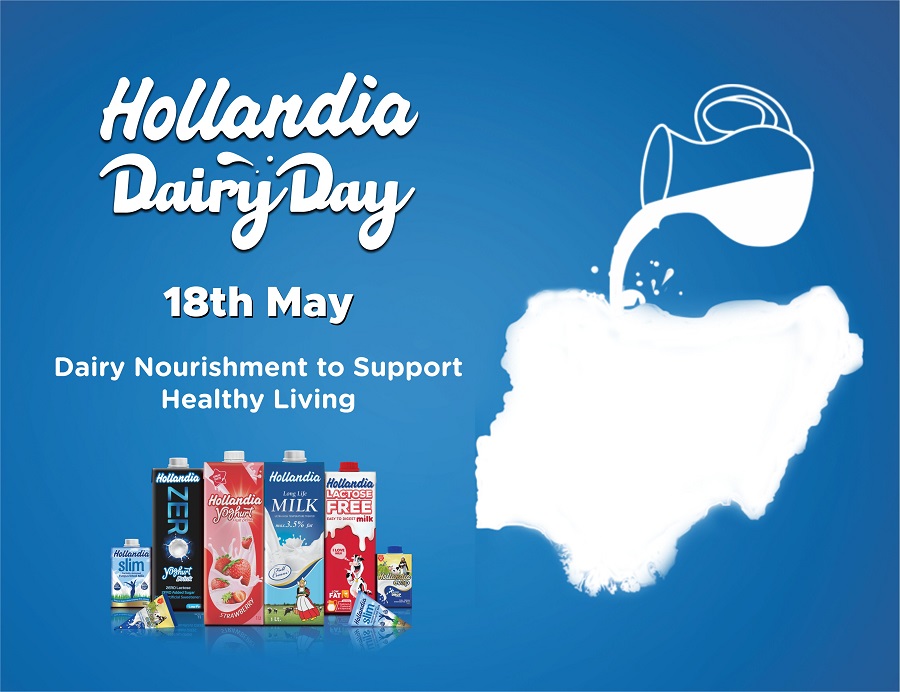 Nigeria's leading dairy brand, Hollandia, is set to hold the maiden edition of its Hollandia Dairy Day. The event which will be celebrated on the 18th of May 2021 will provide a veritable platform to drive national discourse on the unrivaled health and nutrition benefits of dairy consumption to people of all ages.
Set to be hosted as a conference, the theme of this year's event is "Dairy Nourishment to Support Healthy Living", and it focuses on the vital role dairy consumption plays in our everyday nourishment, its benefit to our overall health, and why dairy products should be included in our diets every day.
This conference, which is designed as a hybrid of physical and virtual event, will feature presentations, interviews and panel discussions from health experts and nutritionists as they provide insights and share perspectives to guide informed decisions about dairy consumption as part of a daily balanced diet. The event is opened to the public through the brand's multiple social media platforms.
According to a report by the Food and Agriculture Organization of the United Nations, 2019, Nigeria has low dairy consumption levels per head – 15 to 20 liters' per capita consumption. This is partly attributable to low purchasing power of the average Nigerian household, who rank milk and dairy products as non-essential luxuries and prioritize other staple foods such as rice, beans, and yam.
By provoking the conversations and stimulating public action/intervention, Hollandia aims to drive consciousness for dairy consumption and its importance to achieving optimum health, and to get many more Nigerians drinking, using, and consuming dairy products.
The past year has presented unprecedented shocks and disruptions, including a global COVID-19 pandemic. As communities throughout the world look for ways to minimize the risk of COVID-19, maintaining and boosting good health is top of mind for many. Dairy foods such as milk and yogurt contain essential nutrients, including Vitamins A and D, Zinc and Protein, which support immune function.
The Hollandia Dairy Day Conference is a public interest initiative created to highlight the importance of dairy in everyday nutrition and healthy living in Nigeria.
Nairametrics | Company Earnings
Access our Live Feed portal for the latest company earnings as they drop.