Demand for "Inflow dollars" drive exchange rate to as high as N420/$1 compared to "Cash dollars"
COVID-19 pandemic and the crash in oil prices have all but extinguished supply of dollars from the IFEX market (official market for trading forex).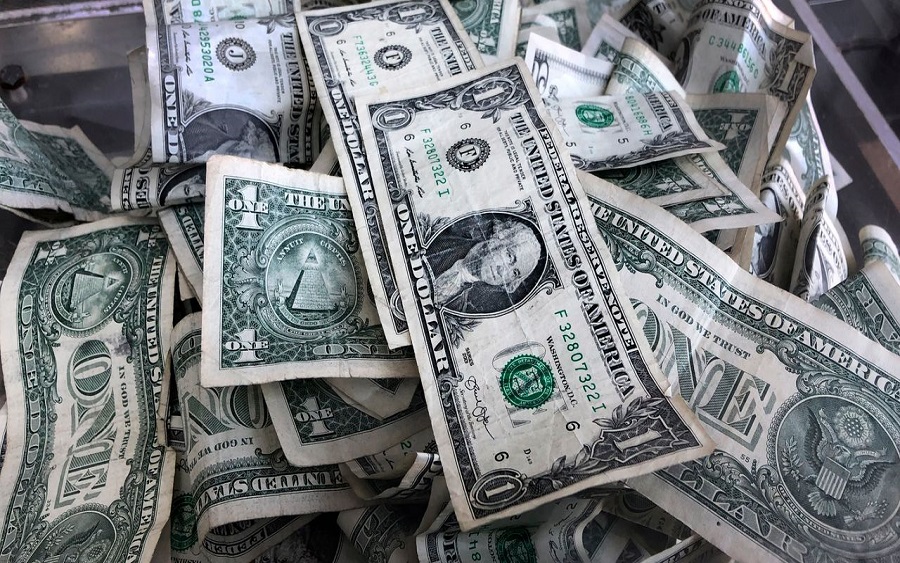 The exchange rate between the dollar and naira is trading between N380 and N420, depending on who is selling and the mode of transfer.
In Nigeria, there are two types of forex you can buy: inflowed dollars and cash dollars. Inflowed dollars refer to forex transferred from one bank domiciliary account to another domiciliary account.
It could also be dollars flowing from a bank account in the US or Europe to a local or foreign bank account in Nigeria. In return, naira is paid to the seller's account here in Nigeria.
Cash dollars are forex bought from bureau de change operators, black market dealers or anyone who has dollars in cash wishing to sell in exchange for naira. Transfers are therefore made using cash, thus the name "cash dollars".
According to information from traders, pent up demand for inflow dollars is estimated at anywhere from $800 million to $1.2 billion. Some of the demand is driven by companies looking to pay for their supplies, move revenues to their global offices, repatriate dividend to shareholders or hedge against future cost.
READ MORE: CBN stops oil companies from selling dollar to NNPC, here's why
Unfortunately, the COVID-19 pandemic and the crash in oil prices have all but extinguished supply of dollars from the IFEX market (official market for trading forex).
In an investor email note seen by Nairametrics, the CBN has not sold forex since March 20, 2020 leaving export proceeds as the only source of forex. Unfortunately, supply here is thin and hardly available.
Even when available, it is often quoted at off market prices and as high as N420/$1. In the IFEX window where forex is traded officially, traders reportedly quoted "between N387.50 and N390.00/$ for the USD/NGN pair" on Wednesday, despite the dollar scarcity.
"The IEFX market opened and closed at N387.60 and N386.63 with the highest transaction rate recorded at N401.57/$. Total volume traded for the day was $30.42mn," as contained in the note to investors.
On exchange rate for "inflow dollars": Several market reports seen by Nairametrics indicate that "Inflow dollars" trade at prices between N410 and N450 in the parallel market where they are traded over the counter.
Over the counter means they are not traded in the official IFEX market. Traders also opine that the volatility and disparity in price is because no one is really sure who owns dollars to sell or naira to exchange, thus price swings are wild.
READ MORE: Tweak of exchange rates: A bold move from CBN?
It is no longer news that the Nigerian economy could contract by as much as 8% in 2020, no thanks to the increasing cases of coronavirus cases and the fall in oil prices. The economy is being caught in cross-hairs.
What it means: If the scarcity continues, the Nigerian real sector may come to a halt, creating more problems for the ailing economy. Also, more corporate organisations would suffer major setbacks in importation of their inventories.
Most Nigerian corporates rely on this inflow or wired forex to pay for inventory orders, factory inputs, dividends, technical and professional fees, computer equipment, and intangible assets, among others.
The development is causing problems for businesses across sectors, all of which are struggling to get the dollars they need for imports.
The adverse effect is that the scarcity would cause the prices of commodities to skyrocket, putting pressure on local currencies. This dollar squeeze is frustrating investors, increasing costs, and delaying projects. It may hamper future investment in the country.
READ MORE: NSE promotes gold as viable option in the current investment landscape
Nairametrics Founder, Ugo "Ugodre" Obi-Chukwu, explained that the effect is that companies will have to "source for local substitutes, which can increase the cost of production and delivery timelines" for products. On the naira rate against the US dollar in the parallel market, he added that, "the parallel market depends on whether it is cash exchange or inflow exchange" affecting the price that will be paid.
Managing Partner, GBC Professional Services, Chartered Accountant, Gbenga Badejo, agreed with Obi-Chukwu when he observed that a lot of people hoard dollars not because they want to use them at the moment, but for speculative reasons.
According to him, two days after the CBN adjusted the exchange rate, several people hoarded the currency only to sell at N400 from N365. That is a lot of money.
He said, "CBN has the responsibility to control the market and avoid a situation where people put unnecessary pressure on the naira. People hoarding the currency can't do anything with what they buy, if money is with them it does not make any sense."
On the effect that the scarcity of inflow dollars would have on the real sector, he told Nairametrics that CBN should ensure that the economy is not shut despite the lockdown. "Petrodollar is not coming; foreign reserve will be depleted and we must not allow the real sector to suffer any scarcity. The Apex bank should ensure banks meet the demands of manufacturers in that regard," Badejo  added.
FG to commence construction of 4 new rail projects across the country
The listed rail line projects include Ibadan-Kano, Port Harcourt-Maiduguri, Kano-Maradi and Lagos-Calabar rail lines.
The Minister of Transportation, Rotimi Amaechi, has said that the Federal Government is about to commence 4 new rail line projects in various parts of the country.
The listed rail line projects include Ibadan-Kano, Port Harcourt-Maiduguri, Kano-Maradi and Lagos-Calabar rail lines.
This disclosure was made by Amaechi while speaking at the annual ministerial press briefing on programmes, projects and activities of the Federal Ministry of Transportation and its agencies on Friday in Abuja.
READ: FG to fully launch E-ticketing platform for NRC next week
What the Minister of Transportation is saying
Although the Minister announced that the Federal Government was about to start the rail lines project, he was not specific on the exact dates the projects would start.
Amaechi, in his statement, said, "We have awarded the following contracts and we are about to start and we have even tried to solve the financial problems. This is because we have the problem of having to hire consulting engineers.
READ: $2 billion Kano-Maradi rail would be completed in 36 months – FG
"The ones we are about to start include Ibadan to Kano, we are waiting for funds from China. We are about to start Port Harcourt to Maiduguri, we are waiting for the cabinet to approve consulting shares. We are also to start the Kano-Maradi and Lagos to Calabar.
"But one thing that is unique about these contracts is that the president early enough directed that all rail lines must stagnate at the seaports.
"That is why there may be a bit of adjustment in the pricing of Kano-Maradi because we have to adjust it to link up to Kano-Lagos so that it can terminate at Lagos seaport.''
The Minister pointed out that the 185.5km Lagos-Ibadan double standard gauge line with extension to Apapa seaport was nearing completion, while the 186km Abuja-Kaduna and 302km Warri-Itakpe standard gauge lines had been completed and were functional.
READ: FG urges contractors to complete Ebute Meta–Apapa seaports railway extension by January 2021
What this means
The various rail line projects are part of the ambitious plan by the Federal Government to create a nationwide rail network that is intended to help in the country's diversification efforts, away from crude oil.
Some of these rail projects will also help to decongest the Apapa ports in Lagos and serve as a route for the import and export of goods in the West African sub-region.
Customs Tin-Can Island Command generates N112.7 billion in Q1 2021
This is a N21.1 billion increase in revenue compared to a revenue of N91.6 billion in Q1 2020.
The Nigerian Customs Service revealed that its Tin-Can Island Command has a first-quarter revenue of N112.7 billion in 2021. This is a N21.1 billion increase in revenue compared to a revenue of N91.6 billion in Q1 2020.
This was disclosed by Mr Mba Musa, Customs Area Controller, in a statement on Friday.
"The comparative analysis of quarter one revenue collection from 2018 to 2021 are as follows: in 2018, N76,789,721,107.42; in 2019, N78,857,106,168.27; and in 2020, N91,635,998,490.73," the customs boss said.
READ: Customs revenue rises by N200 billion to hit N1.5 trillion in 2020
"This improvement is despite the twin threat to lives and livelihood posed by the COVID-19 pandemic. The command has inspired their officers to continue to work hard while observing all the safety measures to achieve the best of performance.
"We kept our lines of communication open and concerted effort was made to ensure that the supply chain is not disrupted," he added.
READ MORE: Customs officers must declare their assets annually – Customs boss
What you should know: The Nigeria Customs Service (NCS) generated a revenue of N1.5 trillion for the year 2020, a rise compared to N1.3 trillion in 2019.
Nairametrics | Company Earnings
Access our Live Feed portal for the latest company earnings as they drop.