Bulls lift Nigerian bourse up 0.10%, as trading volume picks up
The Nigerian bourse closed on Thursday slightly positive, as the All-Share Index / Market Capitalization surged by +0.10%.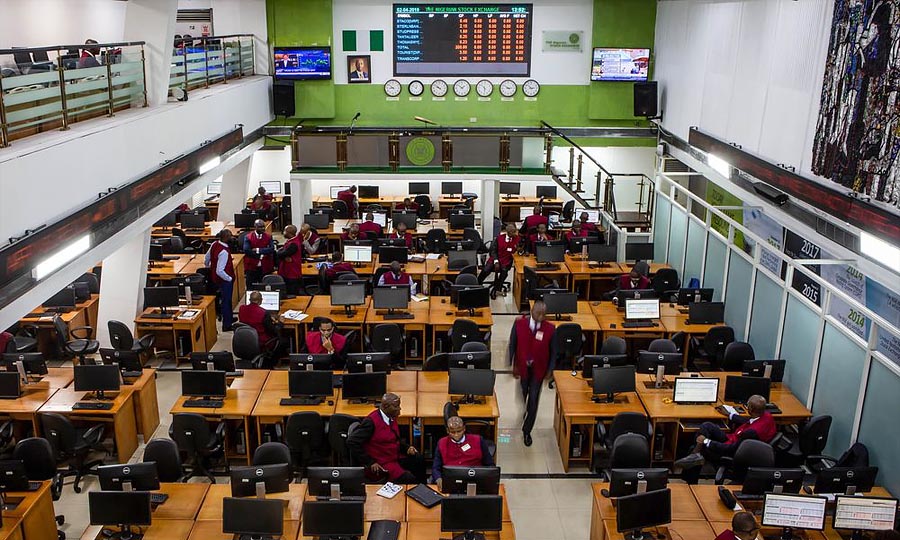 The Nigerian bourse closed on Thursday slightly positive, as the All-Share Index, Market Capitalization surged by +0.10%, to close at 21,121.20 points and N11trillion respectively.
The market upturn was paired with strong trading activity, as total volume and value traded on the local bourse jumped by +65.38% and +62.11 % respectively, at 255.59mn shares valued at N2.864bn, in 4,418 deals.
ZENITH BANK was the most traded stock by volume at 100.83 million units, followed by GTB with 38.18 million units of trades.
Sectoral performance remained bearish, as three out of the five indices dropped. However, the Industrial Index finished up by 2.37%, while the Oil & Gas Index closed flat.
(READ MORE: Nigerian bourse down 0.14%, trading volume drops due to NSE's remote trading)
The Banking Index led the laggards with a -2.19% depreciation, followed by the Consumer Goods sector depleting by -1.89%, while the Insurance Index trailed at -0.84%.q
The Lenders and Consumer Goods contraction was driven by sell-offs in FBNH (-5.13%), ACCESS (-4.35%), ZENITH BANK (-3.51%), and NB (- 9.27%), while WAPIC (-3.85%) closed the NSE Insurance Index south. Conversely, DANGCEM (+9.93%) buoyed the Industrial Index.
Top gainers
DANGCEM up 9.93% to close at N128.4; FLOUR MILL up 5.48% to close at N20.2; GLAXOSMITH up 9.09% to close at N4.8; LIVESTOCK up 9.38% to close at N0.7, and UNIONDAC up 4.00% to close at N0.26.
READ MORE: PZ Cussons and its sticky pattern of losses
Top losers
MTNN down 5.69% to close at N92.8; NB down 9.27% to close at N22.5; ZENITH BANK down 3.51% to close at N11; STANBIC down 1.65% to close at N23.9, and INTBREW down 6.54% to close at N5.
New normal for the informal sector
Africa is the world's last frontier in the fight against extreme poverty where one in three Africans−422 million people−live below the global poverty line.
The outbreak of the novel Coronavirus disease (COVID-19) in China has extremely changed the world, as it has turned into a major pandemic and affected millions of people around the world regardless of geographical location, age, race, gender, etc.
While this crisis is first and foremost a public health issue, which has claimed the lives of thousands of people worldwide and still counting, the economic fallouts will no doubt be overwhelming and will likely lead to major economic meltdowns; both in the formal and informal sectors.
According to Brookings Institute, Africa is the world's last frontier in the fight against extreme poverty where one in three Africans−422 million people−live below the global poverty line. This fact brings to fore, the alarming consequences of COVID-19 in the economic sectors which will increase the income gap backward rather than reduce the number of people living below the global poverty line.
The informal sector arguably constitutes the largest employer of labor in Africa. The International Labour Organisation estimates that more than 66% of total employment in Sub-Saharan African is in the informal sector. With a pervasive informal sector, city governments have been struggling with how best to respond to the COVID-19 pandemic. Furthermore, informal enterprises are typically characterized by low wages and non-exportable goods and services. This sector provides crucial livelihoods to the most vulnerable of the urban poor.
(READ MORE: Recalibrating Job creation within COVID-19 realities )
The spread of COVID 19 poses a big threat to small scale businesses which serve as a major source of livelihood for many Africans. It is important that, just as Africa is working towards combating the spread of the virus, the government should help to support this vital, yet often excluded segment of the economy.
The informal sector is very much essential for the welfare of the people living in the local communities and for the expansion of the economy at large. As Africa's informal sector provides about 80% of employment and contributes over 50% GDP, it is reason enough to save this crucial sector from jeopardy.
Taking Nigeria to be the case study, the wave of the pandemic is showing no sign of reduction unless a permanent solution is found.
However, looking on the bright side, there is a possibility that a vaccine could be found sooner or later to counter this unpleasant enemy. But until then, how will we as a country adjust to the "new normal", that is life after COVID-19, as the experts who used this terminology explained that life, as it was before, will not come back to normal for some time to come. Let's take a few instances.
One major normal, which is of general importance with a massive impact on our livelihood, is the loss of jobs. Yes, our means of making ends meet have been threatened. Many people will be rendered jobless as all economic activities the world over, have slowed down.
Those who will be hit the hardest are, as already mentioned, small-scale businesses that may find it challenging to adapt to the new normal of doing business via virtual means, etc. The small-scale businesses are also employers of labor, so going down means their employees will suffer the same loss with them. Amongst the unemployed, the hardest hit is the daily wage workers whose livelihoods are based on their daily incomes.
(READ MORE: 7 common money mistakes I made and why you should avoid them)
Therefore, a lot of people will suffer unemployment in this time, and paying bills such as house rent bills, food bills, school bills will become near impossible.
Another new normal is that, classes and lessons will have to be done online, and this could be the pattern for some time to come. This will pose major challenges for parents who do not have the resources to acquire gadgets or even buy the data required for their wards/children to participate in online classes. This new normal is also applicable to post-secondary students, who have a higher need for gadgets and data to participate in online classes.
By this time in the old normal, schools would have begun a new term. Being the third term in which promotional exams are done, both parents and pupils will be up and doing to ensure preparations in order to secure promotions. Most especially those preparing to take examinations to secure admission into the universities.
The question posed here is, how can the government help in reducing the burden of both the parents and the students who are on lockdown right now and can't make ends meet talk less of spending the little resources being managed this period to acquire required gadgets or even data? As we are all aware the data rate in our country is high, unlike in most countries where data is cheap or even free. Can the government help in reducing the data rates in order to reduce the burden on parents and students?
(READ MORE: Rethinking Inclusive Education: COVID-19 realities, post implications on education)
With the wave of the pandemic being on the rise, so many countries have moved away from multilateralism and have retreated into fending for themselves with several measures to protect their own people and economies, regardless of the effects on the rest of the world which has led to certain restrictions.
This restriction could also be the new normal, as we are left with the questions of what if? What if the COVID 19 pandemic continues in a second wave, with borders still shut, food importation restricted, what if we can no longer travel out for medical attention and must rely on our hospitals here? Talk less of education, what if we can no longer travel out to study abroad and must rely on our educational system here?  We can no longer be dependent on the world for everything.
For a country of over 200 million people, we cannot continue to keep ignoring the dangers that lie ahead if we do not begin to depend largely on what we produce locally, because the security and well-being of our nation is solely based on building a productive and well-diversified economy.
We have no clear vision of what the world will look like after the pandemic is over, therefore as a nation, we need to seize the opportunities of the "new normal" and make the best out of them. As much as all these new developments seem troubling, it is a clear opportunity to work things out for a better future ahead.
We must look inwards as a nation and guarantee food security, high quality and affordable healthcare for all social classes, and pioneering education for our people. We can transform Nigeria into a modern, sophisticated and self-sufficient economy in which we don't have to be dependent on other countries for everything and can thrive on our own, protecting the poor and vulnerable and being able to compete with other strategic sectors internationally.
(READ MORE: Gold prices surge by 17.4% in 2 months due to global economic crisis)
To achieve this goal, what needs to be done include:
Supporting both the smallholder and large-scale agriculture production.
Creating a better educational system that will enable creativity and reasoning in order to prepare our children for the world tomorrow.
Creating more factories, storages, and logistics companies which also serve as a way of creating job opportunities for the youths.
Developing initiatives programmed to help support or promote youths who want to acquire skills and take them up as professions.
Providing security for the poor and vulnerable, and developing the policies that bring financial services to them.
Developing a standard and trusted health care system to keep Nigerians healthy irrespective of social class.
Creating easy access to cheap and long-term credit for SMEs and large corporates.
Creating a reliable power supply that can engender industrial activities.
Developing venture capitalists for nurturing new ideas and propagate Nigerian businesses to compete globally.
This is the opportunity to create a better Nigeria and do the needful to become a better country.
COVID-19 may have thrown us all into a crisis of unprecedented proportions but we can still make the best out of it. However, mismanagement of the challenges could leave us to suffer untold hardships for some time to come.
---
Written by Abraham John Onojaa
abrahamjonoja@gmail.com
+2348164208130
Oil price gains likely to halt over demand uncertainty, as US-China tension intensifies
The rising tension between the US and China is weighing on the global markets. For political reasons, the leadership of each country is blaming the other for the coronavirus pandemic.
Crude oil prices, which have been on a steady increase for 3 consecutive weeks, seem to be coming to an end primarily due to the rising tension between the United States and China, and caution over the prospect for a global recovery in oil demand.
This is compounded by the disclosure of the world's second-largest economy, China, that it is uncertain about its GDP growth target for 2020 because of the coronavirus outbreak.
The Brent crude, now $34.60 per barrel, sold for $36.41 about 4 days ago. The American WTI, which sells for $32.84 per barrel, sold for almost $34 per barrel a few days ago. Also, the Bonny light crude, selling for $33.01 per barrel, sold for $34.46 per barrel about 4 days ago.
With China's oil demand climbing back to about 13 million barrels per day, which is about 90% of the pre-pandemic level, oil traders are holding out hopes of a quick rebound elsewhere with the global easing of lockdown.
(READ MORE:Here are 7 oil producing countries that have been most affected by COVID-19)
The output cut by OPEC+ and top oil-producing countries and more than 2.2 million barrels per day production shut in by U.S, have meant that the supply side of the equation is doing just fine.
However, the rising tension between the US and China is weighing on the global markets. For political reasons, the leadership of each country is blaming the other for the coronavirus pandemic. The Chinese Foreign Minister, Wang Yi, warned that the US leaders were potentially pushing towards a new cold war, which is having a negative impact on investors.
Although the US crude inventories fell by 5.6 million barrels last week, the gasoline stocks actually increased.
According to Commerzbank, "After weeks of rising, US gasoline demand was down again for the first time. Demand for oil products also remains subdued elsewhere. With concerns on the demand side remaining we regard the latest price rally on the oil market to be excessive."
Despite assurances from the Trump administration's officials, a V-shaped recovery is extremely unlikely.
There also appears to be a belief that the US and other countries will not avoid the second wave of infections after reopening the economy.
(READ MORE:Global oil supply to drop by 12 million b/d to 9 year low, covid-19 resurgence still a concern – IEA)
According to Rystad Energy, "A second wave is not such a remote possibility and a new round of lockdowns could send oil prices back to much lower levels very quickly and the markets know it. Therefore, lower prices this morning are not a surprise and they are not necessarily the result of a market event, they are rather a correction of the consecutive boosts that oil has seen over the last days."
The data firm still believes that oil prices will stabilize at the $30-$35 range with the potential to be $40 later in the year, if and when demand improves and approaches the pre-covid-19 levels.
Lagos to shut down Marine Beach bridge for emergency repairs
The closure will allow the Federal Ministry of Works to carry out emergency repairs on the bridge, in line with the government's vision of providing a better transportation system in the state.
Lagos state government has announced that the Apapa Marine Beach bridge will be closed for five months, from Wednesday 27th May, to Wednesday 21st October, 2020.
The closure will allow the Federal Ministry of Works to carry out emergency repairs on the bridge, in line with the government's vision of providing a better transportation system in the state.
LASG has announced the partial closure of Marine Beach Bridge by Total Gas, inwards Apapa for five months, effective from Wednesday 27th May, to Wednesday 21st October, 2020, for repair work towards providing a seamless transportation system@jidesanwoolu @dr_oladeinde#LASG pic.twitter.com/xbB1YFvRkL

— The Lagos State Govt (@followlasg) May 24, 2020
In a statement from the Lagos state Ministry of Transportation, the Commissioner, Dr. Frederic Oladeinde, noted that the repairs were long overdue, and necessary to ensure safety of Lagosians, given the number of motorists that use the route.
READ MORE: Nigerians knock Fashola over comments on "bad roads"  
The Commissioner noted that the repairs included bearing and expansion joint replacement and would be executed in two phases, taking one lane of the bridge at a time.
"The first phase will involve handling the lane inbound Apapa while the second phase will be designated to work on the lane that conveys vehicles outside the axis," he said.
Alternative routes
Oladeinde noted that alternative routes around the bridge had been improved to make them motorable, and ease movements for road users.
READ ALSO: Osinbajo sets up committee on reopening of Nigerian economy, suspends loan deductions for states
To manage the construction period, the statement noted that Traffic Management Authorities would be hard at work to ameliorate the expected traffic issues and supervise other arrangements.
"Motorists inwards Wharf road will be diverted to the other section of the bridge outwards Apapa, a contraflow of 200metres has been put in place for vehicles to realign with a proper direction inwards Ajegunle or Wharf road, Apapa, while Motorists descending to Total Gas under bridge will drive without any hindrance," it read.
The Commissioner called for the understanding and cooperation of motorists and road users during the period to ensure a smooth flow of plans.
Oladeinde appealed to all vehicle owners and residents of the area to cooperate with the traffic management officers deployed to the area@jidesanwoolu @dr_oladeinde#LASG #ForAGreaterLagos

— The Lagos State Govt (@followlasg) May 24, 2020