Four ways Nigerian government can minimize impact of COVID-19
While Nigeria is not a COVID-19 hotbed yet, its economy could be one of the hardest hit, should it persist longer, due to a fragile healthcare system.
The Coronavirus (COVID-19) pandemic is arguably the biggest challenge facing humanity today. More than 300,000 cases have been confirmed in 188 countries and territories, and over 14,000 people are below six feet already.
Beyond its health impact, the spread of the virus is hurting the global economy. The impact is already visible in the countries most affected such as China and European countries, where travel restrictions and distancing measures have disrupted global supply chains and resulted in reduced economic activity.
But the good news is that world leaders are working hard to contain the virus. Infection rates have dropped drastically in China, while many other countries are responding smartly to put an end to COVID-19.
Nigeria confirmed the first case of COVID-19 on February 28. It has since increased to 31 cases. While the country is not a COVID-19 hotbed yet, its economy could be one of the hardest hit, should it persist for longer, due to a fragile healthcare system and high dependence on the rest of the world.
Ways COVID-19 could affect Nigeria
Trade and investment disruptions: Nigeria's investment and trade are mostly with China, Europe, and the US, which are territories currently vulnerable to COVID-19. The slowdown of economic activities in these locations means that trade and investment will decline sharply, raising the risk of an economic recession.
Manufacturers relying on imported inputs will face production challenges while reduced importation of food and pharmaceutical products would put a heavy burden on households and the healthcare system.
Lower government financial capacity: Nigeria could lose up to US$20 billion from crude oil sales-which represent 85% of its export- as fuel prices continue to fall.
As oil revenue accounts for one-third of expected public revenue in 2020, governments will have limited capacity to support the economy. Revenue shortfall will worsen Nigeria's debt burden as around 60% of the federal government's (FG) revenue already funds debt obligations. Sub-national governments will struggle to pay employee salaries and related costs – similar to what happened during the 2014-16 oil price crisis.
[READ MORE: COVID-19, a virus that shakes global financial markets)
Lower social spending: Typically, Nigeria underfunds social sectors (health, education, and social safety net). Around 4% and 6% FG budget for 2020 went to Health and Education respectively, far below the recommended thresholds of 15% for Health and 20% for Education.
Lower revenue means less money would be available to spend on health, education and critical infrastructure, as overhead and debt payments are usually prioritized during crises. The outcome could be very bad for a country that already has one of the worst health outcomes worldwide, and with 4 out of 5 persons aged 15-24 unable to read a full sentence.
Elevated poverty: Nigeria currently has the largest number of extremely poor people in the world today at 95 million and an average of 4 people join them every minute. Unemployment and poverty will worsen as workers in trade-sensitive businesses, particularly tourism, transport, hospitality, and non-essential manufactured goods are disengaged due to restricted movement of goods, services, and people.
Remittances from abroad, which support households, may also fall and worsen economic hardship. Around $25 billion of remittances – equivalent to the Federal Government of Nigeria budget – came into the country in 2019.
How govt should respond?
The government's response should come in two approaches: focusing on immediate priorities and implementing reforms to boost resilience beyond the crisis. Beyond international travel restrictions and stimulus for businesses, more must be done to protect vulnerable households.
Adequately support the healthcare system: Prior to COVID-19, healthcare institutions were already overburdened with many ailments given poor medical supplies, shortage of medical workers and poor infrastructure.
To have a fighting chance against COVID-19 and in treating those requiring intensive care, the healthcare sector must be supported through adequate funding, incentives for health workers, and health care subsidies for the most vulnerable people.
Provide incentives and safety nets to the most affected: Through targeted tax incentives, social transfers, and regulatory support, the Nigerian government could help minimize the impact of COVID-19 on the most vulnerable businesses and citizens.
With the adoption of social distancing measures to limit the spread of the virus, the government should partner with informal groups such as trade associations, who have a wider reach, to deliver support to people in vulnerable employment.
[READ ALSO: COVID-19: Lagos asks civil servants to stay at home)
Enable vulnerable sub-national (state) governments: Sub-national governments have improved their resilience to oil-related crises by improving Internally Generated Revenue (IGR) but many would struggle to pay salaries given the crisis. Therefore, the FG and the CBN can expand loans to states to enable them to pay workers and support the healthcare sector.
Reduce cost and Improve transparency: The government should reduce the cost of governance by changing its ways in the incurring of administrative costs and prioritizing the most effective development programs. This will free up more money for social and infrastructural spending and improve its resilience.
Similarly, reducing the misuse of public finances through commitment to transparency, opening up budgets, and strengthening anti-corruption institutions should be a priority during and post COVID-19.
Now more than ever, policymakers must be responsive to lessen the effects of the impending social and economic crises and better prepare Nigeria for the future.
Written by: Razaq Fatai from ONE Campaign and Adedayo Bakare from Afrinvest
IMF advises banks to suspend dividend payment
However, halting dividend payments may not go down well for many retail and institutional investors, who rely on bank dividends for regular income.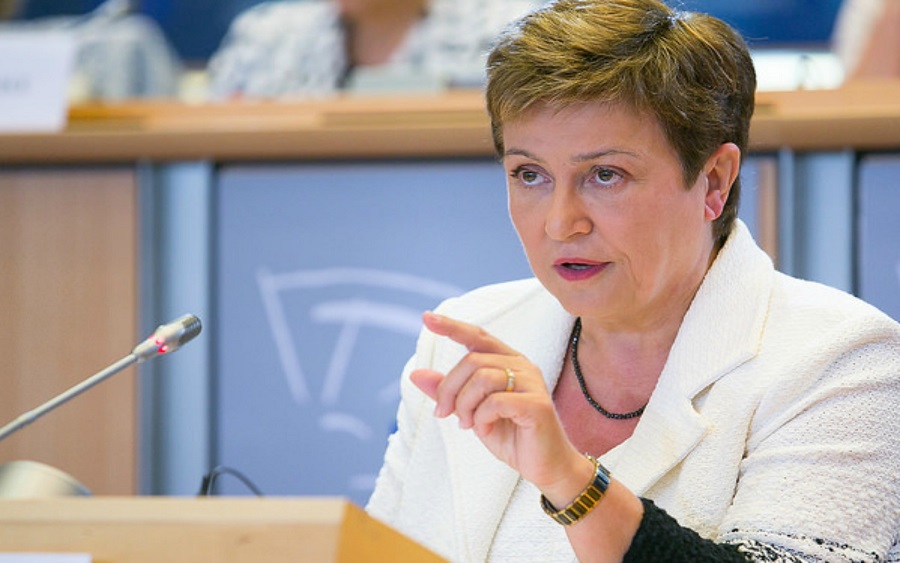 In an article published on its website, International Monetary Fund (IMF) Managing Director, Kristalina Georgieva, advised banks to halt dividend payment for now. According to her, with the expectation of a deep recession in 2020 and partial recovery in 2021, banks' resilience will be tested. Therefore, having in place strong capital and liquidity positions to support fresh credit will be essential.
According to the article, one of the steps needed to reinforce bank buffers is retaining earnings from ongoing operations which are not insignificant.
IMF staff calculate that the 30 global systemically important banks distributed about US$250bn in dividends and share buybacks last year.
In a circular dated January 31, 2018, the Central Bank of Nigeria (CBN) stipulated new conditions for eligibility of Nigerian banks to pay dividend and the quantum of dividend to be paid out by banks who are eligible. Prior to the release of the circular, dividend payout policy for Nigerian banks had been spelt out in Section 16(1) of BOFIA 2004 (as amended) and Prudential Guidelines for DMBs of 2010. The circular provided guidelines and restrictions around divdidend payout for banks based on NPL ratio, CRR levels, and Capital Adequacy Ratio (CAR).
However, there were no regulatory restriction on dividend payout for banks that meet the minimum capital adequacy ratio, have a CRR of "low" or "moderate" and an NPL ratio of not more than 5%. However, it is expected that the Board of such institutions will recommend payouts based on effective risk assessment and economic realities. Indeed, current economic realities demand caution.
Current economic realities mean that banks face asset quality threats, further devaluation threat which may impact capital in some cases, and lower profits which in turn affects the quantum of capital retained. Ideally, these should reflect in NPL ratio and CAR ratio and should immediately restrict banks' ability to pay dividend. However, there is usually a time lag before these ratios begin to reflect the new economic realities. Therefore, IMF's advise may come in handy for many banks.
(READ MORE: Software security limitations cited as major reason for Covid-19 bank rush)
That said, halting dividend payments may not go down well for many retail and institutional investors, who rely on bank dividends for regular income. Banks like Zenith and Guaranty Trust have a good history of consistent dividend payment with attractive yields which is a major attraction for many shareholders.
---
CSL STOCKBROKERS LIMITED CSL Stockbrokers,
Member of the Nigerian Stock Exchange,
First City Plaza, 44 Marina,
PO Box 9117,
Lagos State,
NIGERIA.
CBN reduces MPR to 12.50%, holds other metrics
Central Bank of Nigeria (CBN) has reduced the Monetary Policy Rate (MPR) from 13.50% to 12.50% and retains CRR at 27.5%, Liquidity ratio at 30%.
The Monetary Policy Committee (MPC) of the Central Bank of Nigeria (CBN) has reduced the Monetary Policy Rate (MPR) from 13.50% to 12.50%.
Governor, CBN, Godwin Emefiele, disclosed this while reading the communique at the end of the MPC meeting on Thursday in Abuja.  Meanwhile, other parameters such as the Cash Reserve Ratio  (CRR) remained at 27.5%, Liquidity ratio at 30%.
Highlights of the Committee's decision
MPC cuts MPR by 100 basis points to 12.50%
CRR stood at 27.5%
The Liquidity Ratio was also kept at 30%
CBN MPC cuts policy rate by 100 basis points to 12.5 %, maintains other parameters constant.

— Central Bank of Nigeria (@cenbank) May 28, 2020
According to Emefiele, the decision of the MPC to reduce the Monetary Policy Rate  was informed by the impact of the Covid-19 pandemic on the economy, increased inflationary pressure, restrictions in international trade and more.
He highlighted the decline in the nation's GDP as well as the decline in the manufacturing and non-manufacturing purchasing index which were attributable to slower growth in production, rate of unemployment, amongst others.
Just in: Buhari seeks approval from green chamber to borrow fresh $5.5billion
FG also seek approval for the revised 2020-2022 mid-term expenditure framework (MTEF) which became necessary as a result of the crash in crude oil prices and the cut in the production output.
President Muhammadu Buhari is seeking the approval of the House of Representatives to borrow fund to finance capital projects at the federal and state (to support state governors) levels in the 2020 budget.
This request was disclosed via the official twitter handle of the House of Representatives.
The president's letter, which indicated that the fund would be sourced locally and internationally, was read on the floor of the House of Representatives by the Speaker, Femi Gbajabiamila, during plenary on Thursday, May 28, 2020.
In the letter to the lower chamber, Buhari, is also seeking the approval for the revised 2020-2022 mid-term expenditure framework (MTEF) which became necessary as a result of the crash in crude oil prices and the cut in the production output.
Although the tweet did not contain the total amount of loan that is being requested, reports suggests that the President is seeking approval to borrow the sum of $5.513 billion from external sources to finance 2020 budget deficit and support state governments to meet challenges caused by the coronavirus pandemic.
President @Mbuhari is also seeking the House approval to borrow locally & internationally to finance capital projects as well as finance projects to support state governors in the 2020 budget
The letter was referred to the House Committee on loans & debt management. #HousePlenary

— House of Reps NGR (@HouseNGR) May 28, 2020
Details shortly…