Nigerians spend $14 billion on generators, fuel
It has been revealed that Nigerians spend about $14 billion on generator and fuel yearly in order to prevent their businesses from crippling.
With power supply being one of the major business constraints in Nigeria according to the Central Bank of Nigeria (CBN), it has been revealed that Nigerians spend about $14 billion on generator and fuel yearly in order to prevent their businesses from crippling.
For years, generator has served as an alternative source of power for Nigerians, as the country experiences unstable and poor power supply. This has led to increase in generator budget for many households and businesses within the country.
The amount spent on generator and fuel by Nigerians was revealed by the Director in charge of African Development Bank (AfDB) in Nigeria, Ebrima Faal who stated that it would have negative impact on the power sector.
The $14 billion shows an increase in spending and proves power supply in Nigeria is not getting better despite the privatisation, as Nairametrics reported last year that Nigerians spent about $12 billion fueling generators.
[READ MORE: Ban on generators: Throwing the baby with the bath water?)
In order to improve the power sector, Nigeria privatised the power sector, leading to the creation of 11 distribution companies (Discos), but year in year out, both the government and the Discos have continued to blame each other for the poor power supply.
The increase shows businesses struggle to remain in business, the Director-General, Lagos Chamber of Commerce and Industry (LCCI), Muda Yusuf, said in a report by The Nation. He said spending on generator is unavoidable even though it's increasing cost of operation and affecting contribution to the Gross Domestic Product (GDP) of the country.
"The costs incurred to provide alternative sources of power are inevitable if industrialists are to remain in business in Nigeria. This, perhaps, is the biggest single factor impeding the growth of industrialisation.
"The issue has made our industries very uncompetitive in recent times. That is one of the reasons our industries cannot produce for export unlike their counterparts abroad. Also, our industries contribute less than 10 per cent to the country's Gross Domestic Product (GDP.)"
According to the International Monetary Fund (IMF), lack of access to electricity and unreliable power supply are key constraints to doing business in Nigeria. The IMF estimated the annual economic loss at about $29 billion.
Senate doesn't care: Despite the poor power supply, a bill to ban importation of generators into Nigeria passed the first reading in the Senate. The bill was sponsored by Senator Bima Muhammadu Emagi (APC Niger South).
[READ ALSO: Ban to curtail generator importation faces strict resistance by Senate)
Also, last year, Senator Francis Fadahunsi requested a five-year ban on generator importation. The suggestion was, however, rejected by the Senate President, Ahmed Lawan. The decision to ban generator sets was once successful in 2015 when the Federal Government banned the importation of the most commonly used type of generating set in Nigeria popularly known as "I better pass my neighbour."
It is still puzzling as to why Nigerian Senators keep introducing bills that seek to stop the use of generators in a country with epileptic electricity supply. Even President Muhammadu Buhari's office was projected to spend N46 million on fueling generators in 2019.
Okonjo-Iweala shares her vision with WTO members, as she pitches for DG post
Okonjo-Iweala said she has all it takes to become the first African DG of the global trade force.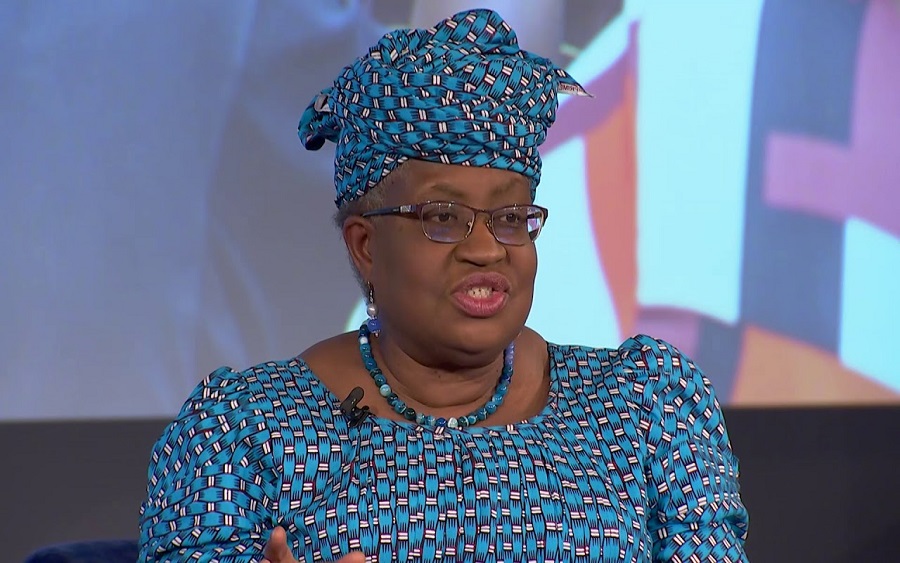 Nigeria's former Coordinating Minister for the Economy under President Goodluck Jonathan, Ngozi Okonjo-Iweala is optimistic about being appointed as the next Director-General of the World Trade Organisation (WTO). Her optimism is not limited to the endorsements she got from President Muhammadu Buhari , National Assembly (Senate and House of Representatives) and Economic Community for the West African States but the confidence that she has what it takes to become the first African and female WTO DG since the global trade force was established in 1995.
While pitching for the post in Geneva, Switzerland on Wednesday, two-time Nigeria's Finance Minister shared her vision with the WTO's 164 member states. Along with Okonjo-Iweala, seven other candidates also pitched for the job. as they presented themselves to the members of the global trade body. The other candidates are Abdel-Hamid Mamdouh (Egypt), Amina Mohamed (Kenya), Jesús Kuri (Mexico), Tudor Ulianovschi (Moldova), Yoo Myung-hee (Korea), Mohammad Al-Tuwaijri (Saudi Arabia), and Liam Fox (UK).
Speaking at the meeting in Geneva, Switzerland, on Wednesday, the former World Bank director said she has all it takes to become the first African and first female DG of the global trade force established in 1995.
'I am a bundle of talents'
Contrary to the allegation that she is more of a public sector, she said, "WTO needs leadership and it needs someone able to bring a bundle of qualities – political ability and ability to reach decision-makers. International contacts, I have that. Managerial capability from my long years in a multilateral organisation like the World Bank. The ability to forge consensus, to negotiate, a reformer. I have an established reputation as a strong reformer both at the World Bank and also in my country. I've even written a book about it.
"So, I think together I bring a bundle of qualities – public sector, private sector – because you need to know how do businesses see the WTO and what needs to be done. What about micro-medium and small enterprises? Just to find out what it means to be a small-medium enterprise owner, I started one myself in Nigeria to see what are the obstacles in the way that you need to clear out.
"So, I'm a doer. I'm solution-oriented and pragmatic. I bring together the bundle of qualities and the leadership acumen that you need to lead this. So, I would hope that if selected from the African continent, it should be me."
To critics that alleged that Okonjo-Iweala is more of a financial sector expert and inexperienced in Trade, she described such as a 'wrong notion.' She said:
"I am a strong believer in the role of trade and of the MTS to lift millions out of poverty and bring shared prosperity. Throughout my career as a development economist at the World Bank, I worked on tough economic policy reforms including trade policy in middle and low-income countries. As a two time and longest-serving Finance Minister in my country, I had the Customs Service reporting to me, so issues of trade facilitation and trade policy were squarely part of my remit. Together with the Trade Minister, I also worked on regional trade issues including the ECOWAS Common External Tariffs.
"I can bring a fresh pair of eyes to the WTO's challenges. Enhancing and renewing the organization will require recalling the core objectives and principles on which the MTS was built – the value of open trade, competition and non-discrimination, security and predictability of market access, fair trade and transparency. These principles contribute to economic growth and development. I have seen how essential and powerful trade can be in promoting not only economic growth and development but also, with the right incentives and policies, fostering inclusiveness of women and youth involved in entrepreneurial activities through micro, small and middle-sized enterprises."
On how she intends to address challenges that have eaten deep into the fabrics of the global trade body, she explained that the first hurdle to tackle would be to build trust among the membership. She said,
"Current problems are not solely of a technical nature, some require political solutions. Throughout my career, I have been involved in difficult negotiations with high political stakes including debt relief negotiations with both the Paris and London clubs. I have brokered numerous agreements that have produced win-win outcomes.
"A good example is during the 2008–2009 food crisis when large wheat exporting countries imposed export restrictions- driving up the price of bread and other wheat-based products in a large number of developing countries. As Managing Director of the World Bank, I flew to one leading exporter, met with the leadership and over several meetings and negotiations, I persuaded them to remove the export restrictions. The affected developing countries benefited by having access to wheat and wheat products thereby ensuring their food security, while the country imposing the restrictions also benefited from increased export prices."
Her vision for WTO
With the support from Aid for Trade initiative, her vision is to negotiate outcomes that would help developing countries, particularly the least developed countries, to increase their participation in the trading system, improve their policy environments, and ensure that trade makes a strong contribution to their sustainable development and inclusion in the MTS.
"I want to conclude by reiterating the importance of the WTO at this critical, uncertain and challenging time in the world. The WTO is needed to ensure trade and global markets remain open. Its convening power and ability to provide a unique forum where countries can come together around shared interests is still vital," she added.
DG's Selection process
General Council Chair, David Walker of New Zealand had informed WTO members of nominations as soon as they were received. After 8 July, Walker issued to members a consolidated list of all candidates, which led to the on-going pitch process with the members at a special General Council meeting.
In all, only time will tell if history will be made after the selection process. History can be made if Okonjo-Iweala is selected as the first female or African DG or if any of the other three African candidates are selcted.
N40 billion Probe: Drama as Reps order arrest of Ag MD NDDC after walking out on them
Pondei walked out of the hearing after accusing Hon. Tunji-Ojo of corruption.
The corruption allegation drama going on between the National Assembly and the Niger Delta Development Commission (NDDC) took a new twist as acting Managing Director of the commission, Prof. Kemebradikumo Pondei and his team on Thursday, walked out on legislators investigating the alleged N40 billion irregular expenditure in the commission.
In a reaction to the development, the House of Representative Committee on NDDC, has issued a warrant of arrest on the acting Managing Director.
Pondei walked out of the investigative hearing on Thursday in Abuja, after accusing the Chairman of the House of Representative committee on NDDC, Olubumi Tunji-Ojo (APC-Ondo) of corruption.
READ MORE: Senate confirms appointment of board members for NDIC, law reform commission
According to the acting Managing Director, "We in the NDDC are not comfortable with the Chairman of this committee, presiding over the matter. He is an interested party and we do not believe that the NDDC can have justice because he cannot seat on his own case."
"We have no issue of appearing, we appeared before the Senate ad hoc committee and as long as he remains, we will not make any presentation," he said
However, the issuing of warrant of arrest by the lawmakers, follows the unanimous adoption of the motion by Rep. Benjamin Kalu at the investigative hearing On Thursday in Abuja.
READ ALSO: NSITF board to investigate suspended MD and others over financial misconduct
Kalu, who is the spokesman of the house, commended the committee members for the maturity that they have displayed despite the provocations of the NDDC boss.
Kalu in his statement said, "I want to refer this committee as well as the invited guests to section 60 which says that, the Senate or the House of Representatives shall have powers to regulate its own procedure.
"It is within the parameters of the law that the house regulates its activities, this is a committee affair and not a personalised affair.
"I want to move that this committee invokes the provisions of section 89 of the Constitution and invoke our powers on warrant of arrest to compel the agency to come and answer how they have administered the money appropriated to them," he said.
Download the Nairametrics News App
The committee, later passed a vote of confidence on the Chairman, while describing him as a man of integrity and a leader of high reputation.
Earlier in his speech, Tunji-Ojo said that documents from the Central Bank of Nigeria and the Office of the Accountant General of the Federation when there officials appeared before the investigative panel showed that NDDC had spent N81.5 billion between January and May 2020.
Why Artificial Intelligence will separate winning banks from losers amid COVID-19
Banks around the world were already under pressure to fully deploy Artificial Intelligence prior to the pandemic.
Banking experts from around the world believe that Artificial Intelligence (AI) will become the differentiating factor between banks that will succeed and those that will fail, in the new era of global banking.
A new report by The Economist Intelligence Unit, which was sponsored by Geneva-based banking software company Temenos AG, surveyed some 305 banking executives from around the world. 77% of these bankers stated that AI will separate winning banks from losers.
The role of COVID-19 pandemic
The report also noted that the COVID-19 pandemic has put global banks under immense pressure to readjust their strategies and align with the technological requirements of the 21st-century banking industry.
"Retail, corporate and private banks were already under pressure to deploy new technologies and reshape their company cultures in order to compete with big tech firms and payment players. Now, as digital banking surges due to the coronavirus pandemic, this task is more pressing than ever," said some part of the report.
READ ALSO: FPI and FDI drop to $68 million and $18 million respectively in April, lowest since 2016
Key findings from the report
66% of banking executives say new technologies will continue to drive the global banking sphere for the next five years while regulatory concerns around these technologies remain top of mind for banking executives (42%).
77% of bankers believe that unlocking value from AI will be the differentiator between winning and losing banks.
45% of respondents are focused on transforming their existing business models into digital ecosystems. Therefore, banks are expected to continue to adapt their internal structures to digital technologies in order to enhance customer experience, product offerings, and new revenue streams.
The backstory and the present concerns
Prior to the outbreak of the Coronavirus pandemic which has destabilised the global economy and raised major health and safety concerns, many banks around the world were already making major efforts towards the adoption of Artificial Intelligence in their daily operations. Bank customers were encouraged to make use of digital banking solutions in a bid to reduce traffic in banking halls.
READ ALSO: Explained: CBN's powers to seize bank account of criminals
To a large extent, this worked, although the pandemic really helped to accelerate the pace. However, the widespread adoption of Artificial Intelligence has not come without some concerns/challenges. According to the report by The Economist Intelligence Unit, data bias, "black box" risk, and lack of human oversight as some of the main concerns bothering bankers.
The report did, however, specify some regulatory guidelines on how best banks can deploy Artificial Intelligence, as you can see below:
Ethics and fairness: banks must develop AI models that are 'ethical by design'. AI use cases and decisions should be monitored and reviewed and data sources regularly evaluated to ensure that data remains representative.
Explainability and traceability: steps taken to develop AI models must be documented in order to fully explain AI-based decisions to the individuals they impact.
Data quality: bank-wide data governance standards must be established and applied to ensure data accuracy and integrity and avoid bias.
Skills: banks must ensure the right level of AI expertise across the business in order to build and maintain AI models, as well as oversee these models. 
Download the Nairametrics News App
Why it matters
Artificial Intelligence is expected to remain very relevant for banks, even after the COVID-pandemic must have finally been brought under control. Therefore, it is expedient for banks around the world to really develop their AI capacity in order to succeed both during and after the pandemic.
---
You may download Forging new frontiers: Advanced Technologies will Revolutionise Banking by clicking here.