Oil price crash, Coronavirus: The trouble that lies ahead for Nigeria
In Nigeria, Coronavirus possesses a different kind of imminent threat which could cost economies even more.
Close your eyes for one minute and picture a scene full of chaos. Everyone is locked in at home, stores are empty, ATMs are not working, and hospitals are overwhelmed. This could be the stories we would hear in some parts of the world if the escalating threat of Coronavirus is not contained in the coming days.
For now, most of the crisis has been in Western Europe and the United States, which is why we are getting so much media coverage. In Africa, and to be more specific, Nigeria, Coronavirus possesses a different kind of imminent threat which could cost economies even more. We face an economic threat of mega proportions, and this could be worse than anything we have ever seen.
In a week that has now been adjudged to be one of the worst in financial market history, the global economy woke up to an oil price war declared by Saudi Arabia and Russia. Talks to cut oil production between both countries fell through, leading to an all-out price war that sent oil prices tumbling by over 30% within 24 hours.
As expected, markets reacted negatively with investors pondering what the effect on the global economy would be. And then, Coronavirus took another turn for the worse.
When Elephants fight, the grass, they say, suffers. As the markets roiled in confusion, Nigerians woke to an emerging new reality – a possibility of an exchange rate crisis. You can accuse Nigerians of not being economically savvy, but not when it comes to the exchange rate.
[READ MORE: BLOODY WEEKS: Coronavirus costs investors N1 trillion, triggers devaluation fears)
Everyone knows that when oil prices fall as they did on Black Monday, it is only a matter of time before the exchange rate also suffers. The exchange fell to N370/$1 during the week before rallying back after the CBN read the riot act to speculating BDC operators. But trouble still lies ahead.
The Nigerian Government relies mainly on oil for its dollar earnings. In 2019, crude oil exports accounted for $41 billion out of the $46.6 billion reported in the third quarter of the year. Thus, if oil price crashes, Nigeria's dollar earnings go with it.
As at the third quarter of 2019, when crude prices were above $60, Nigeria still had a current account deficit of $9.1 billion, meaning that we had more dollar outflows than inflows. The Federal Government also reported far less revenues than projected in the 2019 budget, raising alarm over the government's ability to finance important infrastructure development, as well as pay workers' salary. This was all when oil was $60 plus. The situation would surely be dire now that oil prices are falling.
In recent past, whenever Nigeria faces a decision to devalue, the CBN typically pulls its levers. But the situation is now different. Nigeria's external reserves are at about $36 billion and the CBN has about $11 billion in non-deliverable forwards, a term for future dollar sales which the CBN is committed to supplying to foreign investors.
[READ ALSO: Two oil giants fight, break Nigeria's heart)
Nigeria's foreign debt has also risen from about $2 billion in 2015 to about $8.7 billion in 2019. The reserves, though strong, are fragile, especially if pushed further. Nigeria's excess crude account, which was an account dedicated to periods like this, is down to $325 million compared to over $ 2billion in 2015.
Foreign Investments in Nigeria have also risen from $20.7 billion in December 2014 to $23 billion as at December 2019. The difference, however, is that while only $4.8 billion accounted for foreign debts in 2014, $19.5 billion accounted for loans in 2019. There is little wiggle room for the economy.
The stacks are obviously not in our favour and as things get worse for the oil markets, so will they be for the economy. The Federal Government will struggle to fund its statutory capital and recurrent expenditures, state governments will struggle to pay salaries, and oil companies could default on their loans, thereby piling pressure on commercial banks.
Small businesses, which rely heavily on foreign imports to augment their value chains, will suffer from supply shortages while looming job cuts will intensify. The aviation sector could suffer, as businesses will cut down on travel plans. The struggling service sector will feel most of the heat, as the manufacturers will cut back budget to survive.
The planned increase in electricity tariffs may be put on hold, further worsening the situation in the power sector. As things get worse, the CBN may have no choice but to embark on a massive devaluation.
The depiction above is not meant to scare anyone, but it's a plausible outcome if oil prices continue to crash. Nigeria doesn't have a way out of this, especially when you consider that we can't produce more than 2.2 million barrels per day, and even when we do, we have unsold stockpiles as confirmed by the NNPC Group GMD, Mele Kyari at the CBN town hall last week. He also confirmed that Nigeria's average cost of crude production is $30, thus with Saudi selling at under $30, we are stuck.
[READ FURTHER: What to do now that the economy is "crashing")
When countries face situations like these, the IMF is often the last resort. It is unlikely that foreign investors will pile into any euro bond Nigeria sells, especially as they are still spooked by the Coronavirus and the global uncertainty.
Nigeria's worsening debt service to revenue ratio is also worrisome for the more conservative investors. For now, one can hope that this is just an awful prolonged dream.
Why Shoprite is "exiting" Nigeria
Shoprite's intention to divest from its Nigerian operations appears to be anchored on these factors.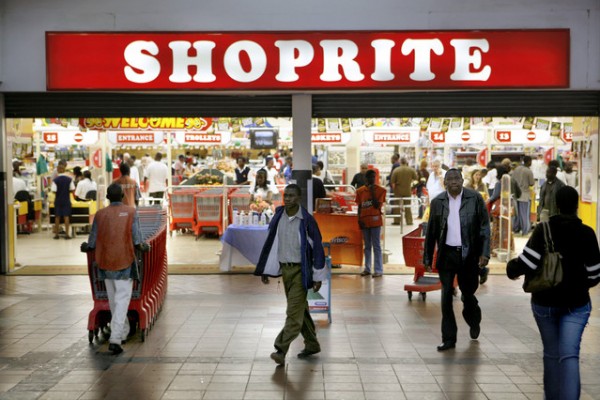 Africa's largest retail chain, Shoprite, announced on Monday that it is considering divesting from its Nigerian retail entity, Retail Supermarkets Nigeria, the owners of Shoprite Supermarket Nigeria.
Shoprite Nigeria operates about 26 outlets across the country and employs about 2000 employees who are 99% Nigerians. A divestment means it will sell its holdings to another investor who will continue to run the business.
According to the company, it has taken a decision to leave "following approaches from various potential investors" looking to invest in the Nigerian entity.  The group also said the decision is in line with its "re-evaluation of the Group's operating model in Nigeria" one of the 15 countries where it currently operates.
Shoprite also confirmed it has initiated a formal process to sell its entire stake in the Nigerian entity or a majority stake.
READ ALSO: Nigeria's retail outlets risk CBN sanction, debit N50 PoS fee from customers 
Why the exit?
Shoprite's explanation of its intention to divest from its Nigerian operations appears to be anchored on its investment expectation and operating environment. However, there could be more to it.
Firstly, Nigeria is a highly competitive space, where retail is the survival of the fittest. Following Shoprite's foray into Nigeria in 2002, the retail chain disrupted Nigeria's retail space giving ordinary Nigerians a taste of what it feels to shop with family and friends. But the fairy tale was not going to last forever. Previous retail outlets like Park n Shop rebranded and injected significant funds in their operations and business expansion. Park n Shop rebranded to Spar and has 14 outlets across the country. It only makes sense for them to divest having held on to the Nigerian operations for almost two decades.
Shoprite also competes with homegrown retail outlets especially in Nigeria's commercial city, Lagos State. Retail outlets like Ebeano, Citydia, and Adiba are now household names that are expanding rapidly across the state. There are also several neighbourhood supermarkets in the nooks and cranny of Nigeria's commercial capital piling pressure on Shoprite's market share. Shoprite does not disclose revenues from its Nigerian operations.
Shopping is also going online as evidenced by the growth in online shopping since COVID-19 hit Nigeria. Jumia, one of Nigeria's largest online retail outlets, revealed lower earnings in the first quarter of 2020. However, the company is optimistic of higher revenue growth in Q2, on the back of the COVID-19 lockdowns. Jumia had earlier noted that "we are seeing unprecedented demand to join the Jumia platform, especially for named brands. We believe those dynamics will help accelerate the shift toward online."
READ MORE: The deal that helped Lafarge stock gain 18% in less than a week
Local competitors like Spar and Ebeano already offer online shopping experiences and deliver goods to your doorstep. Shoprite's business model relies heavily on physical store visits.
As internet services become faster and cheaper, more Nigerians will rely on e-commerce to meet their shopping needs. Jumia has often struggled in this space and remains unprofitable. However, gravitation towards online shopping is inevitable and only those who have the capital and know-how will come out winners.
Jumia's competitor in this space, Konga, was also recently acquired by Zinnox. Konga was then merged with another Nigerian retail giant Yudula. Interestingly, Konga's model includes a combination of online and brick and mortar. The company has since been acquiring warehouses across the country as delivery points for its retail expansion drive.
Nigeria's harsh operating environment is also another major challenge Shoprite faces. The Muhammadu Buhari-led administration, through the CBN, has focused on supporting locally made goods by banning forex availability for the importation of local substitutes. This has negatively impacted the number of products Shoprite can sell and how many new shelves it can create per floor space. It also creates supply chain challenges, especially with locally produced goods.
Note that supermarkets sell on very thin margins. Therefore, the more products they can sell the higher the operating profits. Taxes are also higher and Nigeria's susceptibility to exchange rate devaluation is also a major challenge. The company makes money in Naira and must convert to dollars before converting back to Rands.
READ MORE: Exploring branchless, other digital forms of banking in a crisis
In 2017, when Nigeria last faced a currency crisis, Shoprite explained that it has about Rand 2.3 billion in cash locked up in Angola and Nigeria due to currency restrictions (inability to repatriate their money on time). Information reaching Nairametrics from traders suggest most foreign-owned investments in Nigeria are also facing "restrictions" due to limited liquidity in the NAFEX window.
Shoprite's less talked challenge is its Legal Issues. In 2011, Nigerian company A.I.C Limited (the Claimant), which is owned by Chief Henry Akande, issued a summons against Shoprite South Africa and its Nigerian subsidiary for an alleged breach of a joint venture agreement (the JV Agreement) allegedly concluded in 1998. The company took Shoprite to court claiming it breached on an agreement to set up the Nigerian arm of the business.
The Federal High Court then ruled in favour of AIC and awarded damages of $10 million against Shoprite in 2017. Shoprite appealed the judgment in the appeal court and lost again earlier in 2020. It is unclear if Shoprite has any plans to take the matter up to the Supreme Court. Could this be another reason why the owners are deciding to divest?
Whatever the reason is, officially, it perhaps makes sense for the company to exit its Nigerian operations in the light of the points mentioned above. Its Nigerian entity is worth 1.1 billion Rands (N24 billion) per its financial statements and could be worth more when the sale is eventually consummated.
Okomu Oil: Home is where the heart is
Okomu Oil has its tires on the track and is not slowing down.
Despite the teeming opportunities in the Nigerian agriculture industry, very few companies in the agro-space have been able to put in place the right processes and systems to create huge corporations out of farm produce. But there is one that is doing just okay. With a market capitalization of N71.5 billion, Okomu Oil Plc sits at the top of the industry.
While many companies, big and small, are losing their grip to the volatile global economic landscape of 2020 birthed largely by the COVID-19 pandemic, Okomu Oil has its tires on the track and is not slowing down. More so, it is not only proving COVID-19 wrong. Just a little over a year ago, Nairametrics had downgraded the company to a "Sell" owing to its faltering revenues. Today, with huge increases in revenue in 2 out of 2 completed quarters, Okomu Oil plc is laughing last.
READ ALSO: Okomu Oil half year profit drops by 57%
Winning by the Numbers
The company's Q1 financials had revealed a 65.2% growth in revenue as the company recorded a turnover of ₦6.9 billion in comparison to the ₦4.2 billion it made in Q1 2019. It had also recorded a profit after tax of over ₦2 billion in comparison to the ₦1 billion recorded in Q1 2019 resulting to a 101.4% jump in profits. In the second quarter of the year, its unaudited results reveal that the company has also increased its revenue. Turnover jumped by 50.6% from N4.3 billion in Q2 2019 to N6.5 billion in Q2 2020. This jump was not totally reflected in its profits after tax, however, owing to a significant increase in income tax from nothing in Q2 2019 to N462 million in Q2 2020. PAT was still able to increase by 30% to 1.9 billion in 2020. While there could be a myriad of reasons for the tax burden, the company's foreign operations are starting to rain on its parade.
Why it has to watch its foreign operations
Okomu Oil's wins can be directly attributable to its domestic activities, bolstered by devaluation impact and a larger market share as a result of border closures. A closer look at both its Q1 and Q2 financials reveal that a majority of its earnings have been from improved domestic operations. In Q1, the company witnessed a decline of ₦89.8 million in Q1 2020 from its 2019 figures, representing a drop of 12.5% in the comparative quarter. In Q2, its export revenue took an even greater plunge. Export sales experienced a 35.3% drop from N730.6 million in Q2 2019 to N473 million in Q2 2020. Domestic sales had increased by 67.9%.
READ MORE: GTBank declares closed period as directors meet July 22nd to consider H1 result
While this is reflective of the current economic activities, there are rising fears that it will keep relapsing. Failure to contain its activities will, sooner than later, have it in the same position as some of the equally large companies that had to eventually spin off ailing foreign activities. Reduced turnover is not the only diaspora-induced challenge being faced by the company. Its Q2 financials also reveal exchange losses of over N17 million for the quarter. Compared to the exchange losses incurred in Q2 2019 which stood at 1.2 million, it recorded a 1284% increase in foreign exchange losses.
In today's world, it is becoming increasingly tough for businesses to ward off the allure of foreign opportunities in trade as well as in the area of raising finance. While these, no doubt, have immense benefits to businesses, there's a long list of reasons why staying home and penetrating local markets has been underrated. Being able to source inputs locally, produce locally, and even finance locally is becoming even more of a luxury to Nigerian companies especially given the challenges around the relatively weak currency to stronger currencies.
Okomu Oil plc is creating a sustainable market in Nigeria and its efforts are paying off. Until order is restored, an increasing focus on its domestic market will do the company more good. That said, the company is a great stock to have in your investment portfolio to serve as a hedge against companies that have been negatively impacted by the pandemic. Its current share price is N74.95. While its price to book ratio is high at 2.2857 hinting that it could be overvalued, its EPS is stable at 7.33.
Why you should avoid investing long term in Nigeria's stock market
The stock market is only as resilient as the economy.
Thirteen years ago today, I was getting set to oversee a meeting with a group of partners in a newly formed investment club. About a dozen of us, young and just at the cusp of family hood thought it was important to come together and put money aside for the future.
We had several options such as real estate or treasury bills, but we settled for the Nigerian Stock market. The decision wasn't difficult to make especially when you look at the performance. Stocks were up 37.8% in 2006 and will close the first half of 2007 55% up.
Demand was high as everyone wanted a piece of what was then the fad. Private placements, right issues, IPOs were fast and coming and it was as if any offer placed in the table was sure to sell. The early signs that this was a bubble was when spare part traders abandoned their trade to get in on the gold rush.
READ MORE: Facebook, Microsoft, Amazon shares drop, top U.S official orders lockdown
The All Share index showed its first signs that the bears were around the corner when it fell by 5.15% in August 2007. As investors who were made to understand that investing in stocks for the long term was wise, we ignored the temptation to sell believing that stocks will rise again.
It's 13 years now and the Nigerian All Share Index is down 52% between June 2007 and June 2020. In hindsight, we should have sold everything we had and simply bought dollars and kept it under our pillows. The stocks, we had hoped will deliver compounding returns over the years have delivered nothing but losses.
The Nigerian Stock Exchange is not a long-term market. We learned this 13 years ago but believed that experience was just a massive correction and that things will change. It did not and is unlikely to change so long as we remain a highly import-dependent economy. The stock market is only as resilient as the economy. If you have an economy like Nigeria that is good at growing its population and not its economics, investments in capital and money markets is a risky activity.
READ MORE: Where to Invest N5 Million right now
The more we remain reliant on crude oil and high imports, the worse it gets and you lose more money. Thus, it is my firm belief that investing in Nigerian stocks for the long term is folly. There are much better investments out there that will deliver you better returns and reduce capital erosion, two of the major symptoms of the Nigerian Stock market. But why is this market not a long term investment?
The reasons…
Firstly, stocks rely heavily on foreign portfolio investors to drive demand up. Since former CBN Governor, Sanusi Lamido Sanusi allowed foreign investors to repatriate any portfolio investment into the country without restrictions, stocks have become heavily reliant on hot money to keep valuations high. Thus, when foreign investors exit, stocks suffer. They create a bubble when they enter our markets and leave bears to dominate when they exit, until they are ready to get back in again.
READ MORE: A New Wave: Where to Invest in H2 2020
Secondly, Nigeria's susceptibility to frequent currency devaluations keeps market valuations in perpetual risk of capital erosion. For example, if your portfolio was worth N165, 000 in 2013 it was the equivalent of $1,000. Today, that portfolio is worth just $412 assuming N400/1. So, even if you are lucky to have a portfolio that has performed well over the years, it will struggle to outperform dollar investments on the medium term.
Also, Nigerian companies are hardly accountable with the way their businesses are run. Insider trading persists without control and suspicions are immediately swept away. There are no consequences for reckless corporate behaviour. Most of the corporate fraud and unscrupulous activities perpetrated in the great stock market crash of 2008/2009 did not lead to a single jail term for anyone.
READ MORE: Eid-El-Kabir: Food prices surge, as ram traders decry low patronage
Billions lost in stocks over the years have not been recovered. Whilst some companies have continued to grow their revenues and profits most remain unprofitable and lack the basics of corporate governance.
Investor protection is weak in this market as there are no reliable remedies for fraud induced market losses. The stock market is also very limited in the number of products available to buy. Apart from buying and owning stocks, there are little options to short-sell. We understand this is in the pipeline but it has remained there for years.
These are examples that explain why investing for the long term cannot work in Nigeria for now. Buy and hold forever is a myth at least in today's Nigeria. You will get burned and likely lose the value of your investments.