Two oil giants fight, break Nigeria's heart
The treaty between Russia and Saudi Arabia seems to have been thrown into the dustbin as the countries are strapping in for a prolonged oil-price conflict.
Russia and Saudi Arabia have been best of friends, strengthened by the bilateral trade agreement between Riyadh and Moscow June 2018 and recent co-operation to restrain global oil supplies to keep prices buoyant.
However, in recent days, the treaty seems to have been thrown into the dustbin, as Russia and Saudi Arabia are in for a prolonged oil-price conflict.
Oil prices slumped by the most since 1991 on Monday. The commodity rebounded on Tuesday trading session but remained well off its early 2020 levels as uncertainty in the global financial market persisted.
Saudi Arabia escalated its fight on Tuesday, stating its state-owned Aramco could push its total output to a record 12.3 million barrels per day starting the second quarter 2020.
READ MORE: Nigeria plans to support oil price with lower production cost per barrel)
The supply increase would be more than 25% higher than the 9.7 million barrels per day produced in February and force Aramco to empty its sizable inventories while operating at maximum capacity.
Russia fired back in minutes, threatening to raise output by 500,000 barrels per day in the near future, Bloomberg first reported. The country can begin output increases as soon as April 1, when the current OPEC deal expires.
Helima Croft, head of global commodity strategy at RBC Capital Markets spoke on CNN saying Russia has been dropping hints that the real target is the US shale oil producers and not emerging markets like Nigeria because it is fed up with cutting output and just leaving them with space.
In addition, the rattle of the two oil giants, Russia and Saudi Arabia has caused fiscal woes. Africa's biggest oil producer, Nigeria, which needs oil prices to be around $57 a barrel to balance its budget, is vulnerable to low oil prices as it depends on the commodity for 90% of its export earnings.
The Director-General of Lagos Chamber of Commerce and Industry (LCCI), Muda Yussuf said there would be constraint in the budget implementation; infrastructure financing would be affected; borrowing might increase, and the capacity to fund the capital project would be severely constricted. With this scenario, the outlook for oil-dependent economies looks rather gloomy.
The oil price shock would hurt Nigeria's fragile economic recovery and push up inflation, already in double digits.
Nigerian stocks on Thursday headed for their fifth straight day of losses to a new four-year low, and a fall in oil prices to just over $30 per barrel, rising external debt and a depreciating currency pose a threat to economic stability in the country of more than 190 million people. Nigeria is Africa's largest economy in terms of GDP
Head of Research at Coronation Merchant Bank, Guy Czartoryski stated, "We began this year with the view that the Naira/US dollar exchange rate could hold for most of 2020.
"When the coronavirus outbreak became apparent at the end of January, we still believed that a combination of monetary stimulus in developed markets and foreign portfolio investment into Nigeria would stabilize the risk outlook. Last week's crash in oil prices, however, elevates risks considerably."
The NNPC boss, Mele Kyari, stated that with the oil market slump on Monday, the reality on the ground was beginning to dawn on the country. He also buttressed on the fundamentals in the oil economy, at the CBN Growth 2.0 buttressed the effect of oil price war, has done on our earnings, and that Nigeria would start making losses in oil production once the level got below the cost to produce pegged at $30.
READ ALSO: BOOM: Crude oil price crash below $30 in worst trading day since 1930
In addition, it's looking gloomier for Nigeria in the oil sector as the United Arab Emirates, OPEC's third-biggest producer joined the oil price war started by Saudi Arabia.
What it means for Nigeria: OPEC's fifth producer, the benchmark oil price of $57 governing the 2020 budget becomes more and more unrealistic as oil has fallen to $35 range and may even fall further with the oversupply from the Gulf region. Brent Crude traded down $1.65, or 4.6%, at $34.14 by around 08.18 am Thursday Nigerian time.
Nigeria's economy is already facing turbulent times over the drop in crude oil prices to $35 per barrel on Friday.
The impact of the oil price war on Nigeria's foreign reserves, exchange rate stability and equities market will show a devastating effect on its economy.
These scenarios could lead multilateral institutions to revise downwards their 2020 projections on Nigeria's growth. It is believed that with growth in Gross Domestic Product still fragile and foreign portfolio investment inflows low, Nigeria needs more than sound economic policies to pull out of the crisis it is already settling into.
IMF advises banks to suspend dividend payment
However, halting dividend payments may not go down well for many retail and institutional investors, who rely on bank dividends for regular income.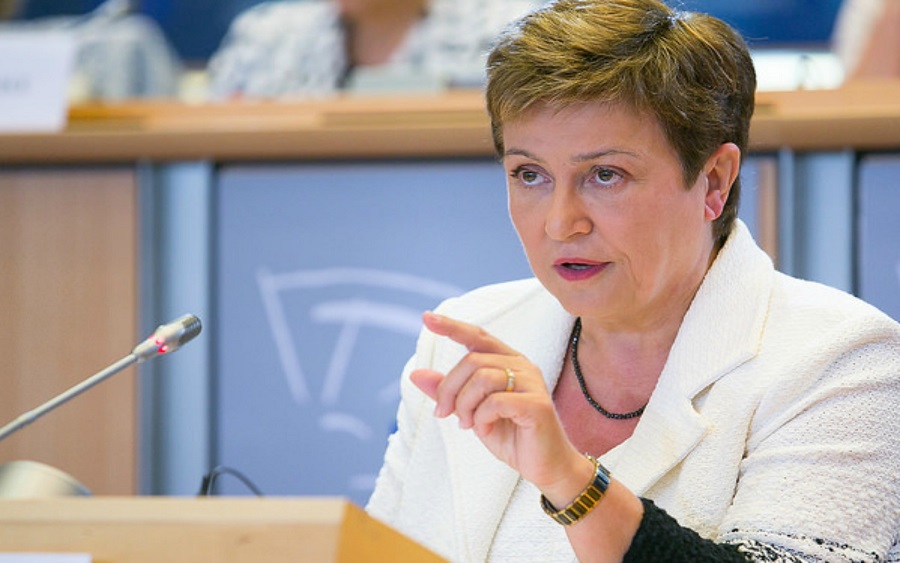 In an article published on its website, International Monetary Fund (IMF) Managing Director, Kristalina Georgieva, advised banks to halt dividend payment for now. According to her, with the expectation of a deep recession in 2020 and partial recovery in 2021, banks' resilience will be tested. Therefore, having in place strong capital and liquidity positions to support fresh credit will be essential.
According to the article, one of the steps needed to reinforce bank buffers is retaining earnings from ongoing operations which are not insignificant.
IMF staff calculate that the 30 global systemically important banks distributed about US$250bn in dividends and share buybacks last year.
In a circular dated January 31, 2018, the Central Bank of Nigeria (CBN) stipulated new conditions for eligibility of Nigerian banks to pay dividend and the quantum of dividend to be paid out by banks who are eligible. Prior to the release of the circular, dividend payout policy for Nigerian banks had been spelt out in Section 16(1) of BOFIA 2004 (as amended) and Prudential Guidelines for DMBs of 2010. The circular provided guidelines and restrictions around divdidend payout for banks based on NPL ratio, CRR levels, and Capital Adequacy Ratio (CAR).
However, there were no regulatory restriction on dividend payout for banks that meet the minimum capital adequacy ratio, have a CRR of "low" or "moderate" and an NPL ratio of not more than 5%. However, it is expected that the Board of such institutions will recommend payouts based on effective risk assessment and economic realities. Indeed, current economic realities demand caution.
Current economic realities mean that banks face asset quality threats, further devaluation threat which may impact capital in some cases, and lower profits which in turn affects the quantum of capital retained. Ideally, these should reflect in NPL ratio and CAR ratio and should immediately restrict banks' ability to pay dividend. However, there is usually a time lag before these ratios begin to reflect the new economic realities. Therefore, IMF's advise may come in handy for many banks.
(READ MORE: Software security limitations cited as major reason for Covid-19 bank rush)
That said, halting dividend payments may not go down well for many retail and institutional investors, who rely on bank dividends for regular income. Banks like Zenith and Guaranty Trust have a good history of consistent dividend payment with attractive yields which is a major attraction for many shareholders.
---
CSL STOCKBROKERS LIMITED CSL Stockbrokers,
Member of the Nigerian Stock Exchange,
First City Plaza, 44 Marina,
PO Box 9117,
Lagos State,
NIGERIA.
BREAKING: CBN reduces MPR to 12.50%, holds other metrics
Central Bank of Nigeria (CBN) has reduced the Monetary Policy Rate (MPR) from 13.50% to 12.50% and retains CRR at 27.5%, Liquidity ratio at 30%.
The Monetary Policy Committee (MPC) of the Central Bank of Nigeria (CBN) has reduced the Monetary Policy Rate (MPR) from 13.50% to 12.50%.
Governor, CBN, Godwin Emefiele, disclosed this while reading the communique at the end of the MPC meeting on Thursday in Abuja.  Meanwhile, other parameters such as the Cash Reserve Ratio  (CRR) remained at 27.5%, Liquidity ratio at 30%.
Details later …
Just in: Buhari seeks approval from green chamber to borrow fresh $5.5billion
FG also seek approval for the revised 2020-2022 mid-term expenditure framework (MTEF) which became necessary as a result of the crash in crude oil prices and the cut in the production output.
President Muhammadu Buhari is seeking the approval of the House of Representatives to borrow fund to finance capital projects at the federal and state (to support state governors) levels in the 2020 budget.
This request was disclosed via the official twitter handle of the House of Representatives.
The president's letter, which indicated that the fund would be sourced locally and internationally, was read on the floor of the House of Representatives by the Speaker, Femi Gbajabiamila, during plenary on Thursday, May 28, 2020.
In the letter to the lower chamber, Buhari, is also seeking the approval for the revised 2020-2022 mid-term expenditure framework (MTEF) which became necessary as a result of the crash in crude oil prices and the cut in the production output.
Although the tweet did not contain the total amount of loan that is being requested, reports suggests that the President is seeking approval to borrow the sum of $5.513 billion from external sources to finance 2020 budget deficit and support state governments to meet challenges caused by the coronavirus pandemic.
President @Mbuhari is also seeking the House approval to borrow locally & internationally to finance capital projects as well as finance projects to support state governors in the 2020 budget
The letter was referred to the House Committee on loans & debt management. #HousePlenary

— House of Reps NGR (@HouseNGR) May 28, 2020
Details shortly…