It costs more to ship through Apapa port than Ghana's Tema port, others –SBM
An SBM Intelligence report has shown that it is more expensive to ship goods into Nigeria from the European Union through the country's Apapa port.
It is more expensive to ship goods from the European Union to Nigeria, compared to other African countries like Ghana and South Africa. This is according to a report by SBM Intelligence, which was published last week.
The Details: The report, which took three months to compile and analyse, revealed that South Africa's Durban Harbour is the least expensive in terms of shipping charges, terminal charges, and the cost of transporting goods to local warehouses.
In the same vein, the Tema Port in Ghana is less expensive compared to what obtains at Nigeria's Apapa Port. The report chillingly revealed that Nigeria's Apapa Port is five times more expensive than Durban Harbour and three times more expensive than Tema Port. Part of the report said:
"SBM tracked shipments over a period of three months to three ports in Africa and came up with this average costs of first, shipping goods in from the EU, the terminal charges that containers pay while they are in those ports, and the average cost of local transportation from the port to selected warehouses within the port cities.
"The costs for the Apapa Port in Lagos are by far the highest, five times higher than in Durban, South Africa, and three times higher than in Tema, Ghana. While each of the component parts of this dataset, shipping charges, terminal charges and local transport, are highest for Lagos, it is local transport, 10 times the cost in Lagos than in both Durban and Tema, that really makes Lagos an expensive place to do business in."
[READ MORE: Reps investigate N600 billion monthly revenue loss at Apapa, Tin Can ports)
More Details: The SBM report went further to reveal that at the Apapa Port, importers spend an average of $374 in shipping charges. This is far more than the $247 importers pay at the Durban Harbour for the same purpose. Meanwhile, at the Tema Port, the average shipping cost is $321.
In terms of terminal charges, people shipping goods through Nigeria's Apapa Port pay an average of $457, compared to $180 average costs at the Durban Harbour and $280 at Tema Port.
When transporting imported goods from Nigeria's Apapa Port to local warehouses, businesses spend an average cost of $2,050. This is far more than the $208 it costs to transport containers from Durban Harbour to South African warehouses. In Ghana, it costs just $285 to transport containers to local Ghanaian warehouses.
What this means: Perhaps this explains why there is always heavy congestion at the Apapa Port, which serves as Nigeria's main port. Earlier this year, the Nigerian Ports Authority (NPA) declared an emergency at the port due to a buildup of massive congestion. A temporary solution was even put in place to divert vessels to alternate terminals. But it appears the root cause remains unsolved.
The SBM report also raises questions about Nigeria's ease of doing business. According to Nairametrics' commentator and economic expert, Kalu Aja, "if it is easy to do business in Nigeria, then importers should be able to clear goods faster and cheaper."
Recall that Nigeria recently moved up fifteen places to number 131 in the latest ease of doing business index, as earlier reported by Nairametrics.
Commenting further, Kalu Aja noted that proper implementation of the Africa Continental Free Trade Area (AfCFTA) could enable Nigeria to become a major export-import hub. He said:
"With the 'open borders' of AfCFTA, that's a key advantage as Nigeria could become an import-export hub. But then again, Nigeria would need to do a lot of work to restructure its port system before it can fully take advantage of AfCFTA."
Meanwhile, Nairametrics had reported that the Federal Government claimed it has started positioning the nation to benefit fully from the AfCFTA and take advantage of the opportunities it provides.
The Managing Director, Nigerian Ports Authority (NPA), Hadiza Bala-Usman, stated that the development would ensure smooth transmission of goods and investments through the ports. According to her, it would boost the trade relationship between Nigeria and other countries.
Why it matters: Infrastructure upgrade creates opportunities for the nation. The deplorable state of the ports in Nigeria has become a trade barrier, preventing connectivity, which is costly to companies depending on the ports for importing and exporting of goods. Bala-Usman said with this removed, and dredging of seaports, as well as the elimination of corruption, and manual processes in the sector, enormous opportunities would be recorded.
You may download the SBM Intelligence report by clicking here.
FG to distribute 10 million LPG gas cylinders in 1 year
The FG is set to inject up to 10 million gas cylinders into the market to help improve safety and deepen cooking gas utilization.
The Federal Government has announced plans to inject 5 to 10 million Liquefied Petroleum Gas (LPG) cylinders into the market in the next one year.
This is to help improve safety and deepen LPG (otherwise known as cooking gas) utilization across the country.
This disclosure was made by the Programme Manager, National LPG Expansion Implementation Plan, Mr Dayo Adeshina, at a sensitisation workshop on LPG Adoption and Implementation for Industry Stakeholders, on Wednesday in Lagos.
According to a report from the News Agency of Nigeria (NAN), Adeshina said the National LPG Expansion Implementation Plan, domiciled in the Office of the Vice President, was committed to achieving Nigeria's target of 5 million Metric Tonnes of LPG consumption annually by 2027.
What the Programme Manager for LPG Expansion Implementation Plan is saying
Adeshina said, "The Federal Government is working towards injecting five to 10 million cooking gas cylinders into the market within the next one year. We are starting the cylinder injection under the first phase in 11 pilot states and FCT, with two states from each of the geopolitical zones.
The states are Lagos, Ogun, Bauchi, Gombe, Katsina, Sokoto, Delta, Bayelsa, Ebonyi, Enugu, Niger and the Federal Capital Territory. The cylinders will be injected through the marketers. The marketers will be responsible for the cylinders and the exchange will take place in homes and not in filling stations.
What this means is that going forward, cylinders will not be owned by individuals but by the marketers who will ensure that they are safe for usage.''
Adeshina pointed out that apart from household consumption, the government was trying to increase LPG usage in agriculture, transportation and manufacturing adding that this will enable the country to reduce CO2 emission by about 20% and create millions of jobs for Nigerians.
He said that the government had also granted waivers on importation of LPG equipment and removed Value Added Tax (VAT) on LPG in addition to investment in infrastructure.
The President of the Nigerian Liquefied Petroleum Gas Association, Mr Nuhu Yakubu, said efforts should be made to ensure the availability, accessibility and affordability of cooking gas in the country adding that this would encourage more Nigerians to embrace gas usage in their homes with the attendant benefits to the country.
Mr Olalere Odusote, Lagos State Commissioner for Energy and Mineral Resources, said the population of Lagos makes it imperative for residents to adopt cleaner energy sources for cooking, transportation and power generation adding that the government was targeting the conversion of 45% of about 4 million vehicles in the state to autogas over a four-year period in partnership with marketers.
What you should know
It can be recalled that the Federal Government had in November 2020, announced plans for the conversion of cars to autogas in a bid to have cheaper and cleaner energy especially with the high cost of petrol.
The government at different levels are pursuing cleaner energy sources for cooking, transportation and power generation.
JAMB bans use of email by candidates for UTME, DE registration
JAMB has announced that candidates for the UTME and Direct Entry will no longer be required to provide their email addresses at the point of registration.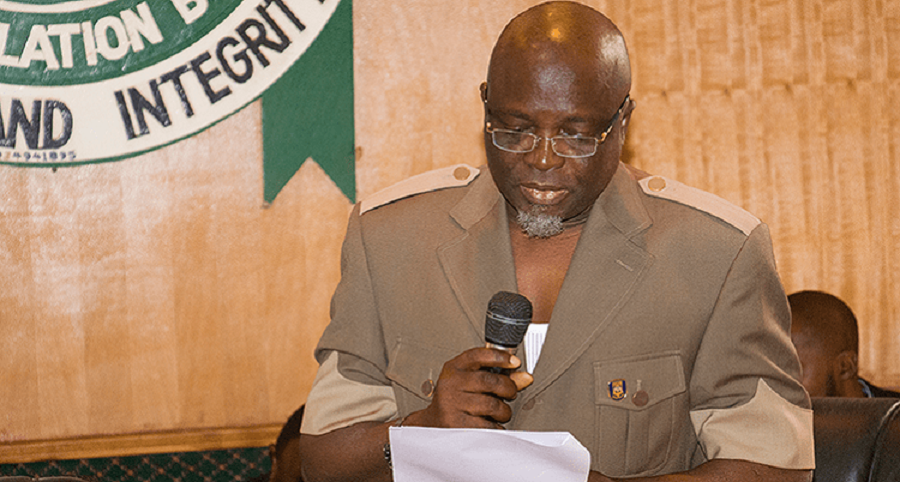 The Joint Admission and Matriculation Board (JAMB) has announced that candidates for the Unified Tertiary Matriculation Examination (UTME) and Direct Entry will no longer be required to provide their email addresses at the point of registration.
The new adjustment is to protect candidates from various forms of manipulation and distortion of their personal details by some fraudulent cyber café operators.
The Registrar of JAMB, Prof. Is-haq Oloyede, who made the disclosure while addressing newsmen at the board's headquarters on Wednesday in Bwari, Abuja, said the change, would take effect from Thursday, April 15, 2021.
What the JAMB Registrar is saying
Oloyede said, "They gain access to profiles of these candidates under the pretense of creating an email address for them. Then they change and block the candidates from receiving messages from the board. They also extort them after they change their passwords.
In view of this, the board has come up with adjustments to our operations. The first decision is that beginning from Thursday, April 15, candidates would no longer be required to provide any email address during registration from this year onwards.
It is by going to these cyber cafes to open emails that these candidates are open to abuse and stealing of their personal data,'' he said.
He said that the board now had a mobile app that would allow candidates to deal directly with the board with their smartphones or via SMS to '55019' code option.
The code option, he explained, would allow candidates to check admission status as well as all other verifications via SMS.
He said, "Printing of examination slips, results notification or raising tickets can be done anywhere by using candidates' registration number only. However, at the close of registration every year, we would need the email addresses of the candidates so we can have access to as many of them as possible.
At the conclusion of registration, candidates are expected to send their email addresses through the mobile app or text message to the 55019 code twice, for validation. This is to update their profile with JAMB as the email will no longer be used as access to their profile, but rather as a communication tool with candidates.''
While advising candidates to guard their phones with utmost care as it was the weapon for all transactions, Oloyede said that henceforth, all JAMB owned Computer-Based Tests (CBT) centres across the country, would only allow candidates with ATM cards into its centres.
He said that in order to cut down on the activities of fraudsters who hijack candidates to extort money from them, the centres would no longer allow candidates go outside the centres to pay for their e-pins and other cash transactions.
The JAMB Registrar said, "Only candidates with ATM cards will be allowed into all JAMB owned CBT centres, it can be that of their parents as long as they have the pin for the transaction.
"Those without ATM cards can go to other privately owned CBT centres where they can pay cash to register but we will not take cash or transact outside our centres.''
What you should know
Meanwhile, in a related development, JAMB had said that the board lost over N10 million in 2020 to activities of fraudsters who penetrated their payment portal for ad-hoc staff.
The JAMB Registrar said that the money, which was meant to pay JAMB ad-hoc staff from the 2020 Unified Tertiary Matriculation Examination (UTME), was hijacked by the suspected fraudsters.
JAMB had a few days ago confirmed the commencement of registration for the 2021 UTME/DE examinations after the initial hiccup.
It stated that applicants must provide NIN at the point of registration with the registration by Direct Entry candidates to run concurrently with that of UTME candidates.
Nairametrics | Company Earnings
Access our Live Feed portal for the latest company earnings as they drop.