Kobe Bryant: What Nigerian athletes, business owners must learn
Kobe Bryant is dead but there are lots of lessons Nigerian athletes and other business owners should learn from his life.
It is no longer news that the famous American Basketball player, Kobe Bryant is dead, but there are lots of lessons Nigerian athletes and other business owners should learn from the life of the great man popularly called 'Black Mamba.'
Aside from being a brand-builder, do you know he left a firm that worth more than $2 billion in assets, with investments in dozens of technology, media and data companies? This is a story that should attract his Nigerian counterparts, especially footballers that got broke shortly after a breakthrough.
Bryant and Gianna, his 13-year-old daughter, died on Sunday in a helicopter crash in Calabasas, California at the age of 41.
Life outside B'ball Court
Before leaving the court in 2013, the famous athlete diversified his career by breaking into the investing, when he co-founded venture capital firm, Bryant Stibel, along with Jeff Stibel, Founder, Web.com.
With the birth of the company, 'Black Mamba' followed the model of a select number of other sports legends like Earvin 'Magic' Johnson (1987) that invested in Starbucks and New York's LaGuardia airport. The legends have been able to transform skills developed on the court into business success.
[READ MORE: Helpful ways to get your business to run without you)
While some Nigerian athletes, who started earlier and probably richer than Bryant spend fortunes on clubbing, luxury vehicles, mansions or lifestyles they can't sustain during downtimes, Bryant's firm has more than $2 billion in assets, with investments in dozens of technology, media and data companies. Don't forget that he achieved all these before he clocked 41 years.
Today, Bryant Stibel claims at least 10 successful exits, including Dell and Alibaba. It also has investments in Fortnite creator Epic Games, digital payment company, Klarna, and household products firm, The Honest Company.
In an interview with CNBC in September 2019, he said, "You've got to have strong entrepreneurs, that's really the key for us is looking at the people. Yes, it's important to see those returns, right? But it's also important to have a great opportunity, great relationships with our investors, and great opportunities with our entrepreneurs to help them grow and put them in situations where they can be successful."
Also, Bryant made millions of dollars on his investment in sports drink Body Armor, which in 2018 boosted its valuation by selling a stake to Coca Cola. Bryant's reputation as a star athlete and brand builder has been one of the portfolio's keys to success.
Quotes of business owners, athletes about him before his demise
Skincare brand Art of Sport founders, Brian Lee and Matthias Metternich said, "When Kobe puts his stamp of approval on something and really gets behind you as a partner, the world of sports and everyone across the spectrum of the sports industry takes note and you're suddenly validated in a way that most startups just don't experience until much further on.
"I think Kobe's somebody who's been super fun to kind of pick his brain about some things," Olympic swimmer Michael Phelps told the Wall Street Journal in August. "We've had the privilege and the opportunity in our sports to be successful and reach the pinnacle and we know what it takes to get to that top level. So now, it's always the challenge for the athletes to find that drive outside of the sport."
In 2016, Bryant founded Granity Studios, a media company that focuses on creative storytelling around sports.
Through this company, the basketball star wrote and narrated a short film called "Dear Basketball," which won the Academy Award for best animated short film in 2018. Granity has also released a set of books for young adults, along with Bryant's autobiography, "The Mamba Mentality: How I Play."
Nike partnered with Bryant and the Los Angeles Boys and Girls Club to launch a youth basketball league, called the Mamba League, in 2017, to give hundreds of kids' free access to the sport. Bryant later created the Mamba Sports Academy to provide broader athletic and lifestyle training to competitors at all levels in a number of sports.
Bryant was on his way to a Mamba Sports Academy game on Sunday when the helicopter crashed.
"We are devastated by today's tragic news. We extend our deepest sympathies to those closest to Kobe, especially his family and friends," Nike said in a statement on Sunday. "He was one of the greatest athletes of his generation and has had an immeasurable impact on the world of sport and the community of basketball. He was a beloved member of the Nike family. We will miss him greatly. Mamba forever."
[READ ALSO: Why your savings are not growing)
Nike held a "Mamba Day" to honour the retirement of the celebrated but controversial athlete in 2016. Nike stuck with Bryant even after he was charged in late 2003 with the sexual assault of a 19-year-old woman. The case was dropped a year later after the woman declined to testify, and Bryant apologized for his behaviour though he always maintained the interaction was consensual and he had not broken the law.
Bryant has also been involved in the NBA's efforts to expand its audience beyond the United States, particularly in China. In 2015, he worked with Alibaba Group to release the basketball star's documentary "Kobe Bryant's Muse" through its Tmall Magic Box TV in China.
The deal also involved working with Bryant to create a new social media platform "bringing new avenues of connecting China's young people directly to Kobe and his philosophies," according to a press release from Alibaba announcing the partnership. Additionally, the company sells a number of Kobe-branded products on its retail platform.
Bryant also had endorsement deals with a number of other brands throughout his career, including McDonald's (MCD), Sprite, Nintendo (NTDOF) and Turkish Airline.
FG to distribute 10 million LPG gas cylinders in 1 year
The FG is set to inject up to 10 million gas cylinders into the market to help improve safety and deepen cooking gas utilization.
The Federal Government has announced plans to inject 5 to 10 million Liquefied Petroleum Gas (LPG) cylinders into the market in the next one year.
This is to help improve safety and deepen LPG (otherwise known as cooking gas) utilization across the country.
This disclosure was made by the Programme Manager, National LPG Expansion Implementation Plan, Mr Dayo Adeshina, at a sensitisation workshop on LPG Adoption and Implementation for Industry Stakeholders, on Wednesday in Lagos.
According to a report from the News Agency of Nigeria (NAN), Adeshina said the National LPG Expansion Implementation Plan, domiciled in the Office of the Vice President, was committed to achieving Nigeria's target of 5 million Metric Tonnes of LPG consumption annually by 2027.
What the Programme Manager for LPG Expansion Implementation Plan is saying
Adeshina said, "The Federal Government is working towards injecting five to 10 million cooking gas cylinders into the market within the next one year. We are starting the cylinder injection under the first phase in 11 pilot states and FCT, with two states from each of the geopolitical zones.
The states are Lagos, Ogun, Bauchi, Gombe, Katsina, Sokoto, Delta, Bayelsa, Ebonyi, Enugu, Niger and the Federal Capital Territory. The cylinders will be injected through the marketers. The marketers will be responsible for the cylinders and the exchange will take place in homes and not in filling stations.
What this means is that going forward, cylinders will not be owned by individuals but by the marketers who will ensure that they are safe for usage.''
Adeshina pointed out that apart from household consumption, the government was trying to increase LPG usage in agriculture, transportation and manufacturing adding that this will enable the country to reduce CO2 emission by about 20% and create millions of jobs for Nigerians.
He said that the government had also granted waivers on importation of LPG equipment and removed Value Added Tax (VAT) on LPG in addition to investment in infrastructure.
The President of the Nigerian Liquefied Petroleum Gas Association, Mr Nuhu Yakubu, said efforts should be made to ensure the availability, accessibility and affordability of cooking gas in the country adding that this would encourage more Nigerians to embrace gas usage in their homes with the attendant benefits to the country.
Mr Olalere Odusote, Lagos State Commissioner for Energy and Mineral Resources, said the population of Lagos makes it imperative for residents to adopt cleaner energy sources for cooking, transportation and power generation adding that the government was targeting the conversion of 45% of about 4 million vehicles in the state to autogas over a four-year period in partnership with marketers.
What you should know
It can be recalled that the Federal Government had in November 2020, announced plans for the conversion of cars to autogas in a bid to have cheaper and cleaner energy especially with the high cost of petrol.
The government at different levels are pursuing cleaner energy sources for cooking, transportation and power generation.
JAMB bans use of email by candidates for UTME, DE registration
JAMB has announced that candidates for the UTME and Direct Entry will no longer be required to provide their email addresses at the point of registration.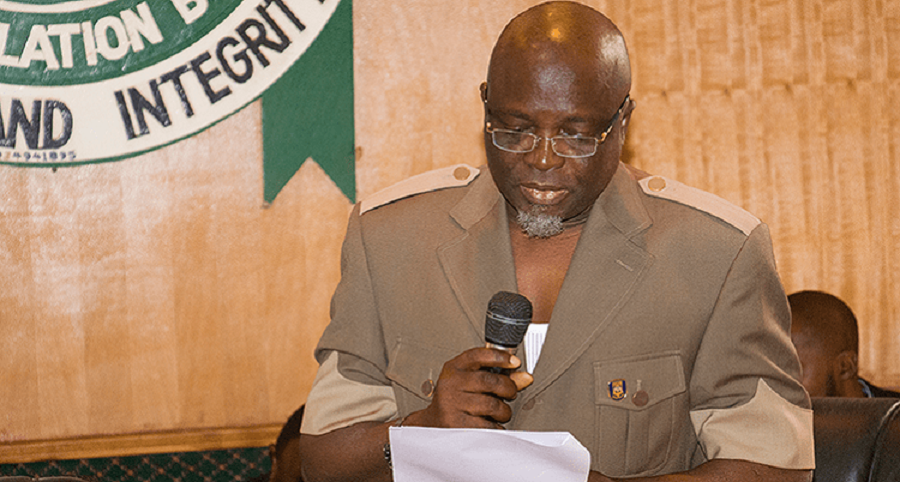 The Joint Admission and Matriculation Board (JAMB) has announced that candidates for the Unified Tertiary Matriculation Examination (UTME) and Direct Entry will no longer be required to provide their email addresses at the point of registration.
The new adjustment is to protect candidates from various forms of manipulation and distortion of their personal details by some fraudulent cyber café operators.
The Registrar of JAMB, Prof. Is-haq Oloyede, who made the disclosure while addressing newsmen at the board's headquarters on Wednesday in Bwari, Abuja, said the change, would take effect from Thursday, April 15, 2021.
What the JAMB Registrar is saying
Oloyede said, "They gain access to profiles of these candidates under the pretense of creating an email address for them. Then they change and block the candidates from receiving messages from the board. They also extort them after they change their passwords.
In view of this, the board has come up with adjustments to our operations. The first decision is that beginning from Thursday, April 15, candidates would no longer be required to provide any email address during registration from this year onwards.
It is by going to these cyber cafes to open emails that these candidates are open to abuse and stealing of their personal data,'' he said.
He said that the board now had a mobile app that would allow candidates to deal directly with the board with their smartphones or via SMS to '55019' code option.
The code option, he explained, would allow candidates to check admission status as well as all other verifications via SMS.
He said, "Printing of examination slips, results notification or raising tickets can be done anywhere by using candidates' registration number only. However, at the close of registration every year, we would need the email addresses of the candidates so we can have access to as many of them as possible.
At the conclusion of registration, candidates are expected to send their email addresses through the mobile app or text message to the 55019 code twice, for validation. This is to update their profile with JAMB as the email will no longer be used as access to their profile, but rather as a communication tool with candidates.''
While advising candidates to guard their phones with utmost care as it was the weapon for all transactions, Oloyede said that henceforth, all JAMB owned Computer-Based Tests (CBT) centres across the country, would only allow candidates with ATM cards into its centres.
He said that in order to cut down on the activities of fraudsters who hijack candidates to extort money from them, the centres would no longer allow candidates go outside the centres to pay for their e-pins and other cash transactions.
The JAMB Registrar said, "Only candidates with ATM cards will be allowed into all JAMB owned CBT centres, it can be that of their parents as long as they have the pin for the transaction.
"Those without ATM cards can go to other privately owned CBT centres where they can pay cash to register but we will not take cash or transact outside our centres.''
What you should know
Meanwhile, in a related development, JAMB had said that the board lost over N10 million in 2020 to activities of fraudsters who penetrated their payment portal for ad-hoc staff.
The JAMB Registrar said that the money, which was meant to pay JAMB ad-hoc staff from the 2020 Unified Tertiary Matriculation Examination (UTME), was hijacked by the suspected fraudsters.
JAMB had a few days ago confirmed the commencement of registration for the 2021 UTME/DE examinations after the initial hiccup.
It stated that applicants must provide NIN at the point of registration with the registration by Direct Entry candidates to run concurrently with that of UTME candidates.
Nairametrics | Company Earnings
Access our Live Feed portal for the latest company earnings as they drop.