Transactions worth N97.3 trillion done in 11months – NIBSS
Depositors across banks did transactions worth N97.32 trillion over the instant payment and point of sales (PoS) between in the last 11 months, data from the Nigerian Inter-Bank Settlement Scheme revealed. #NIBSS #CBN #PoS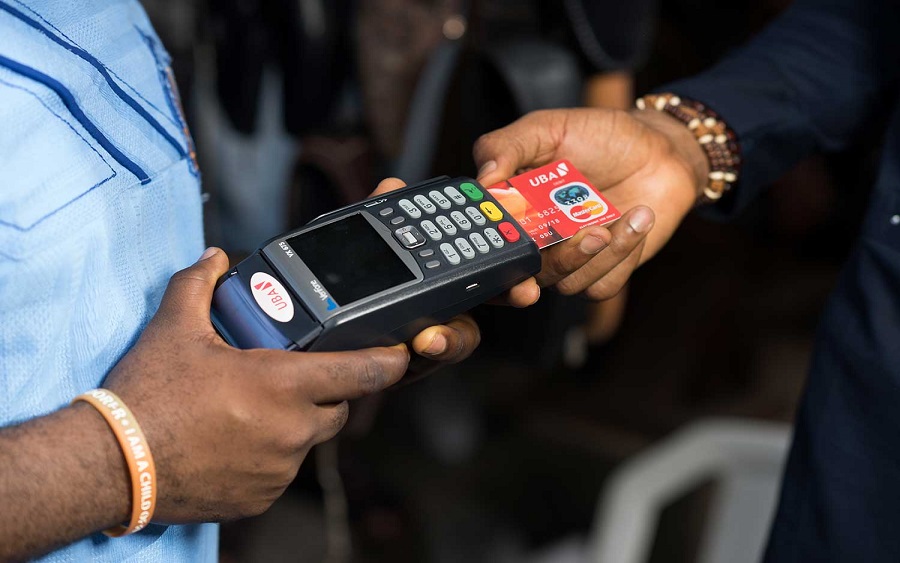 Depositors across banks did transactions worth N97.32 trillion over the instant payment and Point of Sales (PoS) in the last 11 months, data from the Nigerian Inter-Bank Settlement Scheme revealed.
The report disclosed that while a total of N94.49 trillion worth transaction were conducted via the instant payment platform, another N2.83 trillion were carried out by banks' depositors on the PoS platform within the same period under review.
The NIBSS data showed that a total of 1.019 billion instant payment deals were conducted on the platform from January to November this year.
The volume of NIP deals also increased by 58% in the 11-month period of 2019, compared with 645.52 million transactions recorded in the corresponding period in 2018.
Further analysis indicated that the NIP deals had a 31% improvement in terms of the value of transaction when compared to the same period in 2018 when the NIP deals amounted to N72.03trillion.
[READ MORE: FG stops N50 charge on POS transactions)
Checks showed that November had the highest instant payments in value and volume within the period under review.
The NIP volume hit 109.56 million in November this year, amounting to transactions valued at N9.622 trillion.
For the PoS payments, the NIBSS reported 392.48 volume of deals in the 11 months, amounting to 55% increase when compared with 253.96 million reported in the corresponding period of 2018.
The NIBSS data showed that the value of the PoS deals also increased by 38% from January to November, compared with the corresponding period in 2018 when payments were worth N2.05trillion.
Similar to the NIP transactions, November recorded the highest volume and value of the PoS deals out of the 11 months under review.
According to the NIBSS data, the PoS payments peaked at N303.83billion in November this year when it recorded a volume of 41.833 million.
Meanwhile, Nairametrics had reported that the Federal Government of Nigeria has stopped the additional N50 charge currently being imposed on transactions carried out through Point of Sales (POS) Terminal.
In a directive issued by the Federal Competition and Consumer Protection Commission (FCCPC) on Tuesday obtained by Nairametrics, the recent circular released on POS transactions' charges by the Central Bank is to be borne by businesses. As such, passing it on consumers is counterproductive, burdensome and inconsistent with the underlying cashless policy of the Central Bank of Nigeria.
According to the circular signed by its Chief Executive Officer, Babatunde Itukera, the FCCPC stated that the circular released on September 17th, 2019 by the CBN was not meant to pass N50 POS fees to consumers. As such, it is illegal and inappropriate for businesses to pass a stamp duty cost of doing their business to consumers.
[READ ALSO: GTB, UBA, Zenith, 7 other DMBs make N135.15 billion earnings from e-transactions)
The Circular partly reads thus: "In recent times, there has been insignificant contention with respect to merchant imposed N50 stamp duty assessments on consumers for transactions. This imposed fee is supposedly a pass-through for onward transmission as a government-mandated surcharge.
 "The FCCPC has robustly engaged the CBN on this issue, pursuant to 5.17 (b), (f), (g), (i) of the FCCPC Act, including meetings of the highest levels of leadership of both regulators. The FCCPC's strongly held position was that an assessment imposed on merchants necessarily is a component of doing business, and may only be directly passed on to consumers in limited circumstances."
COVID-19 Update in Nigeria
On the 22nd of October 2020, 138 new confirmed cases and 2 deaths were recorded in Nigeria
The spread of novel Corona Virus Disease (COVID-19) in Nigeria continues to record significant increases as the latest statistics provided by the Nigeria Centre for Disease Control reveal Nigeria now has 61,805 confirmed cases.
On the 22nd of October 2020, 138 new confirmed cases and 2 deaths were recorded in Nigeria, having carried out a total daily test of 4,648 samples across the country.
To date, 61,805 cases have been confirmed, 56,985 cases have been discharged and 1,127 deaths have been recorded in 36 states and the Federal Capital Territory. A total of 595,283 tests have been carried out as of October 22nd, 2020 compared to 590,635 tests a day earlier.
COVID-19 Case Updates- 22nd October 2020,
Total Number of Cases – 61,805
Total Number Discharged – 56,985
Total Deaths – 1,1127
Total Tests Carried out – 595,283
According to the NCDC, the 138 new cases were reported from 13 states – Katsina (44), Lagos (35), Kwara (15), Kaduna (13), Plateau (7), Imo (6), Adamawa (5) Rivers (4), Yobe (3), Ogun (2), Oyo (2), Osun (1), FCT (1).
Meanwhile, the latest numbers bring Lagos state total confirmed cases to 20,768, followed by Abuja (5,944), Plateau (3,594), Oyo (3,423), Rivers (2,746), Edo (2,648), Kaduna (2,585), Ogun (1,989), Delta (1,812), Kano (1,741), Ondo (1,659), Enugu (1,314),  Kwara (1,065), Ebonyi (1,049), Katsina (948), Osun (919), Abia (898), Gombe (883).  Borno (745), and Bauchi (710).
Imo State has recorded 613 cases, Benue (484), Nasarawa (478), Bayelsa (403),  Ekiti (329), Jigawa (325), Akwa Ibom (295), Anambra (277), Niger (274), Adamawa (257), Sokoto (162), Taraba (122), Kebbi (93), Cross River (87), Yobe (82), Zamfara (79), while Kogi state has recorded 5 cases only.
READ ALSO: COVID-19: Western diplomats warn of disease explosion, poor handling by government
Lock Down and Curfew
In a move to combat the spread of the pandemic disease, President Muhammadu Buhari directed the cessation of all movements in Lagos and the FCT for an initial period of 14 days, which took effect from 11 pm on Monday, 30th March 2020.
The movement restriction, which was extended by another two-weeks period, has been partially put on hold with some businesses commencing operations from May 4. On April 27th, 2020, Nigeria's President, Muhammadu Buhari declared an overnight curfew from 8 pm to 6 am across the country, as part of new measures to contain the spread of the COVID-19. This comes along with the phased and gradual easing of lockdown measures in FCT, Lagos, and Ogun States, which took effect from Saturday, 2nd May 2020, at 9 am.
On Monday, 29th June 2020 the federal government extended the second phase of the eased lockdown by 4 weeks and approved interstate movement outside curfew hours with effect from July 1, 2020. Also, on Monday 27th July 2020, the federal government extended the second phase of eased lockdown by an additional one week.
On Thursday, 6th August 2020 the federal government through the secretary to the Government of the Federation (SGF) and Chairman of the Presidential Task Force (PTF) on COVID-19 announced the extension of the second phase of eased lockdown by another four (4) weeks.
READ ALSO: Bill Gates says Trump's WHO funding suspension is dangerous
Breaking: Senatorial, State House of Assembly bye-elections postponed – INEC
Senatorial and State House of Assembly bye-elections slated to hold on October 31 in 11 states have been postponed by INEC.
The 6 Senatorial and 9 State House of Assembly bye-elections slated to hold on October 31 in 11 states of the Federation has been postponed by the Independent National Electoral Commission (INEC). The vacancies were as a result of death and resignation of previous members.
According to the statement issued by its National Commissioner & Chairman, Information and Voter Education, Festus Okoye Esq., INEC said the decision was taken after meeting with the 37 Resident Electoral Commissioners (RECs) on Thursday.
Breaking News: #INEC Postpones Bye Elections in 6 Senatorial Districts, 9 State Constituencies. pic.twitter.com/RWiUomBsC6

— INEC Nigeria (@inecnigeria) October 22, 2020
Though the commission did not categorically state the reason for the postponement, feelers are that it may not be unconnected with the raging #EndSARS protests across the nation.
Details shortly…
#EndSARS: President Buhari issues stern warning to hoodlums
The President has issued a warning to hoodlums who have hijacked the #EndSARS protest to promote unrest.
President Buhari, in his state of the Nation address to Nigerians this evening has warned hoodlums and the conflict entrepreneurs who have hijacked the #EndSARS protest to promote unrest.
The President explained that the choice to demonstrate peacefully is a fundamental right of citizens as enshrined in Section 40 of the Constitution and other enactments.
"I must warn those who have hijacked and misdirected the initial, genuine and well-intended protest of some of our youths in parts of the country, against the excesses of some members of the now-disbanded Special Anti-Robbery Squad (SARS)," he said.
President Muhammad Buhari frowned against the desperate and inhumane actions of mobsters, arsonists and hoodlums which has led to the loss of human lives, sexual violence, attacks on correctional facilities, as well as public and private properties which were completely destroyed or vandalized.
(READ MORE:#EndSARS: Police officers who participated in abuse of citizens must be fished out – Governors' Forum)
He explained that these bad actions will not be tolerated, as it is not in line with the legitimate expression of grievance of the youth of the country. He reiterated that the Government shall continue to ensure that liberty and freedom, as well as the fundamental rights of all citizens, are protected.
What you should know from the President's State of the Nation address
The President reiterated that the government has the obligation to protect lives and properties, and ensure that the citizens go about their daily businesses freely and protected from acts of violence.
However, he appealed to protesters to note and take advantage of the various well-thought-out initiatives of this administration designed to make their lives better and more meaningful, and resist the temptation of being used by some subversive elements to cause chaos with the aim of truncating our nascent democracy.
The President, however, warned the youth that doing otherwise will amount to undermining national security as well as law and order, which under no circumstances will be tolerated.
President Buhari thus called on the youths to discontinue the street protests and constructively engage the government in finding solutions, as their voices have been heard loud and clear.