Transactions worth N97.3 trillion done in 11months – NIBSS
Depositors across banks did transactions worth N97.32 trillion over the instant payment and point of sales (PoS) between in the last 11 months, data from the Nigerian Inter-Bank Settlement Scheme revealed. #NIBSS #CBN #PoS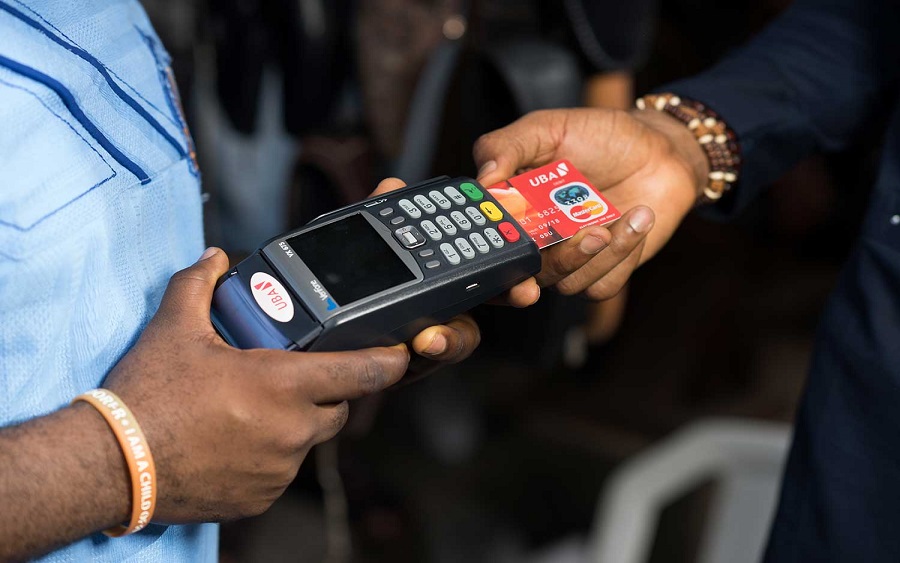 Depositors across banks did transactions worth N97.32 trillion over the instant payment and Point of Sales (PoS) in the last 11 months, data from the Nigerian Inter-Bank Settlement Scheme revealed.
The report disclosed that while a total of N94.49 trillion worth transaction were conducted via the instant payment platform, another N2.83 trillion were carried out by banks' depositors on the PoS platform within the same period under review.
The NIBSS data showed that a total of 1.019 billion instant payment deals were conducted on the platform from January to November this year.
The volume of NIP deals also increased by 58% in the 11-month period of 2019, compared with 645.52 million transactions recorded in the corresponding period in 2018.
Further analysis indicated that the NIP deals had a 31% improvement in terms of the value of transaction when compared to the same period in 2018 when the NIP deals amounted to N72.03trillion.
[READ MORE: FG stops N50 charge on POS transactions)
Checks showed that November had the highest instant payments in value and volume within the period under review.
The NIP volume hit 109.56 million in November this year, amounting to transactions valued at N9.622 trillion.
For the PoS payments, the NIBSS reported 392.48 volume of deals in the 11 months, amounting to 55% increase when compared with 253.96 million reported in the corresponding period of 2018.
The NIBSS data showed that the value of the PoS deals also increased by 38% from January to November, compared with the corresponding period in 2018 when payments were worth N2.05trillion.
Similar to the NIP transactions, November recorded the highest volume and value of the PoS deals out of the 11 months under review.
According to the NIBSS data, the PoS payments peaked at N303.83billion in November this year when it recorded a volume of 41.833 million.
Meanwhile, Nairametrics had reported that the Federal Government of Nigeria has stopped the additional N50 charge currently being imposed on transactions carried out through Point of Sales (POS) Terminal.
In a directive issued by the Federal Competition and Consumer Protection Commission (FCCPC) on Tuesday obtained by Nairametrics, the recent circular released on POS transactions' charges by the Central Bank is to be borne by businesses. As such, passing it on consumers is counterproductive, burdensome and inconsistent with the underlying cashless policy of the Central Bank of Nigeria.
According to the circular signed by its Chief Executive Officer, Babatunde Itukera, the FCCPC stated that the circular released on September 17th, 2019 by the CBN was not meant to pass N50 POS fees to consumers. As such, it is illegal and inappropriate for businesses to pass a stamp duty cost of doing their business to consumers.
[READ ALSO: GTB, UBA, Zenith, 7 other DMBs make N135.15 billion earnings from e-transactions)
The Circular partly reads thus: "In recent times, there has been insignificant contention with respect to merchant imposed N50 stamp duty assessments on consumers for transactions. This imposed fee is supposedly a pass-through for onward transmission as a government-mandated surcharge.
 "The FCCPC has robustly engaged the CBN on this issue, pursuant to 5.17 (b), (f), (g), (i) of the FCCPC Act, including meetings of the highest levels of leadership of both regulators. The FCCPC's strongly held position was that an assessment imposed on merchants necessarily is a component of doing business, and may only be directly passed on to consumers in limited circumstances."
Buhari reappoints Bala Usman as MD of NPA, reconstitutes the Board
President Buhari has approved the reappointment of Hadiza Bala Usman as the MD of the NPA for another term of 5 years.
President Muhammadu Buhari has approved the reappointment of Hadiza Bala Usman as the Managing Director of the Nigerian Ports Authority (NPA) for another term of 5 years.
This follows the expected expiration of the tenure of Usman, who was first appointed as the Managing Director on July 12, 2016.
This disclosure is contained in a series of tweet posts which was issued by the Presidency on its official Twitter handle on Thursday. January 21, 2021.
READ: COVID-19: NPA, NCDC disagree over new cases in Lagos
The Presidency in its statement also announced the approval of the reconstitution of the Non-Executive Board of the NPA, with Emmanuel Olajide Adesoye (representing South-West zone) as Chairman.
The statement from the Presidency partly reads, ''President Muhammadu Buhari has approved the re-appointment of Hadiza Bala Usman as Managing Director of Nigerian Ports Authority (NPA), for an additional five-year tenure.
''Also approved is the reconstitution of the Non-Executive Board of the NPA, with Emmanuel Adesoye (from South-west zone) as Chairman.''
READ: Nigerian Aviation: Exchange rate, 7.5% VAT suspension and other factors to determine survival – Experts
Other members of the reconstituted Board include Ekenyem Nwafor-Orizu (representing South-east zone), Akinwunmi Ricketts (representing South-south zone), Ghazali Mijinyawa (representing North-East zone), Mustapha Dutse (representing North-West zone), and Abdulwahab Adesina (representing North-Central zone).
READ: Haulage cost increases by more than 50% in a week as Apapa gridlock bites harder
What you should know
Hadiza Bala Usman was born on January 2, 1976, in Zaria, Kaduna State and has a B.Sc. Business Administration from Ahmadu Bello University (ABU), Zaria and a Post Graduate in Development Studies from University of Leeds, the UK in 2009.
She worked at the Bureau of Public Enterprises (BPE) from July 2000 to August 2004 as Enterprise Officer and hired by the UNDP for the Federal Capital Territory Administration (FCTA) from October 2004 to January 2008 as Special Assistant to the Minister on Project Implementation.
Ms Bala Usman worked, between 2011 and 2015) as Director of Strategy of the Good Governance Group, a non-governmental organisation founded by Kaduna State State Governor, Nasir El-Rufai, and his friends.
Ms Bala Usman, one of the founders and conveners of #BringBackOurGirls, a campaign group pushing for the rescue of the abducted Chibok schoolgirls, was also a member of the Presidential Advisory Council on Anti-Corruption.
Prior to her appointment as the Managing Director of Nigerian Ports Authority, she was the Chief of Staff to Governor Nasir  El-Rufai of Kaduna, apposition she was appointed to in 2015.
President @MBuhari has approved the re-appointment of Hadiza Bala Usman as Managing Director @nigerianports, for an additional 5-year tenure.

Also approved is reconstitution of the Non-Executive Board of the NPA, with Mr Emmanuel Olajide Adesoye (South-west zone) as Chairman.

— Presidency Nigeria (@NGRPresident) January 21, 2021
Covid-19: Africa records higher death rate than the global rate
Africa's coronavirus death rate is now higher than the global average according to Africa CDC.
Africa's coronavirus death rate has been reported to be higher than the global average as the continent struggle with a shortage of oxygen and other resources during this second wave of the coronavirus pandemic.
The continent's fatality rate currently stands at 2.5%, which is higher than the global rate of 2.2%, a departure from earlier in the pandemic, when the death rate in Africa was lower than that at the global level.
READ: African Union secures 270 million Covid-19 vaccine doses from drugmakers
According to a report from Reuters, this disclosure was made by the Director of Africa Centres for Disease Control and Prevention (CDC), John Nkengasong, on Thursday, January 21, 2021, during a press conference.
While describing the trend as alarming experts, the continent's CDC boss pointed out that earlier in the pandemic, Africa's death rate had been below the global average.
READ: FG alerts that Nigerian hospitals are running out of facilities as Covid-19 spreads fast
He said, "The case fatality rate is beginning to be very worrying and concerning for all of us.''
Nkengasong also said that 21 African countries are now recording Covid-19 death rate of above 3% as the number of countries in the continent with a higher fatality rate than the global average continues to grow.
Some of the countries include Egypt, the Democratic Republic of Congo, Liberia, Mali, Sudan and a host of others.
READ: Covid-19: WHO warns the world faces catastrophic moral failure due to vaccine nationalism
What you should know
Africa has so far recorded 3.3 million cases of the coronavirus infections with 82,000 fatalities as at Thursday.
These figures represent a small fraction of the global total, but cases have been reported to have increased by 14% each week in the last 1 month.
According to data from Africa CDC, over the past week, cases decreased by nearly 7% compared to the previous week while deaths increased by 10%.
The continent reported 207,000 new cases in the past week, with South Africa alone reporting 100,000 of those new cases.
Ex-Real Madrid Striker, David Barral becomes first-ever footballer to be bought with Bitcoin
Former Real Madrid Striker, David Barral has become the first-ever footballer to be bought with Bitcoin.
Former Real Madrid striker, David Barral, makes transfer history as he became the first-ever professional player to be bought solely with virtual currency, Bitcoin.
Spanish third division side, DUX Internacional de Madrid, simply known as Inter Madrid, has officially signed the 37-year-old after teaming up with their new sponsors, Criptan that deals in cryptocurrency, The SUN reports.
Inter Madrid who are part of DUX gaming, eSports club owned by footballers Borja Iglesias and Real Madrid star, Thibaut Courtois, is yet to disclose the total value of the deal.
READ: Football: AC Milan announces loss of €195million
The Segunda Division B club went to Twitter to welcome their new signing and thank their sponsor.
"David Barral new player of DUX Internacional de Madrid, welcome to the infinite club! He becomes the first signing in history in cryptocurrencies. Thanks to Criptan, our new sponsor, for making it possible," the club tweeted.
The 37-year-old, who made over 50 appearances playing in the Real Madrid reserve side, expressed his delight at his latest move. Barral has also played for Spanish La Liga clubs Sporting Gijon, Levante, and Racing Santander.
"Glad to join the project of @interdemadrid with eager ambition and responsibility to continue competing and achieve important challenges in my sports career," he wrote on his official Twitter handle.
READ: Real Madrid leapfrogs others to emerge the world's most valuable football club
What you should know
A similar deal was when a Harunustaspor, Turkish amateur side, paid 0.0524 Bitcoin (£385) plus 2,500 Turkish Lira in cash (£841) for Omer Faruk Kıroğlu in 2018.
Back in December, Carolina Panthers offensive tackle Russell Okung became the first high-profile athlete in the United States to be paid in bitcoin.
Similarly, the Mark Cuban-owned Dallas Mavericks became the second NBA franchise to accept Bitcoin as a means of payment for both game tickets and merchandise.