FG stops N50 charge on POS transactions
In a directive issued by the Federal Competition and Consumer Protection Commission (@FCCPCnigeria), passing N50 charge on consumers is counterproductive, burdensome and inconsistent with the underlying cashless policy of the CBN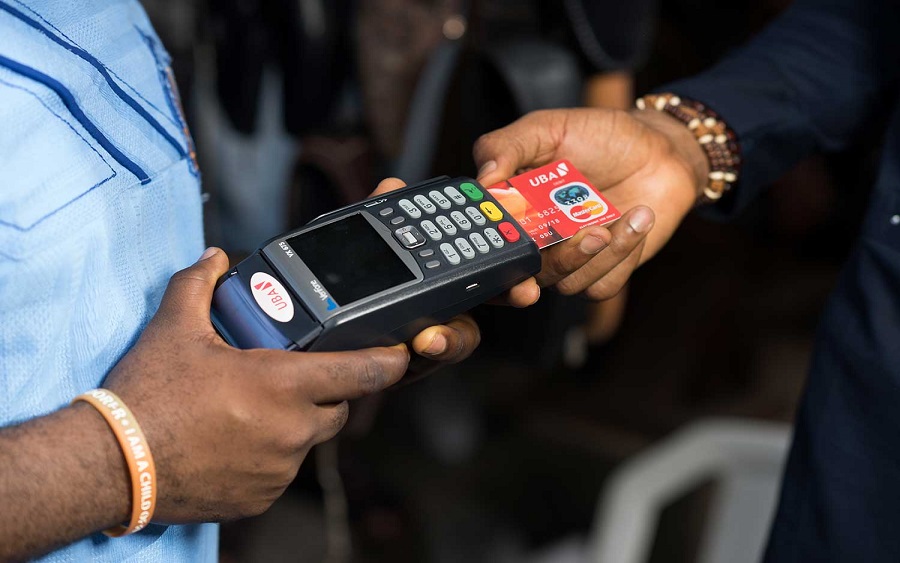 The Federal Government of Nigeria has stopped the additional N50 charge currently being imposed on transactions carried out through Point of Sales (POS) Terminal.
In a directive issued by the Federal Competition and Consumer Protection Commission (FCCPC) on Tuesday obtained by Nairametrics, the recent circular released on POS transactions' charges by the Central Bank is to be borne by businesses. As such, passing it on consumers is counterproductive, burdensome and inconsistent with the underlying cashless policy of the Central Bank of Nigeria.
According to the circular signed by its Chief Executive Officer, Babatunde Itukera, the FCCPC stated that the circular released on September 17th, 2019 by the CBN was not meant to pass N50 POS fees to consumers. As such, it is illegal and inappropriate for businesses to pass a stamp duty cost of doing their business to consumers.
[READ ALSO: FIRS and CBN plans to focus searchlight on VAT paid by foreign individuals/firms(Opens in a new browser tab)]
The Circular partly reads thus:
"In recent times, there has been insignificant contention with respect to merchant imposed N50 stamp duty assessments on consumers for transactions. This imposed fee is supposedly a pass-through for onward transmission as a government-mandated surcharge.
 "The FCCPC has robustly engaged the CBN on this issue, pursuant to 5.17 (b), (f), (g), (i) of the FCCPC Act, including meetings of the highest levels of leadership of both regulators. The FCCPC's strongly held position was that an assessment imposed on merchants necessarily is a component of doing business, and may only be directly passed on to consumers in limited circumstances.
 "For many reasons, including and particularly the CBN's effort to promote a cashless economy, the merchants' response of imposing this assessment on consumers was not only inconsistent with the underlying policy but also counterproductive and burdensome on consumers.
 "Businesses, by their nature, already capture the operating cost price of their goods and services. To impose an additional fee on consumers that is exclusive of price and discriminates based on the selected mode of payment essentially amounts to a penalty for the adopted mode of payment.
Effectively, and in furtherance of this clarification, merchants are now prohibited from penalising or otherwise assessing any duty, costs or assessment characterised as "stamp duty" on consumers who select point of sale options to conclude their purchases or transactions."
The Back Story: In an earlier article, Nairametrics reported that since the introduction of N50 stamp duty on individual transactions above N1000, there has reportedly been a reduction in the number of electronic payments transactions processed by agent banking service providers on a daily basis.
As a result, customers affected by this policy have resorted to withdrawing money through the Automated Teller Machine (ATM) and across-the-counter.
According to reports, major stores in the country have already introduced N50 stamp duty charges on payment using PoS terminals.
CBN's stance: Prior to the circular released by the Federal Competition and Consumer Protection Commission, the CBN has already called on merchants who operate POS machines for cashless transactions to stop the collection of N50 charges from their customers.
The CBN Director of Payment System Management, Musa Jimoh, made this known on Monday while speaking on Channels Television's Business Morning programme. According to Mr. Jimoh, the directive contained in the circular issued by Central Bank was misinterpreted by merchants, thus making customers pay an additional fee for goods and services.
He said: "Stamp duty has been misinterpreted. Our circular that talks about merchants paying stamp duties according to the law does not say that the stamp duty should be paid by the consumer; that is a misrepresentation of CBN directive. What our directive says is that merchants should pay all necessary tax as regulated by government agencies including stamp duty.
 "What we told the merchants is that we would like the banks to ensure that the merchants comply with this directive by ensuring that every single payment that customers make to them, the merchants pay the regulated stamp duty of N50.
"What has happened is that they have actually transferred this fee blatantly and openly to the consumers; this is very wrong. No single individual should pay N50 in addition to the cost of the goods."
Nobody should pay extra on goods and services, the CBN official added, noting that the N50 stamp duty is a fee regulated by an act that directs merchants to pay all necessary taxes as regulated by government agencies.
PayPal is buying a Crypto security startup for less than $200 million
PayPal is set to outrightly purchase a crypto-security firm, Curv as part of its campaign in building its crypto ecosystem.
PayPal is set to outrightly purchase a crypto-security firm Curv as part of its campaign in building its crypto ecosystem, the company disclosed today.
According to a report credited to CNBC, the deal is estimated to be worth less than $200 million, it's expected to close before June this year.
The company's stock price however recorded some selling pressures at the time of writing amid rising U.S Treasury yields and greenback keeping global investors on their toes.
READ: CBN and cryptocurrency ban
The crypto startup about to be acquired by PayPal provides companies with Crypto security technology via the cloud. PayPal revealed that the purchase would help its expansion on supporting crypto.
"The acquisition of Curv is part of our effort to invest in the talent and technology to realize our vision for a more inclusive financial system," PayPal's Jose Fernandez da Ponte said in a statement.
In a press statement seen by Nairametrics, Dan Schulman, president, and CEO, PayPal, gave key insights on why the global payment company was going crypto; The shift to digital forms of currencies is inevitable, bringing with it clear advantages in terms of; financial inclusion and access, efficiency, speed, the resilience of the payments system and the ability for governments to disburse funds to citizens quickly.
READ: U.S customers can now buy Cryptos with Paypal
"Our global reach, digital payments expertise, two-sided network, and rigorous security and compliance controls provide us with the opportunity, and the responsibility, to help facilitate the understanding, redemption, and inter-operability of these new instruments of exchange," he said.
Furthermore, he said, "We are eager to work with central banks and regulators around the world to offer our support and to meaningfully contribute to shaping the role that digital currencies will play in the future of global finance and commerce."
This offering was made possible through a partnership with Paxos Trust Company, a regulated provider of crypto services and products.
Transcorp Hotels launches Aura, an online marketplace for accommodation and experiences
Nigeria's largest hospitality brand launches a new platform for booking vacation homes, holiday lets, and experiences.
Africa's leading hospitality brand Transcorp Hotels Plc. has announced the launch of Aura, a new digital platform through which people can book accommodation, restaurants, and experiences.
The new brand, Transcorp's first in the alternative accommodation segment, is part of the company's asset-light model, leveraging technology to deliver true hospitality, exciting experiences, and drive shareholder value.
"It's a new dawn in the hospitality industry! I am thrilled to introduce you to Aura by Transcorp, the digital platform we are using to connect people to quality accommodation, great food, and awesome experiences," Managing Director and Chief Executive Officer of Transcorp Hotels Plc., Dupe Olusola said.
"For more than 30 years, Transcorp Hotels Plc has been at the forefront of creating a superior guest experience at our locations. Today, our commitment to innovation has offered us an opportunity to extend this beyond the hotel premises," Olusola added.
The launch of Aura by Transcorp is one of the most significant developments in the company's history as it seeks to transform the travel and tourism industry in Africa by focusing on three important components of travel, whether for leisure or business — where you stay, what you eat and how you spend your time. With its people-driven hospitality model, Aura is set to revolutionise travel and help remind Africans of our deep history of hospitality.
Speaking on the launch of Aura, Obong Idiong, Chief Executive Officer at Africa Prudential Plc, Aura's technology partners, expressed his excitement. "Finding the right accommodation when you travel can be incredibly complex. Options available for the right prices are often limited, and travellers sometimes end up with accommodation that taints the travel experience. Transcorp Hotels Plc has been able to fix that with Aura and we are proud to be associated with them."
"To ensure topnotch user experience, we built a solution to drive digital transformation through the adoption of shared living spaces for the Aura business. With an advanced search algorithm powered by artificial intelligence, Aura determines the relevance of locations taking into consideration, the customers' preferences and requirements to meet them at the point of their needs," Idiong added.
Priscilla Adeboye, a travel enthusiast and early adopter of Aura, said the global pandemic has pushed international travel down her list. "But I still want to be able to take some time off work or spend a weekend away from home with the family. I have found incredible homes on Aura that meet my need for space and privacy."
Working with thousands of partners across Nigeria and different cities in Africa, Transcorp Hotels Plc. is building the continent's largest platform for people-driven hospitality. While travellers enjoy the right selections at the best prices on Aura, hosts can also earn a lot of money by receiving guests in their unoccupied homes and sharing the local culture with them.
For travellers who would rather stay in hotels, Aura also has a great selection of some of the best hotels in every city.
With the launch of Aura, Transcorp Hotels Plc. has further cemented its leadership in the hospitality industry and reinforced its commitment to innovation and superior guest experience across different demographics.
Guests and hosts can sign up at aura.transcorphotels.com to start booking or hosting. The service is currently available in Nigeria only, but the company said plans are already in place to expand to major cities in Africa.
Transcorp Hotels Plc is one of Africa's leading hospitality companies, committed to redefining service standards across the continent while remaining truly and authentically African.
Aura by Transcorp
Aura is Africa's best platform for connecting travellers with great accommodation, good food, and memorable experiences. The platform is also an avenue for people with unoccupied homes, hotels, restaurants, or different skill sets that may interest others can earn an income by becoming hosts.
Nairametrics | Company Earnings
Access our Live Feed portal for the latest company earnings as they drop.