Nigerian billionaires and what happened to them in 2019
For Nigeria's wealthiest individuals, the twelve months of 2019 have been quite eventful. Some of these billionaires made more money this year.
As you already know, a lot can happen in one year. For Nigeria's wealthiest individuals, the twelve months of 2019 have been quite eventful. Some of these billionaires certainly made more money this year, even as a few of them divested some parts (if not all) of their business empires. Others started new businesses, travelled the world, and enjoyed their wealth.
As 2019 gradually comes to an end, Nairametrics has decided to look back at some of the major events that happened in the lives of these billionaires. What have they been up to and what are their plans for 2020? Now, let's start with the major ones.
Femi Otedola charmed 2019
Talks about Femi Otedola's proposed divestment from Forte Oil Plc became public knowledge in as early as December 2018. However, the deal did not get finalised until around June 2019. This was three months after the Q1 deadline that was initially planned. It was one of the biggest deals in corporate Nigeria this year, and it saw the billionaire and former Chairman of the downstream oil and gas company selling his entire majority shareholding to Prudent Energy Limited.
Walking away with his billions, Femi Otedola later announced via Instagram that he was shifting focus to his power generation company, Geregu Power Plc. He currently serves as the company's Chairman of Board.
Besides his business moves, Otedola was also very active on the social scene. Now mind you, we are not just talking about him attending high-class events with his classy wife or even being invited to Buckingham Palace a number of times this year; no. We are talking about him being very active on social media. That's right, we might as well call him the Instagram Billionaire of 2019! Indeed, the man lived life in 2019. And what else can we say if not that he deserved every bit of it.
But then again, Femi Otedola did more than just wear designer clothes and flaunt his wealth on social media. On many occasions, he demonstrated his altruism by offering scholarships and taking care of the medical bills of two Nigerian famous actors. He even gave out $25,000 to the Super Eagles of Nigeria as part of a promise he made to encourage them to perform at the 2019 African Cup of Nations.
Femi Otedola certainly did have very defined moments in 2019. It is expected that 2020 will be as interesting. Hopefully, his book, which he hinted was in the works, will finally be ready next year.
Pascal Dozie retired
There are some billionaires that all we ever hear about them doing is working and making money. Pascal Dozie is one of such billionaires. The man did everything from starting and building Diamond Bank Plc to serving as MTN Nigeria's Chairman for nearly two decades. So, when it was announced in July this year that he was retiring, everyone knew that he deserved the rest.
The 80-year old is probably the most prominent business executive that retired in 2019. However, despite his retirement, we bet his money is still streaming in, thanks to his billions and many investments, including shareholdings in MTN Nigeria.
Allen Onyema's rise and fall?
[READ MORE: World billionaires' wealth drop by $388 billion in 2018)
Earlier in September when the CEO of Nigeria's Air Peace, Allen Onyema, volunteered to bear the cost of repatriating hundreds of Nigerians who were stranded in South Africa following a wave of xenophobic attacks, millions of Nigerians were really impressed. They even declared him as a national hero, which in fact he was. The altruistic move even turned out to be very beneficial to the airline in terms of publicity, thereby positioning the company for even greater exploits in the Nigerian aviation sector.
Fast-forward to November, the story changed for the billionaire when the US Government surprisingly accused him of fraud. Many Nigerians were just as shocked to hear the news as they were surprised by his generosity earlier in September. He has since maintained his innocence, despite the allegations. And as it seems, a lot of the Nigerian public is in support of him.
In the meantime, it is unclear whether the accusations against him hold any merit. The case is still pending and until there is a definitive court ruling, we really cannot be vocal with our commentary. One thing that is however clear is that the indictment was a major blow to Mr Allen's almost perfect businessman's image. Hopefully, he will be able to clear his name soon.
Austin Avuru prepares for departure
The Co-founder and CEO of Seplat Petroleum Development Company Plc, Austin Avuru, oversaw the completion of one of the biggest corporate deals in Nigeria this year. We are talking about Seplat's acquisition of Eland Oil and Gas. The deal, which was valued at $484 million, will probably be the last deal the billionaire will broker for the indigenous oil major. This is because it was announced earlier this year that he will be retiring from the company by mid-2020.
Recall that in December 2018, the billionaire disclosed that he would be retiring from the company after his 62nd birthday. He is currently 61 years old and will be 62 sometime next year. By the time he steps down in July next year, he would have served as the company's CEO for ten years.
Luckily for him, he is certainly going to have an amazing retirement. This is because first of all, he is a billionaire. Moreover, he has enough investments to last a lifetime.
Tony Elumelu got decorated by a VC
As one of Nigeria's most prominent billionaire businessmen, it is not surprising that Tony Elumelu dominated the business narrative throughout much of 2019. However, the most memorable moment happened in June this year when he was awarded an honorary doctorate degree by the Bayero University, Kano.
As Nairametrics reported, the well-deserved honour was in recognition of the billionaire's many contributions to the country's economy, as well as his many philanthropic gestures which are all aimed at eradicating poverty in Nigeria and beyond. Recall that earlier in the year, the billionaire organised the annual Tony Elumelu Entrepreneurship Programme which saw hundreds of entrepreneurs receive seed funding for their businesses.
Much like Femi Otedola, Tony Elumelu was equally very active on social media. As a matter of fact, he is also a good contender for the Instagram Billionaire title. His corporate fashion sense was top-notch throughout the year. We bet he inspired a whole lot of young men (and women) to become just like him when they grow up.
Folorunsho Alakija maintained her money
The 68-year old Nigerian businesswoman retained her position as one of the only three black female billionaires in the whole world. According to Forbes Magazine, Alakija's net worth as at January 2019 is $1.1 billion. Chances are that this net worth increased in the course of the year due to her many business ventures, including a majority stake in  Fanfa Oil Ltd and DaySpring Property Development Company.
Mike Adenuga remained wealthy and private
The prominent businessman, who founded Globacom and currently sits on the board of ConOil Plc as Chairman, was ranked the second richest person in Africa by Forbes. According to the ranking, the billionaire's net worth stood at $9.2 billion as at January this year, after jumping by nearly $4 billion up from $5.3 billion in the course of 2018. However, nothing much was heard about Mr Adenuga's private life, no thanks to his extremely reclusive nature.
Jim Ovia was also mostly private until September…
The Chairman of Zenith Bank Plc was quietly making his money throughout much of 2019. And then in September 2019, he was almost immersed in controversy when he briefly attended the World Economic Forum Africa 2019 in Cape Town. His brief appearance was met with criticisms by Nigerians, many of whom were still enraged over the xenophobic attacks on foreign nationals by South African.
Meanwhile, upon realising the sensitive nature of the matter, the billionaire quickly withdrew from the event and returned to Lagos. He also issued a statement explaining his reason for withdrawal, whilst expressing support to those who were affected by the attacks.
[READ ALSO: 5 habits of Nigeria's business billionaires you should emulate)
Aliko Dangote dominated the year
It would be impossible to conclude this article without mentioning Africa's richest man and what happened to him during the course of the year. As expected, a lot was reported of him, most of which had to do with money moves. For one, he continued with the construction of Dangote Refinery, importing and installing some of the biggest refinery equipment in the world, including the largest single crude distillation column which was installed earlier this December. The refinery project has gulped a lot of billions and is expected to be ready soon.
In the meantime, Aliko Dangote equally sold off a major part of the Dangote Group – Dangote Flour Mills Plc. As Nairametrics reported, Dangote Flour was sold to Olam in a deal valued at billions of naira.
But beyond his business moves, Dangote was very active on the Nigerian social scene. Along with his friend Femi Otedola, Dangote ensured to have fun and not take everything seriously. Whether he was dancing Teni's mega-hit song "Case" or he was enjoying some gelato with a group of friends, he did ensure to enjoy 2019.
Many Billionaires became richer by 27% during the COVID-19 pandemic – Swiss Bank UBS
The world's richest saw their wealth climb 27.5% to $10.2trn (£7.9trn) from April to July this year.
Many billionaires have seen their fortunes hit record highs during the pandemic, with top executives from technology and industry earning the most.
According to reports from Swiss bank UBS, the world's richest saw their wealth climb 27.5% to $10.2trn (£7.9trn) from April to July this year.
This is up from the previous peak of $8.9trn at the end of 2017, and largely due to rising global share prices.
READ: Only 9% of Nigerian households obtained loans from banks and microfinance institutions since March – NBS
It also said the number of billionaires had hit a new high of 2,189, up from 2,158 in 2017. It comes as the recent World Bank report showed that acute poverty is set to rise this year for the first time in more than two decades due to the pandemic.
Among the billionaires, the biggest winners this year have been industrialists, whose wealth rose by a staggering 44% in the three months leading to July.
According to Swiss Bank UBS, "Industrials benefited disproportionately as market price increased in a significant economic recovery [after lockdowns around the world]."
READ: NNPC releases audited financial statements, refineries record losses of N154 billion
Other lucky beneficiaries of the pandemic are the Tech billionaires, as their wealth soared by 41%, largely due to the corona-induced demand for their goods and services and social distancing, which accelerated and created the impetus for digital businesses; thereby, compressing several years' of evolution into a few months.
Healthcare billionaires also benefited as the crisis put drug makers and medical device companies in the spotlight.
READ: Wealth of world's billionaires hits $10.2 trillion
Amazon boss Jeff Bezos and Tesla founder Elon Musk – both multi-billionaires – saw their wealth hit new highs this summer, thanks to growth in the price of their companies' stock.
According to UBS, in the last 11 years, China's billionaires have increased their wealth by the biggest percentage, climbing 1,146% between 2009 and 2020.
READ: Senate investigates Nigerian banks over ATM, SMS, and maintenance charges
By comparison, over the same period, the wealth of British billionaires has risen by just 168%. But the biggest accumulation of wealth remains in the US, where American billionaires have $3.5trn, compared to China's $1.7trn.
The UK's wealthy billionaires have just $205bn, compared to Germany's $595bn and France's $443bn.
 READ: Bitcoin Mining just got harder, as mining difficulty reaches an all-time high
Donations
According to UBS, many billionaires benevolently donated some of their wealth to help with the fight against COVID-19,
"Our research has identified 209 billionaires who have publicly committed a total equivalent to $7.2bn from March to June 2020.
"They have reacted quickly, in a way that's akin to disaster relief, providing unrestricted grants to allow grantees to decide how best to use funds."
READ: Buhari earmarks N420 billion for N-Power, GEEP and others under NSIP in 2021 budget
The UBS report also revealed that the UK billionaires donated less than those from other countries.
In the US, 98 billionaires donated $4.5bn; in China, 12 billionaires gave $679m; and in Australia, just 2 billionaires donated $324m. But in the UK, 9 billionaires donated just $298m.
Wealth of world's billionaires hits $10.2 trillion
The total billionaire wealth globally has climbed by 27.5%, reaching $10.2 trillion, up from $8.0 trillion at the beginning of April.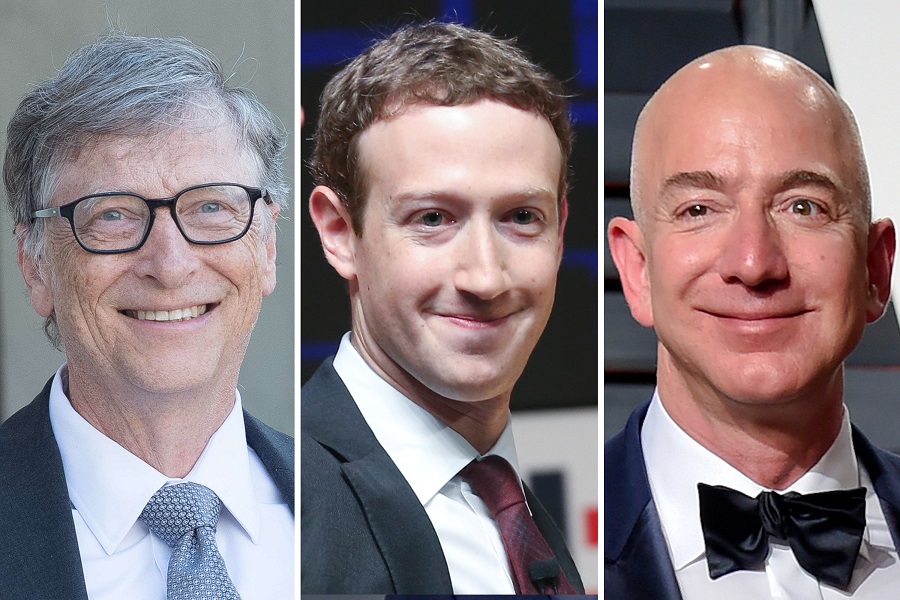 As market turbulence continues to propel the wealthiest amongst us; the world's billionaires have seen their wealth surge to a peak of $10.2 trillion in July, a 14.61% increase from the $8.9 trillion at the end of 2017. 
This was uncovered in the 2020 Billionaires report tagged the "Riding Storm" which was published today, by the Swiss bank UBS and the accounting firm PwC. 
The report found out that the COVID-19 pandemic turbocharged the global economy's transition to digital, and this has benefited today's billionaires, as the pipeline of fresh technologies grows by the day. 
READ: Elon Musk now the third-richest person in the world
The COVID-19 crisis indeed has been the real border between the old and the new economy, as it has spurred increased opportunities for the innovators and the disruptors who dominate the Technology, Health, Industrials, and Entertainment & Media.
However, the net wealth of traditional billionaires in the intermediate industries and sectors, such as entertainment, financial services, materials, and real estate sectors lagged the rest of the universe. While the wealth of those in older industries suffers. 
READ: World billionaires' wealth drop by $388 billion in 2018
With the number of billionaires declining by 43 to 2,058, the total billionaire wealth globally has climbed by 27.5%, reaching $10.2 trillion, up from $8.0 trillion at the beginning of April, and higher than the previous peak of $8.9 trillion at the end of 2017. The number of billionaires has increased from 2,158 in 2017 to 2,189. 
During 2018, 2019, and the first seven months of 2020, the Billionaire class as a whole saw their wealth increase by 19.1%. This clearly signals the polarization taking place, and the rising wealth divergence between billionaires across industries. 
READ: MTN Nigeria records gain, investors profit up by N42 billion
Technology billionaires' total wealth rose by 42.5% to $1.8 trillion, supported by the surge in tech shares. The net worth among those in entertainment, materials, real estate, and finance, lagged the rest of the universe with increases of 10% or less. 
However, healthcare billionaires' total wealth increased by 50.3% to $658.6 billion, boosted by a new age of drug discovery and innovations in diagnostics and medical technology, as well as COVID-19 treatments and equipment. 
READ: 5 habits of Nigeria's business billionaires you should emulate
Geographically, Mainland China benefited most, as billionaire wealth grew fastest in Asia. As of early April 2020, there were 389 Chinese billionaires, worth a total of $1.2 trillion. Their wealth had grown by almost nine times, compared with twice in the US.
The report also revealed that US billionaires collectively controlled $3.6 trillion of the $10.2 trillion global wealth. Billionaires in Mainland China accounted for $1.7 trillion, while Germany and Russia accounted for $594.9 billion and $467.6 billion of the total billionaire wealth respectively. 
The report also spiked concerns on the issues of the growing wealth gap and rising inequality in the world, as the majority at the end of the scale has seen their wealth decline owing to the disruption by the global pandemic. The research arm of the United Nations has warned that global poverty could increase this year for the first time since 1990, reversing a decade of progress. 
However, it was suggested in the report that higher productivity is needed to address the huge public financial deficits while taking care to reduce social inequality and to tackle the environmental resource scarcity by doing more with less.
Elon Musk now the third-richest person in the world
Musk has seen a meteoric rise in his wealth, with his net worth growing by $87.8 billion this year.
The recent surge in many leading U.S technology stocks have unsurprisingly created wealth for their founders, investors and stock traders.
What we know: Elon Musk just surpassed the co-founder of Facebook, Mark Zuckerberg to become the third richest person in the world. Shares of Tesla Inc. continued its unrelenting surge after the recent stock split of Tesla stocks. Musk is now estimated to be worth about $115.4 billion, according to the Bloomberg Billionaires Index.
Musk is the present chief executive officer of Tesla, a maker of electric vehicles.
The Palo Alto, California-based company sells sedans, sport utility vehicles, and is the state's largest automotive employer. He's also CEO of Space Exploration Technologies, a rocket manufacturer tapped by NASA to resupply the space station.
Musk, 49, has seen a meteoric rise in his wealth, with his net worth growing by $87.8 billion this year as Tesla shares surged almost 500%.
Also helpful: an audacious pay package – the largest corporate pay deal ever struck between a chief executive officer and a board of directors – that could yield him more than $50 billion if all goals are met.
On Monday, Nairametrics reported how Tesla's share price rose to almost $500 following a 5-for-1 split. Nearly 70 million shares had changed hands as at then, two-thirds of the daily average over the past year.
Tesla's $464 billion market value now exceeds that of retail behemoth Walmart Inc., the largest company in the U.S. by revenue.
Recall Nairametrics, about two weeks ago highlighted major reasons why Nairametrics believed the stock was a strong buy and could surpass the present most valuable listed technology company.
Tesla was founded in 2003 by a group of engineers who wanted to prove that people didn't need to compromise to drive electric – that electric vehicles can be better, quicker, and more fun to drive than gasoline cars.
Today, Tesla builds not only all-electric vehicles but also infinitely scalable clean energy generation and storage products. Tesla believes the faster the world stops relying on fossil fuels and moves towards a zero-emission future, the better.