Reactions trail Akin Alabi's criticism of Nigerians abroad investing in the country 
Akin Alabi queried the decision of Nigerians in the diaspora to come to Nigeria to invest, then complain when their businesses fail. 
Nigerians are divided over a statement made by the founder of NairaBet, Akin Alabi, which queried Nigerians in diaspora for leaving the 'countries that work' only to come to Nigeria to invest, then complain when their businesses fail.
Alabi, who is also a member of the House of Representatives, said he struggled to understand the motivation that would spur the Nigerians in Diaspora to establish a company in Nigeria. He questioned why they didn't stay back to set up their businesses in a foreign country instead of investing in Nigeria where the system is not as dependable as the foreign countries.
The ease of doing business in Nigeria has been heavily criticised. Apart from government regulations and policies that are viewed as harsh, the country lacks infrastructure and stable power supply. These negative factors affect the operating costs of companies and individuals who spend about $12 billion yearly to fuel generators. Also, in Nigeria, 80% of small and medium businesses fail in their first five years.
So, knowing how hostile the business environment is in Nigeria, someone like Akin Alabi cannot but ponder on the factor that drives Nigerians in Diaspora to make such business decision.
I'm struggling to understand. You live in a country that works. You made money and came to Nigeria to do business. It failed. You complain and go back to the country that works. Why don't you just do business in that country that works? Why Nigeria? Don't tell me patriotism.

— Oloye Akin Alabi (@akinalabi) December 1, 2019
Akin Alabi's statement was trailed by various reactions from Nigerians. While his statement drew backlash from some Nigerians, others explained the motivating factors, narrowing it down to patriotism and better value.
Backlash from some Nigerians 
Alabi was condemned by some Nigerians for making such a statement. They said as a lawmaker, he was supposed to be apologetic that Nigeria does not have a conducive environment for businesses to thrive, not to be questioning the motive behind the decision of Nigerians abroad to invest in the country.
This tweet of yours just showed how inept and myopic this present government and it's representative's reason(you inclusive).
The old politician's lack foresight in creating an enabling environment for biz, but D younger generation's has surpassed their cluelessness. So shameful.

— Jamoojuk🚨 (@Jamesst_patrik) December 3, 2019
@akinalabi I understand you trying to advice people right on a business part.But as an elected office holder such statement about your country not working is not suppose to be a statement from you. no one loses political seats based in statement over there.

— Belamour Affairs (@shermy02894617) December 2, 2019
Coming from a legislator is even more worrisome. If everyone abandons the country to do business in countries with working system, how will this failed state fare? The reason why you guys are there is to fix the system and attract investment.

— Uburu Salt🍚🍚 (@Hiykes77) December 2, 2019
Someone risk everything he made in another country under adverse conditions and decided to come bk home to help under hellish business conditions that will take Satan to survive but you have the nerves to blame him?U shld be sorry for unconducive business conditions in Nigeria.

— TonyCommonManVoice (@TonyIshola) December 3, 2019
When some people succeed in Nigeria, they refuse to see why others fail. Why are only a few succeeding? Shouldn't it bother the govt of the day?
Maybe that's why we have hospitals n schs, yet our leaders treat themselves n their children sch in UK.

— Ima (@Sallyodibo) December 3, 2019
https://twitter.com/vickdinho/status/1201419685075603456
[READ ALSO: Nigerians react as some Chicken Republic outlets go 'out of stock for chicken']
Some Nigerians explained that patriotism and opportunity drove them to invest in their country rather than invest in the 'countries that work'.
Opportunity i think, china wasn't a good nation but for the patriotism of it's citizen who had gained knowledge outside their shores who came home and replicated what they had seen and learnt, today it hosts the 2nd largest billionaires in the world all from patriotism

— Nigeria history ☝️🙌🙌 (@juatob) December 2, 2019
The patriotism comes by default you can't take it out. Brands abroad are already established and enjoy 50yrs+ loyalty. You really need a Big Bang to break in. The real question should be why do businesses fail? Because it's not to the detriment of that entrepreneur

— MoonLight (@Ozi_udu) December 3, 2019
For Joseph, it is cheaper workforce and poor regulation in Nigeria that made Nigerians in the diaspora invest in the country.
Reason why one will want to do business in nigeria over the countries that works well are
1. Cheaper workforce due to the high rate of unemployment in nigeria
2. Regulatory bodies in terms of production of food/pharmaceutical products ain't as tough as the ones in other countri

— Joseph (@Jokyolams) December 2, 2019
Meanwhile, Adebanji Ademola said the longing for home is the motivating factor.
[READ MORE: Nigerians react to Social Media Bill, mock lawmakers over similarity with Singapore]
No matter how successful you are outside the shores of this country. Everybody yearns for home at some point and so the attempt at setting up a business may be in a bid to have something to keep him at home.

— AdeBanji Ademola (@cool_demmy) December 2, 2019
This here baffles me sir. Its a different thing if it was compulsory to leave that country. Why would anyone leave a system that works and provides basic needs to return to a system where you do almost everything yourself and start a business in a harsh businesses environment!

— Justin Ugo Amuzie (@jayamuzie) December 1, 2019
Guinea Insurance Plc gives optimistic Q3 earnings forecast in spite of COVID-19
Note that some companies have had to revise their earnings estimates due to pandemic.
Guinea Insurance Plc is being very optimistic, having projected a 78.6% rise in gross premium written to N1.8 in Q3 2020, up from N1 billion during the comparable period in 2019. The insurer also forecasted a profit after tax of N185.8 million for the period, indicating an expected better performance compared to N735 million loss recorded in Q3 2019.
The earnings forecast, which was sent to the Nigerian Stock Exchange earlier today, also estimated that reinsurance expense for Q3 will be at N337.5 million. Claims expenses, underwriting expenses, and other operating experiences were equally put at N331.3 million, N292.6 million, and N692.2 million, respectively.
Note that this forecast is coming amid the negative economic impacts wrought by the Coronavirus pandemic. But while a growing list of companies (including Guinness Nigeria Plc) has downgraded their 2020 earnings and profitability forecasts, Guinea Insurance is expecting growth and that is good.
In Q1 2020, Guinea Insurance Plc reported gross premium written OF N207 million and a profit after tax of N12.6 million. The company's consolidated half-year 2020 financial has not been released and is expected sometime between this month and next month.
The company's share price ended today's trading on the Nigerian Stock Exchange at N0.20. Year to date, this stock has not recorded any price movement.
CBN unification of exchange rate a welcome development – MAN
Ahmed urged the CBN to tackle activities that made speculators manipulate the multiple exchange rates.
The President of the Manufacturers Association of Nigeria (MAN), Mr Mansur Ahmed, announced on Friday that the recent CBN unification of Nigeria's exchange rate is a welcome development that will boost investor confidence in Nigeria.
He said the exchange rate unification will enable stable planned production for manufacturers in Nigeria leading to economic growth, adding that the Manufacturers Association had urged for an exchange rate unification to enable a market-friendly business environment in Nigeria.
"Clearly, this is a welcome development and a laudable initiative that has come at the right time."
"This is more so, particularly, now that the economic outlook is gloomy in light of the impact of the ravaging COVID-19 pandemic that has culminated in uninspiring macroeconomic situations," he said.
He revealed that the World Bank had attributed Nigeria's falling Foreign Direct Investment (FDI) to the multiple exchange rates as investors felt a "manipulation of the foreign exchange market."
"The unification will also boost investors' confidence, control rising inflation, and promote transparency, entrench better exchange rate management and eradicate distortions to the barest minimum," he added.
READ MORE: After hitting a 3-year low during the week, Naira stabilizes as traders wonder what next)
He urged the CBN to tackle activities that made speculators manipulate the multiple exchange rates like "round-tripping" which he says expand the inflows of foreign investment into the economy.
He called on the Central Bank to implement 2 strategies to ensure a smooth transition into a unified exchange rate system.
"The first is to limit the short-term pains until efficiency gains materialize by responding swiftly with an inward-oriented rescue guideline while the second should seek to boost the pace at which such efficiency gains materialize," he said.
He advised, it's necessary the CBN "submit all the instruments of exchange rate determination" towards a free-market approach.
Buhari appoints new Ag. Chairman of EFCC, gives reason for Magu's suspension
The statement revealed why Ibrahim Magu, was suspended by the President.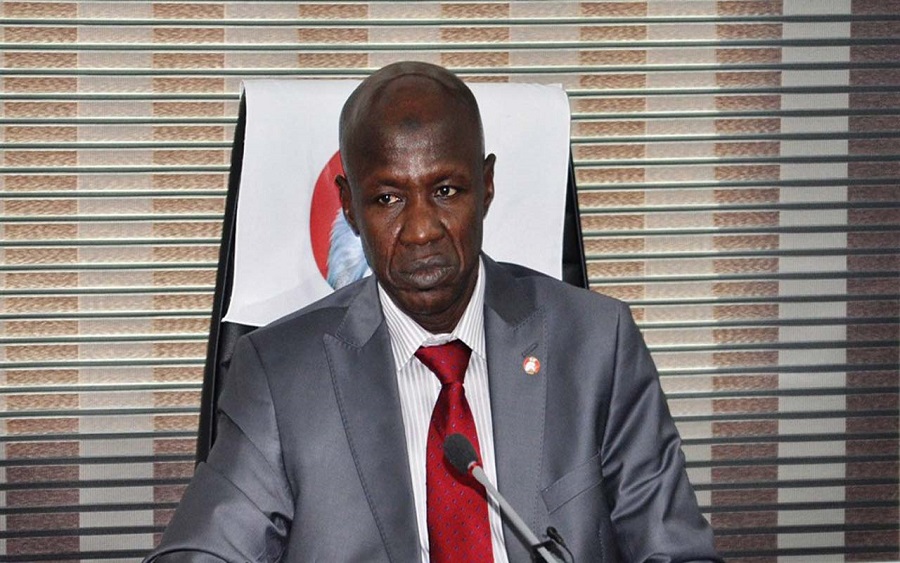 President Muhammadu Buhari has approved the appointment of Mohammed Umar as the new acting Chairman of the Economic and Financial Crime Commission (EFCC).
Umar who is EFCC's Director of Operations was asked to take charge and oversee the operations and activities of the anti-corruption agency pending the conclusion of the ongoing investigation on the allegations against Ibrahim Magu and further directives in that regards.
This was disclosed by the Special Assistant Media and Public Relations to the Attorney General of the Federation and Minister for Justice, Dr Umar Gwandu, in a press statement on Friday, July 10, 2020, in Abuja.
The statement revealed that the former acting Chairman for EFCC, Ibrahim Magu, was suspended by the President in order to allow for an unhindered probe by the Presidential Investigation Panel which is headed by Rtd Justice Ayo Salami under the Tribunal of Inquiry Act and other relevant laws.
The presidential panel was set up to investigate various cases of official misconduct and financial irregularities against Ibrahim Magu, who has been in detention since Monday, July 6, following his invitation for questioning by the panel.
The allegations were made by the Attorney General and Minister for Justice, Abubakar Malami, who demanded for his removal as the acting Chairman of the EFFC in a memo to President Muhammadu Buhari.