DEAL: Visa to acquire 20% stake in Interswitch, valuing it at $1 billion 
Visa is thought to be paying $200 million, valuing Interswitch at about N1 trillion. Helios bought 52 percent of Interswitch for $96 million in Dec. 2010. 
Visa is set to acquire a 20% stake in Interswitch, a deal which will see Interswitch become Africa's latest technology 'unicorn'. Visa is thought to be paying $200 million, valuing Interswitch at about $1 billion (N360 billion). Helios bought 52 percent of Interswitch for $96 million in Dec. 2010. 
Interswitch reportedly generates annual revenue of N30 billion, suggesting that the current value is about 10x its current revenues. Interswitch is also now valued higher than FBNH (N208 billion), UBA (N225 billion) and Access Bank (N327 billion). Zenith Bank still owns a 5% stake in Interswitch and is currently valued at N538.4 billion. 
According to Skynews, Visa and Interswitch are in advanced talks about a transaction that could be announced this week.
Interswitch reported a profit after tax of N5.3 billion in 2018 and has an impressive EBITDA margin of 43%.
The deal: According to the report, the move by Visa to acquire a 20% stake is targeted at becoming a cornerstone investor in Interswitch ahead of the company's prospective initial public offering (IPO) in London next year.  
Recall, 

in an earlier article published on 

Nairametrics

, it was reported that 

Interswitch 

has revived

 its plans for 

an initial public offering,

 via a dual listing on the Nigerian Stock Exchange and London Stock Exchange

. 

 
According to the report

,

 

Interswitch has hired financial advisers, JPMorgan Chase & Co, and Standard Bank Group

,

 as firms working on the potential initial public offering.

 

Firms typically hire financial advisers when they decide to list on the stock market to help with valuation, marketing of the offer, compliance with listing rules

,

 and other regulatory filings.

 
A competitive move: While Visa's move to acquire a 20% stake in Interswitch is largely connected to the planned IPO, this is also a move by the company to make a strong statement against its closest rival, MasterCard.  
Earlier in the year, 

MasterCard

 had invested 

$300m in Dubai-based Network International ahead of its stock market debut in London.

 

Network International, is the largest payment processor

 in Africa and the Middle East. 

 

The rush to build stakes in African businesses by Visa and 

MasterCard

 is being driven by a desire to take advantage of established platforms in markets that are both fast-growing and under-penetrated.

 

Interswitch is considered Nigeria's first unicorn in the 

Fintech

 space and has dominated Nigeria's payment channels gateway for over a decade.

 

 

It

 is 

also 

one of the largest Africa-focused electronic payments and infrastructure companies, with point-of-sale terminals, online consumer payment platforms and its own card, Verve.

 

Hence, 

Interswitch's

 move to cede

 a

 20% stake to Visa is a huge competitive move to increase its market penetration. 

 
 [READ: Interswitch reignites plans to launch IPO in 2019] 
Verve, a Nigerian Pan-African financial technology and payment card brand owned by Interswitch Group, is the biggest domestic debit card scheme in Africa, with more than 19 million cards active on its network. Hence, an investment by Visa will facilitate the formation of a strategic partnership to target the fast-growing African digital payment market. 
Recently, more Fintech firms like Flutterwave and Paystack have been playing increasing roles in facilitating online payments in Nigeria. The 20% stake acquisition by Visa also implies that Interswitch is going all out to increase its dominance within Nigeria's Fintech space. 
Interswitch is about 70 percent-held by London-based private equity group Helios Investment Partners LLP, South Africa's Adlevo Capital Managers LLC and the International Finance Corp., a unit of the World Bank.
---
Correction: An earlier version of this article erroneously valued Interswitch at N1 trillion instead of $ 1billion. The error has now been corrected.
FG to seek international cooperation to curb illicit financial flows
FG hopes to strengthen international cooperation in curtailing the menace of illicit financial flows.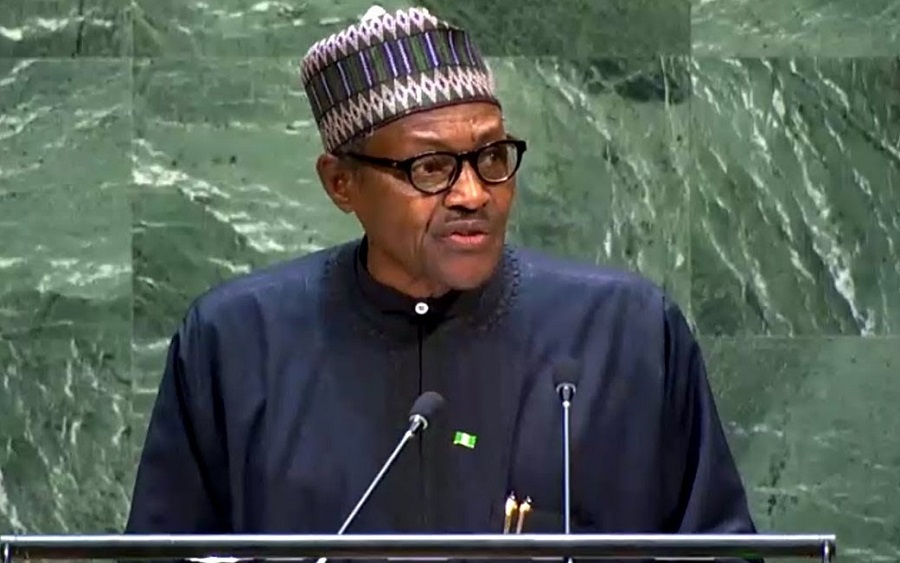 The Federal Government has said that there is a compelling need to strengthen international cooperation in the global effort to curtail the menace of illicit financial flows, as current international mechanisms are not strong enough.
This was disclosed by President Muhammadu Buhari in a speech delivered on his behalf by Vice President Yemi Osinbajo on Thursday at the Financial Accountability, Transparency and Integrity (FACTI) Panel Video Conference.
Osinbajo's spokesman, Laolu Akande, in a statement in Abuja, explained that the event was held at the sidelines of the ongoing United Nations General Assembly (UNGA).
The session also featured presentations by the immediate past President of the United Nations General Assembly, Prof. Tijjani Muhammad-Bande, and Amb. Mona Jul of the Economic and Social Council (ECOSOC).
He said, "The current international mechanisms for asset recovery are not good enough as can be seen in the amount lost to illicit financial flows and the length of time taken before the repatriation of just a small fraction is made.
"The FACTI Panel report can play an important role in bridging the expectations of source and destination countries as well as in harmonising the process of assets recovery and return.
"We agree with the Panel on the importance of having a balanced approach that reflects the situation in different regions and the priorities of different stakeholders.
"I believe that for the global aspiration to recover better from the impact of the pandemics and to yield any inclusive result, we must comprehensively address existing structures that make it impossible for countries to generate and retain a sizeable chunk of their resources.
"The success of the FACTI panel's final report will be measured by the clarity of its recommendations in support of global governance reforms."
According to the President, evidence suggested that the contemporary international tax system used a taxing rights regime that was not fit for purpose.
He added that the system makes combating tax abuses, especially by multinational corporations, difficult for most developing countries.
"It is my hope that the final report of the FACTI Panel would introduce proposals that would lead us towards a fairer international tax regime.
"I also hope that the report would contain proposals that would address the continuing advocacy for country-by-country reporting, open disclosure and automatic exchange of information on beneficial ownership, as well as eliminate financial secrecy jurisdictions and tax havens that facilitate base erosion and profit shifting.
"Profit shifting, harmful tax competition–the so-called "race to the bottom–and the taxation of the digital economy should also receive adequate attention and focus in the report of the Panel.
"FACTI Panel's report should assess how effectively we are meeting our commitments to combating the scourge and strengthening cooperation in dispute settlement and peer learning, particularly in assets recovery and return," he said.
Other leaders who spoke at the forum included the Prime Minister of Norway, Erna Solberg, the Prime Minister of Pakistan, Imran Niazi and Former President of Lithuania, and FACTI Panel Co-Chair, Dalia Grybauskaite.
Ibrahim Mayaki, former Prime Minister of Niger and FACTI Panel Co-Chair, also spoke at the event.
N4.16 billion unpaid lottery revenue recovered by EFCC
The EFCC has made a recovery of the sum of N4.16 billion for the government from lottery companies.
The Economic and Financial Crimes Commission (EFCC) has announced that it recovered over N4.16 billion for the government from lottery companies which they had refused to remit.
This was disclosed by the Acting Chairman. Mohammed Umar Abbah on Thursday evening, at the EFCC Headquarters during a meeting with Williams Alo of the Ministerial Task Force for recovery of unpaid revenues from lottery businesses.
The EFCC acting chairman said that the lottery companies were not forthcoming with remitting the revenue which had forced the anti-graft agency to intervene.
"We mapped out strategies which resulted in the recovery of over N1.16 billion from lottery companies, operating in Abuja with over N3 billion from their counterparts, operating in Lagos State," he said.
He added that the EFCC would continue with its cooperation with the Federal Government to ensure lottery companies owing the Federal Government are made to cough out revenues they owe the government, which has already been handed over to the lottery trust fund.
"Let me acknowledge the efforts of this Commission for the assistance it has rendered not only to the Federal Government of Nigeria but specifically to the lottery industry in Nigeria. It is in our record that the EFCC has assisted the lottery business in no small way, because a lot of recoveries have been made for us by the EFCC and the money recovered has always been handed over to the lottery trust fund," Mr. Alo said.
Presidency denies building rail line from Nigeria to Niger Republic
The Federal Government has denied plans to construct a rail line stretching from the country into the Niger Republic.
The Presidency has disclosed that the Federal Government is not constructing a rail line from Nigeria linking Kano-Dutse-Maradi into the Niger Republic, as it will only stop at the designated border point.
This follows the public outcry that greeted the Federal Government's announcement of the rail project.
The disclosure was made by the Senior Special Assistant to the President on Media and Publicity, Garba Shehu, through a thread of tweets on his official Twitter handle on Thursday, September 24, 2020.
Nigeria isn't building rail line into Niger but, only to the designated Border point.

— Garba Shehu (@GarShehu) September 24, 2020
He revealed that, based on the agreement reached between Nigeria and Niger in 2015 for the Kano-Katsina-Maradi corridor masterplan, the 2 countries agreed to build a rail line to the border town of Maradi.
In his statement, Garba Shehu said, "Nigeria isn't building rail line into Niger, but only to the designated Border point. An agreement between Nigeria and Niger in 2015, coordinated by the Nigeria-Niger Joint Commission for Cooperation has a plan for 'Kano-Katsina-Maradi Corridor Master Plan, (K2M)' as it is called.
"Going by this, the two nations would each build a rail track to meet at the border town of Maradi. Nigerian delegates to that meeting comprised officials from the Ministry of Foreign Affairs, National Boundaries Commission, Federal Ministry of Industry, Trade & Investment, Ministry of Agriculture and Rural Development, Water Resources as well as those of Kano & Katsina states."
Going further he said, "The objective of the rail is the harnessing of raw materials, mineral resources, and agricultural produce. When completed, it will serve domestic industries, and play the role of a viable transportation backbone to the West African subregion, starting with the neighboring Niger Republic, for their export and import logistic chain."
Nairametrics had earlier reported that the Minister for Transportation, Rotimi Amaechi, after the Federal Executive Council (FEC) meeting presided over by President Muhammadu Buhari, announced the approval of the total sum of about $1.9 billion, for the rail line contract and development of Kano-Katsina-Jibia that will terminate at Maradi rail line in the Niger Republic.
According to a media aide to the president, Ajuri Ngelale, the rail line is expected to connect the 3 states of Kano, Katsina, and Jigawa. It moves from Kano to Dambata, Kazaure, Daura, Mashi, Katsina, and terminating in Maradi, Niger Republic.