Outrage as Nigerians react to new CBN deposit and withdrawal charges
More reactions have continued to trail the Central Bank of Nigeria's partial implementation of deposit and withdrawal charges for individuals and companies in Nigeria. #CashlessPolicy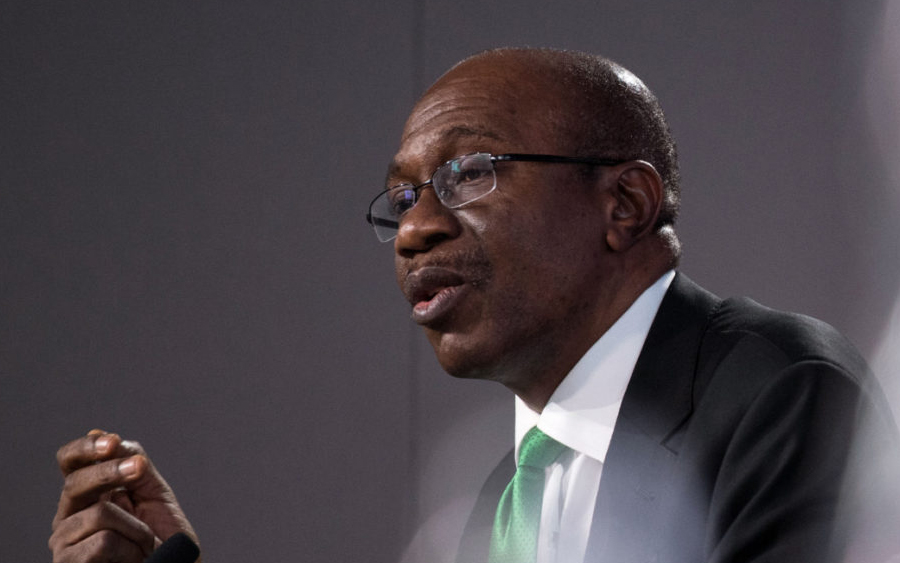 More reactions have continued to trail the Central Bank of Nigeria's partial implementation of deposit and withdrawal charges for individuals and companies in Nigeria. This is part of the apex bank's cashless policy which is supposedly aimed at protecting bank customers.
However, based on the complaints so far, it is obvious that many Nigerians would prefer to carry their money about in Ghana-must-go bags. As far as Nigerians are concerned, it is wrong for the CBN to introduce extra charges for withdrawals and deposit of cash, all for the purpose of implementing a cashless policy.
The reactions: Obviously angered by the development, Angela Tosin implied that those behind the policy and its implementation are all mad. She then further implied that despite their many educational qualifications, they cannot even make policies that protects the interest of Nigerians.
https://twitter.com/Angela_tosin/status/1174618748541689856
Much like Angela, Marvin Umebiye said the CBN's cashless policy is stupid and a demonstration of "clueless leadership". He even went as far as to allege that the President Buhari-led government wants Nigerians to remain impoverished.
#CashlessPolicy #nextlevel stupidity #cluelessleadership so now this government wants not to deposit cash above 500k, also not to spend on a pos machine above 1k, they want you all to poor and die in poverty. I hope the buhari supporters are enjoying the next level

— Marvin (@marvinumebiye) September 19, 2019
Peter Egwuatu said the policy is "stupid" and "nonsensical" and that God will punish everyone that is behind it. Obviously, this is hurting him on a whole different level!
Foolish policy! Nonsense! May God frustrate you people.

— peter egwuatu (@peteregwuatu) September 18, 2019
[READ: Buhari's CBN policies may drag the Nigerian economy into crisis – Fitch]
Stephen Jones said the CBN is going about its cashless policy drive the wrong way. According to him, cashless policies are best implemented through the introduction and use of innovative and easier alternatives for transactions; not by "charging people under the guise of cashless policy".
P.S: charging people under the guise of #cashlesspolicy is not a great move. You get to a place of cashless society through innovation and creating easier alternatives e.g wireless POS payment, Phone pay, USSD etc. Spread the adoption of these, teach traders on it (use corpers)

— Stephen Jones (@sokleva2) September 19, 2019
Immar also agreed that the policy is very insensitive. For him, Nigerians are already struggling to survive in a really difficult economy and the implementation of the cashless policy will only make things even harder. Instead of the cashless policy, Immar suggested that the CBN should focus on improving the electronic structure that is already in place.
Ah ahhh! After all the charges you still charge us to for deposits and withdrawal again? What sort of exploitation is this??? #cashlesspolicy #NextLevel pic.twitter.com/GajOoHnhzS

— immar__ (@Emmi_Don) September 19, 2019
This is very insensitive. Is having to trudge through a terrible economy not enough?The CBN should work on improving the present electronic transaction structure before deciding to charge 10k for every 500k. What nonsense!!!! #cashlesspolicy #NextLevel

— immar__ (@Emmi_Don) September 19, 2019
Meanwhile, Ebbe Farara pointed out that the Central Bank of Nigeria's cashless policy could force people to resort back to the olden days of keeping their money in saving boxes instead of in savings accounts. This situation would be counter-productive to the apex bank's financial inclusion drive, just as PwC's Taiwo Oyedele noted yesterday.
500k minus 25k is too much for us.
CBN should pity for us,so we don't go back to our olden days of saving box. Have just got my own #CashlessPolicy pic.twitter.com/ajSrmUL5G6

— The duke of farafara (@ebbe_farafara) September 19, 2019
[READ: PwC's Taiwo Oyedele critiques CBN's newly-implemented cashless policy]
Enyinnaya is not happy that the leaders who are expected to implement policies that will make life easier for Nigerians are the same people complicating things. He even called out Nigeria's President, reminding him that this is not the positive change he promised the people during his electioneering campaigns.
Welcome to Nigeria where the leaders expected to eradicate poverty are the ones making life difficult for the masses..😰
–
Just negodu crime and violence escalating beyond control.
–
Mr President @MBuhari this is the #positivechange you promised Nigerians right?#CashlessPolicy pic.twitter.com/ZLDUWnoMMq

— Enyinnaya (@xtraordinaire73) September 19, 2019
Martins Sorinola came up with a possible alternative. According to him, the CBN should introduce a 10% to 15% VAT on transactions carried out by Nigerian senators. This is in view of the fact that their transactions are always in large amounts of money.
CBN should rather impose an increased VAT (say 10% – 15%) on our Senators Transactions who earn large sum of money on monthly basis who don't even care about costs of anything instead of on the Masses who are barely making ends meet.

— Martins Sorinola (@SorinolaMar) September 19, 2019
Shaba Baba Muhammad simply said the charges are becoming too much. Banks now impose charges on their customers for practically everything. It is no longer fun.
You deposit,they charge you. You withdraw,they charge you. You transfer they charge you. You withdraw your transfer,they charge U.

Weldone CBN

— General Shaba Baba Muhammad🔥 (@spychief) September 18, 2019
Note that this morning, the Central Bank of Nigeria's Director of Corporate Communications, Charles Okorafor, went on Channels TV to educate Nigerians more on the cashless policy. He basically stated that the policy is aimed at protecting Nigerians and their money.
The Wisdom Behind Jaiz Bank
Not only have these business magnates from the northern part of the country created something of an oligarchy, they also obtained the backing of Saudi Arabia's Islamic Development Bank.
The idea of taking out loans without interest rates as the future of banking might still sound as foreign as flying cars to many, but it is already in motion. Currently, there are over 300 Islamic banks in over 51 countries, including the United States. In Nigeria, Jaiz bank stands at the forefront of this revolution. The bank was created out of the former Jaiz International Plc which was set up in 2003/2004 as a Special Purpose Vehicle (SPV) to establish Nigeria's first full-fledged Non-Interest Bank.  
Jaiz and its unconventional Banking methods 
With Islamic banking, there are two main peculiarities and none of them confer a bias on only members of the religion. The first is the sharing of profit and loss, and the other is the prohibition of the collection of interest as stipulated in Islamic law – otherwise regarded as "riba." Both concepts feed off each other in that to augment the lack of interest gains, equity participation is employed. In other words, the borrowing business will pay back the loan without interest and also give the bank a share of its profits.  
Jaiz bank is the first non-interest (Islamic) bank operating in Nigeria. Being that Islamic banking is grounded in Sharia or Islamic principles and morals, Jaiz bank does not support businesses that could impact the society negatively. So even as it finances business, and shares their risks and profits accordingly, it does not partner with businesses involved in betting, alcohol, and so on. Needless to say, their methods have served them well. From being founded in 2003, to 2011 when it received a license from the CBN to operate as a regional bank, to its official commencement as Jaiz Bank Plc in 2012, the institution has expanded its services exponentially. Today, the company is owned by over 26,000 shareholders who are spread over Nigeria's six geopolitical zones and its balance sheet has grown from N12 billion in 2012 to about N62 billion, with asset financing of over N30 billion. The bank operates 27 branches and has a full service range of offerings. 
The force behind  
Behind the bank's recorded success is a strong shareholder base, spread across one foreign shareholder, 108 Institutional, 220 Corporate, 26,157 Individuals, 156 Joint, 6 States and 106 Local Government shareholders. However, seven major shareholders control a total of about 65% of the total share capital of the bank. They include: Dantata Aminu Alhassan having 5.24%, Altani Investment Limited with 7.47%, Dangote Industries Ltd wit 8.48%, Islamic Development Bank (IDB) with 8.50%, Indimi Muhammad with 9.28%, Dantata Inv't & Sec. Ltd with 12.49%, and, former minister, Mutallab Umaru Abdul with the highest stake of 13.50%.  
Not only have these business magnates from the northern part of the country created something of an oligarchy, they also obtained the backing of Saudi Arabia's Islamic Development Bank. Whether or not the oligopoly poses a threat to the corporate governance and decision-making power of the rest of the bank's shareholders is a question that can only be answered based on the happenings that arise.  The Managing Director of the bank, Hassan Usman, had however noted that "fundamental to the vision and mission of Jaiz Bank is to create wealth for MSMEs." He also assured all that the bank is set to ensure maximum benefits is attained by all stakeholders. 
Performance and Investment Outlook 
The company has done well in building up funding to keep its operations afloat especially given its style of banking. Just last year, it had secured a N3 billion financing facility from the Bank of Industry (BOI) to boost and develop their operations and give zero-interest loans to Micro, Small and Medium Enterprises (MSMEs) within the country. The company's performance has also been noteworthy. In 2019, the company declared a profit after tax of N1.79 billion which was a 114% growth as compared to the N834.36 million recorded at the end of 2018. The company is on a growth trajectory; currently, with its low share price of N0.66 on a 52 week average of 0.34 and 0.82, it is a convenient buy. With a price-to-earnings ratio of 9.27, it shows good signs of growth. Its model might just be the thing to spur economic growth as its result-based gains will not just increase the income of the bank but also aid the growth of small businesses within the nation. 
FG seizes Dan Etete's luxury private jet linked to Malabu oil deal
Dan Etete is alleged to have paid a total of $57 million for the jet in 2011, which was part of the spending spree that the former petroleum minister was alleged to have embarked on after allegedly receiving $336 million from the OPL 245 deal. 
The Federal Government has tracked down and grounded a luxury private jet which is owned by the country's former Petroleum Minister, Dan Etete, over his alleged involvement in the $1.1 billion Malabu oil scam. The luxury private jet was alleged to have been purchased with proceeds from that oil deal. 
This seizure was confirmed to Finance Uncovered by the legal counsel to Nigeria, Babatunde Olabode Johnson, who was appointed by the Nigerian government in 2016 to recover assets from the OPL 245 deal. 
Johnson said that the order was served on the jet's owner, a company called Tibit Ltd, which has until Tuesday next week (June 9) to file court papers opposing the seizure. Tibit is an anonymously owned company incorporated in the British Virgin Island. 
The asset recovery lawyers acting on behalf of the Nigerian government swooped last week, after the Bombardier 6000 jet, tail number M-MYNA, touched down at Montreal Trudeau International Airport in Canada on Friday May 29. 
A Quebec judge is understood to have granted a seizure order for the aircraft in the early hours of Saturday morning. 
Giuseppina Russa, who was named on the Montreal court order, is Tibit's sole director according to records of the British Virgin Island firm. 
Dan Etete is alleged to have paid a total of $57 million for the jet in 2011, which was part of the spending spree that the former petroleum minister was alleged to have embarked on after allegedly receiving $336 million from the OPL 245 deal. 
Etete, during his days as the petroleum minister, awarded the prospecting rights to the huge OPL 245 block to Malabu Oil and Gas, a company he secretly controlled. After the death of the then head of state, Sani Abacha, he retained the rights to the oil block as a private citizen until he offloaded them to oil giants, Shell and Eni in 2011, who both paid $1.3 billion to the Nigerian government. 
The entire OPL 245 deal is now subject to a corruption trial in an Italian court, where Etete is an accused, together with alleged middlemen and some top executives from Shell and Eni. All parties in the Milan trial have denied the charges against them. 
The Nigerian government has also charged Etete and several others linked to Malabu with money laundering in connection with the onward flow of funds from the OPL 245 deal. However, they have denied any wrongdoing, dismissing the allegations as political propaganda. 
It was uncovered that Johnson had made a deal with an American litigation funder, Drumcliffe Partners, to help fund the recovery of OPL 245 assets. They are to receive 5% of any funds successfully recovered and returned to Nigeria.   
Ecobank Transnational to hold AGM by proxies on June 30th
Due to the ravaging Coronavirus pandemic, ETI said the AGM will be held by proxies.
Ecobank Transnational Incorporated (ETI) has announced the date and venue of its 32nd Annual General Meeting (AGM). According to a disclosure that was sent to the Nigerian Stock Exchange, the company's AGM and an Extraordinary Meeting are scheduled to hold on June 30th, 2020, at Eko Hotels and Suites in Victoria Island, Lagos.
Due to the ravaging Coronavirus pandemic, ETI said the AGM will be held by proxies. The proxy AGM is expected to enable the Pan-African financial institution to abide by the directives issued by governments and agencies regarding COVID-19 and how to contain its spread.
"As a responsible corporate citizen, ETI intends to strictly comply with this restriction in addition to other applicable health and safety measures. Accordingly, attendance at this year's General Meetings shall be mainly by proxies in accordance with the Articles of Association of the Company and applicable law," a statement by the company said.
To this end, shareholders have been advised to select any of the company's top executives (including the Chairman, Emmanuel Ikazoboh, and the MD of Ecobank Nigeria, Patrick Akinwuntan) to represent and vote on their behalf during the AGM. Proxy forms may be downloaded from the company's website, filled, and submitted in advance.
READ ALSO: NSE commemorates FBNQuest Merchant Bank's N5 billion Bond Listing with Digital Closing Gong Ceremony
Meanwhile, the issues that are up for discussion during the AGM and the Extra Ordinary meeting are enumerated below.
Annual General Meeting
1. Approval of the accounts
2. Appropriation of the Profits
3. Election of Directors
4. Ratification of the co-option of directors
5. Renewal of the appointment of the joint auditors
6. Approval of the Final Board Fees for Retiring Directors
Extraordinary General Meeting
1. Withdrawal of resolution on consolidation of shares
2. Amendment of the Articles
Note that in Q1 2020, ETI reported profited after-tax from continuing operation of N66.4 billion, marking a 19% decline when compared to N81.9 billion during the comparable period in 2019.
ETI's share price on the Nigerian Stock Exchange closed Friday's trading session at N5.55. The company has a market capitalisation of about N137.3 billion according to information obtained from Bloomberg.