A look at the negative economic impacts of South Africa's xenophobia
News about xenophobic attacks on Nigerians in South Africa is nothing new. Yet, every time it happens, it is always a bitter pill to swallow; especially for those affected.
A South African city is under lockdown. This follows the latest wave of violence against foreign nationals (precisely Nigerians), who are often considered as "threats" by the locals. News about xenophobic attacks on Nigerians in South Africa is nothing new. Yet, every time it happens, it is always a bitter pill to swallow; especially for those affected.
The latest attacks have reopened unhealed wounds. It was back in 2015 when serious violence rocked some parts of Durban and Johannesburg, with nearly ten foreigners reportedly slaughtered in broad daylight. Between then and yesterday, scores of other attacks have taken place most of which involved Nigerian victims.
Received a call now quite long from a friend in Pretoria, South Africa.

"those indigenes are killing our people from house to house, that he's lost 2 close pals this morning"…. Ahhhhhhhh what's happening for God sake #Xenophobia #SAShutdown

— *Pablo Martini* (@PabloHoggs) September 3, 2019
Meanwhile, back home in Nigeria, people are outraged and have called for reprisal attacks on South African-owned enterprises. On Twitter, for instance, where clips and images of people being burnt alive have trended, Nigerians are demanding for a complete boycott of South-African businesses in Nigeria; specifically the likes of MTN, Shoprite, and DSTV, etc. These companies operate peacefully in Nigeria where they make billions and remit to South Africa, whereas Nigerian traders are slaughtered ever so often, and their shops looted.
[READ: Multichoice, other South African firms under threat as Nigerians react to renewed Xenophobic attacks]
Nigerian students gives South African companies in Nigeria Seven days ultimatum to leave Nigeria or destructions!! #SAShutdown #SouthAfrica #SayNoToXenophobia #XenophobicAttacks
pic.twitter.com/a7THZ2lOAz

— Mister Ajibola® (@_starbiola) September 3, 2019
 Understanding the situation…
Nairametrics understands that the shooting dead of a South African cab driver by an alleged Nigerian drug dealer, is what ignited this new wave of violence. The incident happened last week in Pretoria, and by early this week violence had swept across to Johannesburg where many foreign-owned shops were looted and razed down. At least, one victim was burnt alive.
It is a grim situation, one that has shocked both well-meaning South Africans and citizens of other African countries. At the root of this hateful crime is xenophobia. And as this problem keeps happening, we cannot ignore the negative economic impact it is leaving behind. Indeed, besides the pain of losing human lives slaughtered in the most horrible manner imaginable, it is high time we begin a discussion about the economic consequences this fraught relation is having on Nigeria and South Africa.
Businesses at risk
Just to clarify, this is not a problem between South Africa and Nigeria alone. Some South Africans have declared war on other nationals from across Africa. However, we have chosen to focus on how the situation affects Nigeria's relationship with the country, seeing as this is a matter that hits home.
Nigeria's economic and political relationship with South Africa is at risk right now and that is quite unfortunate. Two of Africa's biggest economies cannot afford to become enemies. Can you imagine what the effect would be if Nigerians actually retaliate by vandalising South African businesses in Nigeria? The effects would be rippling, affecting both Nigerians and South Africans. That is exactly why retaliation can never be an option.
Well South Africans cannot have South Africa alone and Africa at the same time.

There has to be a message passed by all of Africa to South Africans, an economic message.

Dont boycott South Africa businesses in your nation, however it's fair game to ignore SA imports.

— Kalu Aja (@FinPlanKaluAja1) September 3, 2019
In the meantime, Nigerian businesses in South Africa have suffered a lot. Adetola Olubajo, the President of the Nigerian Union in South Africa, was just quoted to have disclosed that Nigerians have "lost millions". Again, this development portends negative economic impacts on both the Nigerian business owners, the South African economy, and the Nigerian economy.
At the end of the day, the only way forward is a peaceful resolution. Nigerians cannot keep suffering at the hands of misguided South Africans who strongly believe that foreigners are taking their jobs. Similarly, South Africans in Nigeria cannot afford to fear safety and the safety of their investments in the country. Therefore, both countries should immediately find an amicable solution to the situation and ensure that the matter does not deteriorate further.
[READ: MTN Nigeria CEO, Fredi Moolman, reacts to xenophobic attack on Nigerians]
Sanwo-Olu speaks on need to resolve community's agitations for tank farms relocation
Sanwo-Olu called stakeholders to come together in order to provide a lasting solution to the issue.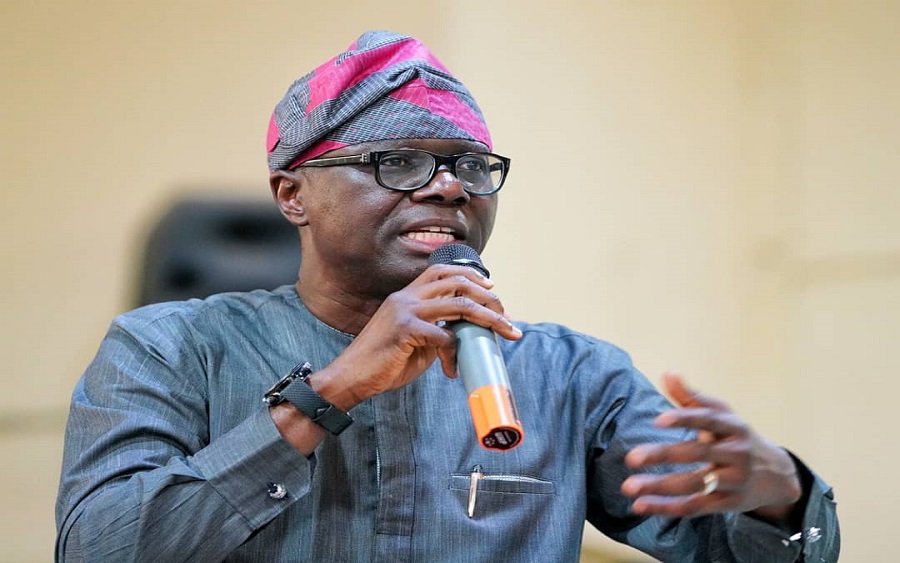 The Lagos State Governor, Babajide Sanwo-Olu, has listed conditions that must be met, in order to bring a lasting solution to the dispute between petroleum tank farm owners at Ijegun-Egba area of Amuwo Odofin and the residents of the host community.
One of these conditions is that tank farm owners and petroleum tanker drivers must subscribe to operational regulations that limit the loading of tankers beyond their weight capacities. Also, all Federal Government's regulatory agencies operating in the area must stop working at cross purposes with the state's agencies, in the bid to address the environmental degradation in the area.
The governor also stressed that both the federal and state authorities should collaborate on the regeneration efforts of road and infrastructure in the area.
This disclosure was made by the Lagos State Governor on Thursday, August 13, 2020, in Marina, while receiving members of the House of Representatives Ad-Hoc Committee on the Relocation of Tank Farms. The Committee, which was constituted by the Speaker, Femi Gbajabiamila, was also intended to investigate and make recommendations on the issue.
The Hon Sergius Ogun led Ad-Hoc Committee had initially gone on a two-day inspection to Ijegun before sharing the findings with the Governor.
During the meeting, the governor pointed out that the regeneration of Ijegun-Egba was as important to the community as smooth transportation of petroleum products was important to the tank farms' owners. He warned that the country could not afford to allow the host community's agitation to hinder the operations of the tank farms, which, he said, supply 45% of petroleum products consumed in the country. The governor said:
"The Ijegun-Egba tank farms are strategic national assets created by the private sector to serve the whole country. Between 40 to 45% of the entire petroleum products that go across the country pass through that corridor. Even if it is to cater for our own need, we must take care of those assets, because they are like a strategic reserve for us as a nation.
"The rudiment of the problem in the area is a logistic issue, which is to ensure the movement of oil tankers in and out of the area without affecting the wellbeing of the community members. We have had to contend with environmental issues and the extent of the bad road network on the corridor is glaring. We have seen how small-capacity tankers are carrying up to 70,000 litres of petroleum products when they should be taking only 30,000 litres. This has exerted great pressure on the roads and the officers that are supposed to monitor them look away.
"These are part of the issues we need to resolve with the stakeholders. If we can let these people run their businesses within the confines of regulations, part of the solutions would have been achieved in the process. Also, there is a need for total regeneration of the roads in the area. We want the environment to be conducive for business, but we must do that in line with the safety of lives and property. We have talked with tank farms' owners and we all need to come together. It is important for the Federal Government's agencies to have an agreement and we are ready to play our own part."
The committee was set up following the agitations and demands by residents of Ijegun Egba Satellite Town for the immediate relocation of the tank farms in the residential area. This, according to the residents, would help to prevent further environmental degradation and loss of lives and property in the area.
The host community accused tank farm owners of disrupting the drainage system, damaging roads within the community, and even converting roads to parking lots for their tankers.
The Governor stressed that genuine solution would be achieved if the entire network of infrastructure in the host community was cleaned up and regenerated. He, however, revealed that the new regeneration design that the state came up with could not take off because the federal authorities had not agreed with the plan.
Furthermore, Sanwo-Olu noted that it is high time for all the stakeholders to come together in order to provide a lasting solution to the issue.
"After your thorough assessment of the situation, I hope you would be able to call all relevant stakeholders and agencies of Government together on the discussion table. We are committed to any effort that'll bring a permanent solution. We know how much of investment we have in the area, but businesses have to be done under a safe and controlled environment. We want every stakeholder to play their roles," he said.
Making his own remark, the Chairman of the Ad-Hoc Committee, Hon Ogun, admitted the inability of the Federal authorities to work collaboratively with the Lagos State Government was part of the reasons the community's agitation festered. He, however, promised that the House would prevail on the federal agencies to close ranks with stakeholders and bring about lasting solutions.
13.9 million Nigerian youth are unemployed – NBS
About 13.9 million Nigerian youth are unemployed as of Q2 2020.
Data from the National Bureau of Statistics reveals Nigeria's unemployment rate as at the second quarter of 2020 is 27.1% indicating that about  21,764,614 (21.7 million) Nigerians remain unemployed.
Nigeria's unemployment and underemployment rate (28.6%) is a combined 55.7%. This means the total number of Nigerians who are unemployed or underemployed as at 2020 Q2.
The data also reveals the worst-hit are Nigerian youths with over 13.9 million currently unemployed.  In Q3 2018, the last time the report was released there were about 13.1 million Nigerian youths unemployed. Youth between the ages 15-24 have about 6.8 million Nigerians out of jobs and another 7.1 million also unemployed.
Key highlights
The highest unemployment rate was recorded for youths between 15 – 24 years 40.8%,
This is followed by ages 25 – 34 years at 30.7%.
NCE/OND and Nursing recorded an unemployment rate of 30.8%
The unemployment rate amongst second-degree holders (M.Sc/MS/MAdm) stood at 22.9%
Unemployment rate as classified by Doctorate degree holders is 23.3%
What this means: The NBS also reports Nigeria's youth population eligible to work is about 40 million out of which only 14.7 million are fully employed and another 11.2 million are unemployed. A high youth unemployment rate is synonymous with increased insecurity and poverty a situation that is also seen as a ticking time bomb.
To put things into context, Nigeria's unemployed youth of 13.1 million is more than the population of Rwanda and several other African countries. Youth Population is also about 64% of total unemployed Nigerians suggesting that the most agile working-class population in the country remains unemployed.
The Covid-19 pandemic has also worsened the economic condition in the country making it even harder for employers to create more jobs. The private sector has relied on cutting jobs in the guise of downsizing and right sizing to reduce overheads and stay afloat.
The recent data also buttresses the high rate of Nigerians seeking greener pastures outside the country with most of them highly skilled and looking for jobs of the future. According to most recent data, in 2019 about 12,600 Nigerians gained permanent residency in Canada last year helping the country to become the fourth-leading source country of new immigrants to Canada, behind India, China, and the Philippines.
Last year, the Government of Canada revealed Nigeria ranks third in the rating of the countries with the highest number of Express Entry invitations to Canada in 2018. This is revealed in the 2018 report released by the Canada Government. According to the report, a total number of 6,025 Citizens of Nigeria received invitations to apply (ITAs) for Canadian Express Entry in 2018. It was further revealed that Nigeria is just behind China who recorded 6,248 ITAs in 2018.
Official: Imo State is unemployment capital of Nigeria
According to NBS, 75.1% of the total employable people in Imo State are either underemployed or unemployed.
Data from the National Bureau of Statistics reveal Imo State, located in the South-Eastern part of Nigeria has the highest unemployment rate in the country.
In contrast, Anambra State is the state with the least unemployment in the country with 13.1% unemployment rate. The national average for the unemployment rate is 27.1%
Imo State has an unemployment rate of 48.7% as at the second quarter of 2020, by far the highest when compared to any other state in the country.
According to the data, 75.1% of the total employable people in the state are either underemployed or unemployed.
READ MORE: Nigerians react as Anambra lawmakers reject Prado SUVs for Innoson SUVs
See highlights
Total number of employable people – 2.48 million
Fully employed people – 618, 481
Unemployed people in the state – 593. 347
Underemployed – 656, 394
Imo State is largely a civil service town and has been unlucky with state governors over the last 20 years. Private sector jobs are hard to come by in the serene state with most industries setting up show in nearby cities like Aba, Port Harcourt, and Onitsha.
The city was once notorious for ritual motivated murders and kidnappings but has since overcome these challenges.
READ MORE: Ride-hailing: Uber says industry guidelines are inconsistent, unclear
Other States
Akwa Ibom State is next on the list with an unemployment rate of 1.14 million people. The state's underemployed population is about 551k people while the unemployment and underemployment rates combined is 66.9%.
The best: The state with the lowest unemployment rate in Nigeria is Anambra State with 13.1% out of the total working population of 2.25 million people. The state was 37 out of 37 states in the ranking of unemployment by state. About 1.9 million people in Anambra State are either fully employed (1.57 million) or under-employed (384k) in the state.
READ ALSO: Ekeh, Zinox boss, intervenes in Imo State with N1 billion
Lagos State, Nigeria's commercial capital and where most graduates rush to for jobs currently has an unemployment rate of 19.5% and sits at 27 in the state by state unemployment ladder. The data shows about 6.8 million people make up the labour force population in Lagos State out of which 3.99 million people are fully employed and another 1.5 million people are underemployed. About 870k Lagosians who are employable did absolutely nothing.
Download the Nairametrics News App
Concentration: In terms of the concentration of unemployed people, Rivers State came first with a whopping 1.7 million people out of jobs in the state. The state as a working population of 3.9 million. Rivers State unemployment rate is 43.7 and ranks third as the worst. 21.7 million Nigerians are unemployed.
Lagos State had the most employed persona with about 3.99 million people out of a total of 35.5 million.