Six easy ways to market your new business on internet
6 easy ways to market your new business on the internet
#SME #MSME #Business
Are you a photographer, a graphic designer, or a makeup artist? Perhaps you bake cakes and make small chops for small events? If you possess any special skills that people appreciate, then you have the potential to create a thriving business with it, whilst making yourself some serious cash.
Perhaps you are a student entrepreneur, or maybe you've just finished school and is hoping to capture a larger customer base for your business. The easiest way to get people to know about your business is through the word-of-mouth of your already  satisfied customers. However, there are other ways, and the internet makes it all so much easier.
What is internet marketing? Internet marketing is a broad term. It basically includes any marketing effort you conduct online. It's all about promoting a brand or products/services over the internet with the use of tools that help generate traffic, capture leads, and make sales.
The internet has made marketing so much easier just like it has made everything else.  Nowadays, it's even possible to market without spending a kobo. You can attract thousands of customers just by creating a trending social media account.
Internet marketing is a necessity for every business that wants to go far. Having an online presence will help you establish your expertise, gain new leads, and make sales without stress.
[Read Also: How to standout in a saturated market]
Therefore, in this article, we will look at the basics of the various types of online marketing platforms. You'll learn what you need to get started with any platform of your choice. Let's get to it.
Internet marketing avenues: Below are some of the most important channels through which you can advertise your business on the internet.
1. Social media marketing:
Open a social media account and market your products organically, or opt for paid advertising on a social media platform's native pay per click (PPC) ad programme.
Social media marketing is a great way to keep your products/services in people's minds. You create awareness for your business and interact with potential customers. It also provides a strong avenue for feedback.
Facebook is one of the most popular platforms for marketing. You can create a page that shows all the information people need to know about your business. Other major ones include Instagram, Twitter, and Pinterest. Snapchat is becoming increasingly popular as well.
[Read Also: Nigeria to benefit from AfDB's $40 million investment]
Showcase your business on as many social media platforms as you like, as long as you can manage all of them effectively by regularly creating content and responding to feedback.
However, it is advisable you pick one or two platforms on which your target audience is most active on.
2. Search Engine Marketing (SEM): 
This involves any online marketing effort designed to enable users find you on search platforms like Google. SEM has two crucial parts: Search Engine Optimization (SEO) and paid search (for example, Google Ads).
Google Ads is Google's advertising platform. You choose a keyword that when users search for, your clickable ad will appear in the search results. For SEO, all you have to do is create a website that can rank well in search engines so that people can find you organically. Now do not worry because creating a website can be easy. There are free content management systems you can use to build a beautiful website without stress. An example is WordPress.
Back to SEM, in order to gain organic ranking, conduct extensive keyword research and write engaging content focused around those keywords. For instance, if your service is photography, you can write interesting topics on photography that readers will find informative, and incorporate your chosen keyword in the articles. You will also have to learn important techniques like link building, in order to help boost your rankings on search engine results.
To make sure your site is search engine optimised, install some WordPress plugins, such as Yoast SEO. It is a free tool that helps you optimise your site even if you don't know a thing about SEO optimisation.
3. Content Marketing:
Content marketing, which is also referred to as inbound marketing, is a great way to advertise your products by addressing the pain points of your target audience. It involves publishing content that teaches, inspires, guides, or solves a problem.
Content marketing draws in leads and establishes trust since you are focused on providing value for your readers rather than making sales. When they always find your content useful and realize you know what you are talking about, they will recognize you as an authority and become willing to purchase your products/service. It is, therefore, a great way to gather loyal customers.
It involves the creation of:
Blog posts published on your website.
Guest posts published on websites other than your own (these will contain links that lead back to your own site).
Videos or infographics that can also be shared on social media platforms.
This method of marketing works perfectly with search engine marketing.
You have to make sure you provide content regularly to keep your readers interested and quickly motivate them to make the decision to buy your product/service.
[Read Also: Facebook sues company for selling 'fake likes and followers' to people]
4. Pay Per Click (PPC) marketing:
PPC advertising is a good way to drive traffic to your website. However, you have to pay a fee each time your ad is clicked.
Depending on the platform you choose to advertise on and what you want to optimise for, you may pay for clicks, actions taken, conversions, or impressions.
You have two options in PPC marketing: Display ads, and Search ads.
Display ads: We already came across display ads when we were looking at social media advertising. It involves getting your ads shown to website visitors and social media users as they scroll down the feed or on the webpage they are reading.
Display ads give you the advantage of introducing your product to people, even if they aren't looking for the offer in the first place. Who knows, they may decide to make a purchase.
Also, it doesn't matter if they only just scroll past. You've already left an impression on them. Next time they come across the ad, they might slow down and take a good look.
Search ads: Search ads on the other hand, allow you to capture search engine users who type in a keyword you've targeted. If you've targeted "men's shoes", for instance, and a user types in those keywords, your ad will be displayed at the top of the search results.
Bing Ads and Google Ads are the two most popular PPC search ad platforms.
The advantage of search ads is that you can connect with users who are in need of your offer and are ready to make a purchase.
5. Online Networking:
You can build relationships on online forums that are relevant to your business. It is a good way to market your products. In such forums, people share knowledge and opinions. You can win over some customers in the process or even meet peers and experts with whom you can collaborate with. They may also help you gain some connections.
The goal of online networking is primarily relationship building. It's not really about selling your product per se .
You can find online communities relevant to your business on places like:
• Linkedln groups
• Facebook groups
• Question and answer forums like Nairaland or Quora.
6. Email Marketing:
Before you can effectively perform email marketing, you may need a good website, where you provide captivating content. Major parts of your website are the landing pages. These are web copies that tell your customers about your brand, your offers, and why they should choose you. Landings pages will usually include a call-to-action (CTA). When your visitors click on your CTA, they can then provide their email address.
Once you have the email address of your website visitors, it means you now have leads. You can then maintain contact until they reach the decision to purchase your product/service.
Just like social media marketing, the goal here is to notify your leads about your offers. However, unlike social media, email marketing is a more aggressive sales technique. You have to constantly send new offer announcements, call-to-actions, and reminders.
[Read Also: Competition keeps us on our toes -Paga's Tayo Oviosu]
To make things easier, especially if the rate at which you generate leads is considerable, you would have to use an email management service, such as MailChimp, to set up triggered auto-responders. This way, when people subscribe to your email campaign, they will receive a pre-made welcome email.
Where to begin? Now that you have an idea of the various internet marketing channels available to you, you may like to know how to proceed. It's often advisable to begin with social media marketing. It doesn't necessarily require any level of expertise to get started. Almost everyone you meet is on one social media platform or the other. It is also a very good medium to spread the word faster. Once you can tag, and generate likes and comments, it won't be long before you reach an unbelievable number of people.
Building a website is the next step you should take. If you have the means, you can hire an expert to design one for you. However, you can always create one through free website hosting platform like WordPress Bluehost and GoDaddy.
To ensure that visitors don't bounce off your site, you need to make it easy to navigate. It should also contain motivating web copy. This will encourage them to stay longer on your site and ultimately convert. You may need to hire a copywriter if you cannot write the copy yourself. It is recommended you should hire.
Don't forget to do your keyword research for keywords you want to rank for.
After you have your social media profiles and your website, you can then key into PPC marketing – either search engine ads, social media ads, website placement ads, or all of the above.
Conclusion: The internet has made marketing easier. You don't need to rely only on traditional marketing channels such as TV/radio ads, posters, flyers, and what not. The world has become a global village. You can reach a vast audience within a short period of time and sell your products/services all while in the comfort of your home.
7 key ways women can effectively build a professional career while running a family
Juggling between work and family life has been one challenge faced by many women.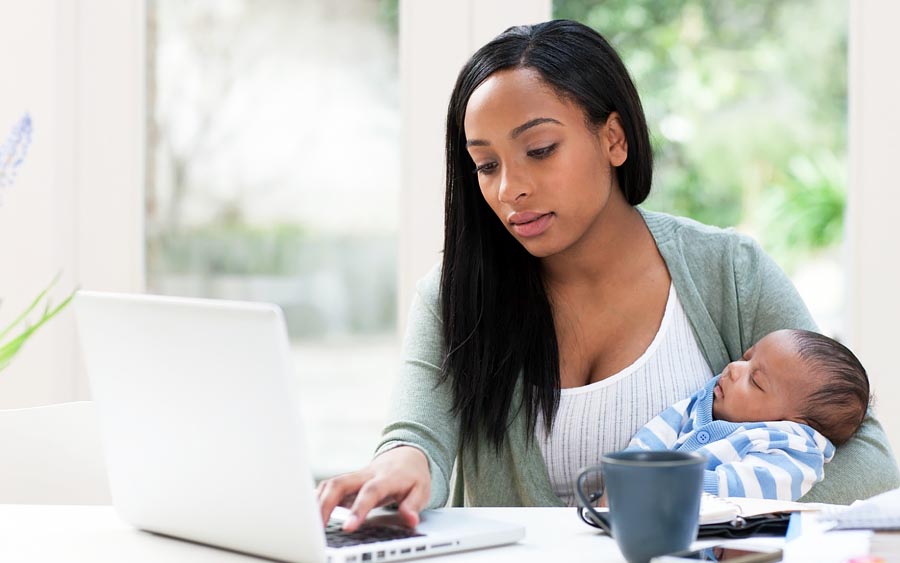 According to the World Bank collection of development indicators, compiled from officially recognized sources, women make up 44.94% of labour force in Nigeria as at 2019. It can be estimated that more than half of this number of working women are wives and mothers. This is quite impressive and shows an appreciable increase in the number of working women and working mothers to compared to what was seen two decades ago.  However. The rise in the number of working women and mothers also increased some of the problems working wives/mothers faced both at home and at work. In fact, some of these problems remain largely unattended to in the Nigerian society.
In our world today, especially in the corporate world, where competitive nature is prevalent, a lot of women have risen career-wise and have carved a niche for themselves. Some of the career choices they made has put so many of them in a state of dilemma. i.e. juggling between their work as well as their family life, thereby making it difficult for them to strike a balance.
READ: 10 side businesses to sustain your professional career
In addition, many husbands, especially in Nigeria where patriarchy is strong do not support the idea of their wives working. A few who buy the idea, do so grudgingly, thereby, not offering their full support and cooperation to their wives.  This, however, has made a lot of relationships suffer.
Contrary to the above, many men give their wives full consent to work, pursue their dreams and professions. In Nigeria, there is an indication that most working mothers/wives are working not just for self-fulfilment but also to supplement their husband's income in the face of persistent inflation and to assist their spouse financially.
A lot of people find it difficult balancing the strike i.e. their career and family, leading to some having to quit their jobs. Nevertheless, there are some women who, over the years were able to balance their professional careers with that of their family, and these women have become source of inspiration to so many women finding it difficult to strike the balance. And they are the likes of Oby Ezekwesili, Folorunso Alakija, Aisha Ahmed, Ibukun Awosika, Toyin Sanni, Ebelechukwu Nwachukwu and so many other women striving in their area of specialization.
READ: President Buhari approves N13.3 billion for Community Policing in Nigeria
According to Mrs. Ebelechukwu Nwachukwu (MD/CEO, NSIA Insurance Company Limited) in an exclusive interview with the Amazons Watch Magazine editorial team, she said that "balancing work with family life is quiet challenging to achieve but is very achievable. I think women more than men need to realize that it is essential to start early to focus on a desired career and we need to stay the course when marriage and children come. We do not have time to play around or to waste, and we must stay motivated and not burn out. Women, by starting early would already have set a pace, before family life comes in. Even when you don't start early; women must realize that many times, we need to do more. We must stay the course"
According to Ibukun Awosika (Chairman Firstbank Nigeria) "In life, you decide on those things that are important to you, because as a woman I have all my visions and dreams and I want to achieve them. I want to also be a successful mother to my children and I want to be a successful wife to my husband; once I am able to balance it up, it will make a successful home. All we need is understanding. And we need a balanced home to have the right atmosphere. I also apply wisdom most of the time because the day my children matter most to me, I create time for them. The day it is my husband that matters, I create the time. The same goes for my work. If not, everything will crumble and that is why I need to measure the percentage of attention I give to them and that is why I can't advise another woman on how to run her family because it is your circumstances that determine your kind of action; my home is different from any other home. I am happy to be married to the best man."
READ: Women and unemployment in Nigeria: How government and stakeholders can bridge the gap
Here are the 7 ways to help make sure both your career and your family flourish:
Having a supportive spouse is key to balance
Having a supportive spouse is key to balancing your career and family because he will assist in the responsibilities of taking care of the family. Having a supportive spouse will enable you reach your career height. They go as far as being supportive of their pursuits to seek higher education thereby supporting them financially, morally, emotionally and otherwise.
Though at times some when overwhelmed might grumble about a woman's dedication to her job, however, as a woman the best way to resolve this concern is by being diplomatic. Nevertheless, when your spouse is being supportive, it is still imperative to give them top priority and also tend to their needs.
Planning and time management is crucial
Good planning and time management are crucial to balancing career and family. A lot of people are faced with the challenges of taking care of their young children/ pursuing their careers. Some will plan it in a way that they will pursue postgraduate degrees or career advancement when their children are older.
Also, when planning and managing time, figure out your family's priorities. Have a calendar that includes dates when bills are due, a list of school and family events, extracurricular activities, birthdays, and more. It is always recommended to use a Google calendar, which can be easily shared and synced on smartphones. Set aside 15 minutes each Sunday to review and prepare for the upcoming week's schedule. This helps eliminate surprises during the week. Also, have a time put in place to take care of yourself by going to a spa and exercising (like a yoga class). Remember to eat well and get enough rest. These are simple things a lot of working mothers/wives' neglect.
Be focus and work hard
This is specifically true for women who want to compete for leadership positions and elevate higher in their careers. For you to get to that position you have to be focused and work so hard to avoid your gender being a hindrance to your success. There is often pressure from employers on women to convince them that their loyalties lie at work and not at home, since working mothers might not be able to afford to spend extra hours doing overtime or other work-related activities which can jeopardize their family. The best way to meet up with all the expectations is to be focused and work super hard. Multitasking will aid you to achieve your goals. Avoid time-wasting, casual internet browsing, gossiping, and long lunches. All these things cause distractions and make you less productive.
Hire a good house help/nanny  
When trying to balance a professional career with family, it is advisable to hire someone that will take care of your children. You may decide to employ a house help/nanny or even invite a family member, like your mother/mother-in-law to come around and take care of your kid(s).
When hiring a help/nanny it is always imperative to do a background check of the person you are bringing inside your home so you wouldn't end up creating a problem for yourself and for your family. Go for someone that has excellent experience and is adaptable to kids of various age range; caring for newborns and older children who need homework help.
The house help could cover the necessary functions, such as cooking, laundry, cleaning, and taking care of the children while both parents are at work. It is imperative to show your house help love so they can reciprocate and take good care of your children when you are at work.
Find quality creche for you kids
Using a Creche (for toddlers) is a good way of balancing your work and family for those that do not want to hire a nanny/house-help. There are some inexpensive schools you can enroll your kids, where they will receive proper care. Having them enroll in Creche will give you ample time to focus on your job and grow your career. You and your spouse can reshuffle on how you both can go for school runs. Choosing a Creche is not something you carelessly pick out and move on, the reason being that leaving your child in the care of others is a major act and needs your utmost attention. Before choosing a Creche it is important to take note of their services and leave room for evaluation to be sure they are in good hands.
Go for online courses
Getting an education is very important to a lot of women as it enables them to achieve higher leadership positions. Having a successful career has to do with furthering your education, whether through degrees or certifications.
For this to be feasible, since you are trying to balance your career and that of your family, it is advisable to venture into online professional courses/online Master/PHD courses. Going into online courses will give you sufficient time to take care of your family and also aid in self-development which is a good ladder to enable you climb faster in your career.
Create a family time
Making time for your kids is crucial, both during the week and on the weekends, to nurture your family dynamic and allow everyone to bond. Always create family time, like having a family breakfast and family weekend. The family weekend covers going to the movies/amusement parks.  When you are having family time, avoid talking about work or checking your phone. Instead, focus on your kids' interests by asking questions about their friends, classes, and hobbies. With older children, ask for their activity suggestions and try to meet their needs.
Get relevant economic and financial data on Nairalytics
In conclusion, being a full-time working mother can lead to feelings of guilt and stress because of divided attention between work and family. The key is to be focus on a plan, get organized, and find the right balance between profession and parenthood.
Great tips for landing a job during this lockdown
The coronavirus pandemic has had its impact on job opportunities, but here are some tips for landing jobs.
The economic lockdown and movement restrictions due to the coronavirus pandemic has had an impact on job opportunities. Some of them could be in the form of job losses, getting new jobs, or even changing the way we work.
Given the unemployment numbers especially in these challenging times, it might be hard not to be apprehensive.
According to a report from Bloomberg, Mark Hamrick, senior economic analyst for personal finance website Bankrate.com, said, "It's important to remember that there is hiring happening. There's always attrition and individuals leaving for other jobs."
Robin Ryan, a career counsellor, said that just a few unemployed people are job hunting at the moment. Most believe that there are no jobs, they can't be hired, or that only lower-level jobs are available.
Here are some tips for landing jobs during this lockdown.
Beat the system: Make a list of your recent jobs and your top accomplishments at each of them. Those are the items that should be on your résumé. To get past automated applicant vetting systems, enter your work tasks—budgeting, project management, graphic design, team leadership, etc.—in the first bullet point under each job. Don't include extraneous formatting, such as text boxes, tables, footers, or headers, because application software can't recognize it.
(READ MORE:Skills Africa needs for sustainable development)
Assess your prospects: You have to find out if the opportunities in your industry are shrinking. According to Hamrick, "many people fail to see that their skills might apply to a variety of settings." Consider some of the sectors that have stayed open in the lockdown—finance, real estate, food and other consumer goods, technology, and retail, plus suppliers and distributors for each. If that exercise doesn't yield much, think about how your skills might help companies sharpen their online business. "There's a need for people to help facilitate digital transformation," Hamrick says.
Hit up recruiters (Recruiting agency firms): Let them help you with your resume and offer suggestions about things you might do to stand out.
Use your resources: Companies are filling positions needed to support virtual workers as part of their pandemic strategies. Many company websites might not yet reflect these changes, so try popular online job search websites, type in a company and your city, and you'll get a better sense of what kind of hiring is going on.
Network: That friend-of-a-friend who previously ignored you. He's home now and might be up for a quick Zoom coffee date. Connect with everyone you know in your field. (LinkedIn is good for this.). Those connections build on each other. You can ask mutual acquaintances to introduce you to people who can help and once that happens, you can fix a virtual coffee date. If that goes well, ask for an introduction to a hiring manager or supervisor. You've got nothing to lose.
Millennials changing the definition of work; doing the most with freelancing
Given the numerous number of changes in today's world, millennials are gradually changing the definition of work, and beginning to embrace freelancing.
Given the numerous changes in today's world, millennials are beginning to embrace freelancing. It is not just about thinking outside the 9-5 work hours, they are gradually changing the definition of work. This signals a new relationship between the worker and the economy; it is not just where they are working. It is what they are working for.
Millennials do not see companies as salary machines and do not also see themselves as 'another chair-filler'. They actually see themselves as having the power to make choices, and their decision to work in one place or another is about finding value, not just the luxurious life attached to a conventional job.
[READ ALSO: Nigerian Millennials have figured where to invest their money]
How Millennials make the most of freelancing
Skills over degree
Nearly half of millennials have tried freelancing, and nearly three-quarters of freelancers say it is getting easier to find work. Most millennials begin their journey into freelancing by discovering their passion and finessing their skills in order to look unique. They often find time to develop themselves outside the scope of their disciplines by attributing more values to skill acquisition than conventional degrees. With unique skills like photography, graphic design, content creation, etc. millennials are able to make enough money to pay their bills and afford their lifestyles.
Working Remotely
Millennials are taking advantage of working remotely. Working remotely affords millennials the much-needed flexibility they need in their daily routines. Working remotely also helps improve the productivity of millennials, unlike conventional workers. This way, they are free from distractions that cannot be taken care of. It is amazing that working remotely can have millennials working straight for 8 hours without thinking of food or break.
READ ALSO: Tech Startups should emulate Konga – EX Unilag VC
Gigs rather than restrictive job functions
Millennials use freelancing as an opportunity to harness their creative abilities rather than focusing on restrictive job functions. Millennials get certain jobs called side gigs which can help them explore their creativity. They figure out who their clients really are and what they want from them. More importantly, is that millennials find an untapped market and then quickly build a huge customer base on it which will be making enough cash in short notice.
Networking for Growth
Gone are the days when business cards were fashionable. This is because people do not really remember business cards. Millennials use networking as a way of getting to know the persons behind the business. They look for a spark in any conversation that a relationship can be built upon. Also, through the use of social media platforms, millennials are also able to collaborate to ensure the growth of the freelance economy.
[READ ALSO: Millennials are becoming parents and school fees are getting more expensive]
Conclusion
Finding a freelance platform that affords skilled professionals flexibility and opportunities to grow is a concern for millennials. TERAWORK is a highly recommended freelancing platform that provides freelancers with an opportunity to work on flexible schedules, get rid of the daily commute process and have a perfect balance between work and professional life; not only because it affords local and international millennials opportunities to harness their skills, but the platform also allows these skilled individuals to showcase their past work experience and provide them with the access to new jobs every day.