FOREX ban on food importation will not affect AfCFTA – Emefiele
CBN Governor, Mr. Gowdin Emefiele has said that the planned FOREX restrictions on food items import in Nigeria will not affect the AfCFTA.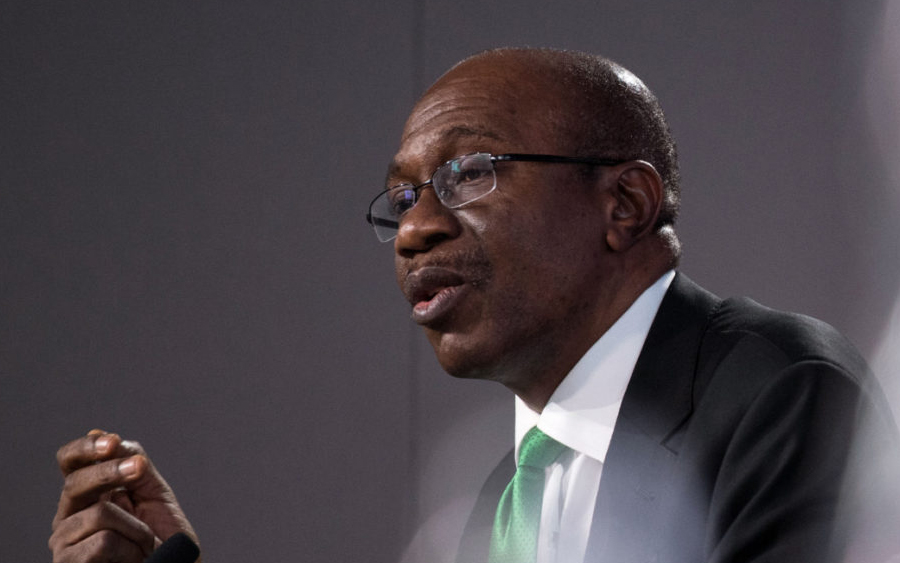 The Governor of the Central Bank of Nigeria (CBN), Mr. Gowdin Emefiele has dismissed reports that the planned FOREX restrictions on food items import in Nigeria will further dampen the country's chances of benefitting from the recently signed African Continental Free Trade Agreement (AfCFTA).
The CBN Governor disclosed this while speaking with State House correspondents at the retreat organised for ministerial designates in the Presidential Villa in Abuja on Monday. Emefiele had earlier affirmed the Presidency's announcement at the event, having kept mum for almost a week.
Effect of the ban on AfCFTA: The CBN Governor was quizzed on how the latest restriction on food importation may affect Nigeria's potential benefit from AfCFTA. Emefiele stated it would not affect the content of the AfCFTA just as agreement was still ongoing and the terms of engagement were still being discussed and negotiated.
[READ MORE: Kwara innovation hubs to create 2,000 jobs]
"The ban will not affect the content of the AfCFTA, in any case the AfCFTA is an agreement that is ongoing, the terms of engagement are still being discussed and negotiated.
"The important thing is that Nigeria needs to stand as the largest economy in Africa and the largest populated countries in Africa, we need to stand and dictate the terms under which we want to be in it and this is what we are saying. But what I am saying is that it is wrong, it is inappropriate that an item that can be produced in Nigeria should be imported into Nigeria."
Job Creation: According to Emefiele, restricting FOREX on importing certain items that can be produced in Nigeria is also fundamental to Nigeria's chances. While Emefiele admitted that there are challenges ahead, he, however, noted that job creation is paramount to the bank at the moment.
"When we get into the AfCFTA issues, we will also look at the details of it, but at this time, we are saying we need to create jobs for our country, for the youths and we need to create jobs. We yearn for growth and the only way we can really accelerate growth in a Nigeria between now and next four years is to see to it that items that can be produced in Nigeria are indeed produced in Nigeria rather than being imported into the country."
[READ MORE: CBN's 60% LDR Target: Don't lend to unbankable projects – LCCI warns banks]
Analysts disagreed: Reacting on how FOREX restriction on food imports can affect the Nigerian economy, Cobus de Hart, a Chief Economist at NKC African Economics, as quoted by Financial Times (FT) revealed that the President's call for a currency ban cast doubt on Nigeria's commitment to a landmark continent-wide trade agreement, which it signed last month after more than a year of delay.
The move "stands in stark contrast to the strategy outlined in the Africa Continental Free Trade Area agreement, and this policy will certainly not set Nigeria's agricultural sector up to take full advantage of a liberalisation of trade barriers across the continent," Mr de Hart wrote in a research note.
Amaka Anku, Africa Director for the Eurasia Group, stated that whether the policy was implemented or not, it was sending a troubling message for an economy suffering from high unemployment, low foreign direct investment and sluggish growth.
"Most actors, especially the Central Bank, should know that a total ban of food imports is not practical and I doubt that will be the policy.
"But his comments will continue to drive home the sense that Buhari has no idea how to manage an economy and will raise uncertainty about what other [foreign exchange] restrictions are coming and contribute to already low business confidence."
[READ MORE: ACFTA a potential game changer for Africa?]
COVID-19: WHO warns there may never be an immediate solution to the virus
WHO urged governments and citizens to focus on known basic steps to contain the pandemic.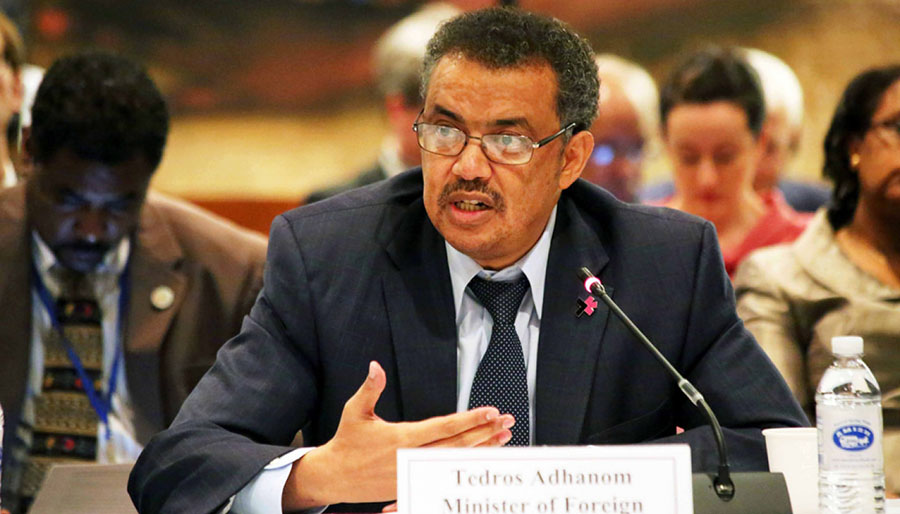 The World Health Organization (WHO) has warned that there might not be an immediate solution or cure to the COVID-19 pandemic despite the positive outcomes at the different levels of trials of vaccines for the virus.
The WHO said that despite strong hopes for a vaccine, there might never be a silver bullet for COVID-19, and the road to normality would be long.
According to the latest data, the coronavirus pandemic has infected over 18.1 million people with more than 690,000 fatalities globally since late January, when the virus was first reported. This is just as some countries that thought they worst was over for them started experiencing a second wave of outbreak.
The Director-General of the WHO, Tedros Adhanom Ghebreyesus, and Mike Ryan, WHO head of emergencies, urged governments and citizens to focus on known basic steps to contain the pandemic such as testing, contact tracing, maintaining physical distance and putting on a mask.
Tedros in a virtual news briefing in Geneva, said, ''The message to people and governments is clear, Do it all. He said face masks should become a symbol of solidarity around the world. A number of vaccines are now in phase three clinical trials and we all hope to have a number of effective vaccines that can help prevent people from infection. However, there's no silver bullet at the moment, and there might never be.'' 
Chinese Investigation
The WHO officials revealed that an advanced investigation team that was sent to China where the virus started, are not yet back. The UN health agency sent an epidemiologist and an animal health specialist to China on July 10 to lay the groundwork for a probe aimed at identifying how the virus entered the human species.
Tedros said WHO and Chinese experts had agreed on the terms of reference and a programme of work for a WHO-led international team of scientists and researchers from around the world. They are to study the origins of the virus in the city of Wuhan.
The WHO boss encouraged mothers to continue breastfeeding even if they had COVID-19, as the benefits outweigh the risks associated with infection.
Tedros also said the international hunt for a vaccine has been historic against the backdrop of the coronavirus disease being the biggest global health emergency since the early 20th century.
Tedros said, ''There are many vaccines under trial, a couple in the final stage of clinical trials – and there is hope. It does not mean that we will have the vaccine, but at least the speed with which we reached the level we reached now is unprecedented."
"There are concerns that we may not have a vaccine that may work or its protection could be for just a few months, not more. But until we finish the clinical trials, we will not know."
Shoprite Nigeria is worth at least N25 billion
N25.6 billion price tag is only reflective of what Shoprite Nigeria's operations is worth on paper.
Africa's largest retail chain, Shoprite, announced on Monday that it is has decided to divest from its Nigerian retail entity, Retail Supermarkets Nigeria, the owners of Shoprite Supermarket Nigeria.
Going by several media reports and social media accounts, the sale is close to being consummated and a buyer is already in line to purchase the company. Getting information on the purchase consideration for this deal can be difficult especially if there are non-disclosure clauses.
For example, then Zinnox purchased Konga from Naspers (another South African firm) and AB Kinnevik two years ago, though the purchase consideration was not disclosed.  However, we do not know what Shoprite Nigeria is worth on paper.
What is it worth on paper? Going by the company's most recent annual report published in June 2019, Shoprite values its equity in its Nigerian subsidiary, Retail Supermarkets Nigeria Ltd at R 1.164 billion (1.1 billion rands). This translates to about N25.6 billion using the official exchange rate. This is also an equivalent of $67.7 million. The exchange rates are modest and will certainly be higher if the transaction was to be at this valuation.
However, the N25.6 billion price tag is only reflective of what Shoprite Nigeria's operations is worth on paper, what accountant's callbook value. It could be more or even less depending on how the negotiation goes.
Shoprite Nigeria business is also its second-largest, based on book value and next only to Angola.
How will it be funded? The potential investors will likely fund this transaction via debt or equity or a combination of both. Deals like this also take time to be completed even if an agreement is announced and will also be approved by the Securities and Exchange Commission of Nigeria and possibly South Africa.
We will keep you updated as we get more information.
Social clubs, recreational centres to reopen August 14
The closure of all spas, bars, lounges, night clubs, cinemas, and game arcades remains in place.