CBN's 60% LDR Target: Don't lend to unbankable projects – LCCI warns banks
The Lagos Chamber of Commerce and Industry (LCCI) has warned Deposit Money Banks (DMBs) against lending to unbankable projects.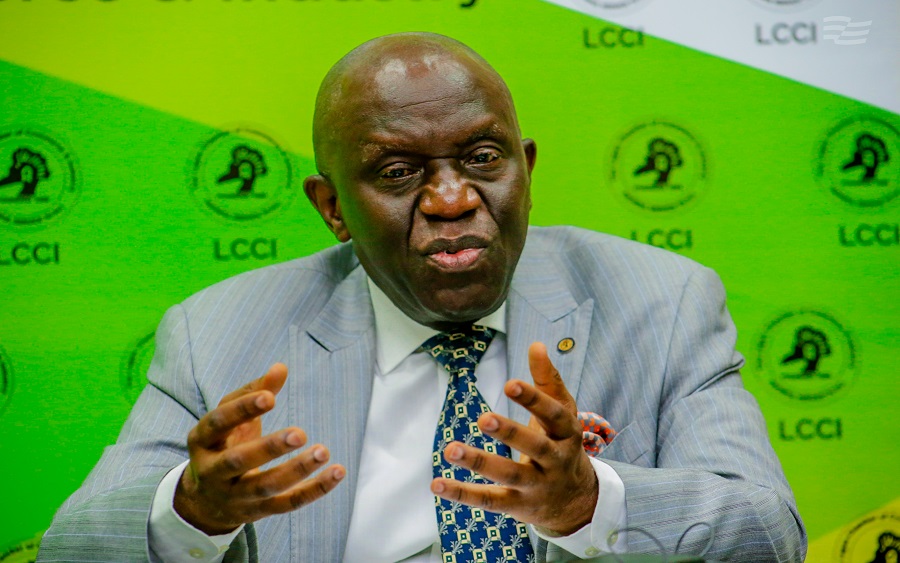 In order to avoid toxic assets and Non-performing Loans, the Lagos Chamber of Commerce and Industry (LCCI) has warned Deposit Money Banks (DMBs) against lending to unbankable projects.
The President of LCCI, Babatunde Ruwase disclosed that even though some of the financial institutions were boasting that they had already surpassed the 60% target given to them by the Central Bank of Nigeria (CBN) on Loan to Deposit Ratio (LDR), it is important for them to lend to support projects that are bankable.
[READ ALSO: Buhari's food importation ban could drag the Nigerian economy into misery] 
Ruwase also charged the economy managers to increase access to intervention funds for businesses to thrive in the country.
"We have to be careful so that we do not fund un-bankable projects. There are no cheap funds anywhere knowing that they must safeguard the interest of depositors. What government can do is to do more in areas of intervention funds to banks for on-lending to support sectors that are critical while also making the conditions for borrowing these funds relaxed.
"The banks are looking for more than the 1% they get during the lifespan of the fund borrowed but if we are not careful about this, we might start to have situations where funds are created as well as liabilities for projects that are not bankable and at the end of the day, we have toxic assets."
As reported on Nairametrics, the CBN directed banks to lend out a specified minimum of their deposits to improve lending to the real sector of the Nigerian economy.
Consequently, DMBs are required to maintain a minimum of 60% LDR by September 30, 2019. This ratio, the Central Bank said shall be subject to quarterly review.
Why the directive matters: With an average LDR around 40%, it would not be erroneous to assert that Nigerian banks are some of the most reluctant lenders in major emerging markets. According to a data compiled by Bloomberg, the average ratio across Africa is 78%. South Africa tops the chart with 90% while Kenya is at 76%.
[READ MORE: Access to credit facility is a global problem for SMEs – CWG CEO]
NNPC quells fears over leaking Lagos pipeline
The Corporation says it was on the last stage of completing repairs which includes hydro testing.
The Nigerian National Petroleum Corporation (NNPC) urged Nigerians to ignore reports of a possible fire outbreak from a vandalized pipeline at Aboru Canal in Alimosho Local Government Area of Lagos state. 
"There is no such hazard as the line in question has since been shut down for repairs and presently contains only water," NNPC said. 
Press Release: @NNPCgroup Allays Fears of Possible Fire on Dripping Lagos Pipeline  

… Says Leaking Line Contains Water, Not Petrol

 Thread… pic.twitter.com/DeJzbtGzn4

— NNPC Group (@NNPCgroup) July 2, 2020
NNPC said that the Atlas Cove-Mosimi stretch of the system 2B pipeline was shut down on June 25, 2020, to enable the comprehensive maintenance of some segment of the pipeline. 
The Corporation says it was on the last stage of completing repairs which includes hydro testing (a process of pumping water through the entire pipeline to leak detection and for integrity tests). 
Revealing that they stopped pumping water 9:27 am Thursday morning to enable necessary repairs after patrol team made a report about leakage at a point in the Aboru Canal. 
NNPC urges residents of the community to remain calm "as there is no possibility of a fire erupting from the leakage point". 
FIRS introduces stamp duty on house rent and C of O transactions
FIRS explained that the new policy was necessary so as to give the instruments the legal backing required.
The Federal Inland Revenue Service (FIRS), as part of measures to reduce disputes in real estate related transactions and generate more revenue, has announced that stamp duty will be paid on house rent and Certificate of Occupancy (C of O), in line with its new adhesive duty.
This was disclosed in a press statement by the FIRS Director for Communication and Liaison Department, Mr Abdullahi Ahmad, in Abuja, on Thursday July 2, 2020, as reported by the News Agency of Nigeria (NAN).
READ MORE: Devaluation: Experts highlight trends clouding economy's growth in 2020 
He explained that the new policy was necessary so as to give the instruments the legal backing required, and make them legally binding on all parties involved in such transactions.
Consequently, Ahmad asked Nigerians to ensure that documents that relate to rent and lease agreements for homes or offices, C of O, and other common business-related transaction instruments were authenticated with the new FIRS Adhesive Stamp Duty.
While quoting the Executive Chairman of FIRS, Ahmed said, "The following are the chargeable transactions in the Fixed Duty Instruments category, Power of Attorney (PoA), Certificate of Occupancy (C of O), Proxy form; Appointment of Receiver, Memorandum of Understanding (MoU), Joint Venture Agreements (JVA), Guarantor's form, and Ordinary Agreements Receipts.
READ MORE: FIRS tightens noose on deduction of stamp duty, CIT, others 
"While ad-Valorem Instruments chargeable under the Stamp Duties Act are Deed of Assignment, Sales Agreement, Legal Mortgage or Debentures, Tenancy or Lease Agreement, Insurance Policies, Contract Agreements, Vending Agreement, Promissory Notes, Charter-Party and Contract Notes.
"Stamp duty is basically charged in two forms, either ad valorem where duty payable is a percentage of the consideration on an instrument or a fixed sum irrespective of the consideration on dutiable instrument or document.''
It can be recalled that a few days ago, an Inter-Ministerial Committee on Audit and Recovery of Back Years Stamp Duties was inauguated; the new FIRS Adhesive Stamp Duty was introduced then. The committee consists of representatives from the FIRS, the CBN, the Federal Ministry of Justice and the Federal Ministry of Finance, Budget and National Planning.
The committee is tasked primarily with enforcing those sections of the Stamp Duties Act that empower the Federal Government to recover stamp duties, as well as the accompanying fines and penalties for up to 5 years.
Download the Nairametrics News App
The back-years recovery is targeted mostly at financial institutions like deposit money banks, Nigerian Interbank Settlement System (NIBSS), Central Securities Clearing System (CSCS), Corporate Affairs Commission (CAC) and so on, in respect of stamp duties already collected but not yet remitted.
COVID-19 Update in Nigeria
On the 2nd of July 2020, 626 new confirmed cases and 13 deaths were recorded in Nigeria bringing the total confirmed cases recorded in the country to 27,110.
The spread of novel Corona Virus Disease (COVID-19) in Nigeria touched a new milestone as the latest statistics provided by the Nigeria Centre for Disease Control reveal Nigeria now has 27,110 confirmed cases.
On the 2nd of July 2020, 626 new confirmed cases and 13 deaths were recorded in Nigeria, having carried out a total daily test of 3,063 samples across the country.
To date, 27110 cases have been confirmed, 10801 cases have been discharged and 616 deaths have been recorded in 35 states and the Federal Capital Territory. A total of 141,525 tests have been carried out as of July 2nd, 2020 compared to 138,462 tests a day earlier.
COVID-19 Case Updates- 2nd July 2020
Total Number of Cases – 27,110
Total Number Discharged – 10,801
Total Deaths – 616
Total Tests Carried out – 141,525
According to the NCDC, the 626 new cases were reported from 20 states- Lagos (193), FCT (85), Oyo (41), Edo (38), Kwara (34), Abia (31), Ogun (29), Ondo (28), Rivers (26), Osun (21), Akwa Ibom (18), Delta (18), Enugu (15), Kaduna (13), Plateau (11), Borno (8), Bauchi (7), Adamawa (5), Gombe (4), Sokoto (1).
Meanwhile, the latest numbers bring Lagos state total confirmed cases to 10,823, followed by Abuja (2,020), Oyo (1,432), Kano (1,257), Edo (1,203), Delta (1,149) Rivers (1,114), Ogun (898),  Kaduna (818), Katsina (578), Bauchi (512), Gombe (511), Borno (501), Ebonyi (438), Plateau (393), Ondo (353), Imo (352), Abia (351), Enugu (342), Jigawa (318).
Kwara state has recorded 269 cases, Bayelsa (234), Nasarawa (213), Sokoto (152), Osun (148), Niger (116), Akwa Ibom (104), Adamawa (89), Kebbi (81), Zamfara (76), Anambra (73), Benue (65), Yobe (61), Ekiti (43), Taraba (19), while Kogi state has recorded 4 cases.
READ ALSO: COVID-19: Western diplomats warn of disease explosion, poor handling by government
Lock Down and Curfew
In a move to combat the spread of the pandemic disease, President Muhammadu Buhari directed the cessation of all movements in Lagos and the FCT for an initial period of 14 days, which took effect from 11 pm on Monday, 30th March 2020.
The movement restriction, which was extended by another two-weeks period, has been partially put on hold with some businesses commencing operations from May 4. On April 27th, 2020, Nigeria's President, Muhammadu Buhari declared an overnight curfew from 8 pm to 6 am across the country, as part of new measures to contain the spread of the COVID-19. This comes along with the phased and gradual easing of lockdown measures in FCT, Lagos, and Ogun States, which took effect from Saturday, 2nd May 2020, at 9 am.
On Monday, 29th June 2020 the federal government extended the second phase of the eased lockdown by 4 weeks and approved interstate movement outside curfew hours with effect from July 1, 2020.
READ ALSO: Bill Gates says Trump's WHO funding suspension is dangerous
| Date | Confirmed case | New cases | Total deaths | New deaths | Total recovery | Active cases | Critical cases |
| --- | --- | --- | --- | --- | --- | --- | --- |
| July 2, 2020 | 27110 | 626 | 616 | 13 | 10801 | 15693 | 7 |
| July 1, 2020 | 26484 | 790 | 603 | 13 | 10152 | 15729 | 7 |
| June 30, 2020 | 25694 | 561 | 590 | 17 | 9746 | 15358 | 7 |
| June 29, 2020 | 25133 | 566 | 573 | 8 | 9402 | 15158 | 7 |
| June 28, 2020 | 24867 | 490 | 565 | 7 | 9007 | 14995 | 7 |
| June 27, 2020 | 24077 | 779 | 558 | 4 | 8625 | 14894 | 7 |
| June 26, 2020 | 23298 | 684 | 554 | 5 | 8253 | 14491 | 7 |
| June 25, 2020 | 22614 | 594 | 549 | 7 | 7822 | 14243 | 7 |
| June 24, 2020 | 22020 | 649 | 542 | 9 | 7613 | 13865 | 7 |
| June 23, 2020 | 21371 | 452 | 533 | 8 | 7338 | 13500 | 7 |
| June 22, 2020 | 20919 | 675 | 525 | 7 | 7109 | 13285 | 7 |
| June 21, 2020 | 20242 | 436 | 518 | 12 | 6879 | 12847 | 7 |
| June 20, 2020 | 19808 | 661 | 506 | 19 | 6718 | 12584 | 7 |
| June 19, 2020 | 19147 | 667 | 487 | 12 | 6581 | 12079 | 7 |
| June 18, 2020 | 18480 | 745 | 475 | 6 | 6307 | 11698 | 7 |
| June 17, 2020 | 17735 | 587 | 469 | 14 | 5967 | 11299 | 7 |
| June 16, 2020 | 17148 | 490 | 455 | 31 | 5623 | 11070 | 7 |
| June 15, 2020 | 16658 | 573 | 424 | 4 | 5349 | 10885 | 7 |
| June 14, 2020 | 16085 | 403 | 420 | 13 | 5220 | 10445 | 7 |
| June 13, 2020 | 15682 | 501 | 407 | 8 | 5101 | 10174 | 7 |
| June 12, 2020 | 15181 | 627 | 399 | 12 | 4891 | 9891 | 7 |
| June 11, 2020 | 14554 | 681 | 387 | 5 | 4494 | 9673 | 7 |
| June 10, 2020 | 13873 | 409 | 382 | 17 | 4351 | 9140 | 7 |
| June 9, 2020 | 13464 | 663 | 365 | 4 | 4206 | 8893 | 7 |
| June 8, 2020 | 12801 | 315 | 361 | 7 | 4040 | 8400 | 7 |
| June 7, 2020 | 12486 | 260 | 354 | 12 | 3959 | 8173 | 7 |
| June 6, 2020 | 12233 | 389 | 342 | 9 | 3826 | 8065 | 7 |
| June 5, 2020 | 11844 | 328 | 333 | 10 | 3696 | 7815 | 7 |
| June 4, 2020 | 11516 | 350 | 323 | 8 | 3535 | 7646 | 7 |
| June 3, 2020 | 11166 | 348 | 315 | 1 | 3329 | 7522 | 7 |
| June 2, 2020 | 10819 | 241 | 314 | 15 | 3239 | 7266 | 7 |
| June 1, 2020 | 10578 | 416 | 299 | 12 | 3122 | 7157 | 9 |
| May 31, 2020 | 10162 | 307 | 287 | 14 | 3007 | 6868 | 7 |
| May 30, 2020 | 9855 | 553 | 273 | 12 | 2856 | 6726 | 7 |
| May 29, 2020 | 9302 | 387 | 261 | 2 | 2697 | 6344 | 7 |
| May 28, 2020 | 8915 | 182 | 259 | 5 | 2592 | 6064 | 7 |
| May 27, 2020 | 8733 | 389 | 254 | 5 | 2501 | 5978 | 7 |
| May 26, 2020 | 8344 | 276 | 249 | 16 | 2385 | 5710 | 7 |
| May 25, 2020 | 8068 | 229 | 233 | 7 | 2311 | 5524 | 7 |
| May 24, 2020 | 7839 | 313 | 226 | 5 | 2263 | 5360 | 7 |
| May 23, 2020 | 7526 | 265 | 221 | 0 | 2174 | 5131 | 7 |
| May 22, 2020 | 7261 | 245 | 221 | 10 | 2007 | 5033 | 7 |
| May 21, 2020 | 7016 | 339 | 211 | 11 | 1907 | 4898 | 7 |
| May 20, 2020 | 6677 | 284 | 200 | 8 | 1840 | 4637 | 7 |
| May 19, 2020 | 6401 | 226 | 192 | 1 | 1734 | 4475 | 7 |
| May 18, 2020 | 6175 | 216 | 191 | 9 | 1644 | 4340 | 7 |
| May 17, 2020 | 5959 | 388 | 182 | 6 | 1594 | 4183 | 7 |
| May 16, 2020 | 5621 | 176 | 176 | 5 | 1472 | 3973 | 7 |
| May 15, 2020 | 5445 | 288 | 171 | 3 | 1320 | 3954 | 4 |
| May 14, 2020 | 5162 | 193 | 168 | 3 | 1180 | 3815 | 4 |
| May 13, 2020 | 4971 | 184 | 164 | 6 | 1070 | 3737 | 4 |
| May 12, 2020 | 4787 | 146 | 158 | 6 | 959 | 3670 | 4 |
| May 11, 2020 | 4641 | 242 | 152 | 10 | 902 | 3589 | 4 |
| May 10, 2020 | 4399 | 248 | 142 | 17 | 778 | 3479 | 4 |
| May 9, 2020 | 4151 | 239 | 127 | 11 | 745 | 3278 | 4 |
| May 8, 2020 | 3912 | 386 | 118 | 10 | 679 | 3115 | 4 |
| May 7, 2020 | 3526 | 381 | 108 | 4 | 601 | 2818 | 4 |
| May 6, 2020 | 3145 | 195 | 104 | 5 | 534 | 2507 | 1 |
| May 5, 2020 | 2950 | 148 | 99 | 5 | 481 | 2370 | 4 |
| May 4, 2020 | 2802 | 245 | 94 | 6 | 417 | 2291 | 2 |
| May 3, 2020 | 2558 | 170 | 88 | 2 | 400 | 2070 | 2 |
| May 2, 2020 | 2388 | 220 | 86 | 17 | 351 | 1952 | 2 |
| May 1, 2020 | 2170 | 238 | 69 | 10 | 351 | 1751 | 2 |
| April 30, 2020 | 1932 | 204 | 59 | 7 | 317 | 1556 | 2 |
| April 29, 2020 | 1728 | 196 | 52 | 7 | 307 | 1369 | 2 |
| April 28, 2020 | 1532 | 195 | 45 | 4 | 255 | 1232 | 2 |
| April 27, 2020 | 1337 | 64 | 41 | 0 | 255 | 994 | 2 |
| April 26, 2020 | 1273 | 91 | 41 | 5 | 239 | 994 | 2 |
| April 25, 2020 | 1182 | 87 | 36 | 3 | 222 | 925 | 2 |
| April 24, 2020 | 1095 | 114 | 33 | 1 | 208 | 855 | 2 |
| April 23, 2020 | 981 | 108 | 32 | 3 | 197 | 753 | 2 |
| April 22, 2020 | 873 | 91 | 29 | 3 | 197 | 648 | 2 |
| April 21, 2020 | 782 | 117 | 26 | 3 | 197 | 560 | 2 |
| April 20, 2020 | 665 | 38 | 23 | 1 | 188 | 466 | 2 |
| April 19, 2020 | 627 | 86 | 22 | 2 | 170 | 436 | 2 |
| April 18, 2020 | 541 | 48 | 20 | 2 | 166 | 356 | 2 |
| April 17, 2020 | 493 | 51 | 18 | 4 | 159 | 317 | 2 |
| April 16, 2020 | 442 | 35 | 13 | 1 | 152 | 277 | 2 |
| April 15, 2020 | 407 | 34 | 12 | 1 | 128 | 267 | 2 |
| April 14, 2020 | 373 | 30 | 11 | 1 | 99 | 263 | 2 |
| April 13, 2020 | 343 | 20 | 10 | 0 | 91 | 242 | 2 |
| April 12, 2020 | 323 | 5 | 10 | 0 | 85 | 228 | 2 |
| April 11, 2020 | 318 | 13 | 10 | 3 | 70 | 238 | 2 |
| April 10, 2020 | 305 | 17 | 7 | 0 | 58 | 240 | 2 |
| April 9, 2020 | 288 | 14 | 7 | 1 | 51 | 230 | 2 |
| April 8, 2020 | 274 | 22 | 6 | 0 | 44 | 226 | 2 |
| April 7, 2020 | 254 | 16 | 6 | 1 | 44 | 204 | 2 |
| April 6, 2020 | 238 | 6 | 5 | 0 | 35 | 198 | 2 |
| April 5, 2020 | 232 | 18 | 5 | 1 | 33 | 194 | 2 |
| April 4, 2020 | 214 | 5 | 4 | 0 | 25 | 185 | 0 |
| April 3, 2020 | 209 | 25 | 4 | 2 | 25 | 180 | 0 |
| April 2, 2020 | 184 | 10 | 2 | 0 | 20 | 162 | 0 |
| April 1, 2020 | 174 | 35 | 2 | 0 | 9 | 163 | 0 |
| March 31, 2020 | 139 | 8 | 2 | 0 | 9 | 128 | 0 |
| March 30, 2020 | 131 | 20 | 2 | 1 | 8 | 121 | 0 |
| March 29, 2020 | 111 | 22 | 1 | 0 | 3 | 107 | 0 |
| March 28, 2020 | 89 | 19 | 1 | 0 | 3 | 85 | 0 |
| March 27, 2020 | 70 | 5 | 1 | 0 | 3 | 66 | 0 |
| March 26, 2020 | 65 | 14 | 1 | 0 | 2 | 62 | 0 |
| March 25, 2020 | 51 | 7 | 1 | 0 | 2 | 48 | 0 |
| March 24, 2020 | 44 | 4 | 1 | 0 | 2 | 41 | 0 |
| March 23, 2020 | 40 | 10 | 1 | 1 | 2 | 37 | 0 |
| March 22, 2020 | 30 | 8 | 0 | 0 | 2 | 28 | 0 |
| March 21, 2020 | 22 | 10 | 0 | 0 | 1 | 21 | 0 |
| March 20, 2020 | 12 | 4 | 0 | 0 | 1 | 11 | 0 |
| March 19, 2020 | 8 | 0 | 0 | 0 | 1 | 7 | 0 |
| March 18, 2020 | 8 | 5 | 0 | 0 | 1 | 7 | 0 |
| March 17, 2020 | 3 | 1 | 0 | 0 | 0 | 3 | 0 |
| March 16, 2020 | 2 | 0 | 0 | 0 | 0 | 2 | 0 |
| March 15, 2020 | 2 | 0 | 0 | 0 | 0 | 2 | 0 |
| March 14, 2020 | 2 | 0 | 0 | 0 | 0 | 2 | 0 |
| March 13, 2020 | 2 | 0 | 0 | 0 | 0 | 2 | 0 |
| March 12, 2020 | 2 | 0 | 0 | 0 | 0 | 2 | 0 |
| March 11, 2020 | 2 | 0 | 0 | 0 | 0 | 2 | 0 |
| March 10, 2020 | 2 | 0 | 0 | 0 | 0 | 2 | 0 |
| March 9, 2020 | 2 | 1 | 0 | 0 | 0 | 2 | 0 |
| March 8, 2020 | 1 | 0 | 0 | 0 | 0 | 1 | 0 |
| March 7, 2020 | 1 | 0 | 0 | 0 | 0 | 1 | 0 |
| March 6, 2020 | 1 | 0 | 0 | 0 | 0 | 1 | 0 |
| March 5, 2020 | 1 | 0 | 0 | 0 | 0 | 1 | 0 |
| March 4, 2020 | 1 | 0 | 0 | 0 | 0 | 1 | 0 |
| March 3, 2020 | 1 | 0 | 0 | 0 | 0 | 1 | 0 |
| March 2, 2020 | 1 | 0 | 0 | 0 | 0 | 1 | 0 |
| March 1, 2020 | 1 | 0 | 0 | 0 | 0 | 1 | 0 |
| February 29, 2020 | 1 | 0 | 0 | 0 | 0 | 1 | 0 |
| February 28, 2020 | 1 | 1 | 0 | 0 | 0 | 1 | 0 |