Dangote mentioned in 'milk ban' controversy
@AlikoDangote is currently a subject of discussion on social media, as FG is reportedly considering banning milk importation.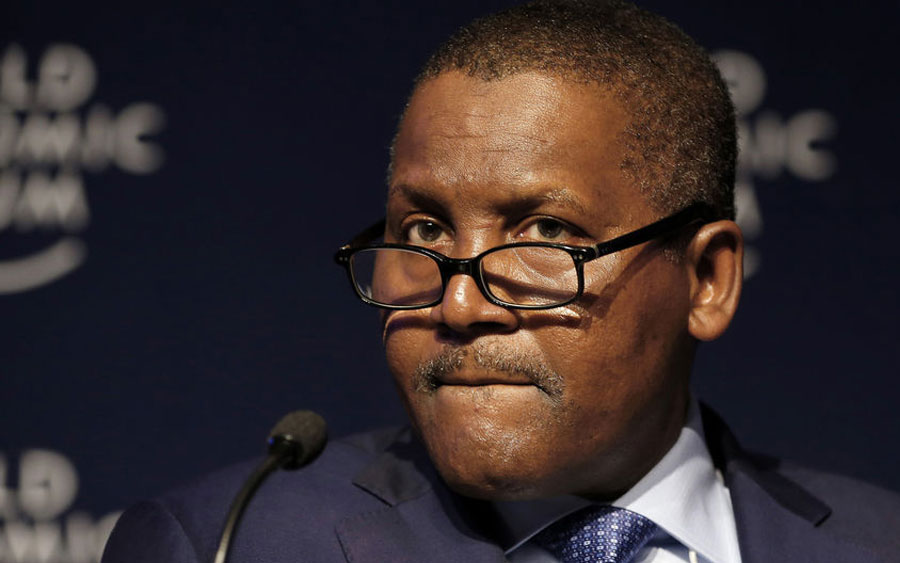 Business magnate, Aliko Dangote is currently a subject of discussion on social media, as the Federal Government is reportedly considering banning the importation of milk.
The controversy: The Governor of the Central Bank of Nigeria, Godwin Emefiele was quoted to have said the Federal Government would soon put restrictions on the importation of milk, and other dairy products in the country.
Emefiele reportedly made this known on Tuesday, July 23, 2019, while addressing newsmen after the Monetary Policy Committee (MPC) meeting in Abuja.
[READ MORE: Aliko Dangote is the only African among the world's 100 richest people]
While lamenting that the importation of milk stood between $1.2 billion dollars and $1.5 billion dollars annually, Emefiele said that he was convinced that milk was one of the products that could be produced in this country, hence there would not be a need for importation.
The CBN later denied the claim and said it has no legal power to carry out such an act. The apex bank's denial, however, came after Emefiele's disclosure.
Dangote's involvement: Dangote had reportedly disclosed his plans to invest $800 million in dairy production in Nigeria. According to the report, the plan is part of Dangote's diversification plans into the Nigerian agricultural sector.
[READ ALSO: Dangote gets African leaders' support on health sector plan]
What Nigerians are saying: Since the news of the alleged restriction surfaced on the internet, Nigerians have taken to the social media to air their views, tagging the business magnate as an economic saboteur.
Below are the reactions from Nigerians.
Dangote is the biggest economic saboteur the world has ever known. But guess what? He didn't create himself. Every Nigerian leader since 1999 including Governors enabled him. In serious countries, Antitrust laws would have sent him either to jail or out of business with fines.

— Mazi (@matthewamad) July 29, 2019

#Nigeria government has made Dangote to look as if he is the only businessman that knows how to do business, also with the best ideas in the country.
Govt / CBN are planning to ban milk, same week Dangote deviates into diary farming. That's not a coincidence.#KenyanVsNigeria pic.twitter.com/9vmtBrzOfR

— Ayemojuba 💕🇳🇬 (@ayemojubar) July 28, 2019
– I'm just gonna throw Aliko Dangote in the mix for some slaps. His underhanded technique is more economically damaging than good. Having the power and resources to manipulate a dead society doesn't mean you have to. You need to be competitive than kill the competition.🤦🏽‍♂️👋👋

— Ferdinand. (@Burmese__Tyga) July 28, 2019
Look at me here thinking this CBN forex ban on milk imports did not make any sense right now when all I needed to see was this 👇👇

Oligarchy at its finest – the Dangote story pic.twitter.com/mKEZ7jpTx2

— Dr. Anita Mudiaga (@fav_eyedoctor) July 28, 2019
Dangote's business entity has single handedly monpolised every economic product. Thanks to the FG now. It's like all businesses must have to compete against him standing next to the govt. Is that not a suicide mission business-wise? Yar'adua was the one president who tried to block him.

— Tolu Olumide (@olumide_tolu) July 28, 2019
If Dangote starts manufacturing cars today, there will be a "revolution" in the local car manufacturing industry.

Just kidding. The Nigerian Government will just ban car importation, Dangote won't pay tax, he'd get interest-free loan from CBN. Arewa stays winning.

— Kelvin Odanz (@MrOdanz) July 28, 2019
Anytime Dangote wants to delve into any business in Nigeria, the Federal Govt announces a restrictive policy that makes it extremely difficult for other Nigerians in that line of business to operate as they should.
They did it with cement, flour and even tomato paste.

— The Papi (@tawah89) July 28, 2019

[READ FURTHER: Aliko Dangote accompanies Buhari to see Trump]
Dangote's net worth declines by $1.2 billion in February
Africa's richest man, Aliko Dangote lost $1.2 billion of his estimated net worth.
Aliko Dangote, the founder of Africa's most diversified manufacturing conglomerate, Dangote Industries, has seen his net worth decline by a whopping $1.20 billion in the month of February alone.
Africa's richest man whose wealth peaked at $18.4 billion this year, saw his wealth declined by $1.20 billion, to $16.6 billion from $17.8 billion recorded on the 31st of January 2021, data retrieved from Bloomberg Billionaire Index reveals.
Source: Bloomberg Billionaire Index
The fall in Dangote's net worth is partly attributable to the decline in the share price of his flagship company, Dangote Cement Plc (DCP), as well as the share price of his integrated sugar business, Dangote Sugar Refinery Plc (DSR).
The decline in the share price of these companies which impacted their market capitalization was occasioned by profit-taking activities by investors in February, across the market spectrum.
Facts about Dangote's networth valuation
The majority of Dangote's fortune is derived from his 86% stake in the publicly-traded Dangote Cement, as the billionaire holds the shares of the company directly and through his conglomerate, Dangote Industries.
He holds stakes in Nascon Allied Industries and United Bank for Africa, directly and through Dangote Industries, a conglomerate that also owns closely held businesses operating in food manufacturing, fertilizer, oil and other industries.
Dangote's most valuable closely held asset is his fertilizer plant with a capacity to produce up to 2.8MT of urea annually. The $2.5 billion fertilizer plant owned by Africa's richest man Aliko Dangote, is expected to commence operation in the first quarter of 2021.
The billionaire also owns a $12 billion oil refinery which is expected to be completed this year. However, the plant is not included in his net worth valuation, for some reason.
What you should know
The shares of Dangote Cement at the close trading activities for the month of February declined by 6.78%, extending the YTD loss on the shares of the cement behemoth to over 10%.
On the flip side, shares of Dangote Sugar Refinery also declined by 15.29% to close the month lower at N18 per share, thus correcting the YTD gains of its shares to 2.27%.
Battle of Titans: Elon Musk, Jeff Bezos share world's richest title
Stiff competition prevails as both Jeff Bezos and Elon Musk share the world's richest title.
The battle for the worlds richest has suddenly become so intense that both Elon Musk and Jeff Bezos both share the world's richest man title on the account they both have a net worth of $184 billion.
Bezos, the man behind the world's most valuable retail company, Amazon, has steadily been seeing his wealth valuation appreciate amid high market volatility currently prevailing at global financial markets.
The 49-year-old self-made billionaire, Elon Musk is sharing, the world's richest when recent data revealed Tesla recorded impressive gains of about $9.75 at the end of Monday's trading session.
Investors are currently increasing their buying pressure on Tesla as they weigh reports that the electric vehicle industry is expected to grow into a $5 trillion market over the next decade, thereby giving the world's most valuable car company room for more upside.
READ: China's richest man worth $94.1 billion earned a fortune from selling bottled water
It's important to note that both mega billionaires have in recent times focused their considerable brainpower on space technology as Bezos recently accelerated his space-travel efforts through his firm popularly known as Blue Origin.
Recent reports suggest SpaceX founded by Musk raised another $850 million this month from a group of leading institutional investors led by Sequoia Capital.
Such investment now puts SpaceX's valuation at $74 billion, a 60% jump from August, and helped boost Musk's net worth by about $11 billion, according to the index.
Bezos who is now the Chairman of the $1.58 trillion valued company, Amazon has about $9.63 billion cash in the bank.
READ: Apple's market value cross $ 2 trillion
The online retail giant returns have under his tenure as the chief executive officer of the e-commerce giant actually ranked second among all S&P stocks since the IPO in May 1997.
The 57-year-old billionaire is the founder of Amazon, the world's biggest online retailer company on earth. The American-based company sells books, household goods, and other retail products through its flagship platform.
His company also controls the Whole Foods grocery chain and offers video streaming services and remains the biggest cloud computing provider worldwide.
READ: Billionaires worth over $100 billion made $270 billion in 2020
That being said, both Elon Musk and Jeff Bezos's wealth valuation would currently buy 107 million troy ounces of gold or 2.91 billion barrels of crude oil.
Nairametrics | Company Earnings
Access our Live Feed portal for the latest company earnings as they drop.