CORPORATE ACTIONS: An Exit and Less Sugar
Oando Plc's exit from Axxela Limited, and a decline in Dangote Sugar results were some of the key corporate actions on the NSE last week.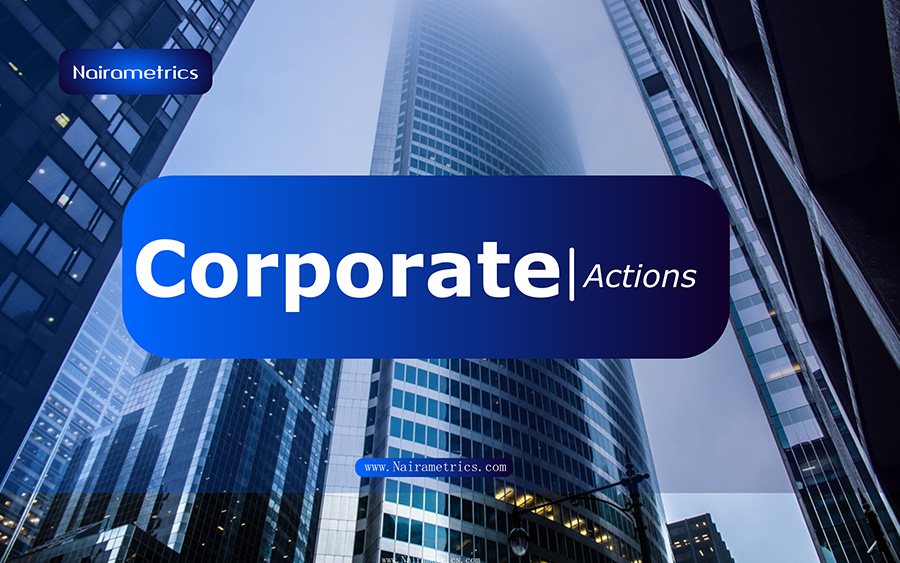 Corporate actions are decisions taken by companies' boards of directors or management teams, that could have impacts on the firms themselves or shareholders.  
Examples of corporate actions include the release of quarterly and full year results,  payment of dividends, closing of shareholders' registers, announcing qualification dates and Annual General Meeting (AGM) dates.  
Here is a review of corporate actions that took place last week,
Less Sugar 
Dangote Sugar released its full-year 2018 results. Topline and bottom line dipped significantly.
Management blamed this on smuggled sugar, the logjam at Apapa, and to a minor extent communal crisis.
The company has declared a final dividend of N1.10 per share, N0.65 lower than the N1.75 paid in 2017.
Fidson Healthcare Plc
Fidson Healthcare Plc released its results for the 2018 financial year. The company also held a "Facts behind the figures" session at the Nigerian Stock Exchange (NSE). Management attributed the  N97.4 million loss to high operating and finance costs.  
Cheers at May
 May and Baker Plc also released its full-year 2018 results. The company made a profit after tax of  N342 million and declared a dividend of N0.20 per share.  Qualification date is the 19th of April, 2019.  
Multi-millionaire transporter Samuel Onyishi has also taken a stake in the firm and is now one of the largest individual shareholders.
Secure losses continue 
Secure Electronic Technology Plc released its Q1 2019 results. The company remains loss-making with a loss after tax of N21.8 million. In 2018, it recorded a full year loss after tax of N152 million. 
More losses at Morrison 
Morrison Industries Plc released its full-year 2018 results. Turnover decreased while the company recorded a loss for the fifth consecutive year.  
Delayed results  
Several firms issued notices that they would be delaying the release of their full-year audited financial statements which should have been due March 31st, 2019, as well as Q1 2019 results.  
Cornerstone Insurance, in its notice to the NSE, stated that it would file its 2018 audited results on or before 30th of June 2019. As such, the release of its results for the first quarter ended March 2019 would also be delayed.  
Daar Communications, in its notice, stated that the delay behind the filing of its full-year 2018 results was due to the request of its external auditors to review the company's trade receivables, in line with IFRS 15.  
First Aluminum attributed the delay in filing of its full-year 2018 results to an ongoing audit process. The firm, however, expects to send the results on or before the 30th of April, 2019.  
FBN Holdings has had to delay the submission of its results since several of its subsidiaries are yet to obtain final regulatory approval. The company, however, expects to file its results on or before the 30th of April, 2019.  
FTN Cocoa Plc has attributed the delay in the submission of its full-year 2018 results to an ongoing restructuring exercise.  
Omoluabi Mortgage Bank has delayed the release of its 2018 results due to the implementation of IFRS9 on its financials. The bank will submit its results on or before the 30th of June, 2019.
AG Leventis Plc has attributed the delay of its full-year 2018 results on the need to conclude audit-related matters. The firm, however, stated it would do so on or before the 30th of April, 2019.
Agenda 2021
In a notice to the NSE, GSK Consumer Nigeria disclosed a review of its operating model effective Q3 2021. Its Agbara plant will be shut down and its operations moved to third-party manufacturers under a contract basis.    
An exit 
Oando Plc disclosed it had sold a minority 25% stake it held in Axxela Limited (formerly Oando Gas and Power) to Helios Investment Partners, for $45 million. Helios had in 2016 bought a 75% stake in the firm.
Departure
UAC of Nigeria Plc announced the resignation of Mrs Omolara Elemide from the board of the company, effective April 1, 2019.  Prior to this, Elemide was Executive Director, Corporate Services and had a stint as Acting Group Managing Director of the conglomerate.  
Gold's appeal up thanks to a weaker U.S dollar
More COVID-19 relief programs pushed the yellow metal's appeal up as an inflation hedge.
Gold was up at Wednesday's trading session, thanks to a weaker dollar coupled with statements from Janet Yellen, the incoming Secretary for the U.S Treasury, calling for more COVID-19 relief programs; these helped to push the yellow metal's appeal up as an inflation hedge.
What you should know: At press time, Gold futures were up 0.51% at $1,849.60/ounce.
The Secretary of the Treasury nominee made key statements during her Senate confirmation hearing held yesterday, where she discussed the economic gains of a large stimulus package that would far outweigh the risk of a higher debt burden.
The greenback dropped for the third consecutive trading session after Janet Yellen said in her hearing that tax cuts enacted in 2017 for large companies should be reversed.
Stephen Innes, Chief Global Market Strategist at Axi, in a note to Nairametrics, spoke on the odds that the precious metal currently has amid a relatively strong greenback.
"Maximum stimulus overdrive, favorable to bullion turnaround in taper talk and slightly weaker dollar paint an encouraging backdrop for gold prices provided real rates oblige.
"Gold has been facing headwinds from a strong US dollar and higher real rates so far this year. The market is trying to hold the yellow metal above crucial support levels, which is encouraging," Innes stated.
What to expect: However so far, gold has struggled to recover convincingly past the $1850 psychological level, and the 50dma around $1960 remains the ultimate target Q1 for gold bulls.
McCaleb, co-founder of Ripple sells 28.6 million XRP
McCaleb the co-founder of Ripple sold 28.6 million XRP — roughly $8.5 million
Crypto analyst, Leonidas Hadjiloizou, recently revealed via his Twitter handle that McCaleb, the co-founder of Ripple, sold 28.6 million XRP — roughly $8.5 million at the time of drafting this report — following 25 days of no sale activity after news broke of the Ripple SEC lawsuit.
Jed's Tacostand had paused XRP sales ever since the SEC lawsuit was announced. After 25 days of no sales, 28.6 million XRP was sold today. pic.twitter.com/XTMgmvDFZF

— Leonidas Hadjiloizou (@LeoHadjiloizou) January 18, 2021
At the time of writing this report, XRP traded at  $0.288355 with a daily trading volume of $5.6 billion. XRP is down 1.09% for the day.
Recall that some days ago, Nairametrics revealed Ripple's co-founder and one of the largest owners of XRP, Jed McCaleb, gained massively from selling XRP in 2020.
Despite Ripple's legal troubles with the powerful American financial regulator, Jed McCaleb was able to gain $411 million in XRP sales throughout 2020, bringing his total gains from selling XRP to $546 million.
It's important to note that McCaleb left Ripple several years ago and went on to launch his own crypto company known as Stellar.
As of the start of Q3 2020, he was selling an average of 1.74 million XRP daily which, at that time, was estimated to be worth $547,438.
According to Whale Alert's research, the co-founder still owns 3.274 billion XRP.
Recently, XRP has been losing value at record levels since reports that the world's most valuable crypto exchange, Coinbase, announced that it wouldn't allow XRP trading, in response to the United States Securities and Exchange Commission taking legal action against Ripple.
Oil prices rally high on incoming COVID-19 relief program
Brent oil futures gained 0.68% to trade at $56.28 a barrel adding to yesterday's 2.1% gain.
Oil prices were all fired up at mid-week trading session in London.
Holding on to their previous gains on reports that the incoming Joe Biden administration will offer more quantitative easing programs, boosted hopes for energy demand
What you should know: At press time, Brent oil futures gained 0.68% to trade at $56.28 a barrel adding to yesterday's 2.1% gain. West Texas Intermediate futures rallied by 0.79% to trade at $53.40 a barrel, building on a 1.2% rise seen at the last trading session.
Both major oil benchmarks stayed above the $50 mark.
The Treasury Secretary nominee, Janet Yellen advised the U.S lawmakers in acting fast on COVID-19 support packages during her Senate confirmation hearing held yesterday.
Stephen Innes, Chief Global Market Strategist at Axi in a note to Nairametrics gave valuable insights on the mindset of energy traders in regards to Saudi's recent cut and massive stimulus package on its way to financial markets stating;
"The energy markets are racing higher out of the gates in Asia aided by a lower dollar and hopes of a sizeable economic stimulus package from the Biden administration.
"Energy traders are packing in a chunky stimulus-response that might matter to investors from both a commodity and currency perspective where the US dollar could weaken to oil prices benefit since crude is priced in US dollars.
"The most favorable elixir of US stimulus and the imminent Saudi production cut bolstering efforts of OPEC+ to keep supply well below demand this year continue to help price action."
What to expect: Ahead of presidential inauguration day, Oil traders offer up a Biden policy seal of approval on the agenda's sequencing with vaccinations plus stimulus now and taxes later, to drive risk through the first half of 2021.