Tier one banks top this week's watchlist
Stocks to watch comprises the top gainers and losers from the previous week, as well as companies having corporate actions.
Stocks to watch is not a Buy/Sell/Hold list.
Zenith Bank Plc
Zenith Bank tops the watchlist this week by virtue of holding its Annual General Meeting (AGM) today. AGMs are opportunities for management teems to shed light on plans for the current year.
UBA Plc
UBA Plc takes the second spot this week by virtue of the bank releasing its results last Friday. Banks typically tend to hold conference calls following the release of their full year or half year results. UBA could thus hold its call sometime this week.
Calls typically provide opportunities for management teams to shed light on their plans for the coming year, as well as provide deeper insight into the results.
FBN Holdings
FBN Holdings has a spot on this week's watchlist by virtue of being the only tier one bank that's yet to release its full year 2018 audited results. Though the company tends to release its full year results in April from precedence, it would make proper sense to keep the stock on a watchlist till then.
Diamond Bank Plc
Diamond Bank has a spot in this week's watchlist by virtue of its impending merger with Access Bank, which released its full year results last Friday. Diamond Bank should release its full year 2018 results sometime before the merger.
Berger Paints Nigeria Plc
Berger Paints has a spot in this week's watchlist by virtue of the company holding a board meeting on March 19, 2019 to consider its FY 2018 audited results. The result could therefore be released within the trading week.
Cadbury Nigeria Plc
Cadbury Nigeria Plc will be releasing its audited 2018 results on March 20, 2019, going by the wordings of a notice, sent recently.
CAP Plc
CAP Plc will be having a board meeting on Wednesday March 20, 2019 to consider its audited financial statements and other agenda items. The company, from all indications, would release its full year results within the week.
Julius Berger Nigeria Plc
Julius Berger Nigeria Plc will hold board meetings on March 19 and March 20, 2019 to consider the company's audited full year 2018 results.
The company could thus release its results sometime this week.
STACO Insurance Plc
STACO Insurance Plc will hold a board meeting on Wednesday 20th of March, 2019, to consider a share reconstruction and capital raise.
If approved, the move could lead to a rally in the stock's share price.
11 Plc
11 Plc (formerly known as Mobil Oil Nigeria Plc) will be releasing its full year 2018 results on Friday March 22, 2019, hence its place in this week's stocks to watch. The company's 9M 2018 results showed a marked improvement, and similar full year results could lead to an uptick in its share price.
Flour Mills moves to diversify funding sources with N29.8 billion bond listing
Flour Mills Nigeria Plc lists N29.8 billion bonds to diversify funding sources from the Nigerian capital market.
Flour Mills Nigeria Plc's fresh N29.8 bond listing will help the nation's leading food business company to explore diversified funding sources from the Nigerian capital market, with the hope of enhancing growth and the development of the company.
This statement was made by the Group Managing Director of FMN, Mr. Omoboyede Olusanya, at the listing of the Tranche A and Tranche B bonds valued at N29.8 billion on the Nigerian Stock Exchange (NSE).
The food and the agro-allied company which has remained Nigeria's largest and oldest integrated agro-allied business with a broad profile and robust Pan-Africa distribution issued these bonds under its N70 billion Bond Issuance Programme.
Olusanya said that the company would continue to explore funding opportunities inherent in the capital market to ensure business growth and continuity.
While speaking about the Credit Rating of the Programme, he disclosed that FMN's credit rating, as well as the operational financing of the Group, have improved considerably.
According to him, the bonds floated by Flour Mill will help to strengthen the company's capital base and provide the needed working capital required by the Company. He added that Flour Mills Group will continue to deleverage and replace short term financing with longer-tenured and lower price funding to optimize capital structure and reduce financing cost.
He noted that Flour Mills will continue to explore opportunities to raise fundings via the capital market as this enables the company to diversify its funding sources and continue to play a role in the capital market as a significant player in it.
What they are saying
The Group Managing Director of FMN, Mr. Omoboyede Olusanya, at the virtual event, said;
"We are delighted with the response from the market, we are happy to be listed.
"We are introducing an N29.9 billion listing under an N70 billion bond issuance cover; we will continue to raise funding to diversify our funding sources.
"The company remains passionate about feeding the nation to improve the quality of living for Nigerians through increased production and investments in backward integration."
What you should know
With the successful issuance of the new N29.8bn Tranche A and Bonds, FMN has utilized its bond issuance program registered in 2018.
It is important to note that the Senior Unsecured bond listing includes an N4.89bn under Series 4 Tranche A of the bond issuance programme, at a 5.5% rate for 5 years, due by 2025, and a 25bn under Series 4 Tranche B of the same program at a 6.25% rate for a tenure of 7 years, due by 2027.
The bond proceeds will be used to refinance existing debt obligations. It will also help the company take collaborative actions to diversify the company's financing options beyond expensive short term debt.
Naira gains marginally at NAFEX window, exchange rate to remain stable
The exchange rate between the naira and the dollar appreciated closing at N394/$1 at the NAFEX window.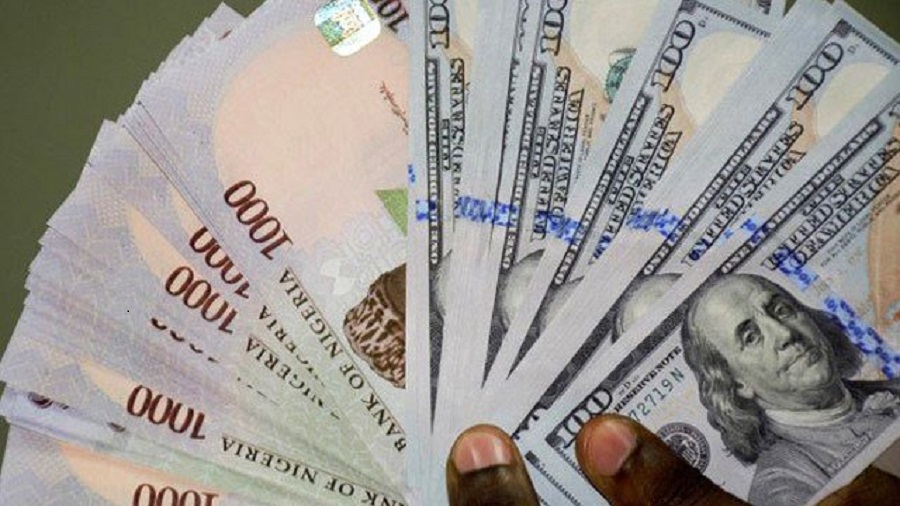 On January 21, 2021, the exchange rate between the naira and the dollar appreciated closing at N394/$1 at the NAFEX (I&E Window) where forex is traded officially.
However, during intraday trading, the exchange rate traded for as high as N415.76/$1, sustaining yesterday's figure which is the highest intraday trading tracked by Nairametrics. Forex turnover, however, dropped by about 14% as pressure on the foreign exchange market continues.
READ: Naira stabilizes at black market as external reserve rises by $515 million in 12 days
According to a report from Reuters, the naira is expected to remain stable in the coming week as currency traders watch for policy details at CBN's first MPC meeting in 2021.
Also, the exchange rate at the black market where forex traded unofficially still remained flat at N475/$1. The exchange rate at the parallel market closed at N475/$1 on the previous trading day of January 20, 2021.
The exchange rate disparity between the parallel market and the official market is about N81, representing a 17% devaluation differential.
READ: Naira strengthens at NAFEX window despite 38% drop in dollar supply
The Naira appreciated against the dollar at the Investors and Exporters (I&E) window on Thursday, closing at N394/$1. This represents a 17 kobo gain when compared to the N394.17/$1 that it closed on the previous trading day.
The opening indicative rate was N394.16 to a dollar on Thursday, the same rate that was recorded on Tuesday, January 20, 2021.
The N415.76 to a dollar was the highest rate during intra-day trading before it closed at N394 to a dollar. It also sold for as low as N390/$1 during intra-day trading.
Forex turnover at the Investor and Exporters (I&E) window dropped by 13.9% on Thursday, January 21, 2021.
According to the data tracked by Nairametrics from FMDQ, forex turnover declined from $89.50 million on Wednesday, January 20, 2021, to $77.04 million on Thursday, January 21, 2021.
The exchange rate is still being affected by low oil prices, dollar scarcity, a backlog of forex demand, and a shaky economy that has been hit by the coronavirus pandemic.
There are fears that the exchange rate at the black market might be under pressure in the coming weeks as importers scramble for dollars to meet their demands.
READ: The dangling fate of indigenous oil upstream operators
Oil price steady rise
Brent crude oil price is at about $56 per barrel on Wednesday, as it moves towards the $60 mark, a strong sign that global demand could sustain price increases in 2021.
This appears as a boost to Nigeria as the country's crude oil price benchmark for 2020 was $40 while it projected an oil production output of 1.8 million barrels per day.
Nigeria has a production capacity of 2.5 million barrels per day but is subject to OPEC's crude oil production cuts, which are expected to help sustain higher oil prices.
The higher oil prices and steady production output have positively impacted Nigeria's external reserves, rising sharply to $36.304 million according to central bank data dated January 14, 2020.
This is the highest level since July 2020 and a sign that higher oil prices and steady output levels may be contributing significantly to Nigeria's foreign exchange position.
READ: Nigeria faces prolonged exchange rate crisis as oil prices remain stuck at $40
Nigeria rising external reserves
The external reserve has risen to $36.464 billion as of January 19, 2021.
Nairametrics reported on Wednesday that the government may have taken receipt of the $1-1.5 billion World Bank Loan.
The external reserves have increased by $1.09 billion since December 31, 2020, when it closed the year at $35.3 billion.
Nigeria also needs the external reserves to hit $40 billion if it is to adequately meet some of the pent up demand that has piled up since 2020 when oil prices crashed and the pandemic caused major economic lockdowns.
Gold prices pull back after hitting highest levels in 2 weeks
Spot gold was down by 0.4% to trade at $1,862 per ounce after hitting its highest since Jan. 8 at $1,874.50 earlier in the session.
Gold prices pulled back a little of its gains recorded on Thursday, as it traded near its highest level in nearly two weeks.
The greenback's slight rebound at Asia's trading session on Friday dented the precious metal's upsides.
Gold prices have been rallying high on reports that President Joe Biden's administration would push for more quantitative easing programs in order to support the world's biggest economy.
READ: Gold rebounds strongly amid COVID-19 crisis
At the time of drafting this report, Spot gold was down by 0.4% to trade at $1,862 per ounce after hitting its highest since Jan. 8 at $1,874.50 earlier in the session.
What you must know: It's key to note that the precious metal typically moves in the opposite direction from global stock markets, especially the American and European stock markets.
Humans are emotionally and physically drawn to gold. It provides a significant store of value.
Global Investors buy gold mainly to hedge against inflation.
READ: Gold on a grand slam win, gains $40 per ounce
Stephen Innes, Chief Global Market Strategist at Axi, in a note to Nairametrics, spoke on the recent price movements prevailing at the precious market;
"Gold bears have entered a temporary state of hibernation. The yellow metal seems to be past the lows for the month as the current " everything but the kitchen sink " policy backdrop and FX tailwinds for precious metals remain favorable.
READ: Gold rockets above $1850 as it continues 9-year high
"Resistance lies at the 100-day moving average at $1884. But the market needs a few more ounces of policy conviction for a break higher. Treasury yields should dictate the direction of bullion and a rally could quickly ensue if further inflation expectations kick in."
Bottom line: The yellow metal bugs are still in play, at least for the slightly longer horizon, given that global central banks are likely to stay dovish for an extended period of time.