President Buhari's thoughts on a new minimum wage
Some weeks after presenting the 2019 budget to the National Assembly, President Muhammadu Buhari addresses various major issues that pertains to the Nigeria economy and Nigerians during a recorded interview with the board of editors for ThisDay and Arise TV on Monday, January 7, 2019, at the Presidential Villa in Abuja.
He gave clarification to questions relating to Agriculture, food security, minimum wage increment, and national security during the interview session that included the Chairman of ThisDay/Arise Media Group, Nduka Obaigbena, Chairman of ThisDay Editorial Board, Olusegun Adeniyi, Editor of ThisDay, Bolaji Adebiyi, Managing Director of ThisDay, Eniola Bello, and Managing Director of Arise TV, Ijeoma Nwogwugwu.
On Agriculture
While responding to a question from Nwogwugwu on how he intends to grow the economy from the current slow pace if reelected, President Buhari lauded the success his administration have achieved since his tenure began in 2015, stating luck have been on their side with the rainy period, but condemning the media for not fully appreciating the luck and things his administration have done in Agriculture.
"I think the administration was lucky. We prayed very hard to God. Sometimes, people who are incompetence pray to much, they want God to do things for them. But in our own time, we were very lucky, the rainy seasons, 2016, 2017, 2018, although there were some flood in some part of the country, but were very good relatively.

I'm sure you know that we have virtually achieve food security. You, who are especially responsible for informing the people, Nigeria, you have failed, in my own opinion to fully appreciate the luck we hard, and what we did in Agriculture.

"We made fertilizer available at virtually half the price we met it, and we are producing it locally. We are together with another African country, Morocco. Secondly, I called the Minister of Agriculture and Rural Development and the governor of Central Bank, and spoke to them, what we inherited from the colonials is no longer available.

You see a family, maybe they have fifteen hectares, if they want loan to buy fertilizer and other agricultural inputs, they have to get a surveyor to survey their land, get certificate of occupancy, take it to the bank as collateral to get loan." He stated.
Adding that he had to inform Audu Ogbeh to replicate Obafemi Awolowo's first republic cooperatives strategy, which President Buhari said was the most successful at Nigeria's state of development then.
"You remember Awolowo's cooperatives? It was the most successful at our state of development then. I said go and read about it, and see how you can give farmers soft loans without interest, as long as their Village heads can say this family has got this land; that would be their collateral.

"And this succeeded in what we did in 2016, 2017, and 2018. We don't import rice virtually anymore, we have stopped importing rice, and we are even exporting grains. But we want to be self-sufficient in maize so that chicken feed can be there locally. We have made tremendous progress, and everybody in persons, we took away from unemployment in Agriculture. We made very large strides in Agriculture." President Buhari boasted.
On reducing oil dependence and solving oil crisis with militants
Though the President didn't give much insight into how his administration reduced the dependence on oil, and the alternative provided to cushion the weight, he simply stated the dependence on oil has reduced while addressing the oil crisis in the South.
"People are less dependent on oil now, and we have succeeded in persuading the militants, that constitutionally, they are supposed to (get) thirteen per cent derivation. Thirteen per cent is around the area they occupy in the field of production….. What goes into the country's water under control belongs to the nation state. So, they can't come and claim they have to be given everything."

"I have a lot of respect for those who drew our constitution, they did a lot of work. So, I'm persuading the militant to try and understand, and be satisfied by the thirteen per cent allowed by the constitution, the rest belong to the country."
Poverty and food security in Nigeria
When questioned about the administration's claim of achieving food security which Arise TV's Nwogwugwu said was contrary to data from Brookings Institution's World Poverty Clock, which placed Nigeria as the poverty capital of the world with 87 million people living in extreme poverty, President Buhari suggested such question should be directed to the Minister of Agriculture and the Governor of Central Bank, as his administration work with fact and not figures.
"There will be a conflict because you work with figures, I work with facts. Please I recommend you see the Minister of Agriculture and the governor of Central Bank. How much money Nigeria was (said) to be allocating to import rice, to import other foodstuff, and how much we are now giving for import of food.

It will be impossible if we look at the improvement of our money in terms of what the Central Bank has when we came it was (about) N20bn, it's now (about) N43bn (in) foreign reserves.

"So, I think some of those questions, you will get the governor of Central Bank, the Ministry of Agriculture, and the Ministry of Works and Housing and Power to answer more efficiently with facts and figures.

Because they will tell you where we were when we came, where we are now, what we have been able to do in-between with the resources available to us. To be fair to this administration, this is the best result, this is the thing we can do. And people will understand it, because they are the ones going through (it)."
He however, stated that one of the greatest successes of his administration is the rate of people quitting their white-collar jobs to start farming, ascribing the achievement to the collaboration with CBN and the Ministries.
"There are people leaving white-collar jobs and going back to the land. This is one of the greatest success of this administration."
Curbing clashes between cattle hearers and farmers
Another issue that was raised before President Buhari by chairman of ThisDay Editorial Board, Olusegun Adeniyi, is the continuous bloody clashes involving cattle rearers and farmers. In curbing the clashes between cattle rearers and farmers, and the challenges it poses to food security, President Buhari urged law enforcement agencies to be more ruthless in dealing with abductors and cattle rustlers. While also adding that the discovery of oil changed the settings between farmers and cattle rearers in the first republic.
"(There) used to be cattle tracks and grazing areas, windmills, and even veterinary departments, and a cattle rearer that allows his cattle stray into somebody's farm is arrested, and the farmer will bring his estimated cost of damages and the cattle rearer will be asked to pay, if he can't, the cattle will be sold and the farmer will be paid." He explained.
Corruption fight and tolerance for party members
During the interview, President Buhari blamed the slow pace of fighting corruption and prosecution on the democratic system of government which Nigeria currently operates with, reflecting on his time as a military head of state, he stated that the system can't be compared to the present government, as there's a system he must work with. Responding to Editor of ThisDay, Bolaji Adebiyi's question on his corruption fight, President Buhari said,
"When I came in uniform, much younger and ruthless, you know what I did, I'm sure you've read about it if you don't know. I got the President and Vice President, the Governors and Ministers, took them to kiri-kiri (Prison) and told them they are guilty until they could prove themselves innocent. And we had a number of committees, to investigate those that were arrested and what they have taken but couldn't prove to be their own where taken from them.

"Now I come back, I'm trying to go through the system, and you are calling me baba go slow, what else can I do… I think I have to ask EFCC and ICPC to give you the number of assets recovered from people and the amount of money,"
Explaining that prompted him to introduce Treasury Single Account (TSA) and end the multiple accounts managed by several government parastatals, in a bid to curb corruption in Nigeria and monitor the flow of money within Ministries.
On the accusation of being selective in his corruption fight, President Buhari refuted claims he dropped charges against politicians like Godswill Akpabio for decamping to the All Progressive Congress (APC) party.
"Even if my son or my wife have a company, and they are involved in deals with customs bringing illegal goods, I challenge you to do that (publish). I can't remember asking EFCC, ICPC, the Police, or anybody to spare any corrupt person or incompetent person."
Minimum wage increment
Aside food security, corruption fight, and economy policy, the minimum wage was also addressed by the President of Nigeria during the 90 minutes interview which is dedicated to usher in preparation for the 2019 election, as well as serve as voters' education platform.
While defending the choice not to increase the minimum wage as demanded by the Nigerian Labour Congress (NLC), President Buhari said before his administration resume office, there were States that couldn't pay salaries between 1999 and 2014, and bailout had to be administered by his government twice.
"Between 1999 and 2014, there were States that were not paying salaries, we had to do bailout twice. Up till now, there are States that for six months were not paying workers. So, when they recruit labour, they want salary to be increased."
To buttress his point, President Buhari quoted a Hausa adage about a mad woman who tried to load tied sticks on her head but couldn't because of the weight, instead of reducing the sticks, she added more to it.
"When they can't pay the basic salary of N18,000 per month, they said it should go to N30,000. My budget presentation is not a secret, I read it out loud, where do we find the money. Do we print more currency? If we do it, we cannot control inflation."
He added that there are more unemployed Nigerians than employed Nigerians, so it's better to receive N18,000 than to receive nothing.
State Police debate and external forces to fight insurgence in the North
President Buhari also disclosed why he wouldn't accommodate the thought of State Police when brought up by Chairman of ThisDay/Arise Media Group, Nduka Obaigbena. Also stating he wouldn't source for external forces to fight the insurgence war in the North. He made it clear during the interview that if States are struggling to pay workers, signing off on the State Police will cause more harm than good, while adding that he believes Nigeria has the military might and resources to end the insurgence fight.
"I don't like to ask South Africans or anybody to come and fight for us, I don't like it. With about 190 million of us, if we can not mobilise to fight insurgence getting into our country, then what is the use of our numbers and resources.

I feel very strongly about it; I don't say I will not, but it will take time before I am convinced. I will see what I will do with the military and the police to flush the Boko Haram, the insurgence and the abductors. It's not part of the campaign, but I ensure it's what I will fix right when I come next time around."
Senate endorses ex-Service Chiefs as Non-career Ambassadors
The Senate has confirmed President Buhari's nomination of the immediate past service chiefs as non-career ambassadors.
The Nigerian Senate has endorsed the nomination of the past serving Military Service Chiefs as Non-career Ambassadors.
This was confirmed during Tuesday's plenary session and announced in a social media statement by the Nigerian Senate.
Their confirmation follows the consideration of the report of the Senate Committee on Foreign Affairs, Chaired by Senator Adamu Bulkachuwa.
According to reports, the Senate Minority Leader Enyinaya Abaribe, however, questioned the nomination and confirmation of the ex-service chiefs when the Senate had on 3 different occasions called for their sack.
Senator Abaribe also raised issues on the petitions against the former service chiefs and questioned why they were dismissed without explanations.
But Senate President Ahmad Lawan dismissed Senator Abaribe's concerns, ruling that the nomination of the former service chiefs cannot be nullified simply because the upper chamber had called for their sack, noting that this is totally a different assignment.
In his concluding statement, the Senate President, Senator Lawan added that these nominees that have just been confirmed have served this country to the best of their abilities. He appealed to the executive to make sure they use their experience as military men to the best.
"These nominees that we have just confirmed are nominees that have served this country to the best of their ability. Our appeal to the Executive is to make sure they use their experiences as military men to the best," Lawan said.
Lawan, on behalf of the senate, wished them a very successful career in their capacity as Non-Career Ambassadors.
What you should know 
Recall Nairametrics reported earlier this month that President Muhammadu Buhari nominated ex-Service Chiefs for Senate approval as non-career Ambassadors-Designate.
Their appointment came barely a week after their retirement as service chiefs and their replacement with new ones.
This led to a spate of criticisms from some Nigerians who felt that the nation's security situation got worse under their watch.
They were reported to have tendered their resignation from their positions amid heightened calls that they should be sacked due to the increasing rate of insecurity across the country.
2020 budget performance: FG achieves 89% capital release in December 2020
The Minister of Finance has revealed that the FG achieved 89% release of the capital component of the 2020 budget to MDAs as of December 2020.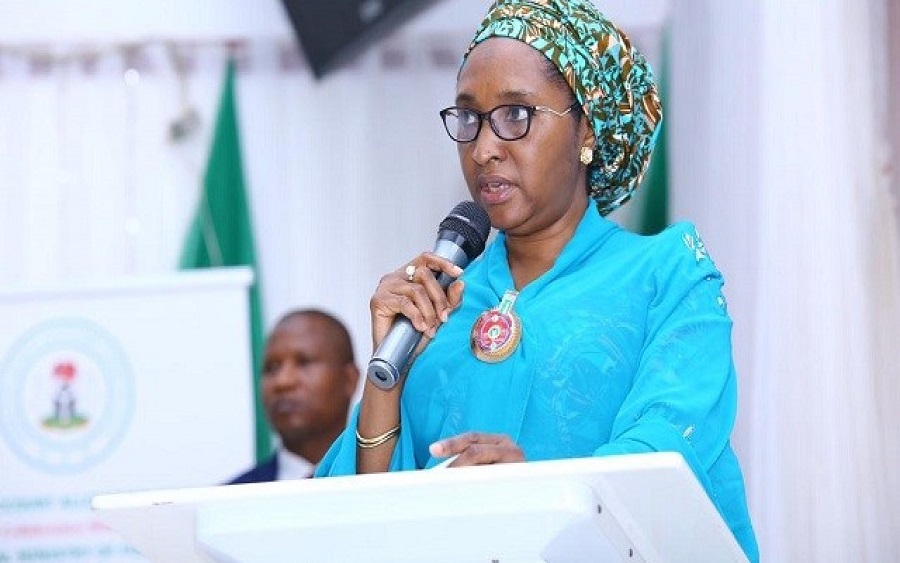 The Minister of Finance, Budget and National Planning, Zainab Ahmed, has revealed that the Federal Government achieved 89% release of the capital component of the 2020 budget to Ministries, Departments and Agencies (MDAs) as of December 2020.
She said that the 89% capital funding for MDAs was achieved with the release of N1.74 trillion.
According to a report by the News Agency of Nigeria (NAN), this disclosure was made by Ahmed at an interactive session with the leadership of the National Assembly on Monday, February 22, 2021.
She also revealed that the government had disbursed N118.37 billion for Covid-19 capital expenditure from the fund.
READ: Recession: Senate attributes recovery to it's cordial relationship with Executive
What the Minister for Finance is saying
Ahmed said the Nigerian economy faced serious challenges in 2020, with the macroeconomic environment significantly disrupted by the Covid-19 pandemic.
She said this led to a 65% drop in projected net 2020 government revenues from the oil and gas sector, which adversely affected foreign exchange inflows into the economy.
On the delayed release of funds to implement the 2020 capital budget until March 31, the Minister said the complaint had decreased.
She said, "I think the complaint was earlier in the year when we were trying to transfer the balances. As far as I know, in the past three weeks, I haven't heard any such complaints and we have been able to address them.
"But when we started the transfers, we couldn't transfer to some agencies because of some limitations in the system, but we have since been able to transfer the capital component that is being utilised by the agencies budget to the system."
READ: Nigeria receives $9.68 billion capital inflows in 2020, lowest in 4 years
While pointing out that the implementation of the MDAs projects was tied to procurement processes and capacity of the MDA, Ahmed also said the extension of the 2020 capital budget implementation to March 31 had recorded 30% performance as at January.
However, Ahmed said that she expected that the extension would record 100% performance in March.
Speaking during the interaction, the Senate's Chief Whip, Senator Orji-Uzor Kalu, commended the Minister on the capital performance of the 2020 budget.
READ: FG to reopen Kano and Port Harcourt airports for international flights
He said, "I want to commend the minister and her team because this is the first time in the history of Nigeria that by December 31, we are having 89% performance expenditure of the budget. It has never happened before; Last year was the very first.
"The budget had been going 49%, 27%; this means from what the Senate President was asking, it means by March, we should be looking at implementing the budget 100%.''
Earlier, President of the Senate, Ahmad Lawan said the meeting was to get an update on the capital implementation of the 2020 budget given its extension for implementation by the national assembly to March 31.
What this means
The 89% capital release for the 2020 budget as of December 2020 is quite encouraging as it occurred despite the economic challenges and disruption caused by the outbreak of the coronavirus pandemic.
There seems to be an improved effort by the Federal Government at the budgeting process with the early passage of the 2021 budget and the implementation of the capital component of the 2020 budget.
Nairametrics | Company Earnings