What President Buhari said in his 2019 new year's day speech
It is my utmost pleasure to rejoice with all Nigerians as we enter the year 2019, which will be a very significant one for our country.
It's the first day of 2019 and as always the sitting President is expected to give a speech about the administration's hits and misses, and way forward. This year President Muhammadu Buhari gave a speech, assuring Nigerians of his intention to organise a free, fair, and credible general elections.
The speech read thus:
Dear compatriots,
It is my utmost pleasure to rejoice with all Nigerians as we enter the year 2019, which will be a very significant one for our country.
At the turn of every year, we often use the opportunity to look back at the past and forward to the future. To review the outgoing year, its high and low points, successes and failures, and be fully thankful to God.
We Nigerians are a religious people, and we believe that God reigns and rules in the affairs of men. A time like this offers precious opportunity for thanksgiving, stock taking and reflection on goals and targets set for the receding year, and how much was accomplished. The ones not done can then be rolled over into a new year.
The dawn of a New Year is also a time to look forward. To consider new prospects, unfold our plans, and prepare for landmark dates and events.
2019 will be an election year for us. In about two months, the polls are due, and we will elect leaders into various offices, at national and state levels.
As I welcome you into 2019, I also reiterate my many promises and declarations that the general elections will be free, fair and credible.
Elections need not be do or die affair, and we should not approach that eventuality in a democracy with trepidation and mortal fear. Happily, a large number of presidential candidates have committed to peace, and peace we shall have.
Those who continue to trumpet falsehood and negativity are on their own, fighting a losing battle. The greater number of Nigerians are trusting and believing that we shall deliver on our promises for a level playing field at the polls, and that is what we shall do.
Nigerians desire peace, security, prosperity, inclusiveness and infrastructural development, a nation they can be proud of, a country that can hold its own among the nations.
That is the journey we have embarked on since we came onboard in 2015, and we are not distracted as we move on. We are resolved to build a country in which the resources are utilized for the benefit of the largest number, and not appropriated by a privileged few in their never ending quest to satisfy their greed.  We are on this mission together, and I assure you of a firm commitment to the ideals of a safe, secure, fair, just and prosperous country.
We have had our challenges: security, economic, political, social. But we are resolved to combat and overcome them all.
I appreciate your support and collaboration in previous years, and look forward to same in 2019, and beyond, as I hope you will renew the mandate you overwhelmingly gave us in 2015, for another term.
We are motivated by nothing other than service to motherland, and service without selfishness or personal interest.
I can assure you all that we are making steady and sustainable progress in all areas of national life. Those who are unbiased can see and appreciate the progress the country has made since 2015.
A New Year provides opportunity for renewal of commitment, and I invite you to rededicate yourselves to the vision of a Nigeria that works for all.
We are moving from potentials to actualization, and it's a task to be accomplished by us all; man, woman, young, old, military, civilian, all Nigerians.
Please come along, as we journey to the land of our dreams. Happy 2019.
Thank you  and God Bless the Federal Republic of Nigeria.
BUA cement to build power and cement plants in Adamawa state
BUA Cement's newest plant in Sokoto is expected to be operational in 2021.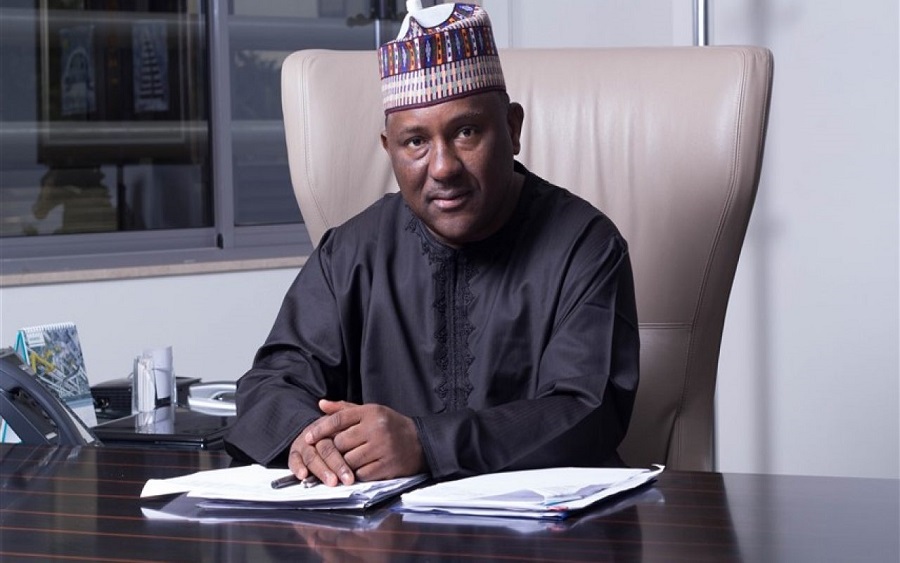 BUA Cement has announced plans to build a 50 megawatts power plant and 3 million metric tonnes cement plant in Lamurde and Guyuk local governments in Adamawa States.
BUA Cement which is Nigeria's second-largest cement producer by volume with plants in Sokoto and Edo States, with the projects wants the boost the country's power supply and increase the local production capacity for cement.
This was disclosed by the Chairman of BUA Cement, Abdul Samad Rabiu, in a press statement on Sunday, July 5, 2020, in Lagos.
The BUA Cement Chairman who led the company's management team on a courtesy visit to the Adamawa State Governor, Ahmadu Umaru Fintiri, after preliminary findings showed that Guyuk and Lamurde areas had quality limestone.
According to Rabiu, "Preliminary findings show that the two local governments of Guyuk and Lamurde are reputed to have good quality limestone deposits and BUA Cement is ready to begin the investment in the state.
"BUA will use new technologies to supply power to the proposed cement plant and communities of Guyuk and Lamurde in addition to providing three thousand direct and five thousand indirect jobs.
"Guyuk Cement Plant will be a major investment in the North-East by BUA, while we solicit the support of Gov. Umaru Fintiri to set up the factory in Guyuk."
READ MORE: 10 fantastic things Aliko Dangote has done in the last 10 years
He added that while the company has invested billions of dollars in various sectors across Nigeria, it has taken a decision to source its raw materials locally and therefore urged the Adamawa state government to support BUA to actualize the GUYUK Cement project.
The Adamawa State Governor, Ahmadu Fintiri, in his response assured the Chairman and management team of BUA, that the state government would provide all the necessary support and make available whatever was needed to make the projects a reality.
BUA Cement's newest plant in Sokoto is expected to be operational in 2021 and expects that its total production capacity will get to 14 million metric tonnes of cement per annum upon the completion of Guyuk Cement Plant.
BUA Cement has been having a running battle with Dangote Cement over the ownership of 3 mining sites in Obu and Okpella in Edo State. The mining sites have been subject of legal tussle between the 2 biggest cement companies in the country.
GSK, Sanofi to agree $624 million deal with UK for COVID-19 vaccine
Both GSK and Sanofi said that they are placing more priority on quality rather than speed.
British and French pharmaceutical giants, GlaxoSmithKline (GSK) and Sanofi are close to reaching a $624 million (500 million pounds) deal with the United Kingdom (UK) government for the supply of 60 million doses of coronavirus vaccine as many countries move for possible COVID-19 treatments.
Reports suggest that the UK was considering an option to buy the vaccine should the human trials, which are due to commence in September 2020, turn out successful.
The funds would be paid in stages as the vaccine progresses, with the final payment made on delivery.
In order not to be left behind, the UK government has been engaging a wide range of companies both at home and abroad to negotiate access to vaccines. They said that the right announcements of these arrangements will be made as and when agreements with any of these companies are finalized.
The British business ministry's spokeswoman, who confirmed that the ministry is handling Britain's supply of potential COVID-19 vaccines, said talks were going on with different parties about access to possible vaccines but didn't confirm if GSK/Sanofi project was one of them.
READ MORE: Pfizer's COVID-19 vaccine shows positive results
According to the ministry official, ''The Government's Vaccines Task Force is actively engaging with a wide range of companies both in the UK and abroad to negotiate access to vaccines."
"Appropriate announcements of these arrangements will be made as and when agreements with any of these companies are finalized and signed."
Sanofi is presently working on 2 possible COVID-19 vaccines, one of which uses an adjuvant made by GSK to potentially boost its efficacy. The timeline for its clinical trials is behind the likes of Moderna Inc, the University of Oxford in collaboration with AstraZeneca Plc and an alliance of BioNTech and Pfizer Inc, whose projects all made headlines by moving to human trials as early as March.
Both GSK and Sanofi said that they are placing more priority on quality rather than speed in developing a vaccine.
New Covid-19 Cases reach all-time high – WHO 
Since the commencement of the pandemic, there have been at least 523,011 deaths across the world.
Reports by the World Health Organization (WHO), reveal that new COVID-19 cases reached an all-time high of 212,326 cases within 24 hours. This was disclosed according to a situation report by the World Health Organization, also noting that there have been more than 10.9 million confirmed COVID-19 cases across the world. 
Since the commencement of the pandemic, there have been at least 523,011 deaths across the world, with at least 5,134 deaths reported over the same period. The pandemic had shifted across various continents spreading from East Asia to Europe and then to the rest of the world. The biggest increase reported had occurred in North and South America, in which there were 129,772 new cases in the same 24-hour period, bringing the total of the region to about 5.58 million.  
Southeast Asia also witnessed 27,947 new cases with India and Bangladesh having the highest cases in the region. The Eastern Mediterranean region witnessed 20,043 new cases; Europe witnessed 19,694 new cases, and Africa had 12,619 cases with the highest levels reported in South Africa. The Western Pacific, where China lies, had just 2,251 new cases.  
Dr. Maria Van Kerkhove, head of the WHO's emerging diseases unit had noted that certain countries may have to reintroduce lockdown measures towards containing the virus from spreading even higher. He explained that "Some countries who have had success in suppressing transmission who are opening up now may have a setback, may have to implement interventions again, may have to implement these so-called lockdowns again." 
Mike Ryan, executive director of the WHO's emergency program, had also noted on the 22nd of June that hospital admissions and deaths were also on the rise.