Highlights of the 2018 NEDG/BON Vice Presidential debate
Yesterday, the Nigerian Electoral Debate Group held its Vice Presidential debate. The Vice Presidential candidates of five political parties were present, namely:
Allied Congress Party of Nigeria (ACPN): Ganiyu Galadima
Alliance for New Nigeria (ANN): Khadija Abdullahi Iya
All Progressives Congress (APC): Professor Yemi Osinbajo
People's Democratic Party (PDP): Peter Obi
Young Progressive Party (YPP): Umar Getso
Here are highlights of the two and a half hour debate, which was anchored by Imoni Amarere.
On fuel subsidy
While candidates of the four opposition parties, were in favour of removing the subsidy, current Vice President Yemi Osinbajo, in his opinion, preferred that the subsidy be left for now.
ANN
Subsidy in Nigeria is fraught with corruption. What we are big on, is attack institutions to ensure there is transparency to ensure corruption is tackled.  
In her opinion, savings from subsidy should be spent on areas such as health and infrastructure.
ACPN
The government will do away with subsidy. There are a lot of inefficiencies in the system. 
Doing so, in his view would encourage investors to take position in the oil and gas industry.
APC
If removed, petrol prices could go up to as high as N220. The moment you remove the subsidy, costs go up. While consumer spending is weak, I think a minimal subsidy is useful now. We can't remove it immediately. 
He continues
The question to ask Nigerians, how much are they prepared for petrol. Are you ready to take a N40 petrol increase today?
PDP
Vice Presidential candidate of the PDP advocated for removal of the subsidy.
What we are subsiding today is inefficiency. It is a waste. You need to reverse it. If you do the right things, the price will come down.
YPP
To the Vice Presidential candidate of the YPP, the subsidy is a scam, as the Buhari administration had posited on assumption of office.
To be candid, subsidy to a typical Nigerian is just a scam.
On growing Nigeria's Gross Domestic Product
YPP 
Nigeria needs to put emphasis on production. We intend to create a N1 trillion venture capital fund, in partnership with the private sector. 
PDP
Peter Obi advocated for fixing the power sector in order to enable industries to grow.
You need to support SMEs properly. Total loans by banks is N19 trillion, 0.5% of that goes to SMEs. In other countries, it's 20%. You must do something about your power. 
APC
Vice President Yemi Osinbajo stated that the current administration had provided the highest lending to  the SME sector, through programmes such as GEEP.
On the AFCFTA agreement 
On the African Continental Free Trade Agreement (AFCFTA), while the PDP, APC and ANN, were in support of signing the agreement, the YPP and ACPN staunchly opposed it.
APC 
There is a process of consultation which is going on with the private sector. One of the chief fears of the private sector is the possibility of transshipment; i.e., China imports to Benin then Nigeria.
He continues
MAN rejected the agreement, similarly, NACCIMA(National Chambers of Commerce Industry Mines and Agriculture).We are a private sector driven economy. It is our duty as a responsible government, to take into account all the issues before we sign.
President Muhammadu Buhari, had initially declined signing the agreement, then reversed his decision.
PDP  
Peter Obi, was however in support of the agreement being signed.
You can have twice the foreign exchange earnings from oil from manufacturing. Sign the agreement. You consult at the stage of planning not signing. You don't have to fear transshipment. That shows inefficiency. 

If Chinese goods are cheaper , something is wrong. To bring out goods in Apapa, costs more than it costs to bring it in from Europe.
ANN
We will encourage free trade. We have to look at it carefully before signing.
ACPN 
The ACPN candidate was opposed to signing the agreement till the economy improves.
It's a good thing. As brothers, we trade with each other, but are we going to get equal advantage. The proper thing is for the government to put the signing of the agreement on hold till the economy improves.
YPP
Not at this stage, we don't produce much.
On ease of doing business
In Peter Obi's view, the Government needs to move out of business. He also had a few knocks for the Nigerian Ports Authority, which he felt spent more on non-essential projects.
The first thing is to look at where your competitors are. If I belong to the BRICS where are they ? If I belong to the MINTS, where are they ? If you look at all the rankings, they are just below 100. You are 146. Government needs to move out of business.
To him, government agencies sourcing funds from the capital market, would make them more efficient, as they would have loans they need to pay back, and be attractive to banks.
APC
Osinbajo in his response, defended the Buhari administration saying that Nigeria had moved up 20 places in the ease of doing business. He also took shots at the PDP, stating that their regime had failed to implement reforms after 16 years in power.
While Under the pdp, we fell 64 places  down on the world bank index. Under us we have moved 24 places in 18 months in the ease of doing busioness. If you say investment hasn't taken place in years, who has been in office these last 16 years ?
He continues
Isnt it just incredible, how it is possible to keep a straight face and talk about all that has gone wrong. We we are where we are today is because of 16 years of mismanagement of resources. All this investment ought to have been done. 
Nigeria only hit 56% of its target revenue in first five of months of 2020 
Nigeria's earnings in the period were N1.48 trillion which is 56% off its main target.
Nigeria's Minister of Finance, Zainab Ahmed revealed that Nigeria was only able to meet 56% of its target revenue from January to May as the global oil price crash affected government revenue due to the COVID-19 pandemic. 
Nigeria's earnings in the period were N1.48 trillion which is 56% off its main target, crude oil revenues accounted for half of Nigeria's revenues, while non-oil revenues made up the rest in the first 5 months of the year. 
On Friday, President Muhammadu Buhari signed the new 2020 revised budget of N10.8 trillion with the crude oil benchmark reduced from $57 per barrels in the earlier budget to $25 in the new budget.
The Minister said the budget had to be revised because of the effects of the COVID-19 pandemic on Nigeria's economy. She added that Nigeria's crude oil production would be an average of 1.86 million barrels per day next year and rise to 2.09 million the following year. 
Explore Economic Research Data From Nairametrics on Nairalytics
 "Although Nigeria's total production capacity is 2.5 million barrels per day, current crude production is about 1.4 million barrels per day — in compliance with the Organization of the Petroleum Exporting Countries' production quota – and an additional 300,000 barrels per day of condensates, totaling about 1.7 million barrels per day," she said. 
2021 Budget: FG projects spending plan of N11.86 trillion and deficit of N5.16 trillion
This tops 2020 budgeted expenditure of N10.8 trillion.
The Federal Government is projecting to spend N11.86 trillion for 2021. This was disclosed by the Minister of Finance, Budget and National Planning, Mrs. Zainab Ahmed at a virtual presentation of the 2021-2023 Medium Term Expenditure Framework and Fiscal Strategy Paper (MTEF/FSP) held on Friday.
According to the finance minister, the government is planning to spend N11.86 trillion against revenue of N6.98 trillion meaning the government will have to grapple with a fiscal deficit of  N5.16 trillion.
Zainab Ahmed;
"The 2021-2023 MTEF&FSP is the pre-budget statement that provides the framework for the development of the 2021 budget. It is being framed against the backdrop of challenging global macroeconomic environment as well as domestic factors.
"We aim to keep the deficit within the three percent ceiling over the medium term and are therefore working on identifying new revenue sources and or cost of reduction."
The minister noted that the 2021-2023 draft had been prepared against the backdrop of heightened global economic uncertainty.
READ MORE: Lawmakers now closer to an agreement with stakeholders on free electricity supply
Earlier today President Buhari signed the revised 2020 national budget of N10.8 trillion, which was passed by the National Assembly in June. The National Assembly passed a revised budget of N10.8 trillion on the 11th of June after the Federal Executive Council (FEC) approved a revised budget of N10.523trillion in May. 2020 Budget is based on a revised oil benchmark of $25 per barrel as against $57 while crude production was reduced from 2.18 million to 1.94 million barrels per day  Budget deficit for 2020 is estimated at N5.365 trillion.
As of March 2020, the FG was running a 52% shortfall in the first quarter of the year with actual revenue collected of N950 trillion compared to budgeted revenue  N1.96 trillion.
Explore Economic Research Data From Nairametrics on Nairalytics
What this means: Nigeria is facing an unprecedented revenue crisis exacerbated by the Covid-19 pandemic and the crash in oil prices. At N5.16 trillion, Nigeria's projected budget deficit will be 43% of spending and about 3.6% of GDP if the budget is passed. A budget deficit means the government will have to borrow heavily next year to fund its expenditure programs.
The government received a $3.4 billion funding from the IMF in April and expects another $3.5 billion from the World Bank in August 2020. The government also revealed it has no plans to access the commercial market for foreign debts as it takes advantage of lower interest rates in the domestic market.
Buhari appoints new Ag. Chairman of EFCC, gives reason for Magu's suspension
The statement revealed why Ibrahim Magu, was suspended by the President.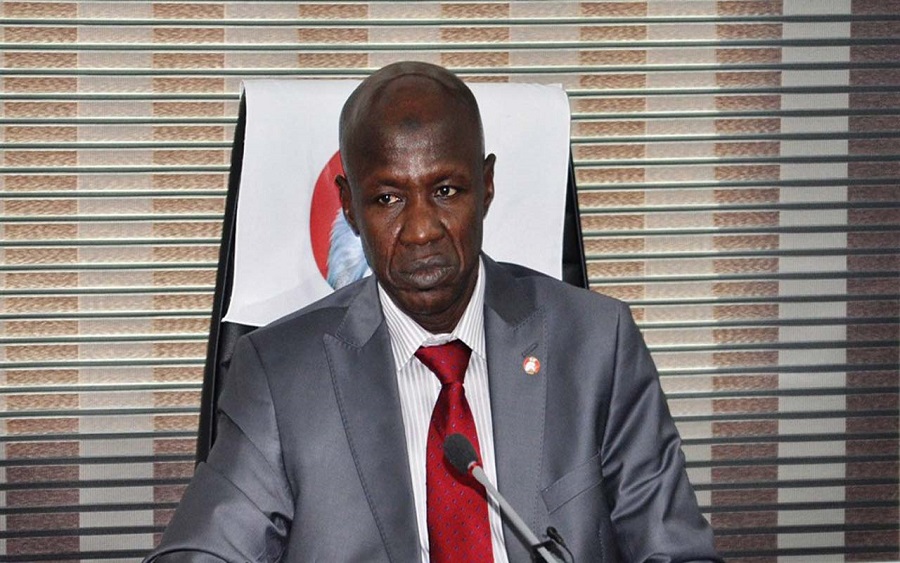 President Muhammadu Buhari has approved the appointment of Mohammed Umar as the new acting Chairman of the Economic and Financial Crime Commission (EFCC).
Umar who is EFCC's Director of Operations was asked to take charge and oversee the operations and activities of the anti-corruption agency pending the conclusion of the ongoing investigation on the allegations against Ibrahim Magu and further directives in that regards.
Explore Economic Research Data From Nairametrics on Nairalytics
This was disclosed by the Special Assistant Media and Public Relations to the Attorney General of the Federation and Minister for Justice, Dr Umar Gwandu, in a press statement on Friday, July 10, 2020, in Abuja.
The statement revealed that the former acting Chairman for EFCC, Ibrahim Magu, was suspended by the President in order to allow for an unhindered probe by the Presidential Investigation Panel which is headed by Rtd Justice Ayo Salami under the Tribunal of Inquiry Act and other relevant laws.
READ ALSO: Senate to probe FG over reduction of MTN's $8.1 billion fine
The presidential panel was set up to investigate various cases of official misconduct and financial irregularities against Ibrahim Magu, who has been in detention since Monday, July 6, following his invitation for questioning by the panel.
The allegations were made by the Attorney General and Minister for Justice, Abubakar Malami, who demanded for his removal as the acting Chairman of the EFFC in a memo to President Muhammadu Buhari.