2017 results: Oando Plc records 405% increase in profit
Oando Plc today released its financial statements for the year ended December 2017.
Here are the key highlights of the results;
Revenue
Oando recorded Revenue of N497 billion for the year ended December 2017 compared to N455 billion reported for the year ended December 2016. This represents a 9.2% increase year on year.
Profit Before Tax
Profit before tax for the company was N20.7 billion for the year ended December 2017, as against a loss before tax of N62.9 billion reported a year earlier
Profit After tax
The Group's profit after tax for the year ended December 2017 was N19.7 billion compared to N3.9 billion recorded a year earlier. This represents a 405% increase year on year.
Earnings Per Share
Oando Plc also reported earnings per share of 113 kobo for the year compared to 30 kobo reported as at the year ended December 2016. This represents a 276% increase year on year.
Dividends
The Group did not propose any dividend for the year ended December 2017
Current share Price 
Oando Plc today closed at N9.15, unchanged from the previous day's closing price.
DOWNLOAD OANDO PLC FY 2017 RESULTS
Merger, Tax incentive boosts BUA Cement FY 2019 result
BUA Cement Plc recently released financials reveal a 47.5% increase in revenues of N175.52 billion up from N119 billion in 2018.
One of the industries set to experience the downsides of the Covid-19 pandemic is the construction industry. Given the slowdown in construction activities as a result of the lockdowns and constrained economic activities, the reasons are not farfetched.
Prior to the outbreak of the pandemic, Globe Newswire had predicted an accelerated growth pace of the global construction industry from 2.6% in 2019 to 3.1% in 2020. This growth has now been revised to 0.5%. What is even more daunting is that the revised growth rate is based on the assumption that the outbreak will be contained across all major markets by the end of the second quarter of 2020.
It is only after that (including freedom of movement in H2 2020) that events could facilitate reverting to the normal course of activities to foster businesses in the industry like BUA Cement or those that depend on it to restart activities.
Nigeria's third-largest cement company, BUA Cement Plc, however, still has its 2019 victories in order. Involved in the manufacturing and sales of cement, BUA Cement has 3 major subsidiaries and plants in Northern and Southern Nigeria.
(READ MORE:Update: BUA Cement Plc lists N1.18 trillion shares on NSE)
With a market capitalisation of N1.18 trillion ($3.3 billion), BUA is the third most capitalised company on the NSE. Its recently released financials reveal a 47.5% increase in revenues of N175.52 billion up from N119 billion in 2018.
The company's profits also increased by 69.1% from N39.17 billion in 2018 to N66.24 billion in 2019. Core operating performance was strong, and this was supported by strong cement sales in the domestic market, impairment writes back, and other income.
The main reason for the company's increased earnings is from the cost synergy and increased revenue as a result of the merger that took place between CCNN Plc and Obu Cement Company Limited.
There was also a striking jump in its income statement on its tax for the year. For FY 2019, it incurred a tax expense of N5.6 billion, in comparison to the N24.9 billion tax credit it received in FY 2018.
This was as a result of a reversal of previous tax provision made on Obu Line 1; it received approvals for an extension of the company's pioneer status on Obu line-1 and Kalambaina line-2 in February 2020, to leave effective tax rate at just over 8% in 2019. The pioneer status will help the company save funds that will otherwise have been spent on higher taxes.
(READ MORE:Dangote Cement to access more debt funding)
BUA reported an impressive FY'19 result. Its performance shows the growing strength of the company and its increasing market share. On the back of the strong performance, management declared an N1.75 dividend per share that translates to a dividend yield of 5.5% on current prices.
Cash flow position was also robust with a strong closing cash balance – from N2.8 billion in 2018 to N15.6 billion as at year ended 2019. The company's growth, as well as the impact of its merger, present a great buy opportunity of the highly capitalized, low-cost stock. As of today when the market closed (21st May) its share price stood at N35.60 from a 52-week range of N27.6 and N41.
READ ALSO: COVID-19: Best and worst case scenarios for the Nigerian economy
What we see is a great growth stock further heightened by the population expansion and increased urbanization. However, we expect the impact of the Covid-19 pandemic to be felt from the Q1 results of the company.
The industry could slow down for the year as the level of commercial construction also slows down. Yet the best part of holding stocks like this is that even with stalled operations for a period, a resurgence will always emerge.
Julius Berger reduces dividend payout to prepare for COVID-19 hit
To prepare for the storm of the COVID-19 induced economic challenge, Julius Berger slashed its dividend to be paid, amongst other cost-cutting measures.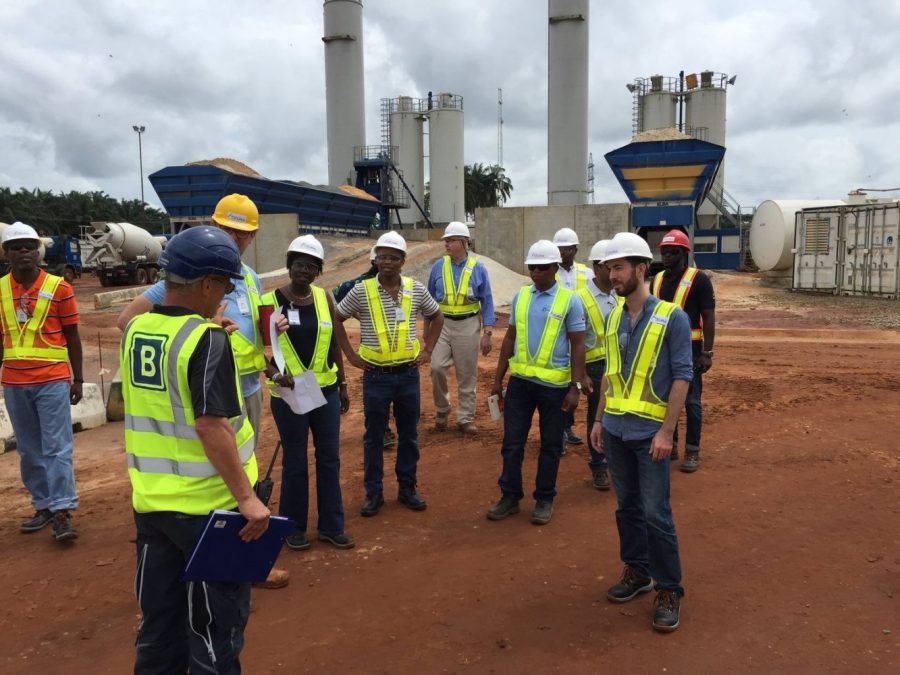 The global pandemic being faced by the world as we know is set to have major operational implications on businesses across the world and possibly dovetail into a recession.
With predictions of an incoming recession, many businesses and individuals alike have put things in place to prepare for the trying times ahead.
With the construction industry predicted to experience a major hit, given the halted state of activities, Julius Berger has taken cost-cutting measures to ensure its sustainability.
READ MORE: MTN Nigeria announces final dividend of N4.97 for FY 2019
Following a very good 2019 financial year, Julius Berger had announced a dividend pay-out of ₦2.75K per 50K share for the financial year ended December 31, 2019 and a bonus of 1 (one) new share for every existing 5 (five) shares held.
However, in an attempt to brace itself for the impending challenges, the board of the company withdrew its previously announced final cash dividend payment of ₦2.75K per 50K share, and instead recommended a final cash dividend pay-out of ₦2.00K per 50k share.
In a corporate action announcement, it revealed that the Board had "carefully considered the emerging social, operational, financial and economic impact of the COVID 19 pandemic, the outlook for Nigeria for the financial year 2020, and the impact on the business and cash flows of the Group."
It is the company's way of protecting its liquidity and ensuring long-term sustainability, while balancing the need for returns to shareholders.
READ ALSO: Dangote Industries targets $30 billion turnover by 2022 
The savings it obtains from the reduced cash dividend of ₦2.00K, as well as its diverse measures to reduce operational and capex costs is to be retained within the business to protect its growth.
Businesses are, at this time, taking necessary actions to ensure business continuity and this is what the company has done. The Group's financial position is still strong, however, as its Q1 results revealed.
Consequently, the board remains confident about its future, post-Covid-19.
Fines: NSE makes over N154 million from banks, others
About 30 firms were fined for unauthorised publications, non-disclosure of material information, failure to file their financial statements by the due date.
The Nigerian Stock Exchange (NSE) boosted its revenue with N150 million from fines imposed on listed companies across the banking, manufacturing, and insurance sectors, among others, between 2018 and the first quarter of 2020. This is contained in the X-compliance report obtained by Nairametrics from the Stock Exchange.
The report disclosed that five firms were fined over N6.1 million for unauthorised publication of notice of board meetings, annual general meetings, and a notice of resignation of four directors.
About 25 other firms were asked to pay about N148 million fine for non-disclosure of material information, and failure to file their financial statements by the due date.
READ ALSO: Penalties: NSE makes over N143.6 million from banks, others in 2019 
Why it matters: Every listed company is required to provide the Exchange with timely information to enable it efficiently perform its function of maintaining an orderly market.
In accordance with the provisions of Appendix III: General Undertaking (Equities), Rulebook of The Exchange, 2015 (Issuers' Rules) and The Exchange's Circular No. NSE/LARD/LRD/CIR3/17/05/12 on Publication of Announcements or Press Releases via The Issuers' Portal, listed companies are required to obtain prior written approval from the Exchange before publications that affect shareholders' interests are made in the media or via the Issuers' Portal.
Details: For unauthorised publication, Access Bank Plc, Diamond Bank Plc, Prestige Assurance Plc, and First Aluminium Nigeria Plc were fined N2.205 million, N3.087 million, N496,125 and N476,280, respectively.
For non-disclosure of material information, Access Bank Plc, Diamond Bank Plc, and First Aluminium Nigeria Plc were fined N4.410 million, N3.234 million, and N476,280, respectively. Access Bank and the defunct Diamond Bank were penalised for non-disclosure of resolutions passed at their board meetings, while First Aluminium was penalised for non-dispatch of the notice of its annual general meeting and annual reports to shareholders 21 days before the date of the meeting.
READ MORE: Mental stress, fatigue as young auditors work overtime to prepare financial results  
Failure to file financial statements: Anino International,  Deap Capital Management, Grief Nigeria Plc, Union Bank Nigeria Plc, Afromedia Plc, Conoil Plc, Lasaco Assurance Plc, Flour Mills of Nigeria Plc, Universal Insurance Plc, Thomas Wyatt Nigeria Plc, and others were fined. In this category, Anino International got the highest fine of N41.1 million as it failed to file its financial statements since 2015.
R.T Briscoe was fined N31.3 million for the delay in filing its 2018 audited financial statement, first and second quarter of 2019 financial statements.
Niger Insurance and Guinea Insurance were fined N19.8 million and N19.2 million, respectively, for failing to file their full-year 2018, first quarter 2019 and second quarter 2019 financial statements as at when due.
Royal Exchange, Thomas Wyatt and Lasaco Assurance were respectively fined N8.9 million, N4.9 million and N1.4 million, for failing to file their audited 2018 and first quarter 2019 financial statements, while Universal Insurance got a fine of N5 million for failing to audit 2018, first and second quarter 2019 financial statements.
READ ALSO: Dangote Sugar Refinery Plc announces board meeting and closed period
NSE slammed N800,000, N200,000, N400,000 and N400,000 fines on Grief Nigeria, Union Bank, Afromedia and Conoil for the delay in filing their 2018 financial statements.
Flour Mills of Nigeria, Access Bank and Interlinked Technologies received respective penalties of N1.2 million, N700,000 and N200,000 for failing to file financial statements for the first quarter, second quarter and second quarter of 2019 respectively.
Meanwhile, some shareholders of the companies, who spoke with our analyst in separate interviews, praised the management of the Stock Exchange for being strict on its compliance exercise, as they called for the punishment of erring companies.