How Investors could benefit from Buhari's second term bid
While the President's admission of his intent to run in the 2019 elections could be a cause for concern to investors, there could be significant upside if he emerges as the winner of the presidential election.
See associated risk of Buhari running for Presidency again.
Less Uncertainty in the system
News of the President contesting lowers the amount of uncertainty in the polity. Had he declined to seek re-election, there would have been a keen power struggle in the All Progressives Congress (APC) among the various participants who had expressed subtle interests in running.
Some of these hopefuls are already in the corridors of power and had Buhari decided to not to seek re-election, the competition would have been fierce and might have derailed the candidates' focus from running the affairs of the country, thereby causing upheavals in governance.
Also, political uncertainty leads to major investment decisions being put on hold till after the elections. This would have lowered the number of potential new jobs that would have been created.
Continuity
Even though the President would be expected to make changes in his cabinet, his winning the election would lead to continuity in terms of policy implementation. A new administration would need at least the better part of a year to settle down and get to work and could decide to reverse key decisions taken by the current government.
Boost to the economy from election spending
President Buhari's decision to contest the elections would lead to an increase in the quantum of funds that would be dedicated to campaign finance.This runs into tens of billions of naira, which in turn has a positive trickle-down effect on the economy.
While the President is known for his spartan nature, members of the party across all tiers have vested interests in ensuring that the ruling APC retains the Presidency. Contestants on the other platforms seeking to unseat the President would have to reach deeper into their pockets which in the long run, would improve money circulation in the country.
Foreign Exchange stability
Despite criticism for refusing to devalue the currency in the face of a drop in dollar revenue, the Buhari administration has since gotten its foreign exchange policy right by keeping supply stable. Crude oil price has also rebounded to $70 a barrel and is predicted to remain within the $50-$70 range in the medium term.
Availability of foreign exchange gives foreign investors the confidence to move into the market. Last year's gains on the Nigerian Stock Exchange were largely driven by the activities of foreign investors. If the current peace in the Niger Delta is sustained, stability in the exchange rate could remain.
Indigenous firms come first
The administration has also shown a preference for policies that favour local industries. This could also continue in the event of his winning a second term. The ban on imported palm oil, for example, has led to a huge spike in demand for local firms like Okomu Oil and Presco Plc.
The Anchors Borrowers Programme and Presidential Fertilizer Initiative have in some ways improved productivity in the Agric sector.
Security will remain on the front burner
While the administration has stumbled in its economic management, it has scored decent marks when it comes to security. The North East and the Niger Delta have become much more peaceful. The government recently obtained approval for a $1 billion withdrawal from the Excess Crude Account (ECA) to buy military equipment. This indicates that security will remain a priority on Buhari's agenda.
Relative security will keep investors within the country and encourage others to invest.
Infrastructure drive will remain
The Buhari government has embarked on several large ticket infrastructure projects which should come to fruition in the next 4 years. A N100 billion Sukuk bond was raised for the rehabilitation of roads. The Lagos-Ibadan railway project is billed to be completed in the first quarter of 2019.
Modern infrastructure will help in facilitating the ease of doing business and as well as lower operating costs for companies.
Fuel prices could remain stable
The government has largely resisted an increase in pump price, partly due to the political backlash that could follow, as well as the President's belief that the vast majority of Nigerians would feel the pinch of an increase. The NNPC has thus preferred to call the current subsidy an under recovery.
While an increase in both pump prices and electricity tariffs are almost inevitable after the elections, the government seems bent on delaying the increase and cushioning the impact. Possible price increases could be modest.
100% of Chainlink (LINK) wallets are now in profit
Recent data reveals the entire supply of the LINK token is now in profit.
The world's fastest-growing crypto asset, Chainlink (LINK), is in the news again following a positive rally. Investors now have good reasons to smile to the bank because 100% of LINK wallets are in profit.
Data obtained from an intelligence company, IntoTheBlock, revealed the entire supply of the LINK token is in profit.
READ MORE: Ripple has released 1 billion XRP; here's what this means
How the surge happened: Recall that Nairametrics exclusively broke the news after LINK gained about 451% in 6 months, moving from $2.12 on March 15, to $9.57. This had made it the ninth most valuable crypto asset by market capitalization value of $3.35 billion.
READ ALSO: Nigeria leads Africa combined in Q2 2020 on BTC P2P
Quick fact: Chainlink is a blockchain that is designed to bridge the space between blockchain technology-based smart contracts (created by ETH), and other user programs. Since blockchains by principle can't have access to data outside their paths or networks, a defi instrument is needed to facilitate data feeds in smart contracts, and Chainlink helps to solve such needs.
Recall that about a year ago, Chainlink announced that Google was integrating Chainlink into their approach to smart contract adoption on how users could use Chainlink to connect to BigQuery, one of Google's most popular cloud services.
OPEC and the major highlights of the Crude Oil markets
In recent weeks, oil demand has really suffered a setback.
Summary of  oil markets
Crude oil price movement
In the last couple of days, one of the benchmarks of oil prices, West Texas Intermediate (WTI), has frequently been going into negative territory and on the other hand, the current pandemic has caused a decrease in demand for oil and oil products, which has been a huge blow on the global economy.
In July, Brent crude fell 55cents or 1.2% to $43.77 a barrel. US West Texas Intermediate (WTI) crude declined 56cents or 1.3% to $41.36.
Since June 23, gasoline margins have been trending lower, after a great recovery in the last three months, as vital economies emerged from lockdown.
All through the pandemic, diesel margins remained stable but the modest upturn has tailed off in recent weeks.
READ MORE: OPEC may soon crack, as Oil price sets for biggest quarterly rise
World economy 
The COVID-19 pandemic has spread with startling speed, infecting millions and bringing economic activity to a near-standstill as nations set tight movement restrictions to end the spread of the virus. The economic damage is conspicuous and shows the greatest collapse the world has experienced in decades.
There will be additional issues if there is a second wave of COVID-19, mainly on the global economy. Aid could potentially fall by US$15 billion, which would be comparable to the EU closing its aid program entirely. This would imply that global economic output could reduce by 7.6% this year and only increase by 2.8% in 2021. The OECD unemployment rate is also close to doubling to 10%, with only a little amend of jobs by 2021.
World oil demand 
In recent weeks, oil demand has really suffered a setback, as the health crisis around the world has affected so many areas of the economic sectors, thus, practically putting an end to the use of fuel for shipments, transportation, and so forth. Due to the lack of consumption, the world's biggest producers have run out of space to stockpile all of the crude oil that companies are still supplying.
OPEC forecasts that demand for its crude oil will revitalize steadily next year, surpassing levels seen before the coronavirus pandemic, as competitor producers strive to restore production.
The Organization of Petroleum Exporting Countries forecasts demand for crude oil to rise by 25% in 2021 to an average of  8million bpd, higher than the level achieved in 2019, according to a monthly report.
Main producers have flooded the market with millions of barrels of oil glut as a result of the collapsed deal the OPEC+ experience in March. On 12 April, the world's main producers strategized and accomplished a deal to cut output by almost 10%. The cut has been indeed inadequate to dent the huge glut that keeps growing due to the pandemic-induced shutdown of the global economy, which has made the demand for oil to be slashed by more than 30%. What the market has been experiencing lately is indeed a massive imbalance.
While the increase in demand is slightly determined by recuperation in global oil demand as economic growth continues, a much huge determinant is the setback of OPEC's rivals. In the wake of declining 7.4% this year, the U.S. will see only limited production growth in 2021.
READ MORE: Crude oil prices rally higher following US $1 trillion stimulus plan 
World oil supply 
For countries that are outside the OPEC+ agreement, there are massive cuts in output, especially from countries the US and Canada. With the effect of the OPEC+ agreement, it is estimated that there will be a reduction of 12million barrels a day in global oil supply, every month.
Production is expected to increase later in July in response to recovery of global oil demand and prices. EIA expects a gradual increase in OPEC crude oil production from July through the rest of the forecast, and a rise underway to an average of 2.8million bpd during the second half of 2021.
Oil production has been responding broadly to market forces and economic activities are beginning to experience a gradual but fragile recovery. Although, the concerns are whether governments can ease lockdown measures without a comeback or COVID-19 epidemic and if maximum level of conformity with the OPEC+ agreement will be accomplished and maintained by all the major alliances.
EIA forecasts that for 2020 as a whole, non-OPEC production will decline by 2.2million barrels a day from 2019 levels. EIA expects the production of non-OPEC oil and other liquid fuels to increase by 1.1million bpd in 2021.
Oil prices climbed by more than $1 a barrel to it highest in over a month. This was backed by output cuts and signs of a gradual recovery in fuel demand as more countries ease restrictions set to prevent the Coronavirus pandemic from spreading.
Product markets and refining operations
The weight on refining margins will partially be a result of a sharp increase in oil product stocks during the pandemic's peak. The IEA said that total products stocks rose by 58.5million barrels, or almost 2million barrels in April and by 0.3million bpd in the first quarter.
The huge build in market levels is probably going to have been a key factor behind what the IEA called a "freefall" in refining margins in May. It forecast products stock will attract the second half of the year, as frail margins go about as a delay on refining movement.
Globally, the IEA Forecast processing machines output to decrease by 5.4million bpd this year and afterward to increase by 5.3million in 2021. It amends upwards it's estimated for 2020 outputs to 76.4million bpd from 75.8million bpd in it's past monthly Oil Market report.
Crude and refined product trade 
Better than anticipated convenience Organization For Economic Co-operation and Development(OECD) countries and the gradual relaxation of lockdown estimates prompted an upward change of 3.2million barrels a day to our global 2Q20 demand number, yet it is still sharply down a year ago by 19.9million barrels a day. Although, our outlook for 2020 generally shows fall in demand of 8.6million barrels a day, 0.7million barrels a day, more than in the past report. A resurgence of Covid-19 is a significant risk factor.
It is a familiar way of thinking that high oil prices directly and negatively sway the U.S economy and the stock market.
Balance of supply and demand
EIA expects global oil inventories to generally draw through the end of 2021 as EIA estimates global oil demand will recover. In spite of the fact that EIA's forecast consumption of global liquid fuels of 101.1million barrels a day, the final quarter of 2021 would still be less than during a similar time of 2019, it would be 16.7million barrels a day more than in the second quarter of 2020.
EIA additionally expects global oil supply to rise in the coming quarters. Regardless of the purposeful production curb from OPEC+ producers, alongside the lingering impacts of low oil prices on U.S. strict oil production, will restrain increases. As a result, EIA expects global oil inventories to decrease at a rate of 1.8million barrels a day through the end of 2021, eliminating the majority of the excess that amassed in mid-2020.
Exchange rate falls across forex markets as dollar liquidity remains low
The Naira depreciated against the dollar at the Investors and Exporters (I&E) window on Tuesday.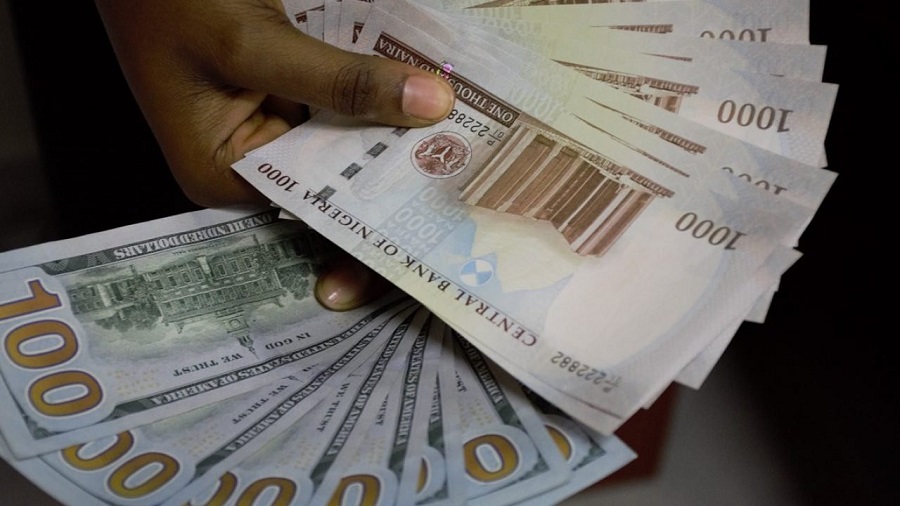 Nigeria's exchange rate at the NAFEX window depreciated to N389 during intraday trading on Tuesday, August 4, 2020. In a similar situation, the exchange rate at the parallel market depreciated marginally on Tuesday as well to close at N474/$1 and as high as N480/$1.
Market Watch
Parallel Market: At the black market where forex is traded unofficially, the Naira depreciated against the dollar to close at N474/$1 on Tuesday, according to information from Abokifx, a prominent FX tracking website. This represents a N1 drop when compared to the N473/$1 that it exchanged on Monday, August 3. However, Nairametrics forex tracker obtained a price of N480/$1 from some traders who we also source information from.
READ MORE: VAT collection edges higher but indicates weaker economy
NAFEX: The Naira depreciated against the dollar at the Investors and Exporters (I&E) window on Tuesday, closing at N389/$1. This represents a N1 drop when compared to the N388 rate close that was reported on the last trading day, Monday, August 3.  The opening indicative rate was N388.46 to a dollar on Tuesday. This represents a 13 kobo drop when compared to the N388.33 to a dollar that was recorded on Monday.
The Naira fell to as high as N392.50 during intraday trading before strengthening to the closed rate of N389. It also sold for as low as N380/$1 during intraday trading. Forex is sold at several prices and different times during the day.
Forex Turnover: Meanwhile, forex turnover at the Investor and Exporters (I&E) window recorded an increase on Tuesday, August 4, 2020, as it rose by 43.12% day on day. According to the data tracked by Nairametrics from FMDQ, forex turnover increased from $17.23 million on Monday, August 3, 2020, to $24.66 million on Tuesday, August 4, 2020. Despite the increase, the volume is a far cry from the average of over $200 million that was recorded in January 2020.
The average forex sale for last week was a low volume of about $32 million which is slightly better than the $27 million that was recorded the previous week. FX turnover which was not impressive last week has not shown any sign of recovery despite the picking up of business activities after the 2-day Sallah holiday.
READ ALSO: CBN adjust naira from N360 to N380 at SMIS
Total forex trading at the NAFEX window in the month of July was $937 million compared to $875 million in June.
The exchange rate disparity between the official NAFEX rate and the black-market rate remained wide on Monday staying as wide as N85. Nigeria maintains multiple exchange rates comprising the CBN official rate, the BDC rates, SMIS, and the NAFEX (I&E window).
Exchange rate unification remains on the cards and yet to be implemented weeks after the central bank governor confirmed it will be executed.
COVID-19 Pressures
Nigeria's airspace remains closed to commercial international flight operations and won't be open till October 2020. Foreign travel has often been a source of demand for the greenback.
The recent demand for dollars at the parallel market is thought to be fueled by speculators.
The parallel market also caters to forex trades through wire transfers especially for buyers who cannot fulfil their dollar demands at the I&E window or the SMIS window.
The exchange rate for wired transfer is often at a premium to the black market rate.
Forex Challenges: Last few weeks have been most challenging for the foreign exchange market as it witnessed very low liquidity. The downward slide against the greenback and some other major currencies continued this week due to tightened liquidity in the system.
According to a report from FSDH research, forex inflows into the I&E window had dropped significantly in the second quarter of 2020 on the back of lower foreign portfolio inflows. Although there was a slight improvement in the month of July, the turnover of $937 million is a far cry from the $3.7 billion turnover that was recorded in the month of March before the lockdown which was triggered by the coronavirus pandemic.
The low oil prices have constrained the CBN's capacity to intervene further in the foreign exchange market as dollar inflow still remains very low.