10 hottest spots you must visit in Lagos this weekend
As the holiday draws closer, everyone is scrambling to make travel plans, or at leat have fun with friends and family in their home town. Whether you're coming to Lagos, or you already live here, these top 10 places should keep you occupied just right. The list of places to have fun goes on till infinity, but we've helped make things easier. From parting spots to places for art lovers and book readers, here are our top 10 must visit places in Lagos before 2017 is over:
1. Quilox Night Club: Located on Victoria Island, this nightclub transforms Nigeria's elite nightlife with its impeccable design and finishing complemented with stunning and first of its kind decor and lighting, world class customer service and hospitality, renowned DJ's and an over-the-roof sound system. Immersed in an exquisite Red, Gold and Black theme, Quilox is perfect hub for relaxation and nightlife activity. It's easy to get addicted to the magical moments, electrifying vibes, extraordinary hang outs and late-night clubbing guaranteed to leave you asking for more. Quilox is ideal for both after-dinner entertainment and late-night revelry. They also host private events. Whether it's a party for 40 or 400, they provide an accommodating space as well as booming bass for an unbelievable fun night for party lovers.
2. Hard Rock cafe: Cheers to the weekend! Located on Victoria Island, Hard Rock Cafe Lagos is right in the centre of one of the most exclusive areas in Nigeria. This is the bar to go if you're looking to enhance your evening and take your dining and entertainment expectations to a whole new level. The cuisine is out of this world, and you can do more than grab a bite to eat there. Their state-of-the-art cafe features more than 200 seats, a stage for live performances, and a swimming pool area for adults and kids. Children can also enjoy the atmosphere in their special kids section. No matter where you sit, you can enjoy live music, cold drinks, and an unforgettable experience with the beautiful waters of the Atlantic Ocean as the perfect backdrop.
3. Didoz Lounge:  Situated at Allen Avenue, Ikeja, and Ajose Adeogun, Victoria Island, a nightlife magnet of the city of Lagos, Didoz Lounge is a regular stop for night-crawlers in the city. Do you sometimes long for a place with a nice homely feel, with an exotic ambience nonetheless? Then Didoz Lounge is the place to be. Either way, mainland or island, you're sure to catch your fun. It is also an ideal after-work spot to relax as traffic dies down. Great music, fantastic ambiance, and plenty fun make Didoz Lounge a place to check out.
4. Lekki Leisure: Lekki Leisure Lake is a lake side resort overlooking the Atlantic in the Lekki peninsula area. Loose the corporate look and throw on a t-shirt, shorts, a pair of sun glasses and beach slippers, it's time to unwind. The activity zone embodies what the Lekki Leisure Lake is all about; Safe, authentic outdoor fun. It offers exciting water-craft activities on a tranquil lake and quad bike action for both kids and adults. Get wet on a jet ski, watch the kids get a kick from working the pedal boats, have a small get-together with friends on the party barge, or race a friend on a quad bike through a challenging dirt course.
5. Lekki Conservation Centre: From its origin and establishment in 1990 by the Nigerian Conservation Foundation (NCF), Lekki Conservation Centre (LCC) has grown into one of Africa's prominent and most-diverse urban Nature Parks due to its high species richness. It is located in the coastal environs covering an approximate land area of 78 hectares, extending from the Lagos-Epe Expressway and ends up a very close distance to the Atlantic Ocean. LCC can be accessed through the Lagos-Epe Expressway, opposite Chevron. Widely acclaimed as an icon of nature conservation and pearl of ecotourism, Lekki Conservation Centre represents the project on preservation of the unique biodiversity, scenic, natural, scientific and recreational values of the coastal environs of the south-western Nigeria. It is therefore one of the best urban parks to satiate visitors' curiosity of nature. It is one of the very few vibrant tourist destinations of repute in Lagos and is recognised as one of the notable Sites/Monuments of special interest and exceptional relevance. The LCC's 401-metre long canopy walkway is a scenic attraction and is the the longest canopy walkway in Africa. It is an engineering feat and an amazing suspended swinging bridge walkway through the mosaic of vegetation types characterising the LCC Nature Park. It has the entry & exit portals connecting six towers treating visitors to unique experience/unforgettable chance to explore the Nature Park and get a bird's eye/panoramic view of the habitat types and sight the unique wildlife that inhabit the Lekki Conservation Centre.
6. Nike Art Gallery: Artist and Designer Nike Davies Okundaye invites us to visit her Nigeria, an ancient culture that thrives in modern cities, a world that moves easily between talking drums and the internet. Located along Lekki-Epe expressway, the gallery is the biggest in Lagos, and offers a variety of art works from around the country. Whether you are a specialist in the arts, an enthusiast of African arts or merely interested in a brief immersion in a new culture, Nike offers the opportunity to see Nigeria with fresh eyes.
7. Sailors Lounge: Happy Hour! Sailor's lounge is a fully furnished, relaxed & adventurous lounge with the ambience of a sea view that compliments the atmosphere for unwinding, business networking and water view. The lounge has three sections; Sailor's Bar, Captain's Cabin and Captain's Deck. Captain's Deck is the first floating bar in Nigeria, it is specifically constructed to capture the experience of floating atop the ocean for maximum enjoyment. Sailor's lounge is one of the leading Lounges in Lagos. Sailor's Lounge Lekki, has grown significantly over the last 3 years to become a respected and capable convenience provider and a hub where fun meets with nature. With rigorous quality controls in place, a comprehensive product range from continental meals to assorted drinks sought from the original manufacturers and their proven capacity to deliver quantitative and qualitative products and services to their corporates and individuals has made their customers develop confidence in them. Sailors Lounge is one of the luxurious lounges situated on the Lagos lagoon at plot 1, block 12, Admiralty Road, Lekki phase 1. So make sure you pay them a visit this Christmas (and beyond)!
8. The JazzHole: A music shop, book shop and cafe all in one spot. The Jazzhole is an oasis of calm within the bustle of Lagos. If you are a lover of good music, books, and African artwork, the Jazzhole is a haven for you. Jazzhole Records is an independent label based at 168 Awolowo Road, Ikoyi, Lagos. Created in the 90's together with the Glendora Book library, the cafe offers about 40 varieties of tea, which comes served in individual tin tea pots with jars of dark brown sugar. The coffee crumble cake is delicious, the sandwiches three slices high.  it is credited as one of the best music shops and cultural centres within the country. It is an African lounge with endless Jazz and Soul  music, and also a place where you can read from the largest collection of good books. They also do monthly art exhibitions showcasing the African strength in literature, music, arts, and more. In the evenings there is a live jazz band while the audience is scattered all over giving rise to a very cool environment.
9. Kalakuta museum: The residence of the late great Afrobeat musician, Fela Anikulapo-Kuti, continues to stand as a symbol of hope to many Nigerians who are desperately seeking a turn-around. The name "Kalakuta Republic" came to Fela when he was imprisoned for "corruption of minors and possession of cannabis." He was locked up for eleven months in 1974 in a jail called the Kalakuta cell. Upon his release, the revolutionary music icon decided to rename his residence Kalakuta Republic. After the musician's death, his children, family and close fans decided to transform his house into a museum where lovers of his songs and ideology can come for remembrance of what Fela stood for during his lifetime. The legendary musician's home, one of the most memorable places in the sprawling city of Lagos, now houses an intriguing museum where care has been taken to preserve everything associated with Fela. Taking a tour of Fela's residence, one can see his musical instruments, clothes (down to his signature small underwear), shoes, and other mementos that symbolised the great musician.
10. Rumors Night Club: Since birthing in Festac Town, Rumors has become a hotspot for night crawlers especially around the FESTAC town vicinity. Owned by living legend 2Face Idibia, Rumors is a luxurious hangout spot that serves exquisite cuisine with fine dining and great music, it is a great place for socialites to mingle and network with celebrities, business people and government officials. They also offer a wide range of beverage choices, which include beer, cocktails, and other drinks that will ensure your night is a success. A memorable experience is always guaranteed.
Compiled  by David Edet of Nairametrics
Atedo Peterside resigns as Chairman of Cadbury Nigeria's Board of Directors 
NSE announced the resignation of Mr. Atedo Peterside which took effect on the 30th of June 2020.
Chairman of the Board of Directors of Cadbury Nigeria Plc, Mr. Atedo Peterside, has resigned.
In a notification signed by Cadbury Nigeria's Company Secretary, Fola Akande, and sent to the Nigerian Stock Exchange, it was announced that the resignation took effect immediately. In other words, Mr Peterside resigned from the board effective 30th June 2020. He resigned in order to concentrate on other interests.
Download the Nairametrics News App
Note that this brings to an end Atedo Peterside's ten-year reign as the Chairman of Cadbury Nigeria's board of directors. He took over leadership of the board on the 21st of April 2010 after joining the company in 2009 as a director.
"The Board of Directors of the Company acknowledge and sincerely express their gratitude to Mr. Peterside for his leadership, service and immense contributions to Cadbury Nigeria Plc while he was on the Board and wish him all the best in his future endeavours" part of the statement by Cadbury Nigeria said.
READ MORE: Atedo Peterside resigns from Flour Mills' board to focus on NGO
Recall that back in April this year, Mr Peterside resigned his position as a Non-Executive Director of Flour Mills Nigeria Plc, to focus on ANAP Foundation, a non-governmental foundation he founded.
Also in April, he resigned from the board of Nigerian Breweries Plc as well as Unilever Nigeria Plc for the same reasons.
Meet Aig-Imoukhuede, the lawyer-turned-banker who turned an unranked bank into a tier-1 bank  
A switch in career path would normally require some sort of retraining, but not for Aig who learned on the job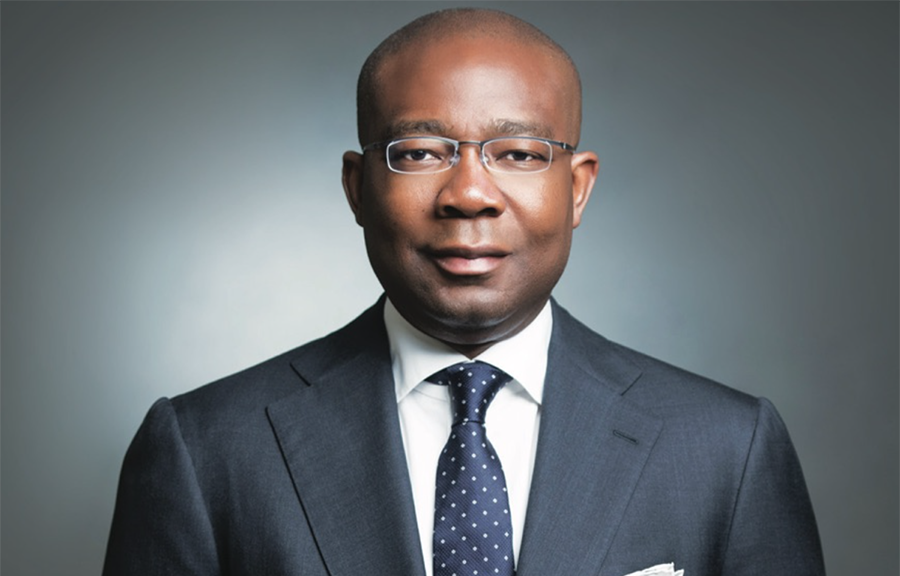 After, thirteen years of operations, Access bank still grappled with capitalization and corporate governance challenges until Aigboje Aig-Imoukhuede stepped in with his team. Almost 2 decades later, the bank's assets have grown unimaginably, and the bank which was once ranked 65 is now ranked among the top 5. Meet the man who led the team that changed the narrative. 
Aigboje Aig-Imoukhuede was born on 24th of September 1966 in Ibadan, present-day Oyo State, though he hails from Sabongida-Ora, present-day Edo State. He had his early education in Kaduna and later in Lagos State, before enrolling for a degree in law at the University of Benin, Edo State, Nigeria.
Early in his life, Aigboje had decided that he was not going to work with the civil service. Both of his parents were civil servants – His mother was the first curator of the National Museum of Nigeria after independence, and his father later became the Minister for Culture. He would recall that this was a period in Nigeria where the best talents went into the civil service to pursue a career.
However, the military's entry into the civil service turned things around as they did not seem interested in investing much there. "For people like me, I saw the impact on great men and women, and the almost decimation of their relevance and importance of their contribution to the governance, and I decided that I was not going to work for the government," Aig-Imoukhuede said.
READ MORE: Oil firms' debt status: How it affects Nigerian banks
Having struck out what was then the most viable option for the best talents, Aigboje had to decide where he wanted to pursue a career. Multinationals were among the best companies in the private sector at the time, and the idea of working at the helm of one of them held appeal for the young Aig, and he later stated that his decision to study law was based on his observation that the foremost multinationals were then headed by lawyers.
"I felt that law was a good way to get into the hallowed boardrooms," he later said.
In 1987, he was called to the Nigerian Bar, and served his compulsory National Youth Service Corps, working as a lawyer with Chase Merchant Bank during his NYSC year. Owing to stories he had previously heard from friends who had experience in the banking sector, he had been encouraged to work with the bank and he soon got involved in core parts of the business of banking. In his words, "Very soon I discovered that I enjoyed making deals more than doing legal work so I made the transition to core banking."
Lawyer-turned-banker
The switch in career paths would normally have needed some sort of retraining but not for Aig. He had to learn on the job, and due to his efficiency in getting things done, he was not the kind of staff the management was willing to allow to go for any prolonged training.
"I was doing things at the age of 22, that most people did when they were 35 to 40 years. My life has been one where people look at my talent and basically, put me at things," he said while speaking at the OXFORD Business Africa forum 2019.
READ MORE: Nigeria confirms no plans for fresh Eurobond issues
Having shown great skills in closing deals, he joined Guaranty Trust Bank as a pioneer staff, driving his career over the next decade to become a top executive there. He, thus, had the best point grooming his skills in what had become one of the best banks in Nigeria.
Despite being an Executive Director with enough challenges on his plate, Aigboje wanted more. He was both restless and dissatisfied, despite having a career most people would break an arm for.
He did not figure out the missing link until he went to the Harvard Business School at the age of 32 years, for an Executive MBA.
At this time, he read the book Buyout, written by Rick Rickertsen a corporate buyout specialist. It was a Eureka moment for Aig, where he realized, "I wanted to become an owner-manager."
There and then, he resolved to buy a bank upon his return to Nigeria.
Founding Access Bank
Buying a bank turned out to be more difficult than was envisaged. Although Aigboje had set his eyes on the top-tier banks, he found that even after pooling resources with his trusted partners, they still could not afford to buy controlling shares.
READ MORE: Bank loans not main funding option for Nigerian MSMEs -PwC
They eventually had to move down the rung, and look for something they could afford.
"We were both worth about two million dollars, and even then, our $2 million plus $8 million worth of leverage got us 52% of the bank," Aig recalled.
Access Bank was incorporated on February 8, 1988, as a privately owned commercial bank and commenced business operations on 11 May, 1989 after obtaining its licence. It later converted to a public limited liability company on 24 March, 1998, and by November of the same year, was listed on the Nigerian Stock Exchange.
READ MORE: Banks push customers towards self service in the "new normal" 
Dealing with several boardroom squabbles in its years of operation, and the challenges of undercapitalization based on the apex bank rules, Access bank was then rated number 65 among Nigerian banks.
"I was betting my financial future and that of my family on this move, but I had a burning desire to transform our bank into a world-class financial services provider. What was more important to me was that this was the beginning of something, but not the end. I was going to buy the bank but I had no plans to tie my life around the bank so I knew we needed a framework for continuity.  I wanted it to continue irrespective of what happened to me" he later said.
Having recapitalised the bank, the team had a 13-point plan to turn around the fortunes of the bank, and have it listed as one of the top 5 banks in the next 5 years. This became the aim of the team led by Aigboje as pioneer MD.
READ MORE: Nigeria's tier-1 banks pay N29.8 billion worth of taxes in Q1 2020
Though they did not meet this target, in 2006 exactly 5 years after recapitalising the bank, Access Bank won the Thisday 'most improved bank' in Nigeria, and was classified by Augusto & Co, a respected rating agency, as a tier 2 bank alongside Diamond Bank, Afribank, Fidelity Bank, Bank PHB and the Nigerian International Bank (Citibank).
The bank also expanded into other African countries including Gambia, Cote D'Ivoire, Democratic Republic of Congo, Rwanda, Zambia and Sierra Leone.
Notwithstanding, the change in ownership and management of the bank was visible in the balance sheet from the first year. In 2002 alone, the bank posted an impressive N1 billion profit before tax, much more than the cumulative profit made by the bank in the previous 12 years.
READ ALSO: Unity Bank: Repositioned to grow profits, lending to the real sector
This also marked the beginning of what would be a six-year record triple-digit growth trend. Similarly, earnings per share had rebounded to 21 kobo from a negative 2 kobo position, leading to a declaration of a 5 kobo dividend to shareholders for the first time in three years.
When the team embarked on its first capital raising exercise in July 2007, it turned out very successful with an oversubscription of over 300%. The public offer comprised an Over-The-Counter GDR placement of US$250 million which was similarly oversubscribed by 700%.
Access Bank today is now the largest bank in Nigeria, and Africa's leading bank by customer base. It has a network of more than 600 branches and service outlets, across three continents, 12 countries and 36 million customers.
Good times!
READ MORE: France's Orange move into Nigeria spells trouble for resident Telcos
Reflecting back, Aig would say that his experience in Chase Merchant Bank prepared him in advance for the task of owning and running a bank.
"One thing you will find about many of the men who have founded great banks in Nigeria is that they have worked for banks that crashed. That way, you learnt what not to do in banking," he said while speaking at the presentation of Jim Ovia's Africa Rise and Shine.
He recalled also how Jim Ovia, founder of Zenith bank, had advised and mentored him when he took the driver's seat at Access bank, and stated that this played a great role in the success of the bank.
Leaving Access bank for higher call
After 12 years at the helm, Aig handed over to co-founder, Herbert Wigwe as MD.
Leaving the bank gave Aig the time to pursue other passions. He founded Coronation Capital Nigeria Limited, an Africans focused private equity fund manager, whose aim is to invest and create value for multiple stakeholders who believe in Africa. He also founded the Africa Initiative for Government (AIG), a non-public institution established as a catalyst for high public sector performance in Africa, and is the chairman.
He has won many awards including the EY entrepreneur of the year.
Apart from his philanthropic ventures, he sits on many boards including Marina Securities Ltd, Global Business Coalition on HIV, and Petralon Energy Ltd.
READ MORE: Nigeria's tier-1 banks earn N18.4 billion from account maintenance charges in Q1 2020
He is an alumnus of Harvard Business School Executive Management Programme and graduated as Class Speaker PMD 75. He has also attended several other business schools and institutes including, the Citicorp Institute of Finance, Euromoney Capital Markets Bootcamp, and IMD Lausanne, Switzerland.
He is a member of the sub-committee of the Banker's Committee on Professional Ethics, Harvard Business School Association of Nigeria, as well as on the boards of FATE Foundation where he assists in inspiring entrepreneurial driven youths to realize their potential. He is also a Fellow of ASPEN Leadership Initiative.
He is a Commander of the Order of the Niger (CON), and has also won the National Productivity Order of Merit Award in 2009.
Download the Nairametrics News App
He is a member of the Presidential Committee on the establishment of the African Investment Bank, a honourary member of the Chartered Institute of Bankers of Nigeria, and a Governing Council member of the Financial Institutions Training Centre.
Aigboje is a pastor of the Promised Land Ministries in Lagos, and is married to Ofovwe Aig-Imoukhuede; they have four children together.
Note: Information was sourced from here, here, and here.
Meet the new Co-CEOs of Tizeti Network
Kendall Ananyi voluntarily relinquished the position of CEO of Tizetti Network limited, Ifeanyi Okonkwo and  Patricia Aiyedun will hold the fort pending the outcome of the investigations.
The scandalous drama, which commenced on June 3, 2020, with a tweet thread from Kelechi Udoagwu, co-founder of Skrife, eventually forced Kendall Ananyi, founder and CEO of Tizeti Network limited (also known as wifi.com) to step down on Monday, June 8, 2020. The decision was not taken because he is guilty as charged but to allow investigations into the sexual harassment allegation.
With Ananyi voluntarily relinquishing the position of CEO, his co-founder – Ifeanyi Okonkwo, Tizeti's Chief Operating Officer (COO) and Patricia Aiyedun, its Chief Financial Officer (CFO), have been announced as the co-CEOs who will hold the fort pending the outcome of investigations.
Let's learn a little about the duo, who will now pilot the affairs of wifi.com.
READ MORE: Tax reform, policy uncertainties to cause oil drop in Nigeria, WoodMac warns
Patricia Aiyedun
Just like Ananyi, Patricia Aiyedun worked with PricewaterhouseCoopers for over 13 years. She served as a Senior manager, Senior Associate and Experience manager at different times, and her years at PwC accounts for the most part of her professional accounting and financial management experience. She also had a brief stint at Diamond bank as an executive trainee.
Patricia Aiyedun obtained her first degree from the University of Ibadan. She has also acquired several other certifications and trainings since then.
READ MORE: Profiles of the men who determine your internet experience
She obtained Technical Skills Training at PwC including the Go Audit trainings, Business Control Matrices, Global Best Practices, Petroleum Academy, Flow-charting with Vision, and other leadership, and team building.
She also participated in soft skills trainings such as Management Bytes, Presentation, IFRS, among others.
She is a member of the Institute of Chartered Accountants of Nigeria (ICAN), as well as the Association of Chartered and Certified Accountants (ACCA).
— Tizeti Network (@tizeti) June 8, 2020
---
Ifeanyi Patrick Okonkwo
Ifeanyi Okonkwo is a telecommunications expert and has been in the industry for over 14 years. Before co-founding Tizeti, he worked with prominent telecom firms such as Blackberry and Eircom.
He obtained his first degree from the University of Benin, Edo state, and later an MSC in Quality Management from the University of Sailford.
Okonkwo has a varied work experience, starting with a 21 months experience with Eircom in Dublin, Ireland as the Customer Support/Product training officer. He went on to work in Vertex Data Science, Manchester, United Kingdom as the Customer Service Advisor.
READ MORE: 7 female executives under 40 in FinTech
He returned to Nigeria in 2009 as a Training Executive in TertiaryDNS Limited, and later went to work for Blackberry in 2012 as the Training Manager, West Africa.
He co-founded TIzeti in 2014 to provide high-speed broadband internet services in Nigeria, and also provides public Wi-fi Hotspot to locations across Africa. He became the Chief Operating Officer (COO) supervising all departments at Tizeti including the most critical ones, IT, Marketing, Sales, Finance.
He has now stepped in as co-CEO after Ananyi step-aside move to allow investigations take place.
The allegations 
The issue of sexual harassment has dominated the social media landscape in the last couple of weeks, and at the height of it, Kelechi Udoagwu took to her handle @anti_ratrace to recount an experience she had with Ananyi during her time as Entrepreneur-in-Training at the Meltwater Entrepreneurial School of Technology (MEST).
Ananyi was one of the guest speakers during the program, and according to Udoagwu, he was supposed to offer her advice and mentorship in her start-up journey.
READ MORE: COVID-19: Lagos receives N200 Million, 5 ambulances from BUA Foundation
Udoagwu is now the co-founder of Skrife, after meeting her cofounder during the MEST programme. Skrife is an online content development platform she launched in 2015. She also served as MEST Africa's Head of Communication shortly after.
Her first tweet did not disclose the name of the person involved, but appeared to give enough pointers. There were other responses in the thread to also suggest that some others might have suffered a similar fate, but kept quiet for fear of what would become of their careers if nothing came of it.
In response to his denial tweet, which he eventually deleted from his handle, Udoagwu sent another tweet, this time a series of pointed questions directed at him.
He is yet to provide answers to the question. Meanwhile, MEST Africa replied to the thread, promising to stand behind her if she chooses to take legal action.
READ MORE: Dangote Sugar appoints new Chief Operating Officer
It said, "We have zero tolerance for sexual harassment and assault at MEST and within the MEST community. We will stand behind you and help escalate action if you wish."
There were pressures from several industry big-shots asking Ananyi to give room for his co-founder to step in, in order to avoid upsetting the shareholders who have entrusted their funds under his management. This culminated in a statement from the company issued on Sunday evening, announcing the new co-CEOs.
---
About Kendall Ananyi 
Erstwhile CEO Kendall Ananyi has a Masters in computer engineering from the University of Victoria, Canada, and over 15 years' experience in Telecommunication and Software. He has also worked in various notable firms including Microsoft Canada, Pricewaterhouse Coopers. He is said to have in-depth knowledge of wireless networking, project management, and software experience.