Company News Roundup (May 20, 2017) – Bank executive compensation top N6 billion N1 billion in 2016
This is Nairametrics recap of some of the top company/industry stories that were in the news for the week ended May 20th 2017.
Smile Communications which operates in Nigeria, Uganda, Tanzania and the Democratic Republic of the Congo, appointed the former Chief Executive Officer of MTN Nigeria, Mr. Ahmad Farroukh to its Board as Executive Director, Operations, effective, May 1 2017.Until his recent appointment, Farroukh held executive management positions at Investcom Holdings and the MTN Group, including being CEO of MTN Nigeria for five years, CEO of MTN South Africa and MTN Group Chief Operating Executive, responsible for 19 countries. Most recently, he served as CEO of Mobily, Saudi Arabia's second largest telecommunications operator. Given the extent of the opportunity and the significance to Smile, Ahmad will spend the majority of his executive time in Nigeria. Link
Airtel Nigeria and Ericsson announced the launch of Nuvu (nuvu.tv), a subscription-based video-on-demand (VOD) service.Nuvu will provide subscribers access to more than 3,000 local and international TV and film titles, empowering Airtel customers to download content directly to their smartphones or tablets at no additional data cost during off-peak network times.Also, subscribers will be able to access the content off-line for up to 30 days after downloading. We looked at the app and noticed its catalogue of movies were dominated by old movies. Link
It looks like the $1.2b rift between Etisalat and a consortium of Nigerian banks may be ending soon. The Executive Commissioner, Stakeholders Management, of the Nigerian Communications Commission (NCC) Mr Sunday Dare, gave assurance in Lagos during an interactive session with reporters. He said officials of Etisalat's parent firm, United Arab Emirates (UAE) Mubadala Group, who are in the country, have met with the NCC and are scheduled to meet with the Central Bank of Nigeria (CBN) over an amicable settlement of the deal. Link
The Nigerian Ports Authority, NPA, said it would raise N4.3 billion to reconstruct access roads around Apapa Port as port operators withdrew services over poor infrastructure. The Managing Director of NPA, Hadiza Usman, told a stakeholders' meeting in Lagos on Monday that NPA would provide N1.8 billion while Dangote Group and Flour Mills would provide N2.5 billion. The NPA boss said that the reconstruction would begin within one month, adding that she would ensure speedy completion of the project. Link
The Cross River State Governor, Prof. Ben Ayade, has said the Calabar Garment Factory is now producing in commercial quantity including for export. He said that the state government was determined to boost its patronage and make the factory economically viable. The factory, last week, rolled out the first set of clothes such as blazers, jeans trousers and shirts. The governor boasted that starting from June 2017, he would not be wearing clothes not made from the firm. He also insisted that henceforth, starting from today, all executive members, all appointees must be in clothes made from Calabar Garment Factory and this is official. The factory was already expanding into uniform production for schoolchildren. Link
The Board of Directors ("the Board") of Stanbic IBTC Holdings PLC (the Company) announced the election of Mr. Basil Omiyi as the Chairman of the Board with effect from 15 May 2017 following the receipt of all required regulatory approvals. Mr. Omiyi succeeds Mr. Atedo Peterside CON as the Chairman of the Board following Mr. Peterside's resignation as a Non-Executive Director and Chairman of the Board on 31 March 2017. Mr Omiyi worked in Shell for over 40 years and was once the Managing Director of SPDC. Mr. Omiyi has held a number of board memberships and senior advisory positions including as chairman of Greenacres Energy Limited, chairman of the Nigerian Upstream Industry Group, board member of the Nigerian Business Group of New Partnership for Africa's Development (NEPAD), board member of the Nigerian Extractive Industry Transparency Initiative (NEITI), chairman of the Oil and Gas Commission of the Nigerian Economic Summit Group (NESG), and member of the Presidential Advisory Council, amongst others. Link
Outgoing chairman of the board, Atedo Peterside also used the opportunity to flay corporate governance codes that set tenures for board members of companies, insisting that it was unfair to founders of the companies. According to him, "I am not saying anybody can be on the board forever, but I think it is the business of the board of directors and owners of the company to look at that in line with their succession plan,". Stanbic IBTC had a market cap of about N260 billion last week about 6 times its value, when it was first listed at N40 billion. Link
Coronation Asset Management Limited, the asset management arm of Coronation Merchant Bank Limited, is planning to float initial public offerings (IPOs) to raise funds a new mutual fund. Regulatory document on the proposed IPOs indicated that Coronation would be raising N1.5 billion and N200 million in two separate IPOs to launch two mutual funds. Under the first IPO, Coronation will be offering 1.5 billion units at a par value of N1 to raise N1.5 billion for its Coronation Asset Management Balanced Fund. The asset management firm will also be offering 200 million units at N1 par value in another balanced fund to raise N200 million. Link
The Bank of Industry is seeking to raise about N1tn from local and international sources to finance the industrial component of the Economic Recovery and Growth Plan. The Acting Managing Director, BoI, Mr. Waheed Olagunju, stated this in Abuja at the 57th Annual General Meeting of the bank. Olagunju said the N1tn would be used to support ventures that would fast-track the country's realisation of the Sustainable Development Goals. He claimed that the banks was already discussing with the Development Bank of Nigeria and some foreign as well as multilateral development finance institutions. He added that one of the major targets of the bank was to ensure that the Micro, Small and Medium-scale Enterprises access up to 30 per cent of its total loan portfolio by 2019. Link
Bank customers in Nigeria are on the hook to pay a whopping N1.462 billion to banks as card maintenance charges every month totaling N17.544 billion in a year beginning from May 2017. This calculation was made by the Leadership Newspaper and cited the revised Guide to Bank Charges which take effect from this month as its basis. The Central Bank of Nigeria (CBN) had revised the card maintenance charges in the new guide which was released last month from N100 annually to N50 monthly. This means every debit or credit card holder will pay N600 annually as against the N100 being paid previously. According to data released recently by the Nigeria Inter Bank Settlement System (NIBSS) the central database for banking transactions in the country show that as at September 30, 2016, there are 29.24 million active cards being used by the 63 million active bank customers. Link
Ten of the largest quoted commercial banks in Nigeria incurred a total of about N6.1 billion in executive compensation for the financial year ended December 2016. This represents a 17% drop from the N7.4 billion expensed in the same period in 2015.The banks in view are Access Bank, UBA, Diamond Bank, GT Bank, Zenith Bank, Fidelity Bank, Union Bank, FBNH, FCMB and Stanbic IBTC. Bank CEO's on the other hand earned a whopping N1 billion as salary for the year ended December 2016. The year 2016 shows GT Bank CEO, Segun Agbaje, was paid the highest salary with about N204 million annually. He also topped the list in 2015 with about N205 million paid. Union Bank CEO, Emeka Emuwa, who was poached from Citi Bank, was paid N166 million in 2016. Diamond Bank CEO is paid the least with about N34 million as emoluments. He also got the highest bump in salary with a 33% increase year on year. Insiders however suggest that these salaries may have been understated as bank CEO's typically earn much more than disclosed in their annual report. The claim is however not substantiated. Link
The Group Managing Director of Obijackson Group and founder of Nestoil, Mr. Ernest Azudialu-Obiejesi, was in the news last week. His company was in danger of being picketed by the labour unions so he took his case to the court of public opinion, explaining why his company should not be picketed. In a staunch defence of his contribution to society, he said his company (emphasis on his) is still indebted to over10 banks for the $558 million paid by the company for the acquisition of Oil Mining Lease (OML) 42 from Shell Petroleum Development Company (SPDC) and its partners. And as such it was not right for his workers to use the labour union to close down a one-man company that employs over 2,500 Nigerians. With emphasis on his company being a "one man" company he explained thus; "If you are in a union, you should understand clearly the difference between a multinational, a company that represents the government like the NNPC, and NPDC, and a business set up by one man with his hard-earned money; money borrowed from the banks, and the value he created by providing jobs," he explained.The aggrieved workers alleged that the company had agreed to review their severance benefits, field allowance and transfer benefits within 13 days from February 23, 2017. Link
Lagos State has launched its own oil company called Ibile Oil and Gas Corporation, IOGC. The company will serve as the oil and gas arm of the Lagos State-government. Link
The Nigerian National Petroleum Corporation, NNPC, said it had spent over N1.6 billion on the repairs of the vandalised pipeline between Kaduna and Kano in 2016.The NNPC Group Managing Director, Maikanti Baru, disclosed this when he paid a courtesy visit to Governor Abdullahi Ganduje on Tuesday in Kano. He also confirmed that the pipeline was now 100% operational and will now be able to transfer over 20 million litres of AGO into tanks of Kano and Kaduna refinery in addition to 40 million litres of diesel to Kano depot. Link
An independent power producer, Geogrid LighTec Limitedrevealed last week that it was discussing with the Manufacturers Association of Nigeria to provide them with about 10MW of power from its installed capacity of 30MW. MAN on the other hand said they were willing to do a deal with the company if the tariff meets their requirements. The MAN has been in court with Discos over a tariff increase effected in 2015. They got an injunction in their favour for Discos to charge them a prior tariff that is 45% less than the current tariff pending the determination of the court. Tariffs from embedded power generators such as Geogrid as typically higher than what is obtainable in MYTO. Link
Last week, Oando and the NNPC announced an agreement that the FG had signed an MOU that will see Oando repair, operate and maintain the Porthacourt refinery, under what is called an ROM arrangement. The Nigeria Union of Petroleum and Natural Gas Workers, NUPENG, has now faulted the MOU describing the arrangement lacking in transparency and not involving other stakeholders, especially the two oil workers unions, NUPENG and Petroleum and Natural General Senior Staff Association of Nigeria, PENGASSAN. They also claim that Oando Plc is not a worker-friendly organisation as it detests unionization in all its subsidiaries and companies.  Link
As things change, the more they remain the same. The NNPC last week signed a $6 billion crude oil swap agreement with 10 groups of oil trading firms for the exchange of 330,000 barrels per day of crude oil for premium motor spirit, PMS, also known as petrol, and diesel. According to a report from Reuters, the NNPC had signed the agreements with four of the 10 groups. Strangely, the NNPC had in 2016 stated that it would no longer allow middlemen/traders to participate in the process, as only oil companies with refineries will be allowed to partake in the crude oil swap. However, this year's deal now includes international trading houses, not just oil refineries. The companies claimed to have signed this year's deal are Trafigura, which is partnering A. Rano; Petrocam, partnering Ranoil and Falcon; Mocoh, partnering  Heyden; Cepsa, partnering Oando; Sahara, partnering  Societe Ivorienne de Raffinage, SIR; and Mercuria, partnering Matrix and Rahamaniya. Others are Socar, Litasco and Vitol, whose indigenous partners are Hyde, MRS and Varo respectively. Link
The monthly remittance of the 11 electricity Distribution Companies (DisCos) is now at 35 per cent of what they are meant to remit to the market operator. Distribution companies, are the further end of the power value chain, and are expected to remit collection from their customers to the market operator. The Transmission Company also revealed that it has improved its capacity to 6,500 megawatts (mw) and that the highest generation ever recorded was 5,074mw in February 2016 which TCN was able to wheel. Link
In another power sector related news, Total Nigeria Plc announced that it was deploying solar hybrid solutions in strategic service stations across Nigeria. Total currently has about eight solar-powered service stations in different parts of the country – Lagos, Abuja, Kano, Kaduna, Asaba, among others. Link
The Ogun State Government has announced that it will soon commission a 10 mega watt mini power plant, located at Onijoganjogan, Ewekoro Local Government Area of the state. The Commissioner for Works and Infrastructure, Olamilekan Adegbite, who disclosed in Abeokuta, said the project, when completed, would in addition to boost power supply to government establishments also power street lights in the state. The plant, he added, will serve government establishments, like quarters, hospitals, model schools, secretariat and the powering of street lights.  Adegbite promised that a similar power plant would also be established at other major cities in the state, noting that the project is a Public Private Partnership (PPP) with a legislation to back up its sustainability. Link
In a landmark announcement in the power sector, the Minister of Power, Works and Housing, Babatunde Fashola, has declared that eligible power consumers are now free to purchase electricity directly from power generation companies. This means that power generators can now bypass the grid and sell power directly to end users who can consume more than 2mw of power supply. Initial target market will be manufacturing companies and steel makers who are heavy consumers. A 2mw power supply can cost as much as N45 million a month for a 24/7 supply availability. Link
Stallion Popular Farms & Mills Limited, a sub-division of Stallion Group has revealed plans to increase its rice production from 450,000 metric tonnes to 1.5 million metric tonnes annually. The company Group Director, Hapreet Singh said the farm has already deployed enhanced milling activities and set up more milling facilities through structured farming techniques. Popular Farm currently produces varieties of rice from farmed paddy, which are branded and distributed nationwide as Royal Stallion Shinkafa, Tomato Aroso and Super Champion. Link
The La Casera Company Plc, makers of La Casera apple drink has launched a fresh new look for its flagship brand. It added more natural apple juice extract to the premium apple drink, which according to the company makes it the only Apple CSD with real apple juice extract in Nigeria. The repackaged La Casera Apple drink still comes in a 50cl bottle. The Marketing Manage of the company, Mr. Bello Yusuf explained that the Nigerian CSD market commands a unique hold in the beverage sector of the economy with an estimated 49% of soft drinks volume sales. Link
Dangote Industries Limited revealed last week that the company spends about N52 billion annually on importation of 150, 000 metric tons of tomato concentrate through the neighboring countries into Nigeria. This is despite an abundance of arable land to cultivate and meet local demand for tomatoes. Vice President of Dangote Industries Limited, Sani Dangote however said the tomato policy of the government will help his firm avoid incurring such an expense. He was referring to the policy that restricts the importation of tomato concentrates preserved otherwise by vinegar or acetic acid; and increases the tariff on tomato concentrate to 50 per cent with an additional levy of $1,500 per metric ton. The new policy he explained will encourage farmers to cultivate more tomatoes, earn more money as they sell to processing plants and with decrease in importation of concentrate, the nation saves huge sums in foreign exchange. Nigeria imports an average of 150,000 metric tons of tomato concentrate per annum valued at $170 million mostly due to inadequacy in capacity to produce tomato concentrate. Current demand for fresh tomato fruits is estimated at about 2.45 million metric tons per annum while the country produces only about 1.8million Metric tonnes per annum. Link
In a rather contrary news to the one above, Bloomberg reports that Dangote Farms has decided to shut down its factory due to lack of tomatoes from local farmers Thousands of farmers in northern Nigeria contracted to grow tomatoes for a set price are said to have shunned cultivation after pests destroyed much of last year's produce. In a deal arranged to encourage farmers to grow the crop, 8,000 farmers in the Kadawa Valley, near Kano, signed to supply the factory, were guaranteed a price of about $700 per ton compared with an average of less than $350 in the domestic market, according to estimates by the central bank.Dangoe Farms can process 1,200 metric tons of tomatoes each day and produce 400,000 tons of paste annually. Dangote Farms Ltd. Nigeria imports about 300,000 tons a year from China. Link
A Federal High Court in Lagos last week ordered Skye Bank Plc to take over a five-star hotel, Intercontinental Hotel, located on Kofo Abayomi Street, Victoria Island, Lagos.The bank had dragged Milan Industries Limited, owner of the 361-room Intercontinental Hotel, to court over an alleged debt. Skye Bank claimed to have granted loan facilities of $29.8m and N3.8bn to Milan Industries Limited to construct the hotel. It claimed to have also raised an overdraft facility of N500m in favour of Milan Industries Limited "to urgently fund payments to contractors and importation of material required for completing the hotel project."Intercontinental Hotel Lagos was opened in September 2013 at the peak of a booming hotel market in Lagos. Upon its grand opening as arguably the single largest hotel in Lagos by rooms and facilities, experts noted that the fact that the hotel had been under construction for almost a decade posses several operational risks. They opine that he average cost per room of over a million naira at the time, making it hugely unlikely that it will ever breakeven. Things got worse for the hospitality industry in 2014-2016, as combination of a crash in oil prices, the Ebola crisis, uncertainty of the 2015 election, and the ensuing recession, sent occupancy and average room rates crashing. Link
Nigerian Governors who have tested positive for Coronavirus 
Six Nigerian governors have contracted the novel coronavirus, but some have recovered.
On Saturday, July 4, Ebonyi State Governor, David Umahi announced that he had tested positive for COVID-19. This makes him the 6th Governor to have tested positive for the virus that has infected over 11 million and killed no less than 532,000 people globally. 
Kaduna State Governor, Nasir El- Rufai was the first governor confirmed to have been infected and recovered in April. 
Bauchi State Governor, Bala Mohammed, was also infected in March and was reported to have recovered on the 9th of April. 
Oyo State Governor, Seyi Makinde, announced that he tested positive on 30th, March, 2020 and his recovery was reported on the 5th of April. 
Ondo State Governor, Rotimi Akeredolu, tested positive last week on June 30th and Delta's Ifeanyi Okowa announced that he and his wife had tested positive on July 1. 
So far, the governors who have tested positive for COVID-19 are:    
1. Nasir el-Rufai
2. Bala Mohammed
3. Seyi Makinde
4. Rotimi Akeredolu
5. Ifeanyi Okowa
6. David Umahi
Earlier this weekend, Benue State Governor, Samuel Ortom announced that his wife, Mrs. Eunice Ortom, their son, and some of the wife's aides had tested positive for COVID-19.
With Nigeria and the rest of the world still battling to contain the dreaded virus, the total number of confirmed cases has risen to 28,167 from 148,188 tests carried out as at Saturday, July 4, 2020. In addition, while 11,462 have recovered, 634 persons have died.
BUA cement to build power and cement plants in Adamawa state
BUA Cement's newest plant in Sokoto is expected to be operational in 2021.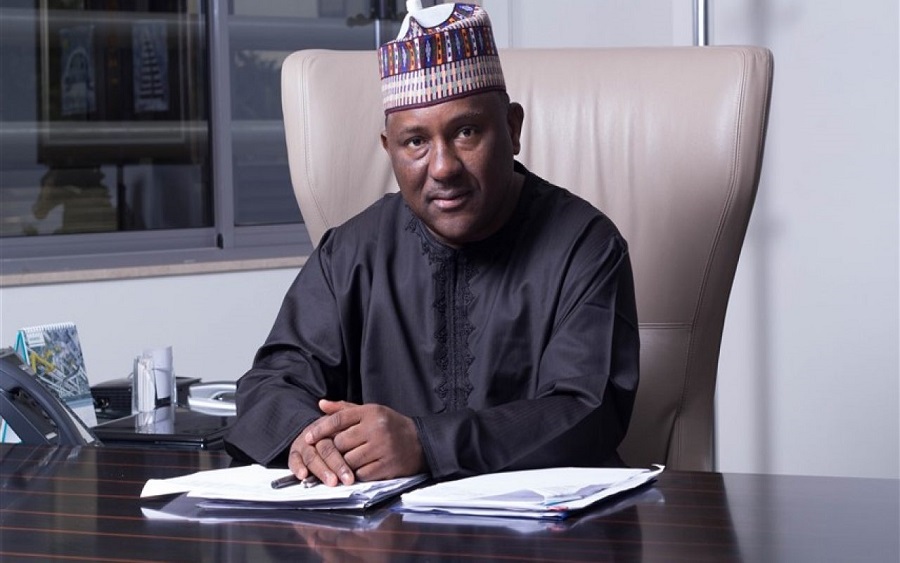 BUA Cement has announced plans to build a 50 megawatts power plant and 3 million metric tonnes cement plant in Lamurde and Guyuk local governments in Adamawa States.
BUA Cement which is Nigeria's second-largest cement producer by volume with plants in Sokoto and Edo States, with the projects wants the boost the country's power supply and increase the local production capacity for cement.
This was disclosed by the Chairman of BUA Cement, Abdul Samad Rabiu, in a press statement on Sunday, July 5, 2020, in Lagos.
The BUA Cement Chairman who led the company's management team on a courtesy visit to the Adamawa State Governor, Ahmadu Umaru Fintiri, after preliminary findings showed that Guyuk and Lamurde areas had quality limestone.
According to Rabiu, "Preliminary findings show that the two local governments of Guyuk and Lamurde are reputed to have good quality limestone deposits and BUA Cement is ready to begin the investment in the state.
"BUA will use new technologies to supply power to the proposed cement plant and communities of Guyuk and Lamurde in addition to providing three thousand direct and five thousand indirect jobs.
"Guyuk Cement Plant will be a major investment in the North-East by BUA, while we solicit the support of Gov. Umaru Fintiri to set up the factory in Guyuk."
READ MORE: 10 fantastic things Aliko Dangote has done in the last 10 years
He added that while the company has invested billions of dollars in various sectors across Nigeria, it has taken a decision to source its raw materials locally and therefore urged the Adamawa state government to support BUA to actualize the GUYUK Cement project.
The Adamawa State Governor, Ahmadu Fintiri, in his response assured the Chairman and management team of BUA, that the state government would provide all the necessary support and make available whatever was needed to make the projects a reality.
BUA Cement's newest plant in Sokoto is expected to be operational in 2021 and expects that its total production capacity will get to 14 million metric tonnes of cement per annum upon the completion of Guyuk Cement Plant.
BUA Cement has been having a running battle with Dangote Cement over the ownership of 3 mining sites in Obu and Okpella in Edo State. The mining sites have been subject of legal tussle between the 2 biggest cement companies in the country.
GSK, Sanofi to agree $624 million deal with UK for COVID-19 vaccine
Both GSK and Sanofi said that they are placing more priority on quality rather than speed.
British and French pharmaceutical giants, GlaxoSmithKline (GSK) and Sanofi are close to reaching a $624 million (500 million pounds) deal with the United Kingdom (UK) government for the supply of 60 million doses of coronavirus vaccine as many countries move for possible COVID-19 treatments.
Reports suggest that the UK was considering an option to buy the vaccine should the human trials, which are due to commence in September 2020, turn out successful.
The funds would be paid in stages as the vaccine progresses, with the final payment made on delivery.
In order not to be left behind, the UK government has been engaging a wide range of companies both at home and abroad to negotiate access to vaccines. They said that the right announcements of these arrangements will be made as and when agreements with any of these companies are finalized.
The British business ministry's spokeswoman, who confirmed that the ministry is handling Britain's supply of potential COVID-19 vaccines, said talks were going on with different parties about access to possible vaccines but didn't confirm if GSK/Sanofi project was one of them.
READ MORE: Pfizer's COVID-19 vaccine shows positive results
According to the ministry official, ''The Government's Vaccines Task Force is actively engaging with a wide range of companies both in the UK and abroad to negotiate access to vaccines."
"Appropriate announcements of these arrangements will be made as and when agreements with any of these companies are finalized and signed."
Sanofi is presently working on 2 possible COVID-19 vaccines, one of which uses an adjuvant made by GSK to potentially boost its efficacy. The timeline for its clinical trials is behind the likes of Moderna Inc, the University of Oxford in collaboration with AstraZeneca Plc and an alliance of BioNTech and Pfizer Inc, whose projects all made headlines by moving to human trials as early as March.
Both GSK and Sanofi said that they are placing more priority on quality rather than speed in developing a vaccine.