CBN's New FX Window For Investors and Exporters Explained
Nairametrics| The Central Bank of Nigeria on Friday opened a new special forex window dedicated to investors, exporters and end users. In a circular titled Establishment of Investors and Exporters Window, the CBN claimed this new window was introduced to boost liquidity in the FX market and ensure timely execution and settlement of eligible transactions.
The window will specifically serve eligible transactions that are classified as invincible in nature as well as transactions for Bills of Collection. Here is what you need to know about this new FX window;
Is CBN Fixing a price here
Unlike the window for PTA, BTA, Manufacturers, Airlines this window does not have a fixed peg. The market will determine the price at which buyers and sellers want to transact.
Is it like a float?
Well, you can call it a float for participants in this market. However, because the CBN will be intervening occasionally, it will safe not to call this a float.
How will they determine the price?
According to the CBN's circular, rates will be determined exclusively by willing buyers and sellers. The CBN did not provide any rates and did not also mention any preferred band. To provide price discovery for the market (obtain prevailing FX rates), the FMDQ OTC will be mandated to poll buying and selling rates and other relevant information from major participants in the market. This basically means that the FMDQOTC will be asking banks and other authorised FX dealers how much they bought or sold dollars daily and then use that to determine the average rates and depth of the market. Think of it as a survey for rates.
Can't they use technology for this?
CBN explains that due to the slow progress in the utilization of the FMDQ Thompson Reuters FX Trading & Auction System which it announced last year, it the now botched flexible exchange rate system, it will have no choice than to allow trades to take place via documented telephone conversations as well as other forms provided that the trades are officially documented. The CBN by the way is also blamed for not allowing the Thomson Reuters FX platform to function. With their platform, all trades would have gone through there instead of having FMDQ to poll.
Where can I get closing spot rates?
To get the prevailing rates, you will have to visit the website of the FMDQ ITC on www.fmdqotc.com . Opening rates will be published 9.00am daily and closing rates 4.00pm daily.
Who will supply this market?
The CBN explains that suppliers of this market will be portfolio investors, exporters, authorised dealers and other parties with foreign currency to exchange for naira. Basically, anyone who has forex and want to exchange for naira at a market determined rate, rather than a rate fixed by the CBN, can participate in this market.
What will be the CBN's role?
The CBN will also be expected to intervene in this market from time to time. For example, banks are required to return to the CBN balance of unsold forex meant for retail buyers such as PTA and BTA. With this new circular, banks need not return that money but will instead channel it to this Investor and Exporter window.
The CBN also says it will intervene in this market from time to time, either a seller or buyer. Analysts believe this is to ensure that participants do not manipulate prices through creating artificial scarcity. And since the CBN is perhaps the largest supplier of FX in the market, it can indirectly influence the direction of prices and curtail market mischief. Critics also believe this gives the CBN manipulative powers as well and could erode confidence in the market
Will IOCs participate in this market?
The CBN did not mention IOCs in this circular as a participant. Currently, IOC's are expected to sell their exports to the CBN instead of in the interbank market. However, considering that fx from IOC's are classified under invisibles by the CBN, some of their supplies could be sold via this market.
Can I sell FX in my domiciliary accounts to banks at the rate determined here?
Balances in domiciliary accounts are also classified as invisibles. This means that if you receive income abroad and want to convert to Naira, you can sell to your bank at a market rate instead of the CBN fixed rate of N305 which was what was obtainable before this circular.  That is assuming the black-market rate is not higher.
Who can buy or sell from this market?
Bills for collection – These documents presented by banks on behalf of exporters to enable them receive money abroad. It means exporters can now sell their money via this window
Loan repayments – Companies that took loans in dollars and want to repay principal obligations in dollars
Loan interest payments – Companies that took loans in dollars and want to repay interest obligations in dollars
Dividend/income remittances – Foreign investors who need to remit their dividend received from Nigerian companies in dollars
Capital repatriation – Investors who want to repatriate their capital out of Nigeria
Management service fees – Businesses that need to pay service fees to their foreign service providers in dollars
Consultancy fees – Businesses that employ foreign consultants and need to pay them in forex
Software subscription fees – Payment of subscription fees in dollars. For example, accounting software, programming licenses, other software licenses.
Technology transfer agreements – Payment of management fees, technical agreement fees etc.
Personal home remittances and any such other eligible invisible transactions including miscellaneous payment.
Who is excluded
International Airline and Ticket Sales Remittances
Will banks allow us use cards to pay for services
The CBN did not reveal this in the circular, however we believe the usage of cards to help facilitate payments for these transactions could be reintroduced. Rather than have to fill forms online or via bank premises, fees can simply be paid by inserting your master or visa card details. The bank will debit you in naira at the prevailing exchange rate and pay your beneficiary in dollars.
What next for black market
As we have always explained on Nairametrics, we do not see this affecting the black market more than the recent CBN decision has. The market will still cater for its unique sellers and buyers. It's relative ease of facilitating transactions also make it an easy destination for most Nigerians. However, we expect the price disparity between the black market and the Investor and Exporter window to narrow. In fact, from what we heard, the CBN instructed participants, off records not to transact above black market rates.
We will update this page as more information become readily available.
After hitting a 3-year low during the week, Naira stabilizes as traders wonder what next
The CBN still continues to warn against currency speculators who patronize the black market.
The exchange rate between the naira and dollar at the I&E remained stable on Friday, closing at N386 to a dollar. This was the same rate that was recorded on Thursday as traders mulled over reports that the CBN had adjusted the exchange rate at the SMIS window. There was also stability with the opening indicative rate as it recorded N386.86 to a dollar on Friday. This was the same rate that was achieved the previous day.    
At the black market where forex is traded unofficially, the naira also remained stable as it closed at N461 to a dollar on Friday which was the same rate that it exchanged on Thursday. The exchange rate at the beginning of the week was N460 to a dollar. By crossing N460, the exchange rate has broken a psychological ceiling going past N460 for the first time since 2017.    
Nigeria continues to maintain multiple exchange rates comprising the CBN official rate, the BDC rates, and the NAFEX (I&E window). Nairametrics reported last week that the government has set plans in motion to unify the multiple exchange rates in line with requirements from the World Bank. Nigeria is seeking a world bank loan of up to $3 billion.  
Forex Turnover
Forex turnover at the Investor and Exporters (I&E) window recorded a decline on Friday, July 3, 2020, as it dropped by 48.7% day on day, a reversal from the huge growth that it achieved on Thursday at the foreign exchange market. This is according to data from the FMDQOTC, an exchange where forex is traded by foreign investors and exporters.    
According to the data tracked by Nairametrics, forex turnover decreased from $204.90 million on Thursday, July 2, 2020, to $105.05 million on Friday, July 3, 2020, representing a 48.7% decline on a day-to-day basis. Despite falling short of the over $200 million trading volume that was achieved the previous day and in January, it is still a decent turnover compared to the low trading volumes recently. 
This was still enough to provide trading boost to help reduce the pressure and stabilize the market.   
According to a July 2020 report from Moody's, the foreign currency funding gap for Nigerian banks is expected to rise to $5 billion due to the current low oil prices, volatile forex inflows and lower diaspora remittances amid the coronavirus pandemic. These challenges are threatening to renew the foreign currency liquidity pressures that hit Nigerian banks during the previous oil crisis in 2016-2017.  
The report also indicated that dollar shortages are expected to persist over the next 12-18 months if low oil prices continue thereby renewing the forex liquidity crisis that led to severe rationing of dollar and ban on importation of some items during the last oil price crash in 2015-2017.  
Forex Liquidity Issues
Despite a decent turnover recorded on Friday and the stability of the naira at the I&E window and the black market, the volatility and uncertainty of the forex market still persist due to accumulated demand and liquidity shortages across markets.  The rise in demand and contrasting drop in supply has called for another round of devaluation, which the CBN has insisted it has plans to implement. 
The CBN on Friday adjusted the naira at the retail forex auction from N360 to a dollar to N380 to a dollar in a move that most analysts see as part of the plans to unify the exchange rate. A devaluation last occurred in March. The apex bank wants to unify the exchange rate to conserve the dwindling external reserves which has been hard hit by demand by ever-increasing importers and the foreign investors wishing the exit. This current move by the CBN has moved the retail auction for importers and individuals, which is the official rate closer to the over-the counter-spot for investors and exporters. Nairametrics spoke to some traders who are still reviewing what the latest move by the CBN could mean on the future price of forex. Whilst some believe this is a major step towards reunification others believe the real test of the value of the exchange rate could be when the economy finally opens. For now, projection is all speculation, one trader informs Nairametrics.    
The CBN still continues to warn against currency speculators who patronize the black market, thus widening the gap between it and the I&E window. The CBN maintains that the perceived demand cannot be substantiated following the drop in economic activities induced by the COVID-19 pandemic suggest demand should be low due to travel restrictions and drop-in economic activities.    
The further decline in liquidity could further fuel speculations in the black market where the exchange rate has traded at a premium of N60+ over the last few weeks. The CBN claims most of the demand being cited is not represented by any official documentation and that it has informed foreign investors with genuine forex demand to be "patient" and that they will get their forex.   
U.S dollar remains neutral as strong economic macros weaken its demand
The U.S. Dollar Index was slightly down at 0.02% to 97.040 at 1.30 pm Nigerian time.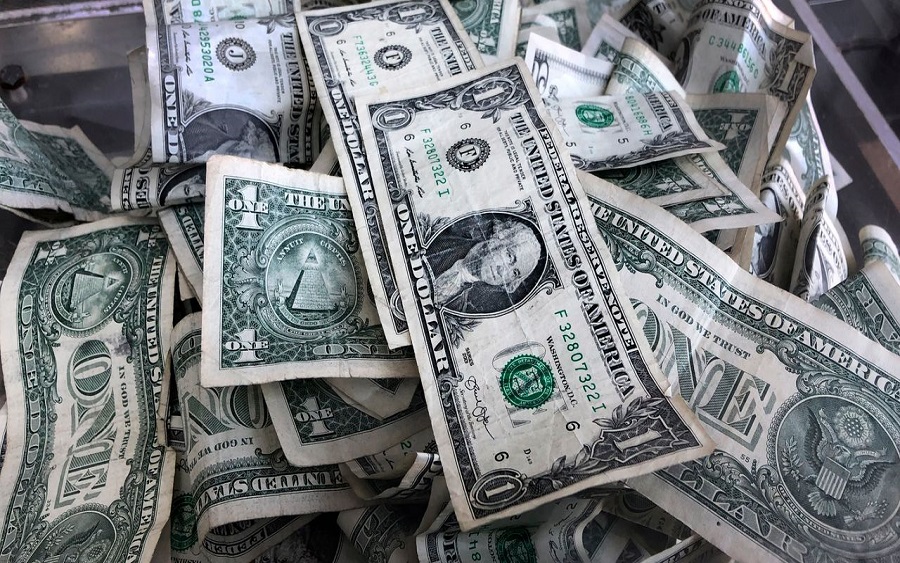 U.S dollar pulled back sessions high on Friday as Economic data released earlier showed the second-largest economy service sector printing impressive results, with the (Chinese) Caixin Services Purchasing Managers Index coming in at 58.4 in June, the highest reading in two months.
The U.S. Dollar Index that monitors the American dollar against a group of other major currencies was slightly down at 0.02% to 97.040 at 1.30 pm Nigerian time.
Consequently about 24 hours ago the world largest economy recorded an addition of 4.8 million jobs in June and manufacturing activity printing a better economic result than expected, this further suggests that the economic stimulus by the U.S Fed Reserve seems to be working.
In addition, Currency analysts at ING, in a research note spoke about the U.S Federal Reserve stimulus package in relation to the strength of the dollar.
"Fed money printing has now secured what seems to be a stable negative correlation between risk assets and the dollar,"
"As long as the Fed is still buying assets and prepared to do more, we expect this negative correlation, Risk On, Dollar Off, to dominate financial markets over the coming quarters. Economies slowly getting back on their feet should mean a backdrop of a benign dollar bear trend in the second half of the year."
(READ MORE: U.S dollar stays flat as America's Federal Reserve becomes "extraordinarily uncertain")
Why this matters; The U.S. Dollar Index that tracks the American dollar against a basket of other major currencies (like the Japanese yen, British pound sterling, Swedish Krona, Euro), Individuals hoping to meet foreign exchange payment obligations, via dollar transactions to countries like Europe, and Japan, would need to pay more dollars in fulfilling such transactions
CBN adjust naira from N360 to N380 at SMIS
Reports reaching Nairametrics indicates the CBN has instructed bidders at its Secondary Market Intervention Sales (SMIS) to increase their bidding price to N380/$1 floor. The SMIS is the market where importers bid for forex using Letters of Credit and Form M.
According to our sources, the central bank informed banks that they will only accept bids from N380/$1 and above and no longer N360/$1 meaning those who bid lower will not get any forex allocation. Transaction success in this market is based on bids with those who bid higher than the floor as they are often in an advantageous position to secure forex.
This is essentially a huge attempt at unifying the naira and another adjustment of the exchange rate by the CBN. Recall the CBN Governor had informed investors that the bank will be unifying the exchange rate towards what is being traded at the NAFEX market where investors and exporters trade forex.
Nairametrics understands a circular has been sent to banks but we are yet to see it.
The SMIS window was created by CBN for importers to ease the pressure faced by businesses in the foreign exchange market through sales of foreign currency to authorized dealers (wholesale) or to end users through Authorized dealers. Businesses usually conduct their bid for forex at the SMIS window every two fortnight.
Currently, rates are set at a floor of N360/$1 and a ceiling of N385/$1. Thus bidders are expected to bid within that range. The higher the bid the better your chances at getting forex. It is unclear if there were any buyers that bid above N360 as we gather most of the importers were not informed of the changes in prices until today.
In February, the CBN has injected $218.41 million into the inter-bank retail Secondary Market Intervention Sales (SMIS). The dollar sold at the time meant for only agricultural and raw materials sectors, is in continuation of its intervention in the inter-bank foreign exchange market. In May, the central bank surprised the market by injecting estimated $90-$100million to the system.