Here is the exciting 2021 list of the richest football clubs on earth
Here's Forbes 2021 list of the most valuable clubs in the world.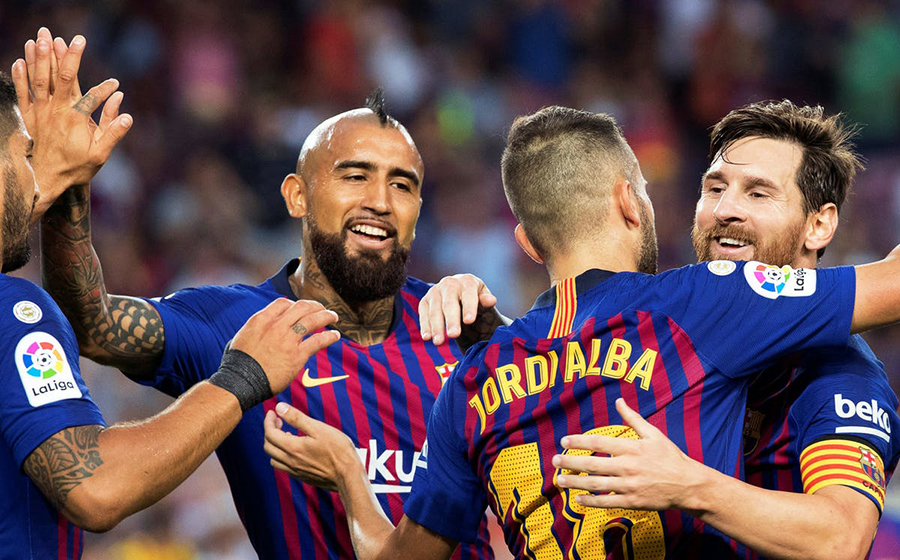 Billionaires are fond of investing in sports franchises. This is because there is a lot of money in it and the income stream is pretty consistent. Authoritative wealth watch magazine, Forbes yesterday released its official list of the most valuable clubs in the world.
It also gave a summary of the business side of the football world which we found quite interesting.
Nairametrics did a thorough review of the list and highlighted the parts which we believe will resonate well with our readers. Let's get to it!
READ: Cristiano Ronaldo becomes first footballer to earn Crypto
Top 10 richest clubs in 2021 by value 
---
Tottenham (2.3bn) 
Tottenham hotspur comes in at the 10th position with a valuation of $2.3bn. The English club is owned by Joseph Lewis and Daniel Levy. They generated $494m last year.
---
PSG (2.5bn) 
Paris St Germaine comes in at 9th position with a valuation of $2.5bn. The French league 1 giants generated more money than arsenal last year. They generated $599m. PSG is owned by an investment group, Qatar Sports Investments.
READ: Football fans cashing out with Crypto as Juventus' fan token rises by 596.98%
---
Arsenal (2.8bn) 
Arsenal football club, another London side club comes in at 8th position with a valuation of $2.8bn. The club is solely owned by Stan Kroenke, an American Businessman who invests in sports and media. Arsenal generated $430m in 2020 making it the 8th most valuable club.
---
Chelsea (3.2bn) 
Chelsea football club comes in 7th on the list with a valuation of $3.2bn. The London side club has retained its longstanding owner Roman Abramovich, a Russian Oligarch. Chelsea generated $520m last year.
READ: Ex-Real Madrid Striker, David Barral becomes first-ever footballer to be bought with Bitcoin
---
Manchester City (4bn) 
Manchester City, an English club with a long history of billionaire owners comes in at 6th position. The very successful English club generated total revenue of $609m last year. The club is valued at $4bn and is owned by Sheikh Mansour bin Zayed Al Nahyan.
---
Liverpool (4.1bn) 
Liverpool comes in 5th at a $4.1bn valuation. The English club is the second wealthiest in England with a generated revenue of $619m. The club is owned by a joint partnership between Billionaire, John Henry and Tom Werner.
READ: Ighalo to earn N1.4 billion in six months at Manchester United 
---
Manchester United (4.2bn) 
Manchester United is the wealthiest English club on the list. The club is valued at $4.2bn, taking up the 4th position on the list. The club has been owned by a Jewish business family, the Glaziers for years. They are the largest shareholders and practically own the club. They generated $643m last year.
---
Bayern Munchen (4.215bn)
Bayern Munchen comes in at the third position with a value of $4.215bn. The German giants have bossed the German league for years. They generated $703m last year, coming in at the 3rd position.
---
Real Madrid (4.75bn)
Real Madrid Fc comes in at the second position. The football club which had previously dominated this list was edged out by bitter rivals, Barcelona. Real Madrid is valued at $4.75bn and the club is also owned by the club members. Real Madrid generated $729m, the same amount of revenue as Barcelona last year.
---
FC Barcelona (4.76bn) 
Fc Barcelona is the most valuable football club in 2021 with a market value of $4.7bn. The club sits gallantly in the first position.
The Spanish giants generated a massive $792m in revenue last year and succeeded in holding on to their key player Lionel Messi. They also edged out Real Madrid and Man Utd who have dominated this list for 16 years. FC Barcelona is owned by the club supporters. It has no major shareholder or billionaire financier. The club has over 160,000 members forming its governing body.
---
What you should know 
6 of the 10 richest clubs in the world are owned by billionaires; the rest are owned by club members and an investment group.
In the last 16 years, the world's richest football clubs list has been topped by only two clubs – Real Madrid and Manchester United.
Football clubs generate revenues through advertisements, sponsorship deals, jersey deals and ticket sales. These are the 4 major revenue streams of a football club.
The top 3 teams on the list – Fc Barcelona, Real Madrid and Bayern Munchen generated a combined revenue of $2.3bn in 2020.
Top 5 women who became billionaires after divorcing their husbands
The divorce of Bill and Melinda Gates is set to mint another woman billionaire.
The divorce of Bill and Melinda Gates is set to mint another woman billionaire. Yesterday, Nairametrics reported on the first set of transactions made by Bill Gates to his ex-wife, Melinda.
She was transferred securities worth over $1 billion, already making her a billionaire. With more transfers set to come, we want to look at 5 other women who became billionaires after divorcing their husbands.
5 .  Sue Ann Arnall ($1 billion  
Sue Ann Arnall was the wife of oil baron and CEO of Continental Resources, Mr Harold Hamm. The 26-year-old marriage ended in 2015 with a handwritten check of a whopping $974 million to Sue Ann, which she initially rejected on the basis that it was too small. After a series of back and forth in court, however, she finally accepted the cheque.
Before the cheque, Harold Hamm had initially paid her over $20 million, driving the total settlement figure over a billion dollars.
Harold Hamm is currently the 247th richest man in the world with a net worth of $8.6 billion.
READ: There are only 15 black billionaires in the world, here are the top 10
4.  Sue Gross ( $1.3 billion )
The ex-wife of Bill Gross, the billionaire founder of the investment management firm, PIMCO, walked away from her 32-year-old marriage to the business mogul with a handsome $1.3 billion dollars. She started her own charity afterwards.
Bill Gross is currently worth $1.5 billion according to Forbes. He founded PIMCO in 1971 and it became one of the most successful investment management firms in America.
READ: Squarespace founder is the latest billionaire, set to make $3bn from listing his company
3.  Elaine Wynn ( $2 billion ) 
Elaine Wynn is the ex-wife of Steve Wynn and she is a Co-Founder of the successful casino company, Wynn Resorts. After the couple divorced in 2012, she was transferred 11 million shares from the company which was valued at $795 million at the time.
Her ex-husband sold a substantial amount of shares later that year, which she also got a stake in. Today, her total shares from the Wyatt Resorts are worth over $2.3 billion according to Forbes.
READ: Is Donald Trump still a billionaire?
2.  Melinda Gates ($1.8 billion and counting) 
Melinda Gates is the latest billionaire divorcee on the block and she is already worth $1.8 billion after the first transfer of wealth. Her ex-husband, Bill Gates is the 4th richest man in the world. She will be worth over $60 billion if Bill Gates' fortune is split evenly with her, although that is very unlikely.
1.  Mackenzie Scott ($57.7 billion) 
The ex-wife of the richest man in the world tops the list with a staggering $57.7 billion net worth. She met her ex-husband, Jeff Bezos when they both worked at a hedge fund in New York and she helped set up Amazon.
After her divorce from Bezos in 2019, she received 4% of Amazon shares which was valued at $35 billion then. Amazon stocks have witnessed a near 75% increase since then. She is currently worth $57.7 billion according to Forbes.
What you should know 
Melinda Gates may top the list after the complete transfer of wealth by her ex-husband, Bill Gates.
The Gates Divorce: Bill Gates' Holding Company transfers $1.8bn of equities to Melinda Gates
More details have now emerged on the Gates asset split following the divorce.
Details of how Bill and Melinda Gates will share the Gates' fortune are beginning to emerge. The multi-billionaire couple announced their divorce after 27 years of marriage on Monday via a joint statement.
Since the divorce announcements, questions on how Bill's $146bn fortune would be split, have arisen in the media. Nairametrics also did an earlier article on a few possible financial outcomes, particularly regarding the BMG Foundation that the couple jointly Chair.
More details have now emerged on the Gates asset split following the divorce.
READ: Bill Gates holds far more cash than Nigeria's foreign reserve
Cascade transfers $1.8bn equities to Melinda Gates
Cascade Investment, a holding company Bill Gates founded with proceeds from his Microsoft Corporation yesterday transferred securities worth more than $1.8 billion to Melinda Gates following their divorce.
The securities involved include:
14.1 million shares of Canadian National Railway Co. worth about $1.5 billion
2.94 million shares in AutoNation Inc., worth $309 million.
What you should know
Melinda Gates is on her way to join the league of women who became sudden billionaires after divorcing their husbands.