Ighalo to earn N1.4 billion in six months at Manchester United 
Despite getting a pay cut, former Super Eagles striker, Odion Ighalo, will earn about N1.4 billion in six months playing for Manchester United.
Despite getting a pay cut, former Super Eagles striker, Odion Ighalo, will earn about N1.4 billion in six months playing for English Premiership club, Manchester United.
Ighalo was a deadline day signing for the Old Trafford club after Coronavirus forced the Chinese government to suspend the Chinese Football League.
Ighalo, who is expected to pick up Jersey no. 25, (formerly worn by Valencia) will be paid N60 million (£130,000) per week, pending his loan period at United. This means, in a month, Ighalo will earn N244 million (£520,000) and in six months, the 30-year-old striker will receive N1.4 billion (£2.98m) as salary.
Ighalo was previously plying his trade at Chinese club, Shanghai Shenhua but now, he is expected to play for Manchester United, which has been without a point-man since Marcus Rashford sustained an injury, till the end of the season.
What does this mean? While the N1.4 billion seems much, it's nothing compared to what he was receiving while playing for Shanghai Shenhua. The new wage is actually a pay cut when compared to the £300,000 he was earning per week at the Chinese club.
[READ MORE: Here're the top ten football signings so far, across Europe)
The Chinese Football League is mostly known as a retirement plan for players, who have played around Europe. And one of the most alluring facts about the league is its transfer fee for players willing to play in the Asian country.
The clubs in the Chinese league pay outrageous amounts to lure players with European experience in order to bring exposure to their league and accelerate acceptance of the Chinese league among its citizens where foreign clubs enjoy more followings.
But now, the league has been suspended following the outbreak of Coronavirus in China, which has since spread to other parts of the world like Europe and America.
Man United worth pay cut: For Ighalo, the move to Manchester United is a dream come true regardless of the pay cut.
He told Manchester United website that, "Yeah, it was very dramatic. My agent called me the day before and said Man United. I would love to go. A few other clubs had shown interest, I said please, just pick United, if it's going to be possible." 
He added that, "I told my agent that this is what I want. I want to come here. He said you're going to get a pay-cut to go to United. I said I don't care. Make this deal happen. I want to go to United. I don't care how much is the pay-cut, I know that, make it happen." 
[READ ALSO: Real Madrid leapfrogs others to emerge the world's most valuable football club)
Is Ighalo worth the fee? Ighalo had previously played for Watford, recording 55 Premier League appearances from August 2015 to January 2017, scoring 16 goals and adding four assists. He has scored 131 goals in 322 club appearances and recorded 16 goals for Nigeria in 35 appearances. Ighalo retired after emerging the highest goal scorer at the 2019 Africa Cup of Nations.
He will make his Premier League debut for Manchester United against Chelsea on February 17, 2020.
Nigeria's unemployment rate jumps to 27.1% as at 2020 Q2
Nigeria's unemployment rate as at the second quarter of 2020 is 27.1% meaning about 21.7 million Nigerians remain unemployed.
Nigeria's unemployment rate as at the second quarter of 2020 is 27.1% indicating that about  21,764,614 (21.7 million) Nigerians remain unemployed.
Nigeria's unemployment and underemployment rate (28.6%) is a combined 55.7%. This means the total number of Nigerians who are unemployed or underemployed as at 2020 Q2.
This is contained in a recently released unemployment data report published by the National Bureau of Statistics. Nigeria's unemployment rate was 23.1% in Q3 2018 confirming it increased by 4% points between then and the second quarter of 2020.
Key highlights
The number of persons in the economically active or working-age population (15 – 64 years of age) during the reference period of the survey, Q2, 2020 was 116,871,186.
The number of persons in the labour force (i.e. people within ages 15 -64, who are able and willing to work) was estimated to be 80,291,894. This was 11.3% less than the number persons in Q3, 2018. Of this number, those within the age bracket of 25-34 were highest, with 23,328,460 or 29.1% of the labour force.
The total number of people in employment (i.e. people with jobs) during the reference period was dwellers, it rose to 31.5% from 22.8%, while the rate among urban dwellers rose to 23.2% from 58,527,276.
Of this number, 35,585,274 were full-time employed (i.e. worked 40+ hours per week), while 22,942,003 were under-employed (i.e. working between 20-29 hours per week). This figure is 15.8% less than the people in employment in Q3, 2020
The unemployment rate during the reference period, Q2, 2020 was 27.1%, up from the 23.1% recorded in Q3, 2018. The underemployment rate increased from 20.1% in Q3, 2018 to 28.6%.
For the period under review, Q2, 2020, the unemployment rate among young people (15-34years) was 34.9%, up from 29.7%, while the rate of underemployment for the same age group rose to 28.2% from 25.7% in Q3, 2018. These rates were the highest when compared to other age groupings.
The data is coming after nearly two years when the last data was published. The bureau last published jobs data in the third quarter of 2018 citing funding as a major challenge.
Key Take-aways
Nigeria's youth remain the hardest hit by unemployment with over 13.9 million people aged between 15 and 34 years unemployed.
The data also shows 7.6 million of this subset did nothing.
Women also continue to bear the brunch of bad economy with about 12.2 million out of jobs from the 27 million currently unemployed.
Graduates and post graduates combined made up about 2.9 million of the total Nigerians that are unemployed.
In a surpising data, out of the 35.5 million Nigerians that are fully employed, 28.8 million of them never attended school (6.29 million) or did not have a tertiary education (22.5).
In fact, most fully employed people in Nigeria with SSS (Senior Secondary School certificates) are a whopping 13.2 million.
COVID-19: Nigeria, 6 other African countries to start antibodies tests next week
These countries are the first set of countries to commit to the testing.
Nigeria and 6 other African countries will start conducting coronavirus antibodies tests as early as next week, as part of efforts to understand the extent of the outbreak on the continent.
Apart from Nigeria, the other African countries that will benefit from this include Sierra Leone, Zambia, Zimbabwe, Cameroon, and Morocco.
While making the disclosure in Addis Ababa, the head of the African Centres for Disease Control and Prevention, John Nkengasong, said that these countries are the first set of countries to commit to it.
Western countries have been using antibody tests to discover how many of their citizens have been infected by the coronavirus disease, with the expectation that will help them reopen their economies.
This new development is coming some days after the Nigerian Government started negotiations with prospective COVID-19 vaccine distributors to the country ahead of their availability.
The Vice President, Yemi Osinbajo, who kick-started the negotiation on behalf of the Federal Government, in a virtual meeting with representatives of the vaccine candidate, told the co-discussants that Nigeria must be given priority when COVID-19 vaccine is ready for distribution.
Nkengasong said that Africa has so far conducted 9.4 million coronavirus tests, a 10% increase over last week. These tests show whether people currently have the coronavirus disease.
Experts said that the low levels of testing in many countries mean that Africa's infection rates could be higher than being reported.
He said that 25 African countries still have full border closures, with 23 imposing tests at entry points. He also stressed on the need to harmonize border testing and recognize certificates in order to facilitate travel.
Buhari discloses what it will take to reverse US visa ban
President Buhari has fully addressed 2 out of the 6 areas of concern raised by the United States.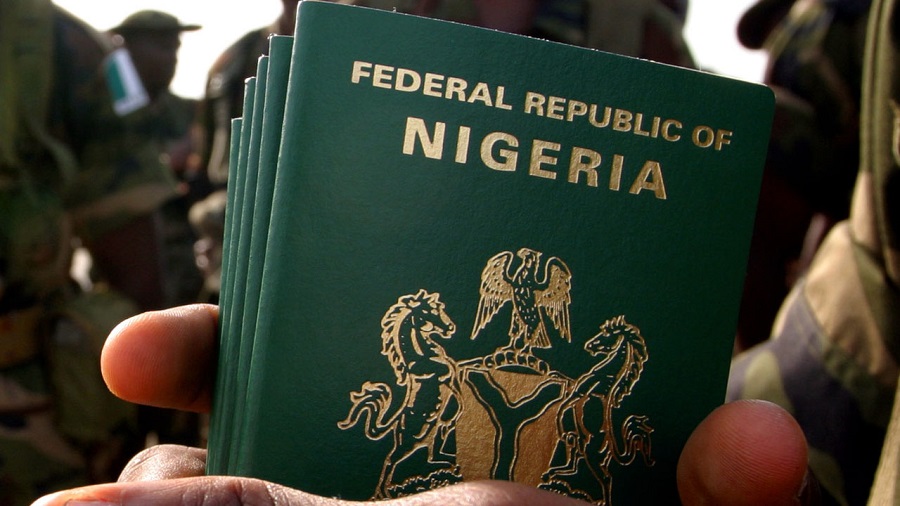 President Muhammadu Buhari has disclosed that it will take enormous resources to reverse the ban on immigrant visas for Nigerians by the United States Government. He also noted that the country is making some progress in this regard.
The president disclosed this on Thursday, August 14, 2020, when he received the report of the committee on citizen data management and harmonization in Abuja. He pointed out that 2 out of the 6 areas of concern raised by the United States had been fully addressed.
The committee was set up in February this year to address areas of concern that led to the temporary suspension of issuing immigrant visas to Nigerians.
It can be recalled that the Trump administration, in January announced the placing of new visa restrictions on 6 countries namely Eritrea, Nigeria, Sudan, Tanzania, Myanmar, and Kyrgyzstan, in an expansion of its controversial travel ban policy.
The ban on those 6 countries, which took effect in February, prevents their citizens from obtaining U.S. visas that can lead to permanent residency.
U.S. officials cited issues such as sub-par passport technology and failure to sufficiently exchange information on terrorism suspects and criminals as reasons for the ban.
The Minister for Interior, Ogbeni Rauf Aregbesola, who had asked the U.S. ambassador in Abuja to drop the ban, also chaired a committee to address U.S. concerns.
In his statement on Thursday, Buhari said that after suggestions from a report by the committee, they had fully resolved two out of six U.S. concerns, substantially satisfied two others, and had made some progress on the last two.
But he said they were still drafting a workable plan for the report's full suggestions, which require enormous resources.
"I am delighted that this progress, especially the uploading of Lost and Stolen Passport and Travel Documents, has been acknowledged by the United States Government," he said.
Buhari explained that Nigeria would harmonize citizen identification data held by different parts of government, create a national criminal management system modelled on INTERPOL, and start a national criminal DNA laboratory, although his statement did not specify what the country had already done.
It should be noted that Nigerians can still obtain visas for study, work, and travel in the United States.