Trump to return to social media with his own platform in 2 months
Over 2 months after he was banned from Twitter, Facebook, others, Donald Trump is working on making a return.
Former US President, Donald Trump, will be back on social media in the near future, over 2 months after he was banned from Twitter, Facebook, and others.
This follows plans by the former President to launch his own social media platform within the next 2 or 3 months.
This disclosure was made by Trump's Senior Adviser, Jason Miller, on Sunday, March 22, 2021, during a chat with Fox News' #MediaBuzz.
READ: President Biden revokes Trump's ban for green card applicants in US
What Donald Trump's Senior Adviser is saying
Jason Miller, who was a spokesman for Trump's 2020 campaign, told the media network that the former President would soon get back to social media space with a new platform of his own that would completely redefine the game.
Miller, while talking to Fox News, said, "I do think that we're going to see President Trump returning to social media in probably about two or three months here, with his own platform. And this is something that I think will be the hottest ticket in social media; it's going to completely redefine the game, and everybody is going to be waiting and watching to see what exactly President Trump does."
Although he did not provide more in terms of details, Miller revealed that Trump had been having high-powered meetings at his Florida resort, Mar-a-Lago, with various teams regarding the venture, and that numerous companies had approached Trump.
Miller said the new platform was going to be big, while also predicting that Trump would draw tens of millions of people.
In case you missed it
It can be recalled that former President Trump was banned from Twitter after the January 6, attack on the Capitol by his supporters. He was accused of inciting his supporters after he rejected the US Presidential election result which he claimed was a fraud.
Twitter last week said it would seek public input on when and how it should ban world leaders, saying it was reviewing its policy and considering whether leaders should be held to the same rules as other users.
Chad's President Deby dies of injuries suffered on the frontlines, as son takes over
The President had visited the frontlines to share his election victory with the soldiers before the unfortunate incident.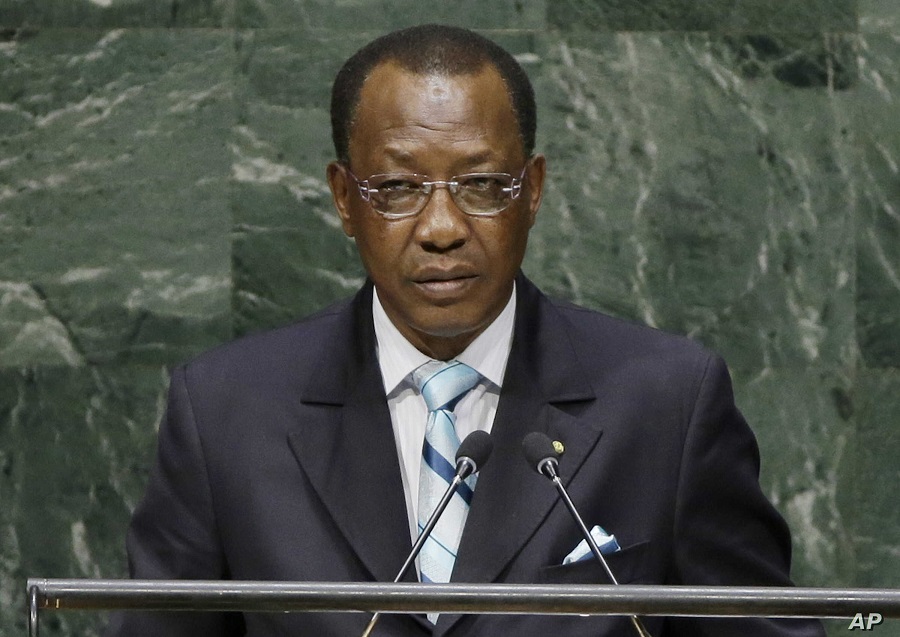 President Idriss Deby of Chad has died of injuries suffered on the frontlines when some terrorists attacked the army. The President had visited the frontlines to share his election victory with the soldiers before the unfortunate incident.
The departure of the newly re-elected President was disclosed by the AFP News Agency on Tuesday through its Twitter handle.
It tweeted, "#UPDATE Chad's newly re-elected President Idriss Deby Itno, in power for three decades, died Tuesday of injuries while fighting rebels in the north of the Sahel country, the army says."
Meanwhile, a four-star general who is a son of Chad's slain president Idriss Deby Itno will replace him at the head of a military council, the army announced Tuesday.
"A military council has been set up headed by his son, General Mahamat Idriss Deby Itno," the army's spokesman, General Azem Bermandoa Agouna, said on state radio, shortly after the announcement that the newly re-elected president had died of wounds while fighting rebels in the north of Chad.
Elon Musk loses an estimated $6bn after a Tesla car accident killed two people
Elon Musk's net worth dipped by $6 billion following a tragic Tesla car accident that killed two people.
The second richest man in the world, Elon Musk, witnessed his wealth shed an estimated $6bn after a Tesla car was involved in an accident that led to the death of two people.
Tesla stocks dropped by 3.8% after the news of the crash went mainstream. The resultant effect on Elon Musk's wealth was a $5.71bn loss in a single day.
READ: Google threatens to remove its search engine from Australia due to media code
The Accident
Two men lost their lives on Saturday night in Houston when their 2019 Tesla model car slammed into a tree. Police authorities on sight claimed the car might have been on autopilot due to the sitting position of the corpses.
They also struggled to put out the fire from the Tesla car and even called Tesla for help. The death of the two men has sparked a heated argument between Tesla and its critics. Autopilot or not?
Although police officers' assertion that the car may have been on autopilot remains unconfirmed, it has raised serious uncertainty about the safety of Tesla's autopilot feature and Tesla's critics are not backing down on this.
READ: Dealers explain why 'Tokunbo' Cars are expensive
Elon Musk reacts
Elon Musk has reacted to the news, insisting that the autopilot feature in the crashed vehicle was not enabled. According to him, the Wall Street Journal's coverage of the accident was not professional.
READ: Meet the 39 years old Chinese billionaire electric car maker 
What you should know
Elon Musk is now worth $183bn following the recent drop. He closed the gap on Amazon's Jeff Bezos to $4bn early last week. The gap has widened to $14bn today.