CBN extends Covid-19 forbearance for intervention loans by another 12 months
CBN will continue to charge an interest rate of 5% for its intervention loans for another 1 year.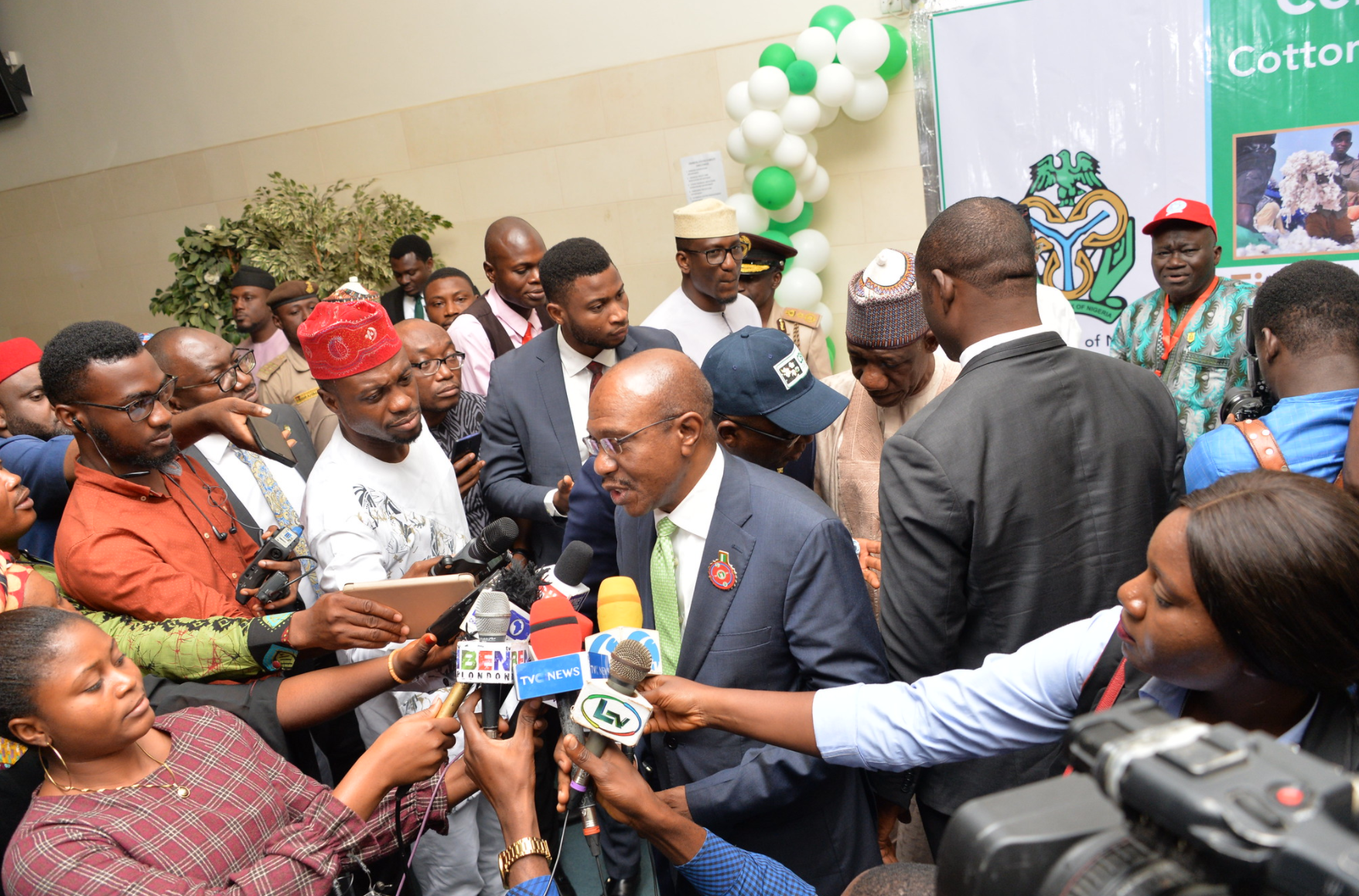 The Central Bank of Nigeria has announced an extension of its regulatory forbearance for the restructuring of its intervention facilities by another 12 months.
In a circular signed by Dr. Kevin Amugo, the Director of Financial Policy and Regulatory. the apex bank said it will continue to charge its borrowers an interest rate of 5% per annum as against the 9% originally offered. The CBN had on March 20th reduced the interest rates on its intervention loans from 9% to 5% as part of its response to the economic crunch brought on by Covid-19 induced lockdowns.
The CBN also offered to rollover moratorium granted on all principal payments on a case by case basis. All credit facilities had been granted a one-year moratorium starting from march 1, 2020 when the pandemic first gripped Nigeria.
READ: Analysing the Central Bank of Nigeria's Dollar Remittance Policy
See excerpt from Circular
"The Central Bank of Nigeria reduced the interest rates on the CBN intervention facilities from 9% to 5% per annum for one-year effective March 1, 2020, as part of measures to mitigate the negative impact of COVID-19 Pandemic on the Nigerian economy."
Credit facilities, availed through participating banks and OFIs, were also granted a one-year moratorium on all principal payments with effect from March 1, 2020.
Following the expiration of the above timelines, the CBN hereby approves as follows:
1) The extension by another twelve (12) months to February 28, 2022 of the discounted interest rate for the CBN intervention facilities;
2) The roll-over of the moratorium on the above facilities shall be considered on a case by case basis.
READ: Nigeria attracts more FDI than FPI for the first time in 4 years
What this means
Companies who secured intervention funds from the CBN or through any of its on-lending banks will continue to service the loans at an interest rate of 5% per annum instead of 9%.
They can also get another year of not needing to pay back the principal sum collection. However, they will need to apply.
Whilst this move helps the small businesses continue to manage their cash flow, it means the CBN will record a reduction in its income extended under such facility.
Regulatory forbearance is a widely adopted concept during an economic crunch and it is meant to help stimulate businesses. These pronouncements if implemented will only affect those who borrow from the CBN or BOI but those who do not will miss out.
Download the circular here.
READ: CBN discloses conditions for assessing N100 billion credit facility, addresses 'process problems'
Insecurity: FG to implement town hall meetings to reach a national consensus
The meetings are set to address the twin issues of insecurity and its concomitant effect on national unity and cohesion.
The Federal Government announced the launch of town hall meetings to address the twin issues of insecurity and its concomitant effect on national unity and cohesion.
This was disclosed by the Minister of Information, Lai Mohammed, at the Town Hall Meeting in Kaduna on Thursday, themed "Setting Benchmarks for Enhanced Security and National Unity in Nigeria."
What the Minister is saying
"The correct starting point towards addressing these myriads of problems is the building of an "elite consensus" on the security, unity, indissolubility, and peaceful existence of Nigeria.
"Such elite consensus had worked in the past. Can we make it work now and proffer solutions in order to stave off the threats to our unity as a nation?" he said.
The Minister disclosed that the meetings are necessary to bring all critical stakeholders together to deliberate on the issues and possibly reach a consensus on the way forward.
"We expect this Town Hall meeting to develop concrete, implementable resolutions because a lot of talks and postulations had taken place with little or no requisite outcome."
In case you missed it 
Former Vice President, Atiku Abubakar warned that the rising insecurity in Nigeria is a result of rising youth unemployment. He urged Nigeria to tackle out-of-school children cases, pay a monthly stipend to poorer families, incorporate youths who are above school age into massive public works programmes and others.
Senator Ali Ndume insisted that the Federal Government needs to increase its total military spending to be able to tackle the rising insecurity in Nigeria which has seen a number of school students in 2021 kidnapped by bandits.
IMF lifts 2021 global GDP growth to 6%
The group also warned that economic recoveries are diverging dangerously across and within countries.
The International Monetary Fund has lifted its global growth outlook to 6% in 2021 (0.5% point upgrade) and 4.4% in 2022 (0.2 percentage point upgrade), after an estimated historic contraction of -3.3% in 2020 due to the effects of the COVID-19 pandemic. This disclosure was made on the organisation's website on Tuesday.
The group also warned that economic recoveries are diverging dangerously across and within countries, as economies with slower vaccine rollout, more limited policy support, and more reliance on tourism do less well.
READ: Corruption erodes the constituency for aid programmes and humanitarian relief – IMF
What the IMF is saying
"The upgrades in global growth for 2021 and 2022 are mainly due to upgrades for advanced economies, particularly to a sizeable upgrade for the United States (1.3 percentage points) that is expected to grow at 6.4 percent this year.
This makes the United States the only large economy projected to surpass the level of GDP it was forecast to have in 2022 in the absence of this pandemic.
China is projected to grow this year at 8.4 percent. While China's economy had already returned to pre-pandemic GDP in 2020, many other countries are not expected to do so until 2023."
READ: Nigeria needs structural and monetary policy reforms to unlock potential – IMF
On divergent recoveries 
The IMF stated that divergent recovery paths are likely to create wider gaps in living standards across countries compared to pre-pandemic expectations.
"The average annual loss in per capita GDP over 2020–24, relative to pre-pandemic forecasts, is projected to be 5.7 percent in low-income countries and 4.7 percent in emerging markets, while in advanced economies the losses are expected to be smaller at 2.3 percent," they said.
"Faster progress with vaccinations can uplift the forecast, while a more prolonged pandemic with virus variants that evade vaccines can lead to a sharp downgrade. Multispeed recoveries could pose financial risks if interest rates in the United States rise further in unexpected ways."
For Africa, IMF forecasts economic growth of 3.4% in 2021 and 4% by 2022, Nigeria is expected to grow by 2.5% in 2021 and 2.3% by 2022, while South Africa is projected to hit growths of 3.1% and 2.0% for the respective years in focus.
READ: The 4th industrial revolution and the birth of a new international monetary system
In case you missed it 
The International Monetary Fund (IMF)  identified some factors that hamper the economic recovery of low-income countries from the devastating impact of the coronavirus pandemic, factors including access to vaccines, limited policy space to respond to the crisis, the lack of means for extra spending, pre-existing vulnerabilities such as high levels of public debt in many low-income countries and sometimes weak, negative, total factor productivity performance in some low-income countries. These factors continue to act as a drag on growth.
Nairametrics | Company Earnings
Access our Live Feed portal for the latest company earnings as they drop.