CBN discloses conditions for assessing N100 billion credit facility, addresses 'process problems'
The operations of this scheme have not been as smooth as expected, because some operators in the sector have been complaining about not having access to the funds.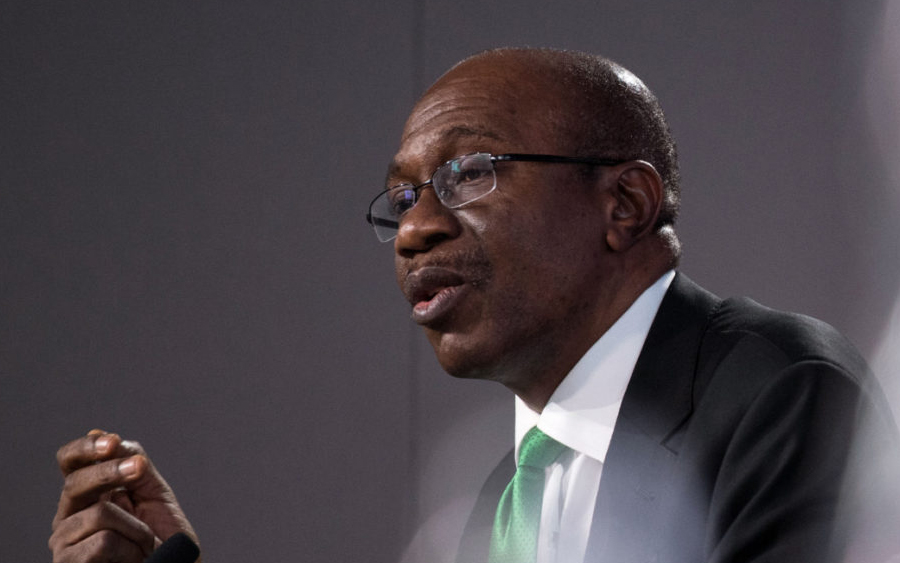 As part of measures to mitigate the impacts of COVID-19 on businesses, particularly those in the health sector, the Central Bank of Nigeria (CBN) had introduced a N100 billion credit intervention scheme.
The scheme, which was planned to be funded from the Real Sector Support Facility – Differentiated Cash Reserves Requirement, is to have an interest rate of 5% per annum until March 1, 2021, when it will revert back to 9%.
However, the operations of this scheme have not been as smooth as expected, because some operators in the sector have been complaining about not having access to the funds.
In a recent TV interview, the CBN's Director for Development Finance, Mr. Yusuf Yila, discussed some basic conditions that applicants to the CBN N100 billion credit facility must meet before they qualify to benefit from the facility. On the disbursement of the N100 billion facility, Yila said:
"As at today, we have received applications in excess of N62 billion. These funds are to be disbursed by the banks. When these applications come on, as a Central bank what we are looking at is how many jobs take for example a pharmaceutical company can expand its line or build new capacity, how jobs are going to be created, how many of the raw materials are going to be sourced locally, how much foreign exchange is the country going to be conserving.
"Those are the things we actually look for in these applications. We are not going to be doling out money for people who are going to be importing or going to source for foreign exchange for materials we can source locally. I can also tell you as at today the central bank has disbursed in excess of N11 billion out of N100 billion and this week we are taking to Governor Emefiele another set of applications in excess of N20 billion from 9 banks."
(READ MORE:CBN health intervention fund gets new interest rate by March 2021)
The CBN Director also emphasised that there is a process involved in disbursing the loans and that the major idea is to conserve foreign exchange. He also explained that the pharmaceutical industry is worth over $1.3 billion and out of this, about $900 million is imported.
On the complaints by some applicants about the strenuous processes involved in assessing the loan and the kind of collateral required, Yila said:
"Yes it is a credit support intervention to the sector and it's not a grant. It's a loan and anytime the bank gives out a loan, there are certain conditions precedent that must be met. Because of the lockdown, they receive applications by email, we work with the banks to carry out due diligence. Typically, things that take 3, 4 weeks to do, we have cut it down to 2 days.
''I tell you that the biggest problem we are having is that most pharmaceutical companies or the hospitals that have submitted applications to access these funds have provided incomplete documentation. That is a source of worry because while we are in an emergency situation, due diligence must be followed.
"I told you this is a loan and not a grant and the central bank has been very favorably disposed of. We tell you what we have also done, if you read the guideline, we are aware that hospitals, it takes a very long time to recoup its investment, so the facility is for a long term up to 10 years."
(READ MORE:CBN slashes special interest rate to 5%, directs banks to restructure loan terms)
On the interest rate, the CBN Director pointed out that the apex bank's policy response goes beyond the 5% interest rate. He said the beneficiaries are also granted an additional moratorium of 1 year for all the over 26 intervention programmes in the portfolio of the Central Bank.  Going further, businesses that are eligible can access the N100 billion fund at 5% till March 1, 2021, he said.
FG yet to purchase Covid-19 vaccines – Minister of State for Health
According to a disclosure made by the Minister of State for Health, the FG is yet to purchase any COVID-19 vaccine.
The Federal Government has said that it is yet to purchase any Covid-19 vaccines as the country is still assessing the prices of different shots, their availability and the logistics required for a nationwide roll-out.
This is coming at a time when developed economies are rolling out the vaccines in their countries and concerns have been raised about the availability of the Covid-19 doses in the African continent.
This disclosure was made by the Minister of State for Health Adeleke Olurunnimbe Mamora, during a telephone interview with Bloomberg.
What the Minister of State for Health is saying
Mamora said that once the government determines which vaccines are accessible and affordable, authorities then have to consider storage and distribution issues as they prepare to give shots to 200 million people.
He said, "We haven't made any purchases at this point in time.'' He added that the government expects to have a definitive plan by the end of January.
Nigeria is working with the World Health Organization backed COVAX programme and hopes to receive its first doses in January. The Minister for Finance, Budget and National Planning, Zainab Ahmed, had said that the country is working on what type and quantity of Covid-19 vaccines to procure and financial provision will be made in the 2021 budget for the vaccines.
COVAX is a global initiative backed by the World Health Organization which aims to provide equitable access to Covid-19 vaccines, especially to poor countries.
What you should know
It can be recalled that Bloomberg had reported that experts and a state governor had expressed doubts about the ambitious plan by Nigeria to vaccinate as much as 40% of its population this year due to lack of resources and infrastructure.
The Chief Executive Officer of Nigeria's National Primary Health Care Development Agency, Faisal Shuaib, said on Thursday the country expects to receive 100,000 doses of Pfizer Inc's shot at the end of January through the Covax initiative.
Nigeria has officially reported 107,345 Covid-19 cases, with 1,413 casualties, but testing is not easily accessible for most people, with only about 1.1 million tests conducted so far.
Nigerian government spends equivalent of 83% of revenue to service debt in 2020
The Federal Government of Nigeria achieved a debt service to revenue ratio of 83% in 2020.
The Federal Government of Nigeria achieved a debt service to revenue ratio of 83% in 2020. This is according to the information contained in the budget implementation report of the government for the year ended December 2020.
According to the data seen by Nairametrics, total revenue earned in 2020 was N3.93 trillion representing a 27% drop from the target revenues of N5.365 trillion. However, debt service for the year was a sum of N3.26 trillion or 82.9% of revenue.
Nigeria's debt service cost of N3.26 trillion has now dwarfed the N1.7 trillion spent on capital expenditure of N1.7 trillion incurred in 2020. This is also the highest debt service paid by the Federal Government since we started tracking this data in 2009.
The total public debt (External and Domestic) balance carried by Nigeria as of September 2020 stood at N32.22 trillion ($84.57 billion). Included in the total debt is a domestic debt of about N15.8 trillion.
What this means: Nigeria's debt to GDP ratio is estimated at about 22%, one of the lowest in the world and much below what is obtainable in most emerging markets.
However, the challenge has always been the debt service to revenue ratio, a metric that reveals whether the government is generating enough revenues to pay down its debts as they mature.
Since the first recession experienced in 2016, Nigeria has struggled with higher debt service to revenue ratio as revenues slid in direct correlation with the fall in oil prices.
Nigeria's government spent about N2.45 trillion in debt service in 2019 out of total revenue of N4.1 trillion or 59.6% debt service to revenue ratio.
At 83%, 2020 ranks as the highest debt service to revenue ratio we have incurred. Before now it was 2017 with 61.6%.
Breakdown of what debts were serviced
The following amount was spent on debt service during the year
To service domestic debt, the government spent N1.755 trillion in 2020 as against a budget of N1.87 trillion.
For foreign debts, a sum of N553 billion was spent against a target budget of N805.47 billion. The drop here is likely a result of lower interest rates on foreign borrowing as well as very limited borrowing from the foreign debt market during the year.
The government only contributed N4.58 billion into its sinking fund instead of the budgeted N272.9 billion.
The sinking fund is required to set aside funds that will be used to pay down on other loans such as bonds when they mature in the future.
Finally, a sum of N912.57 trillion was spent on servicing CBN's loans, granted via its Ways and Means provisions.
Nairametrics reported last week that a total sum of N2.8 trillion was extended by the CBN to the FG as Ways and Means.
What happens next: In 2021, the government projects a debt service of N3.1 trillion against revenue of N6.6 trillion or a debt service to revenue ratio of 46.9%.
The government plans to spend N4.3 trillion on capital expenditure during the year.
Top 10 Nigerian tech companies and capital raised in 2020
These are the top 10 tech companies and the capital they raised in 2020.
African startups raised over $1 billion in funding in 2020, with Nigerian startups raising 17% of this amount – $55.37million in Q1 2o2o and $28.35million in Q2 2020, according to Techpoint.
These are the top 10 rankings of the highest fundraisers for 2020.
Flutterwave
The startup provides digital payments infrastructure and services which enable global merchants, payment service providers, and pan-African banks to accept and process payments across various channels.
It raised a $35M Series-B round led by US venture capital firms Greycroft and eVentures in January 2020. The funding was invested in technology and business development to grow market share in the countries it operates in.
54gene
The startup is equalizing precision medicine by including underrepresented Africans in global genomics research. It raised $15M in a Series A funding round in April 2020 led by Adjuvant Capital – a life sciences fund backed by the International Finance Corporation, Novartis, and the Bill & Melinda Gates Foundation.
These new funds will be used to address the gap that exists in precision medicine for people on the African continent.
Aella Credit
The startup is a one-stop app for all your financial needs. Aella makes it super easy for anyone to borrow, invest, and make payments. It secured a $10 million debt financing round from a Singaporean company – HQ Financial Group.
The new capital raised from Singapore is expected to facilitate the credit company's effort to provide financial inclusion to many more of the people who are currently unbanked across Nigeria, West Africa, and other emerging markets.
Helium Health
The startup has become the leading provider of full-service technology solutions for healthcare stakeholders in Africa. It raised a $10 million Series A round in April 2020.
Global Ventures and Africa Healthcare Master fund (AAIC) co-led the investment round. Helium plans to use the latest funding round to hire and expand to North and East Africa, including Kenya, Rwanda, Uganda, and Morocco.
Kuda Bank
The startup provides a full banking service on your smartphone. It secured a US$10 million seed round in November 2020 – the biggest seed round ever to be raised in Africa, led by Target Global with participation from Entrée Capital and SBI Investment.
The funding will be used to help accelerate its growth plans and keep up with customer demand. Specifically, funds will be used for key hires, product development, and to expand operations across Africa.
Trade Depot
The startup is a Nigerian B2B eCommerce company that utilizes an end-to-end distribution platform aimed at connecting the world's top consumer goods companies directly to retailers in Africa.
It raised $10-million in a pre-Series B equity round co-led by Partech, International Finance Corporation, Women Entrepreneurs Finance Initiative (We-Fi), and MSA Capital in July 2020.
The new investment will enable Trade Depot to continue connecting international brands with small businesses in Nigeria, expand into other African cities, launch a suite of financial products, and credit facilities aimed at supporting its retailers.
Field Intelligence
The startup is helping governments and businesses make good on the promise of healthcare in the fastest-growing parts of the world by making the pharmaceutical supply chain radically simple, affordable, and easily accessible.
It raised a $3.6 million Series A round in March 2020, led by Blue Haven Initiative, with investors including Newtown Partners via the Imperial Venture Fund and Accion Venture Lab.
The investment will be used to scale Shelf Life expansion throughout Nigeria and Kenya, as well as the development of additional services for Shelf Life clients and their patients.
MedSaf
The startup connects suppliers to hospitals and pharmacies directly to make the pharmaceutical supply chain more efficient. The health start-up raised $3.5M in a seed funding round in December 2020.  It will use this funding to expand to other African countries.
Auto Chek
The company is an automotive technology company that aims to build solutions for the African market. It raised $3.4 million in pre-seed funding round in November 2020, co-led by TLcom Capital and 4DX with inclusion from Golden Palm Investments, Lateral Capital, Kepple Africa Ventures.
Auto Chek will use the investment to grow its Nigerian and Ghanaian markets, invest in its tech, and grow its team.
Despite the ravaging impact of Covid-19, Nigerian tech start-ups raised millions of dollars in funding. We hope to see more investors in the first quarter of 2021.
Rensource Energy
The startup allows qualifying companies throughout Nigeria and West Africa to start selling Power-as-a-Service (PaaS) to their customers.
It raised $3 million from Proparco, with the support of the European Union under the Africa Renewable Energy Scale-Up facility (ARE Scale-Up). The funding will be used to contribute to facilitating energy access in the context of a significant and growing energy gap in Nigeria and support the development of innovative solar energy solutions.