Covid-19: Less than 20,000 vaccines administered in Africa so far – UN
UN chief has warned that Africa is getting left behind in the race to administer the COVID-19 vaccine.
The United Nations has warned that Africa is severely behind the rest of the world with the rollout of vaccines, disclosing that Africa has only administered less than 20 thousand doses so far.
This was disclosed by UN Chief, Antonio Guterres in a social media statement recently, where he urged the need for a global vaccine for a unified global vaccine effort.
He said, "More than 70 million COVID-19 vaccine doses have been administered so far.
"Less than 20,000 of these were on the African continent. A global immunity gap puts everyone at risk. We need a global vaccination campaign that reaches everyone, everywhere," he added.
READ: African Union secures 270 million Covid-19 vaccine doses from drugmakers
What you should know 
The Vaccine rollout in Africa may soon be on its way, as Nairametrics reported that South Africa has taken delivery of the first batch of Coronavirus vaccines (AstraZeneca) on Monday at the OR Tambo International Airport from India, the first consignment of the vaccine will target frontline workers, the second batch of 500 000 vaccines is scheduled to arrive later in February.
Former president of Liberia, Ellen Johnson Sirleaf says much of Africa may be left out until 2022 from vaccines. "Unless vaccine is seen as a free good on the basis that until everyone is safe, no one is safe — when it's seen in that context, then perhaps the wealthier nations of the world will come up with a formula that says, how can we share the vaccine with those countries that are under-resourced?" she warned.
Covid:19 WHO says wealthy countries are undermining COVAX vaccine initiative
WHO DG has said that the deal between rich countries and vaccine manufacturers is undermining its COVAX initiative.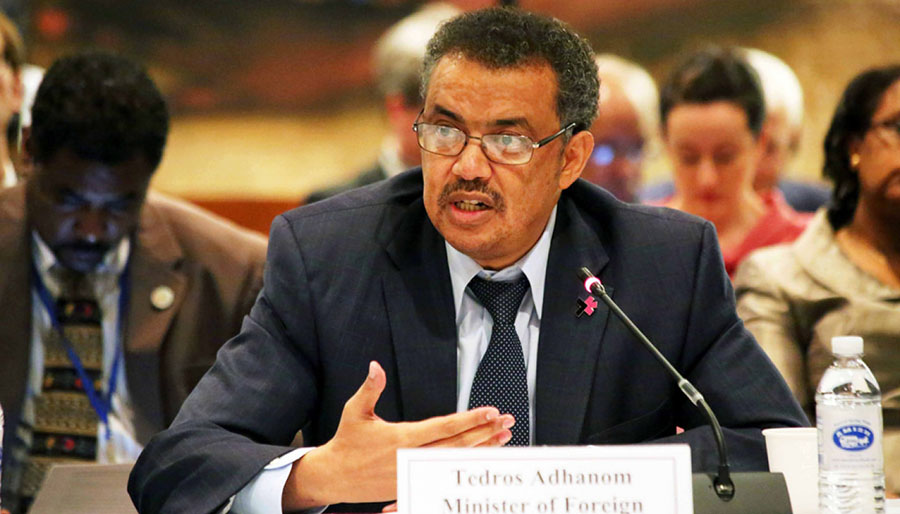 The Director-General of the World Health Organization (WHO), Tedros Adhanom Ghebreyesus, has said that the deal between high-income countries and manufacturers of Covid-19 vaccine are undermining its COVAX initiative by reducing the number of doses it can purchase.
This is as he pleads with rich countries to check before ordering additional Covid-19 vaccine shots for themselves whether that undermines efforts to get vaccine shots to poorer nations.
According to a report from Al Jazeera, this was disclosed by the WHO boss after talks with German President, Walter Steinmeier
Wealthy nations have snapped up several billion vaccine doses and some countries have ordered enough shots to vaccinate their populations more than once, while some countries in the developing world have little or none.
Tedros said that these actions by the rich countries have even led to the reduction of the amount that was allocated to COVAX, although he did not mention the names of the countries involved or provide other details.
He harped on the need for the rich countries to cooperate in respecting the deals that COVAX has with the manufacturers and make sure before they seek more vaccines that their requests do not undermine those deals.
Tedros said, "But I don't think they're asking that question.''
Tedros, who has earlier warned that the world faces a catastrophic moral failure if Covid-19 vaccines are not distributed fairly, said he understands the political pressures leaders in high-income countries face.
He said, "If this virus is not defeated everywhere, we cannot defeat it globally. It will have a safe haven somewhere and can strike back.''
He added that countries left behind in vaccinating could also become breeding grounds for new variants.
He also called for the stepping up of vaccine production because with increased production, there will be more vaccines available, then there is a better volume to share.
What you should know
The WHO has kicked against vaccine nationalism, which they said will prolong the fight against the coronavirus pandemic. A successful global vaccination campaign is considered to be key to stemming the pandemic.
This led to the launching of the WHO-backed COVAX initiative to ensure equitable distribution of the coronavirus vaccine across the globe, especially among the poorer countries.
European nations have given financial support to the UN-backed COVAX scheme, which aims to get vaccines to the world's most vulnerable people and are considering sharing some of their own doses, though they have not specified when.
On Friday, leaders of the Group of Seven industrial powers said they would accelerate global vaccine development and deployment and support "affordable and equitable access to vaccines" and treatments for COVID-19.
They cited a collective $7.5bn from the G7 to UN-backed efforts.
Ghana receives World's first doses of free WHO Covax vaccines
Ghana received its first shipment of Covid-19 vaccines from Covax.
Ghana has received the first shipment of Covid-19 vaccines from Covax, a global scheme to procure and distribute inoculations for free, as the world races to contain the pandemic.
This was disclosed by World Health Organisation (WHO) Accra, Ghana via it's Twitter handle on Wednesday.
Covax, launched last April to help ensure a fairer distribution of coronavirus vaccines between rich and poor nations, said it would deliver two billion doses to its members by the end of the year.
READ: Health Minister says Nigeria may get COVID-19 vaccines in 10 days
In a joint statement issued by UNICEF and WHO, it stated, "We are pleased that Ghana has become the first country to receive the Covid-19 vaccines from the Covax facility.
"The 600,000 doses of the AstraZeneca/Oxford vaccine licensed by the world's largest vaccine manufacturer, the Serum Institute of India, are part of an initial tranche of deliveries headed to several low and middle-income countries."
According to France24, the Emirates flight carrying the vaccines touched down at Accra's Kotoka International Airport shortly after 0740 GMT, according to images broadcast on television.
READ: African Union secures 270 million Covid-19 vaccine doses from drugmakers
The arrival of the #COVID19Vaccine into Ghana is a momentous occasion and critical in bringing the pandemic to an end. pic.twitter.com/Sl6lLAWuU5

— WHO Ghana (@WHOGhana) February 24, 2021
What you should know
Covax had said it aimed to deliver 2,412,000 doses of the vaccine to Ghana.
The country's food and drug authority has authorised the use of the vaccines made in India as well as the Sputnik V vaccine from Russia.
The West African nation has recorded 80,759 Covid-19 cases and 582 deaths since the start of the pandemic. These figures are believed to fall short of the real toll as the number of tests is low.
Health workers and other frontline staff are meant to be among the first to receive doses.
"In the days ahead, frontline workers will begin to receive vaccines," UNICEF Executive Director Henrietta Fore said. "The next phase in the fight against this disease can begin – the ramping up of the largest immunization campaign in history."
Nairametrics | Company Earnings