BUA Cement Plc successfully completes its N115 billion Series 1, Corporate Bond Issue
BUA offers the largest corporate bond ever issued in the history of Nigeria's Debt Capital Markets.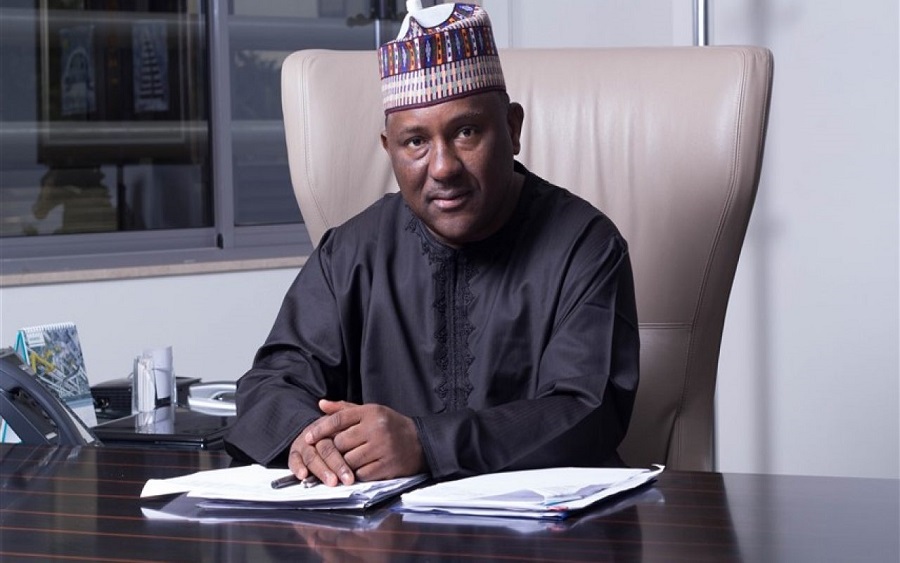 BUA Cement PLC, one of Africa's largest cement companies, has announced that it has successfully concluded its N115billion Series 1 Fixed Rate Senior Unsecured Bond Issue (the "Bond or Issue") under its maiden N200billion Bond Issuance Programme. With this development, BUA Cement's Series 1 Bond becomes the largest ever Corporate Bond issued in the Nigerian Debt Capital Markets and signposts growing investor confidence in Nigeria's second largest cement company. According to the company, an application will be made to dual-list the Bonds on the relevant exchanges upon receipt of the necessary approvals.
BUA Cement's N100billion Series 1, 7-years Issue priced at a competitive fixed rate of 7.5% and was oversubscribed to the tune of N137.82billion just as the company announced that it will only utilize N115billion in line with regulatory guidelines.
Speaking on the significance and success of the Series 1 Issue, Abdul Samad Rabiu, Chairman, BUA Cement said, "This is the largest corporate bond offering in the history of Nigeria's Debt Capital Markets. Last year, we made a strategic decision as a proudly Nigerian company to list BUA Cement on the Nigerian Stock Exchange. This was in line with our core strategy to continue seeking out viable investment and growth opportunities within Nigeria. This bond issuance – a first by BUA Cement, demonstrates our confidence in Nigeria's debt capital markets as well as continued investor confidence in the BUA Cement business model, our management team, and long-term strategy, all supported by strong credit ratings. We remain committed to unlocking opportunities within the industry for Nigeria."
In his comments, Engr. Yusuf Binji, Chief Executive Officer, BUA Cement said that the success of the first series in the BUA Cement Bond Issuance Programme underscored the strength of the BUA Cement brand. "The transaction, being the largest Corporate Bond issuance in the history of Nigeria's debt capital markets, reiterates the strength and acceptance of the BUA Cement brand and the trust placed by stakeholders in the Company's strong cash generation capacity, credit profile and strategy driven by a well-experienced management team. Diversifying and extending the duration of our funding sources with the inclusion of this Bond, at a competitive rate, will further enable us to achieve our strategic objectives and vision."
The BUA Cement Series 1 Bond, which has a 3-year moratorium period and to be amortised evenly from year 4, is embedded with a call option, exercisable only after 48 months from the issue date.
In another development, BUA recently announced its intention to increase its production capacity to 20million metric tonnes per annum (mtpa) by 2022. In addition, its newest 3million mtpa plant in Sokoto currently undergoing construction is expected to be ready in 2021.
NOTES TO THE EDITORS
ISSUING HOUSES: StanbicIBTC Capital Limited acted as Lead Issuing House/Bookrunner, with UCML Capital Limited and Tiddo Securities Limited, as Joint Issuing Houses/Bookrunners.
ISSUE SUBSCRIPTION: The N100billion Series 1, 7-years 7.5% Fixed Rate Bond, due in 2027 was subscribed to the tune of N82billion; and in accordance with Rule 323(21) of the SEC Rules and Regulations, 2013, the Board approved the absorption of excess funds, not exceeding 15% of the offer of N100 billion, which translates to N15billion and N115billion in its entirety.
RATINGS: The Issuer and the Issue were both assigned "A" rating (stable) by Agusto and "AA-" (stable) by DataPro, based on a stable, qualified, and experienced management team, strong industry potential, strategic market position, low exposure to credit risk, excellent business, and liquidity profile.
LISTING: An application will be made to dual-list the bond on the Nigerian Stock Exchange (the "NSE") and FMDQ Securities Exchange ("FMDQ").
Tizeti rolls out high-speed 4G LTE in Edo with N4000/month broadband service
Tizeti is rolling out its 4G LTE network in Edo State, with monthly fixed broadband costs pegged at four thousand Naira ($8).
As part of its commitment to ensuring access to affordable broadband connectivity in Africa's underserved populations, Tizeti, West Africa's pioneer solar-based internet service provider is rolling out its 4G LTE network in Edo State, with monthly fixed broadband costs pegged at four thousand Naira ($8). With this move, millions of people in Edo State previously outside the broadband envelope can now take advantage of high-speed broadband internet from Tizeti.
READ: Facebook, MainOne romance to birth high speed internet for Ogun and Edo
Announcing the rollout of its new low-cost unlimited 4G services in Edo, the Chief Executive Officer of Tizeti, Kendall Ananyi, said that this 4G broadband internet will empower more Nigerians in Edo State, stimulate economic activities and provide unlimited access to affordable and reliable broadband services as well as complement the Edo State Government's efforts in driving investment promotion and building a robust technology ecosystem in the state.
READ: Tizeti, MainOne extend partnership to expand highspeed WiFi services in Africa 
"Rolling out 4G LTE broadband internet in Edo at the cheapest fixed broadband prices in Nigeria, and possibly Africa, is a strategic decision for us. We have been building brand-new, solar-powered, 4G-capable towers in Edo, starting with Benin City, which leverages Edo State's expansive fiber-network built by some of our partners, MainOne and Facebook. Edo State has a large population of vibrant, young people and a high number of higher institutions, which provides a foundation for a robust and thriving ecosystem to enable digital leadership. And the Edo State Governor, Mr. Godwin Obaseki, is implementing reforms in investment promotion and determination to build a robust technology ecosystem in the state, with an agenda that prioritizes Information Communication Technology (ICT)-compliant pedagogy in primary schools, improves digital skills for students and graduates and revamps technical education to increase productivity. This has created a perfect environment for us to roll out our low-cost broadband service, starting in Edo State, but with plans to expand across the country over the next few months," Ananyi said.
READ: ipNX and USTDA sign deal to develop Nigeria's ICT infrastructure.
Corroborating Ananyi, Tizeti's Chief Operating Officer, Ifeanyi Okonkwo, states, "The launch in Edo State is personal to us as founders of Tizeti because we are alumni of the University of Benin. At 4,000 Naira monthly costs with a one-off installation cost of 4,000 Naira, we believe the plan is affordable, especially to undergraduate students. This provides a huge opportunity for people in Edo to benefit from unlimited broadband internet for use in online learning, eCommerce and entertainment, especially interactive games, video consumption, and music".
Interested users in  Edo State can pre-sign up at https://wifi.com.ng/edostate/; installations are expected to commence in Benin City on April 1st, 2021.
READ; Orange launches high speed internet network in Nigeria, Ghana, and 6 others
For many countries in Africa, there is still a huge digital divide. This boundary between connected and unconnected translates into clear consequences for employment, education, family and social life, and access to information. According to the World Wide Web Foundation, ensuring fast internet in Africa will enable billions more to come online, and to take advantage of the life-changing socio-economic opportunities that access to the Internet provides. Companies like Tizeti are playing a significant role in addressing the digital infrastructure deficits in Africa with innovative technology and capabilities, to improve development outcomes for millions of people.
Tizeti currently has 1.7 million unique users, with broadband services which include a new Skype-like personal and business enterprise communications service — WiFiCall.ng, and access to video streaming sites and services.
About Tizeti
Tizeti is a fast-growing Wireless Internet service provider in Lagos, Nigeria, delivering high-speed unlimited Wi-Fi Internet access to residential and business customers using wide-area Wi-Fi. Its services are available in Lagos, Ogun, and Rivers State. It is also expanding rapidly to other African countries as it has been successfully launched in Accra and Tema, Ghana.
Kinyungu Ventures Research calls for changes to cut-and-paste VC strategy in Africa
The Paper recommends investment structures and approaches tailored to African operating conditions.
East African venture advisory firm, Kinyungu Ventures has published a white paper Chasing Outliers: Why Context Matters for Early Stage Investing in Africa that has found that there continues to be a wide misalignment between traditional venture capital models and the African market. The team behind the report is now calling for a broadening of approaches to institutional investment on the continent. Speaking with 100 Pan-African founders, investors, and LPs across 15 African countries, the research suggests investors should prioritize investing structures and practices that reflect the realities of operating in Africa. This includes adopting more flexible investing structures with longer time horizons.
According to the paper, there are multiple mismatches between key characteristics of Silicon Valley VC and African markets, which influence how startups and funds maneuver as well as what results they expect and produce. Findings show that African markets are large, but also fragmented, and its consumers have limited purchasing power. Furthermore, consumers on the continent are difficult to acquire and retain, yet the sheer size of the African market also presents a real opportunity for profit once the environment is clearly understood. The paper's key recommendations for funds include:
Adopting more focused investment strategies, such as investing in b2b companies or cross-subsidizing a portfolio with less risky, steady return assets.
Considering non-unicorn investing models geared at more resilient companies, with returns distributed more widely across the portfolio
Using flexible structures such as debt or PCVs to accommodate market-level changes, where feasible
Allowing a longer time horizon for returns, understanding that growth could be slow and difficult to achieve for many companies
Kinyungu Ventures catalyzes resilient businesses for local intergenerational prosperity. The East African-centric investor focuses on entrepreneurship in East Africa, startups, seed funding, debt financing, impact investing and angel investing.
Speaking on the launch of the white paper, Tony Chen, Managing Director of Kinyungu Ventures and co-publisher of the report says, "Capital in Africa is scarce and pursuing a "growth at all costs" strategy where capital pools are shallow presents huge risks for companies. We've also found that many great businesses don't fit the typical VC profile, but have tremendous unfulfilled potential".
Tayo Akinyemi, lead researcher and writer of the report added: "In our conversations with numerous investors and founders, it is clear that nuances in variables such as consumer behavior, cultural norms, and business practices impact startups significantly and being on the ground is crucial for success. While African markets aren't always able to provide the outsized returns that Silicon Valley typically looks for in high-growth companies, a more focused strategy here could unlock real gems, as has been proven by some of the startup successes the continent has seen over the years."
Global Credit Rating reaffirms Sovereign Trust Insurance Plc 'A-'rating
Global Credit Rating Limited has reaffirmed an A-rating for Sovereign Trust Insurance Plc.
Global Credit Rating Limited, an international rating agency, has reaffirmed an A-rating for Sovereign Trust Insurance Plc.
According to a press release signed by the firm's Deputy General Manager, Olusegun Bankole, and seen by Nairametrics, the insurance firm has consistently maintained its rating for over a decade now.
The key drivers that helped in the reaffirmation of the A-rating by the firm are;
Consistency in paying her claims obligations over the years, as captured in an earlier solvency and operational report for financial institutions in Nigeria and other allied businesses, released by the rating agency in December 2020.
Listing of rights issue in 2019 which helped to increase the shareholders' funds of the company to N8.2 billion as at Q3 2020, up by 31% Year-on-Year. This played a catalyst role in maintaining the A-rating status of the firm.
The capital adequacy of the firm was also pivotal.
According to the information available on the website of the rating agency, the A-rating reflects high claims-paying ability, strong protection factors, modest risk which may vary over time due to economic and/or underwriting conditions.
This fact was buttressed by a section in the press release which reads:
"Sovereign Trust Insurance Plc has great potentials for growth in the years ahead, considering some of the strategies that have been put in place to propel its operations. Global Credit Rating noted that the company has shown a great deal of consistency in her claims obligations to her numerous customers spread all over the country."
About Global Credit Rating Limited
Global Credit Rating Co (Pty) Ltd (GCR) operates as a credit rating services provider. The Company ratings for banks, financial institutions, insurance, corporate and public sector debt, and structured finance serves customers worldwide.